Make-ahead Low Carb Pizza Style Turkey Meatloaf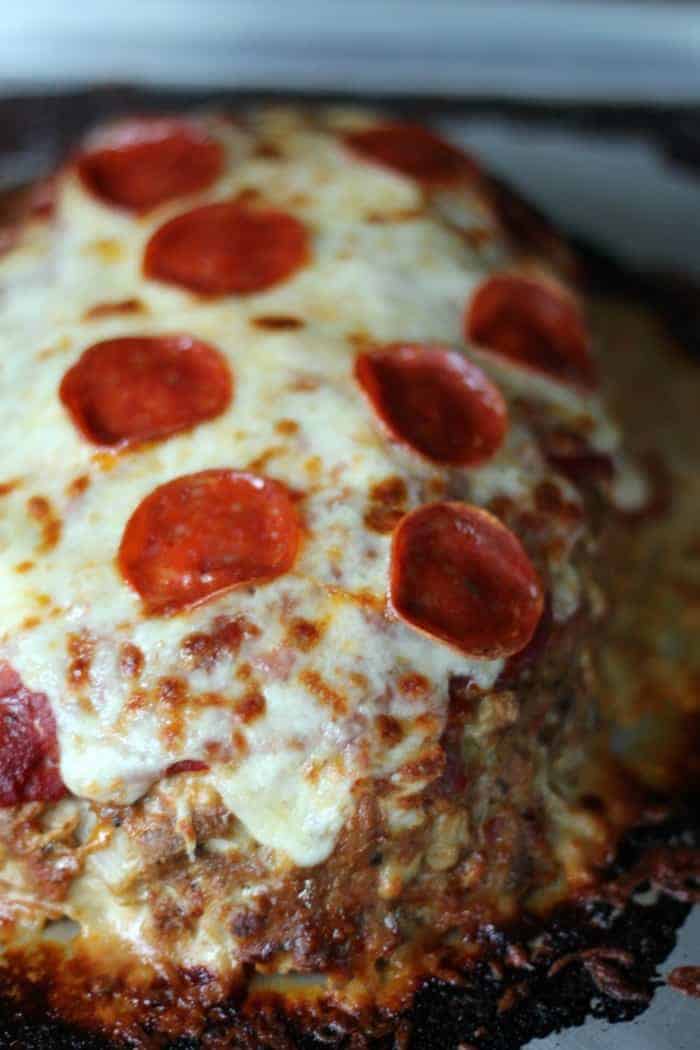 Author:
Organize Yourself Skinny
1 medium onion
1 10-ounce package sliced white mushrooms
1 tablespoon olive oil
2 slices wheat bread
2 large eggs
3-4 tablespoons milk
2lbs ground turkey
1 cup pizza sauce, divided
1 cup turkey pepperoni, chopped (before chopping save 6-8 slices for top of the meatloaf)
1½ cups mozzarella cheese, divided
2 teaspoons Italian seasoning
2 teaspoons garlic powder
2 teaspoons onion powder
1 teaspoon salt
1½ teaspoon salt
2 tablespoons Worcestershire sauce
¼ cup grated romano cheese
Preheat oven to 350 degrees.
Heat oil in a large pan and sauté onions and mushrooms until soft. Season with salt and pepper. Set aside to cool.
While the vegetables cool mix together the meatloaf.
In a large bowl combine the bread and milk until it forms a paste. Add eggs to the paste and mix until combined.
Next add ground turkey, ½ cup pizza sauce, pepperoni (make sure to save 6- 8 slices for the top of the meatloaf),1 cup mozzarella cheese, Italian seasoning, garlic powder, onion powder, salt, Worcestershire sauce, and romano cheese. Mix all the ingredients until combined.
If needed, drain the mushrooms and onions. Add vegetables to the meatloaf and mix until combined.
Form meatloaf mixture into a loaf on a pan sprayed with cooking spray. Spread ½ cup of pizza sauce over the top.
Cook for 1 hour.
Remove meatloaf from oven. Set oven to broil.
Sprinkle cheese and 6-8 slices of pepperoni on top of the meatloaf. Broil for 2-3 minutes or until cheese is melted and pepperoni is crisp.
Cut into slices and serve hot.
Sugar: 3


Make-ahead instructions


Meatloaf can be made completely ahead of time, sliced into portions, and store in the refrigerator (up to 3-4 days) or freezer (up to 3 months). However, if you don't want to cook it completely ahead of time you can prepare the meatloaf up until it goes into the oven. It can be stored in the refrigerator for a couple days or you can wrap it in plastic wrap and store in the freezer up to 3 months. If you choose to freeze then lay plastic wrap down first then form the loaf on top of it. Place it in the freezer to freeze for a bit or "flash freeze" then take the loaf out and wrap it up a couple times in more plastic wrap and place it in the freezer. Take it out a day or 2 ahead of time to thaw in the refrigerator before you cook it. Continue with the rest of the recipe. Please note if cooking from the refrigerator it might need a few extra minutes cooking time.  The internal temperature should be 165 degrees.
Serving size:
⅛ of recipe
Calories:
376
Fat:
17
Saturated fat:
6
Carbohydrates:
26
Fiber:
3
Protein:
34
Recipe by
Organize Yourself Skinny
at https://www.organizeyourselfskinny.com/low-carb-pizza-style-turkey-meatloaf-recipe/