Healthy Baked Chicken Meatball Parmesan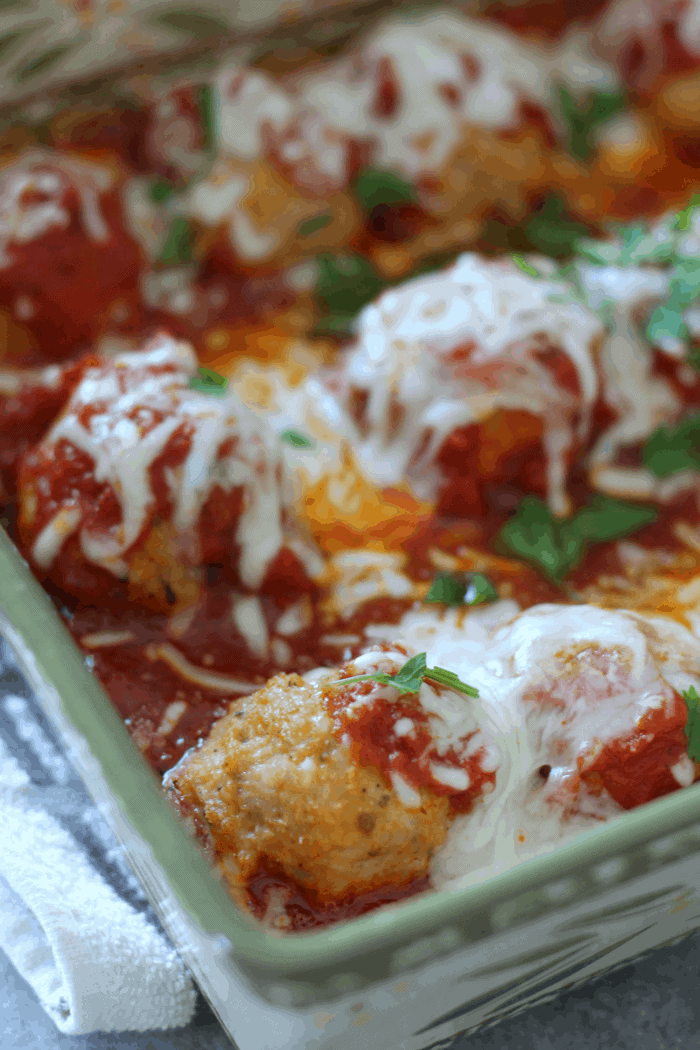 Author:
Organize Yourself Skinny
1 lb ground chicken breast
1 egg
3 garlic cloves, grated or finely chopped
1 teaspoon onion powder
1 teaspoon Italian seasoning
½ teaspoon salt
1 teaspoon ground black pepper
1 tablespoon Worcestershire
¼ grated parmesan or romano cheese
½ cup unseasoned bread crumbs
2 cups spaghetti sauce, divided
1 cup shredded mozzarella cheese
Preheat oven to 375 degrees.
In a medium bowl mix together ground chicken, egg, garlic, onion powder, Italian seasoning, salt, black pepper, Worcestershire sauce, grated cheese, breadcrumbs, and ¼ cup of the spaghetti sauce.
Form into 18 meatballs and place onto a baking sheet coated with cooking spray. I lay foil on the sheet to help with clean up.
Bake for 20 minutes.
As the meatballs cook, cover the bottom of a 9 x 13 baking dish with ½ cup of the spaghetti sauce. After the meatballs are done place them in the baking dish. Pour the rest of the spaghetti sauce, and sprinkle the mozzarella cheese, over the top.
Cover the dish with foil and bake for another 20 minutes.
Serve hot.
sugar: 2


Make-ahead instructions


The meatballs can be made ahead of time a couple different ways. First, you can make the recipe completely, portion out, and store in the refrigerator (up to 5 days) or freeze (up to 3 months). Reheat in the microwave. Second, you can bake the meatballs and then freeze before baking in the sauce. When you're ready to use the meatballs thaw them overnight in the refrigerator and then continue with recipe. Please note you might need to add on a couple minutes if the meatballs weren't thawed all the way.
Serving size:
3 meatballs
Calories:
253
Fat:
13
Saturated fat:
5
Carbohydrates:
10
Fiber:
1
Protein:
24
Recipe by
Organize Yourself Skinny
at https://www.organizeyourselfskinny.com/healthy-baked-chicken-meatball-parmesan/