Spicy Honey Garlic Shrimp with Quinoa and Vegetables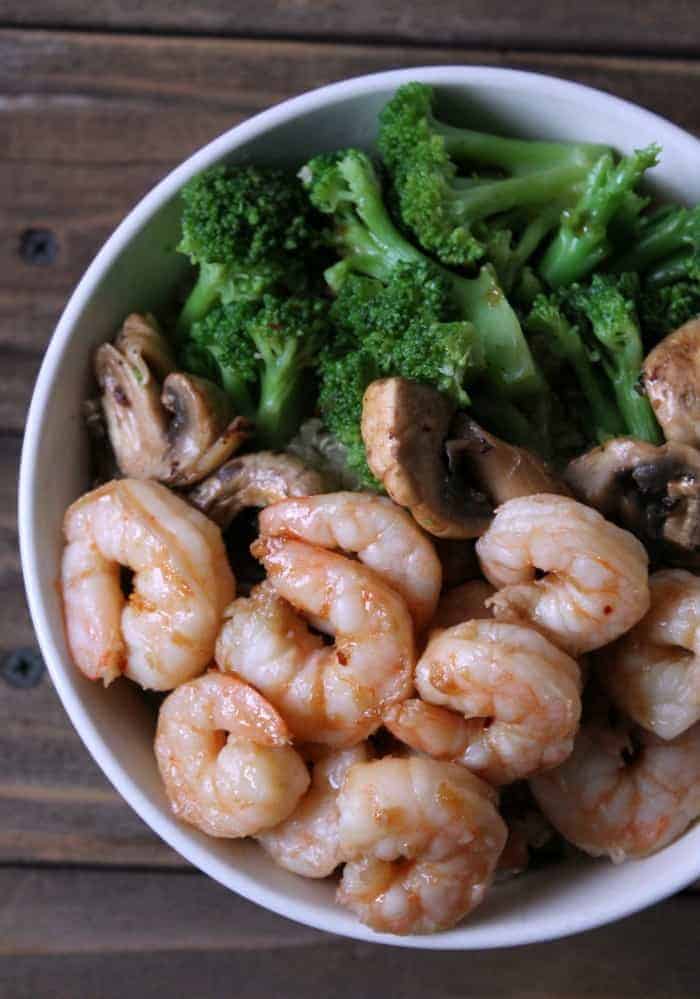 Author:
Organize Yourself Skinny
¼ cup honey
¼ cup soy sauce
¼ teaspoon crushed red pepper flakes
3 cloves garlic, grated
2 tablespoons rice vinegar
1 tablespoon sesame oil
1 lb medium shrimp (about 40 shrimp), shelled and cleaned
steamed broccoli
sauted mushrooms
cooked quinoa
Pour the honey, soy sauce, crushed red pepper flakes, garlic, rice vinegar, and sesame oil into a small jar with a lid. Place the lid on and vigorously shake until all the ingredients are blended. You can also use a small whisk or fork to do this too.
Place the shrimp in a bowl and pour half (or less) of the marinade over top. Stir around the shrimp until all the shrimp have been coated with the marinade.
Marinate in the refrigerator for 3-4 hours or preferably overnight.
Remove shrimp from the marinade (discard used marinade) and cook in a hot frying pan. You can use a little olive oil if needed. Cook on both sides until the shrimp is pink and opaque in the middle. This only takes about 3-5 minutes.
Serve with broccoli, mushrooms, and quinoa. Drizzle reserved marinade over top.
**nutritional information is only for the shrimp and marinade. Please adjust accordingly for the vegetables and quinoa.


Sugar: 12


Make-ahead tips


This shrimp can be marinated a day ahead of time. You can also make the quinoa and vegetables ahead of time too. The shrimp can also be frozen in marinade up to 3 months ahead of time.
Serving size:
6-7 shrimp
Calories:
165
Fat:
4
Saturated fat:
1
Carbohydrates:
15
Fiber:
0
Protein:
19
Recipe by
Organize Yourself Skinny
at https://www.organizeyourselfskinny.com/spicy-honey-garlic-shrimp-quinoa-vegetables/