When it comes to easy meal prep these Greek snack boxes take the cake! Healthy snacks for the week can be put together in about 15 minutes or less.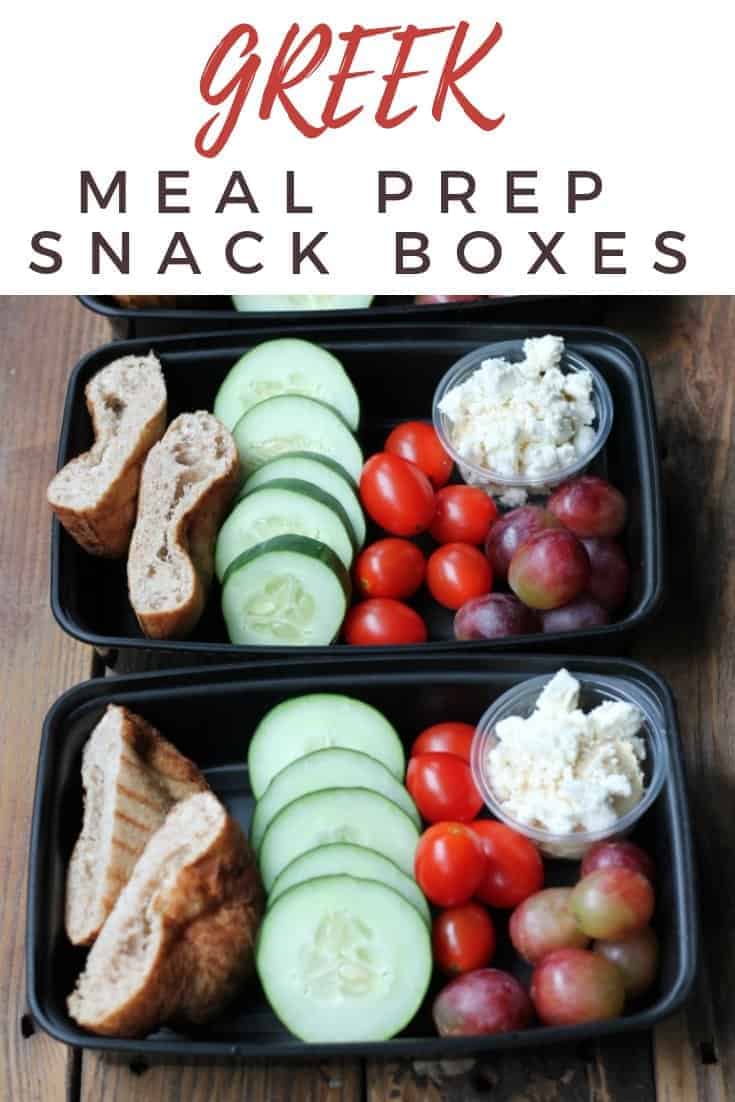 I'm all about keeping it simple. And by "it" I mean everything. My hair, clothes, makeup, and pretty much everything in my life all need to be simple. I don't have the time or patience to fuss with stuff or complicate things. I like it easy and that includes easy meal prep.
Meal prep doesn't get much easier than these Greek snack boxes. Like my Cheese and Fruit Snack Box or Protein Snack Box this is more of an idea than a recipe. Over the years, I've learned that my readers (that's you) appreciate the easy meal prep ideas. Sure, there are days you have more time to prepare recipes but some weeks you just want easy peasy – that's what you get with these Greek snack boxes. I got you!
Okay let's get to this easy meal prep idea. Now don't blink or you might miss it.
In all of my meal prep snack boxes I like there to be a healthy mix of protein, fiber, and some wholegrain carbs. Basically, I need my snacks to fill me up AND keep me full in-between meals. There's nothing worse than eating a snack only to feel hungry an hour later.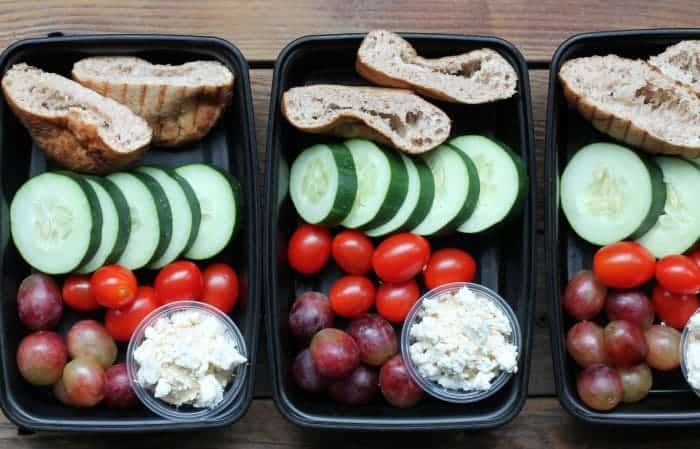 Let's start with the carbs. I used a 100 calorie Father Sam's mini pita pocket. This was the perfect amount of bread for this snack box.
Then for some flavor and bulk I included 2 tablespoons of garlic hummus and 2 teaspoons of feta cheese. I purchase a (100 pack) package of 2 ounce plastic salad dressing containers. These come with lids and are perfect for on the go. You can purchase these 2-ounce containers on Amazon.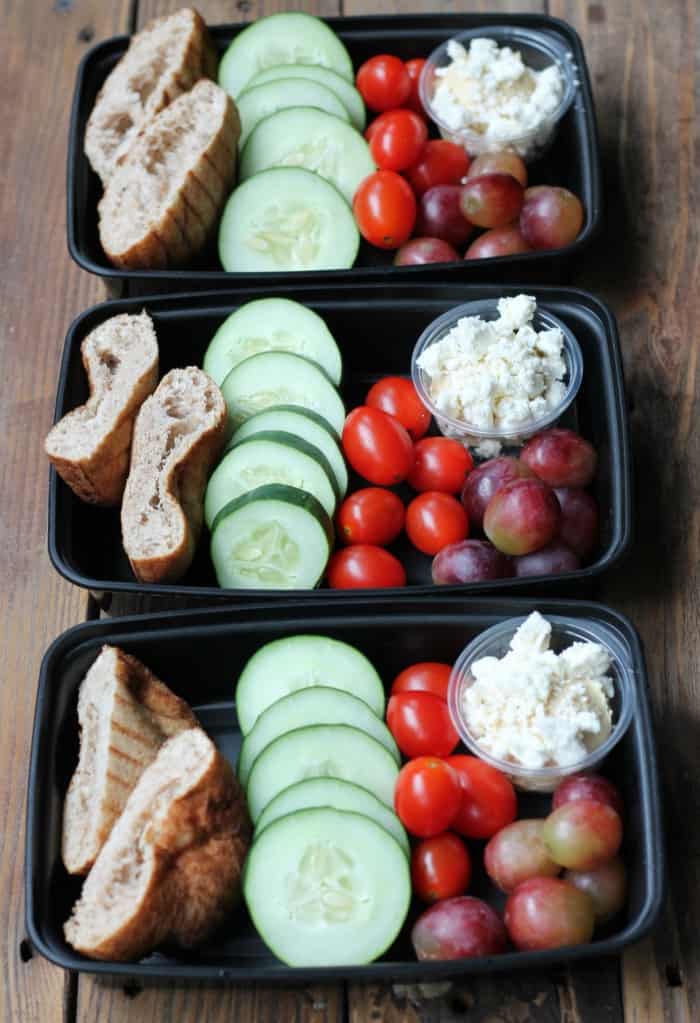 For the fruits and vegetables I included 5 slices of cucumber, 6 grape tomatoes, and 6 red grapes. I like to add grapes to most of my snack boxes because they hold up well all week and add a nice taste of sweetness.
These Greek Snack Boxes will last all week.
I only made 3 on Sunday because I wanted to eat a yogurt parfait a couple days. However, I didn't get to the Greek snack boxes until later in the week and each one was still fresh and delicious.
Not to mention each box is only 254 calories and completely filled me up.
I put together this easy meal prep idea using the meal prep containers you see below. You can purchase them on Amazon here.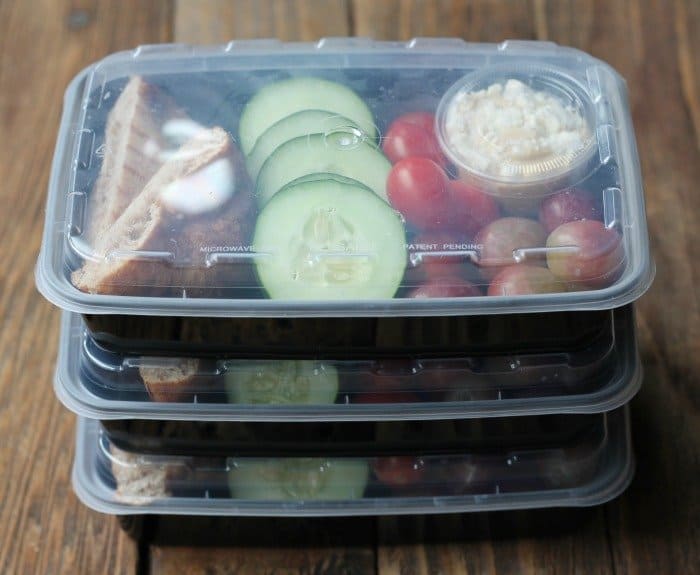 Here are some other meal prep posts:
A Beginner's Guide to Meal Prep
5 Ways to Keep Meal Prep Simple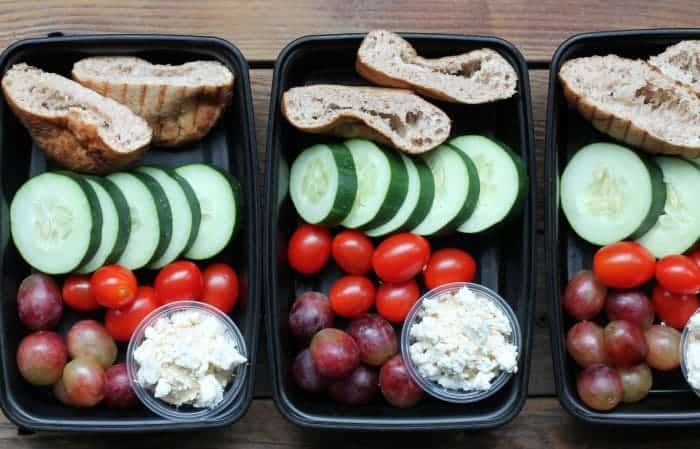 Ingredients
1

100-calorie mini pita

2

tablespoons

garlic hummus

2

teaspoons

feta cheese

5

slices

cucumber

6

grape tomatoes

6

red grapes
Instructions
Place all of the ingredients side by side in a meal prep container. This recipe makes 1 container so increase the ingredients for the amount of snack boxes you'd like to make.
Notes
Sugar: 12
Make-ahead tips
These snack boxes can be made up to 5 days ahead of time.
Nutrition
Serving:
1
g
|
Calories:
254
kcal
|
Carbohydrates:
43
g
|
Protein:
9
g
|
Fat:
7
g
|
Saturated Fat:
2
g
|
Fiber:
4
g