Create the perfect Easter menu this year with all of these secretly healthy Easter food ideas! From appetizer to dessert, I have something for every meal and no one will ever guess your entire dinner (or brunch) menu is actually healthy!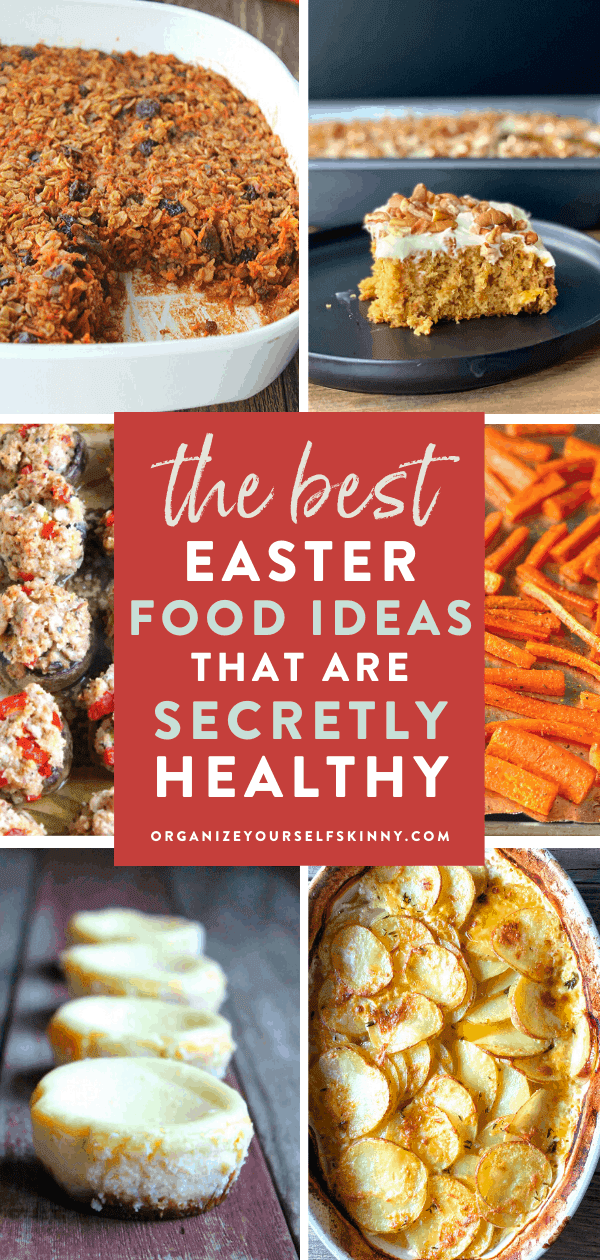 Is it me or doesn't it feel like New Years was just yesterday? I can't believe we're already planning for Easter!
Just like most holidays, my husband and I host Easter almost every year. Now that our parents are older, they've handed over the torch to us. Which, we totally don't mind at all because we enjoy hosting all kinds of parties.
Plus, our mothers have done this for so long, I feel like that they can just come and relax without having to worry about cooking or the mess.
Easter Food Ideas That Are Secretly Healthy
Easter food is more flexible than other holidays because some people do brunch while some do dinner. We tend to eat around 3:00 pm so it's likely we'll serve more dinner foods. But, sometimes, we'll also serve some of our brunch favorites just because!
So, depending on the time of day you plan to eat, it will really narrow down your Easter dinner menu ideas.
Regardless, just like with all of our holiday parties, I like to serve up a healthier version of our favorite recipes.
Here's a list of Easter food ideas that would be perfect for your Easter Party (and healthy too!).
Appetizers
There's no real party without the most epic appetizers. It's what sets up the rest of your Easter dinner menu!
Easter always has an abundance of hard-boiled eggs. This means deviled eggs in my house and there's no better deviled eggs recipe (in my husband's opinion) than this one! The horseradish kick sends these over the edge in the best way.
Also, this recipe can and should be made ahead of time. If you're planning to make these, then I highly recommend getting a deviled tray holder like this one. Deviled eggs can get a little tricky when trying to serve them on a basic platter.
I lighten these up by using less egg yoke and light mayo. Trust me, nobody knows these are lightened up at all!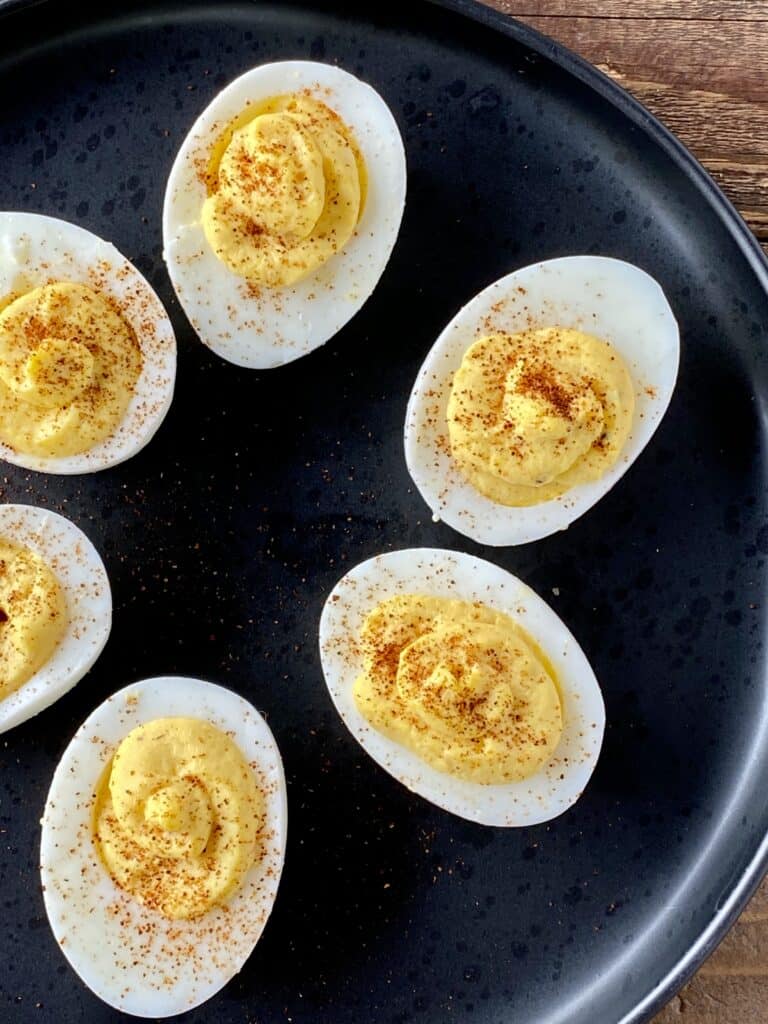 This isn't necessarily an "Easter" food but I started bringing these for Easter about 5-6 years ago and they've since become a tradition at our Easter brunch.
If you have stuffed mushroom fans, then they'll be excited when they see these brought out!
I lightened these stuffed mushrooms up by using chicken sausage and not overloading the cheese in the stuffing. The flavor in these stuff mushrooms is rich and delicious and nobody will ever guess they're lightened up at all.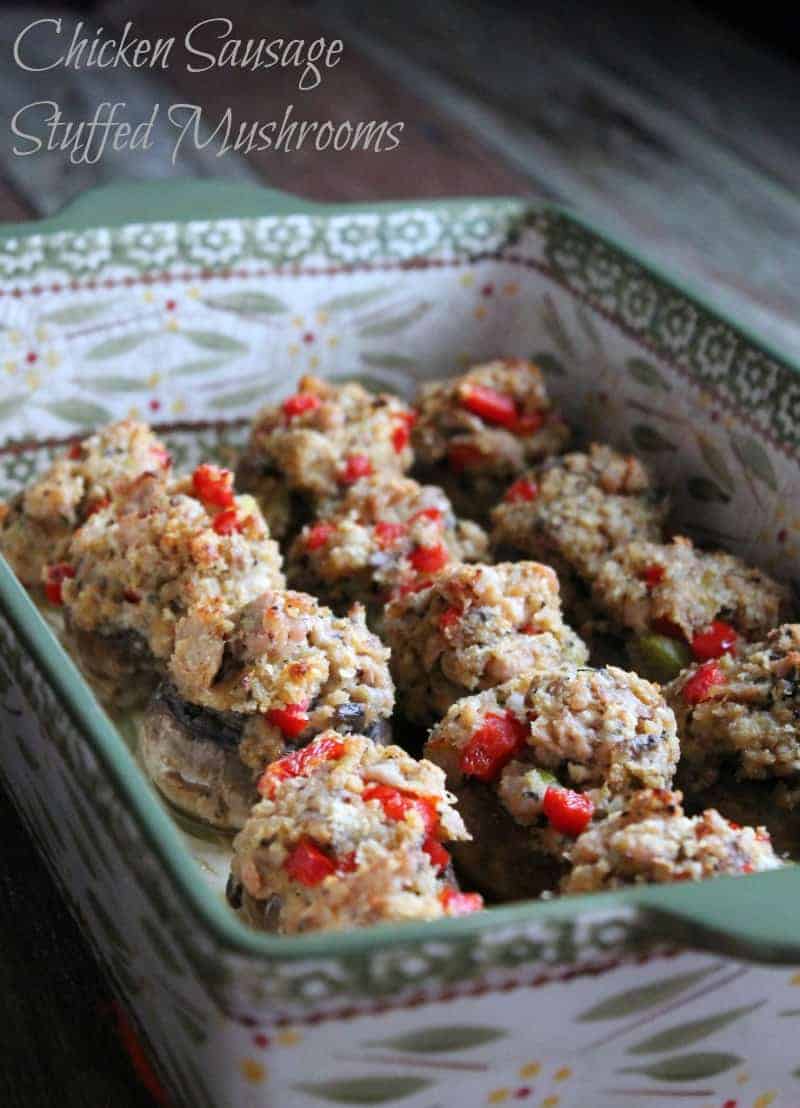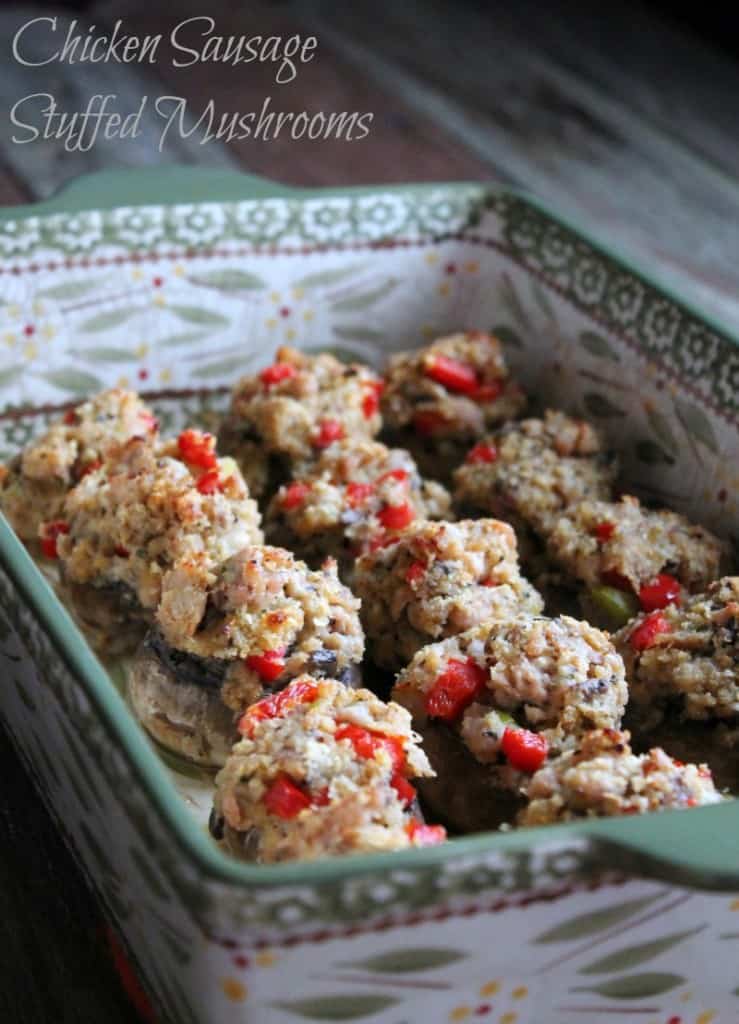 I'm adding this one to the list because is it even considered a party if there's not a dip involved?
This is my most requested dip! So, I make this for just about every party and Easter brunch isn't an exception.
I lighten this up by using chicken sausage, low-fat cream cheese, and low-fat sour cream.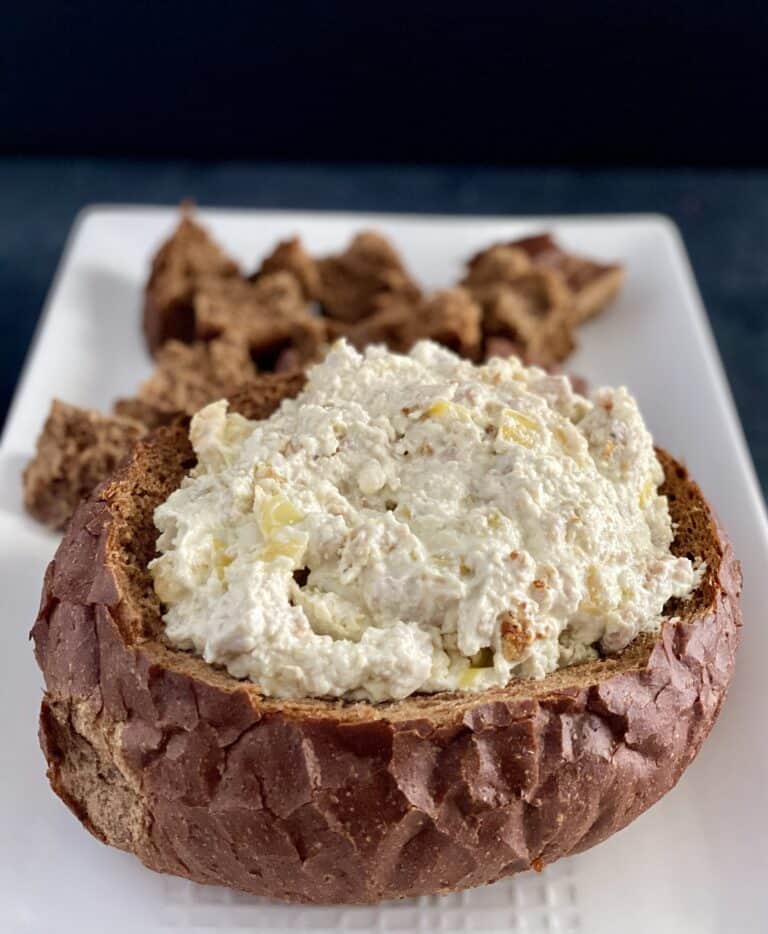 Main Dish
The main dish at our Easter table is ham, polish sausage, pierogis, and a big dish of lazy pierogis. I know the pierogis aren't really healthy at all but it's tradition to have them on our Easter table so… 😁
I'm not sure if it's like this in other parts of the country (or world for that matter) but, here in Buffalo, NY, Easter is a holiday where the polish food shines.
My dad is Polish so he really looks forward to the Polish spread!
Side Dishes
To make a spectacular main dish, you need to pair it up with the perfect dish- and I know just the one!
This is one of the best au-gratin bakes I've ever had. Even better? It's actually lightened up!
The potatoes are so deliciously creamy and cheesy and yet it still has a freshness to it thanks to the shallots and fresh thyme.
It goes perfectly alongside baked ham! Or, if you already have enough carbs on the table, then make this potato bake with some leftover ham later in the week 😉
To lighten up this recipe, I used 2% milk and only a small amount of butter and low-fat cheese to minimize the calories in this dish.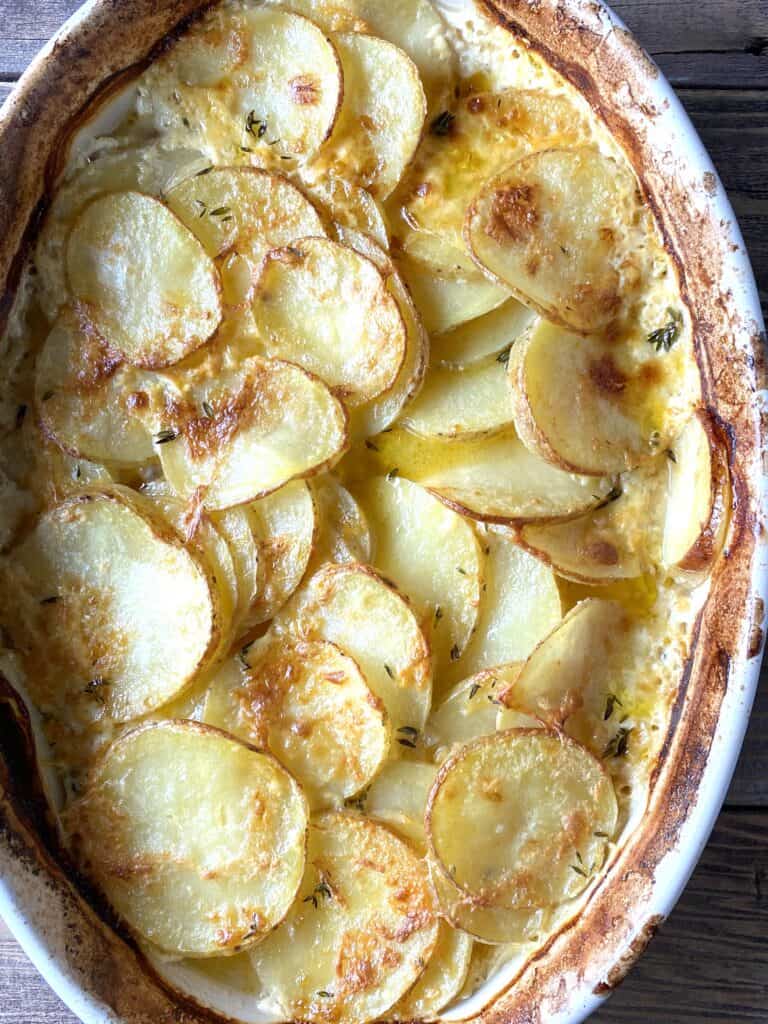 Roasted Vegetables
I like to serve a spread of roasted vegetables for Easter dinner because not everybody likes the same thing and I want to make sure everyone can get a little something.
Here are some of my favorite roasted vegetables to serve for Easter!
This roasted asparagus is one of my favorite veggies to roast and serve for Easter dinner. Even better, I have FOUR different ways to make them and they each just keep getting better.
The bacon-wrapped asparagus is always a winner…are you even that surprised?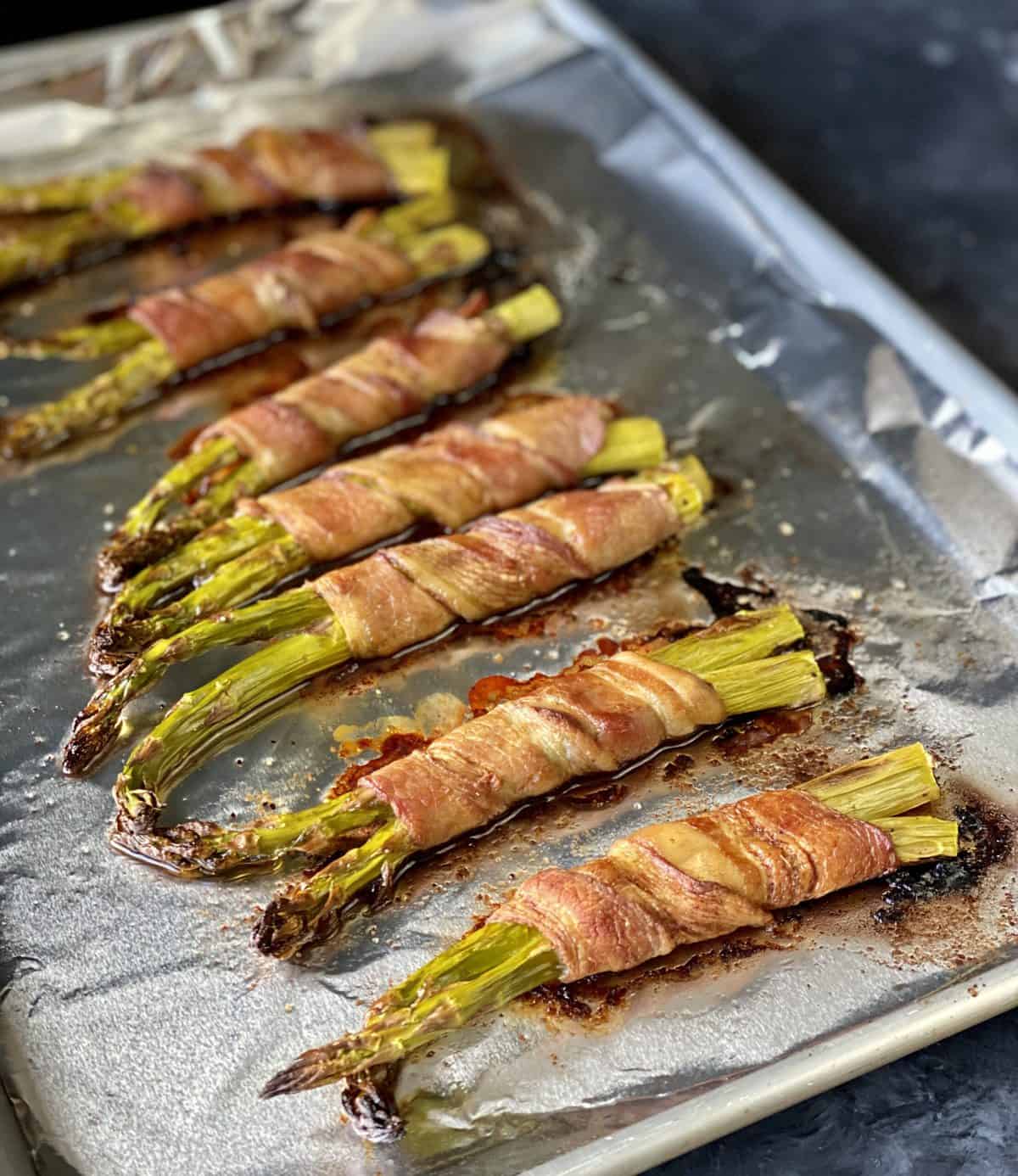 I mean, carrots and Easter go together right? These oven-roasted carrots have this amazing caramelization on the outside and yet are incredibly tender as well.
So good!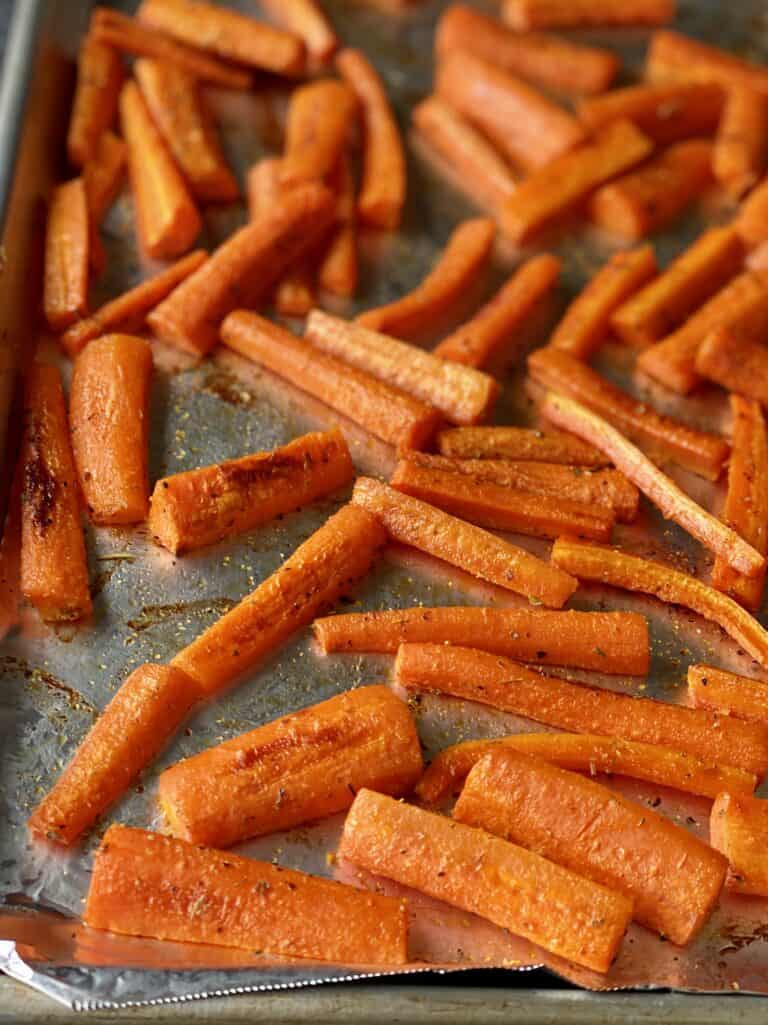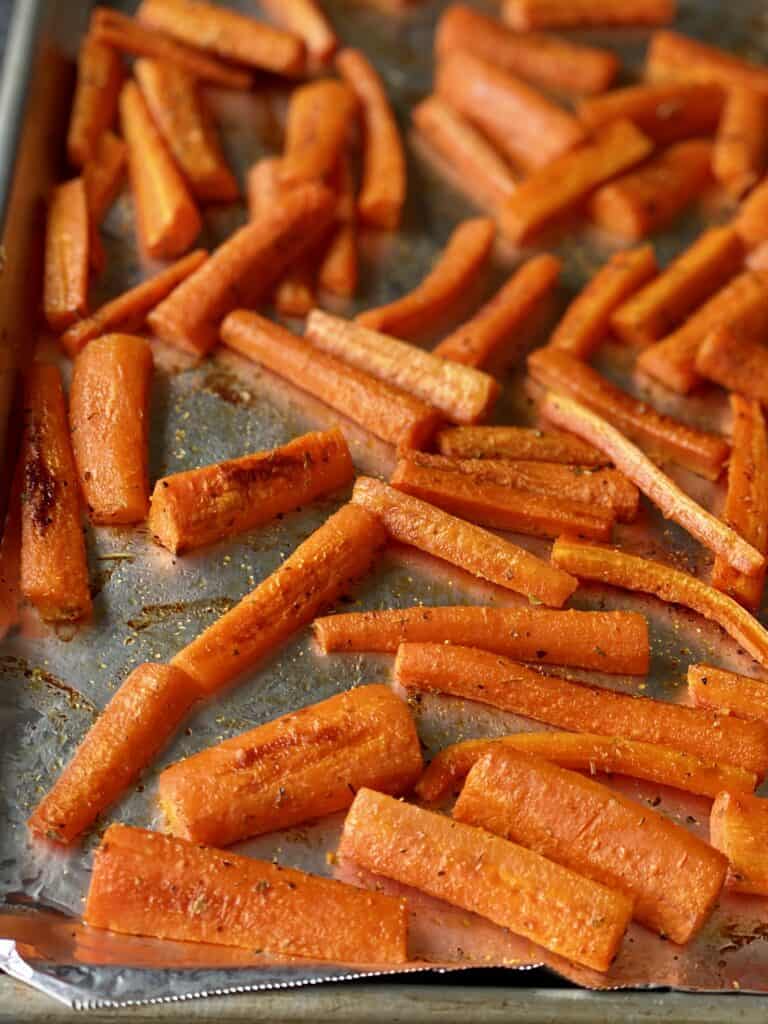 These sweet potatoes are a little different being that they are seasoned with some chili but, that's what I love about them! Between the spiciness of the potatoes and the sweetness of the ham, it's the perfect harmony of flavors.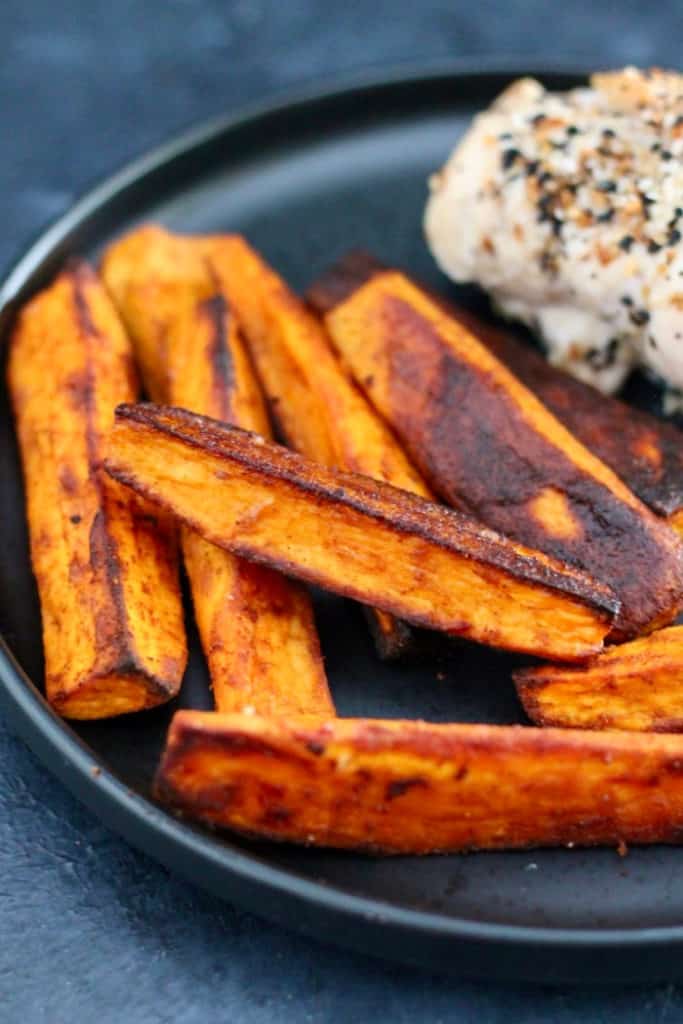 Dessert
And, you can't end Easter dinner without a little bit of sweetness. Making either one of these desserts will leave everyone with happy memories of your Easter party!
Having apple pie is a must at any holiday party you are hosting. Not only is it a crowd-pleaser, but it also has a fun secret sauce that makes this apple pie better than all the pies out there.
(Okay, I'll tell you. It's salted caramel!)
Serve it alone or with a scoop of low-fat vanilla ice cream to end the evening on a high note.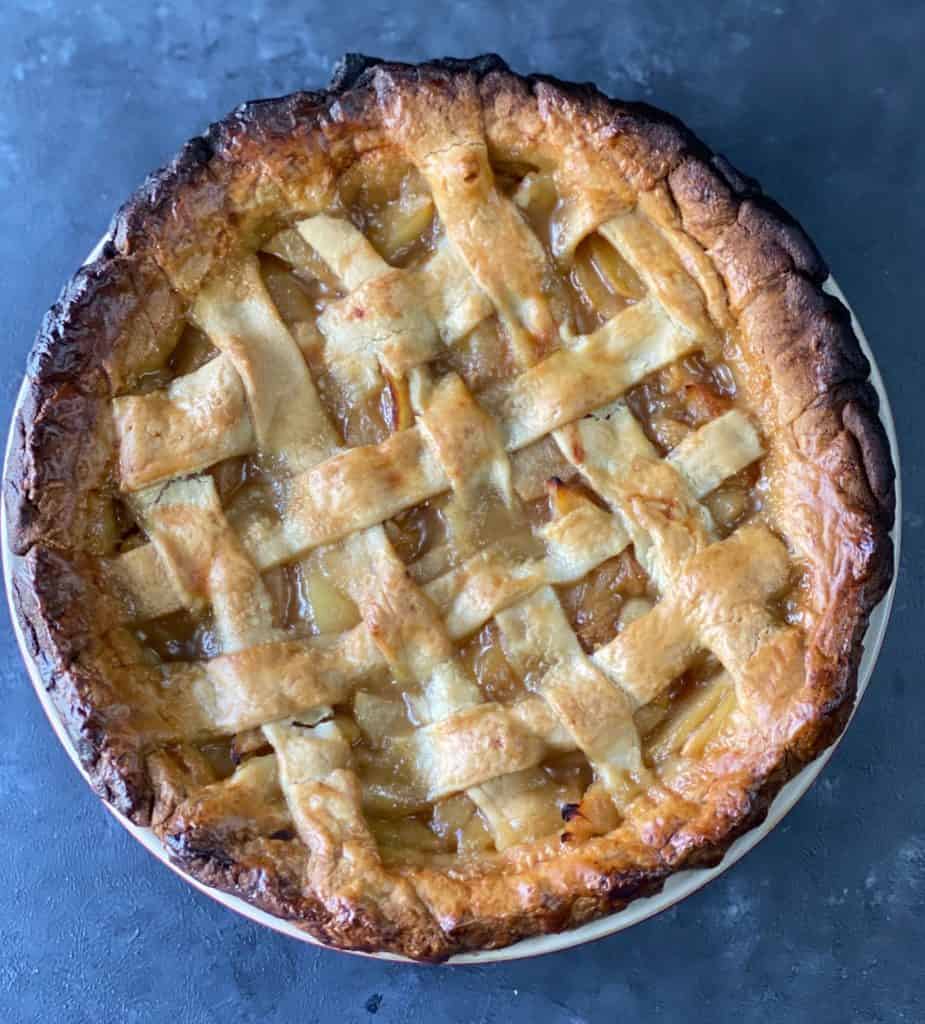 The star of our Easter table whether it's for brunch or dinner is hands down this carrot cake.
This moist cake is made with crushed pineapple, coconut oil, spices, and of course, shredded carrots. It's topped with a tangy cream cheese frosting to create one of the most delicious carrot cakes ever.
Everyone will be in line for seconds for this carrot cake! And, while it's still a dessert and includes sugar, it definitely made with wholesome ingredients that you don't need to feel too guilty about eating.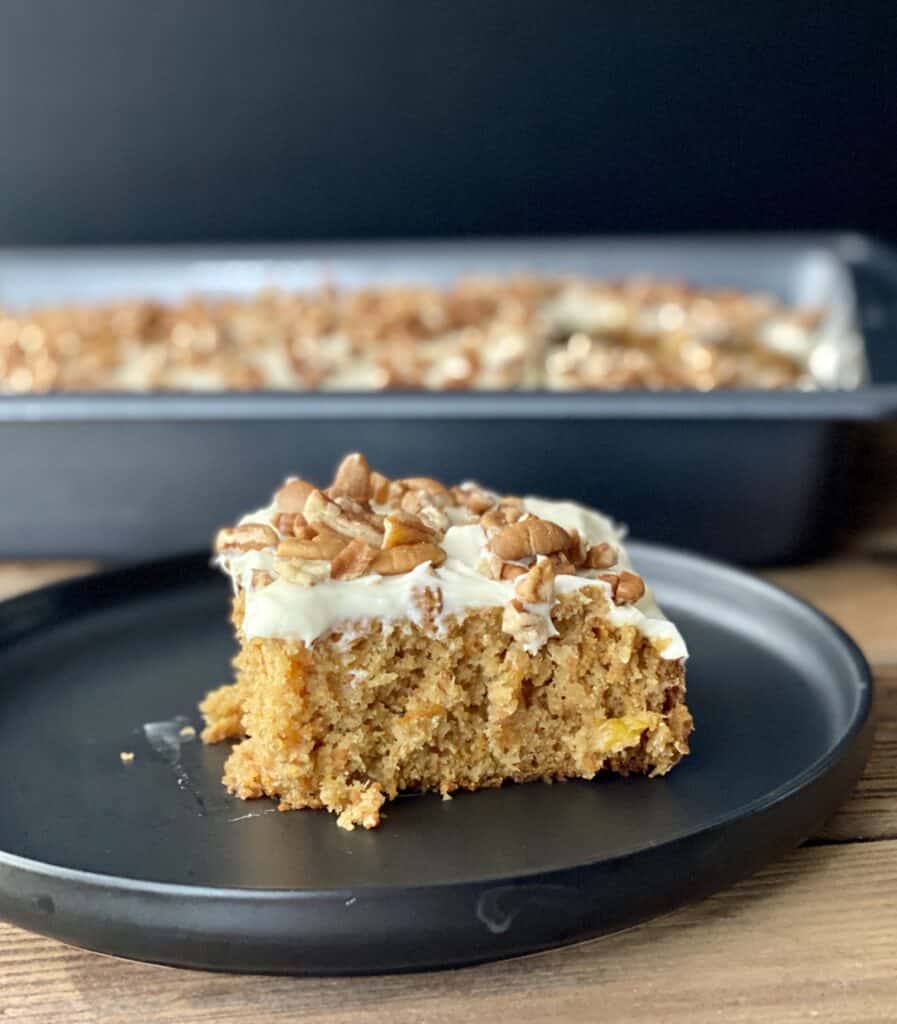 You're welcome!
I hope you found some delicious Easter food ideas to use for your brunch or dinner menu. Share a picture and tag me on Instagram or Facebook if you decide to make any of these recipes!