Fall just got a little bit sweeter with these rich brownies filled with delicious canned pumpkin and loads of chocolate!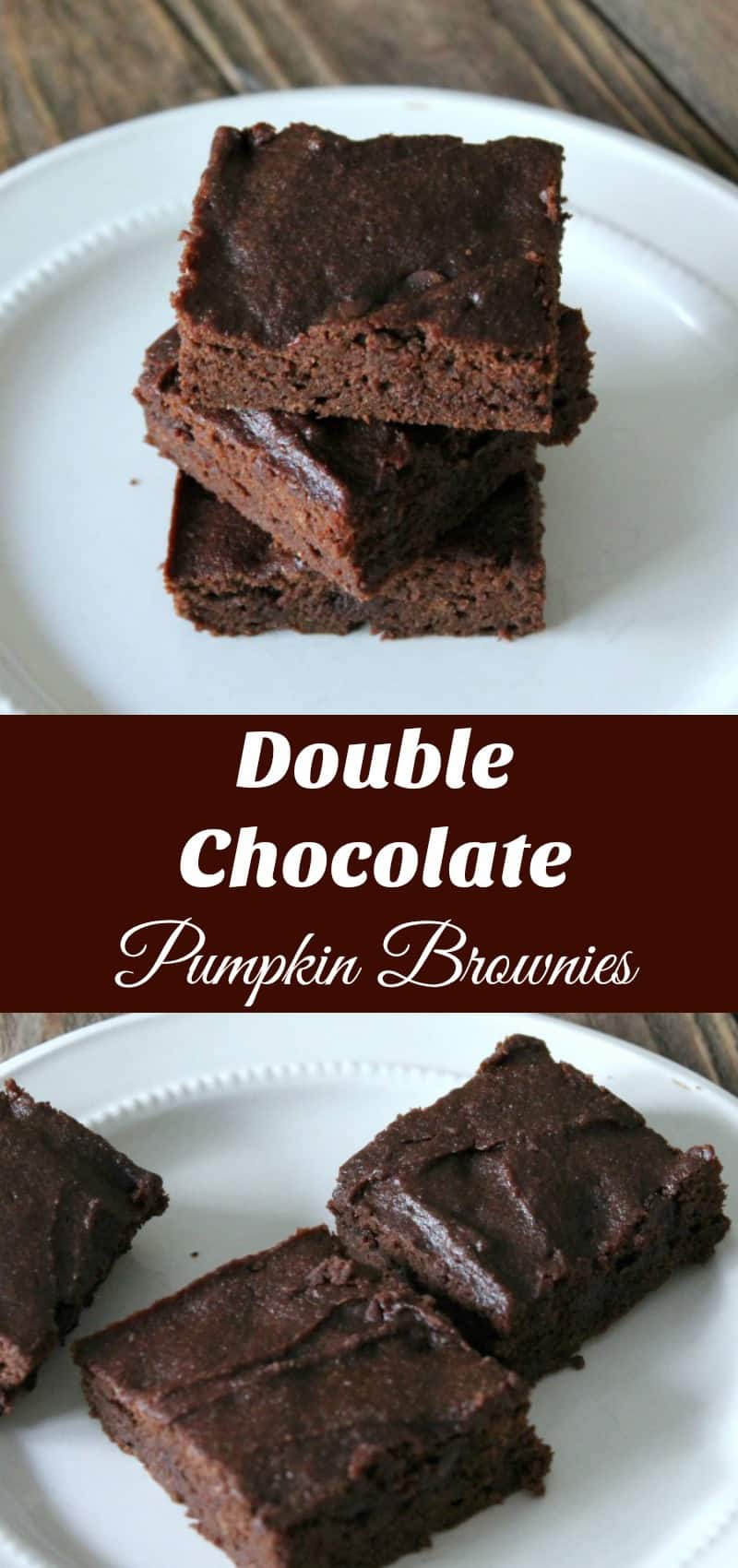 I never thought to add pumpkin to brownies before. It only just popped into my head this past summer after I added grated zucchini to brownies and discovered the richest brownies ever! Afterwards, I immediately made a note to add pumpkin next time and happy I did because apparently pumpkin is meant to be in a brownie recipe – kinda like zucchini. Who knew?
These brownies taste like…brownies. The only difference is there is a mild flavor of pumpkin and a hint of pumpkin spice. Pumpkin is a fabulous way to add a huge amount of moisture to a brownie recipe without a lot of fat. If you don't want the spice flavor then leave it out but if you are looking for the warm flavors of fall baked into a brownie then leave it in. Your choice 🙂
As you can see from my dessert archives I like brownie recipes. There's a simple reason for that…brownies are super easy to make and can be filled with all kinds of goodness without the kiddos knowing. At this point my kids accept the fact that I sneak "weird stuff" into their brownies and other baked goods. But hey I'm the cook and if they want a sweet treat then they need to deal with zucchini, yogurt, and now pumpkin going into their brownies. As one of my friends says "It's the cost of doing business" haha #truth. Buuut if you don't tell your kiddos there's pumpkin in these I'm betting they won't know.
Let's go through this recipe. It's super basic and easy so it won't take long.
Here are the ingredients.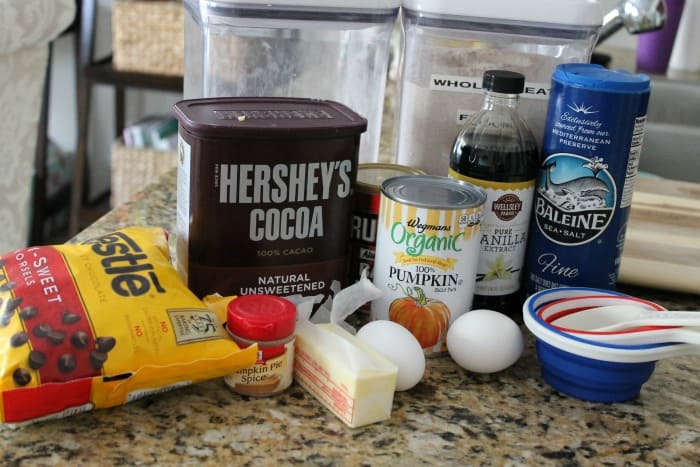 I started by mixing butter and sugar together. Then I whisked in eggs and stirred in pumpkin and vanilla. One of these days I'm going to hire someone to take pictures of me while I bake/cook because I swear I missed like 2-3 steps I wanted to show you.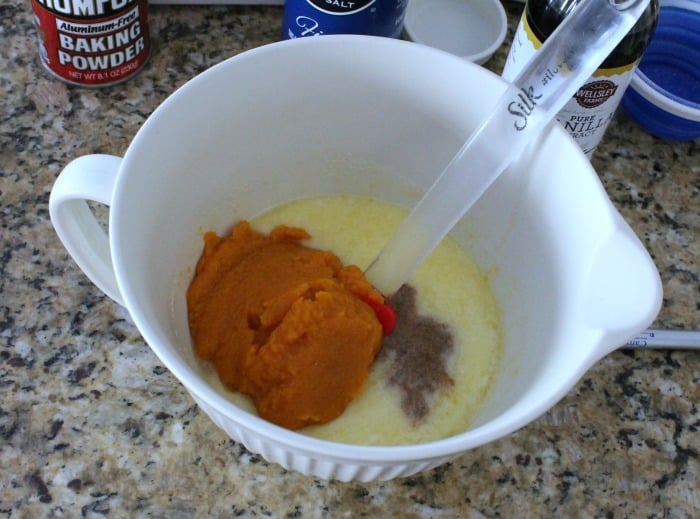 Here it is all mixed together.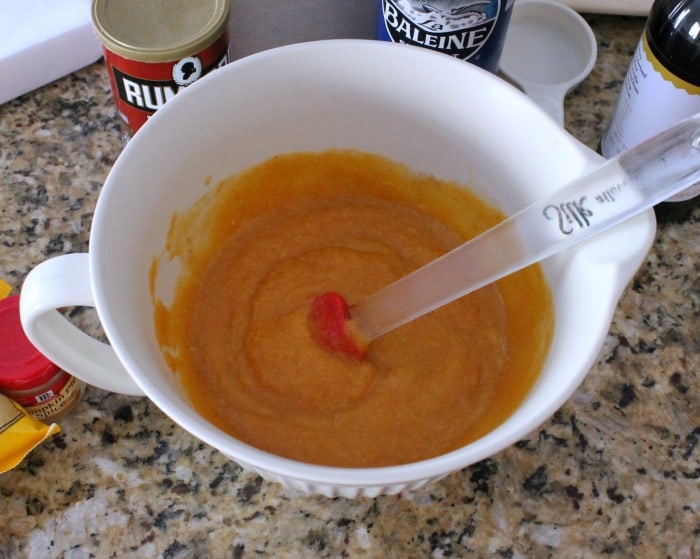 Then I added the cocoa powder.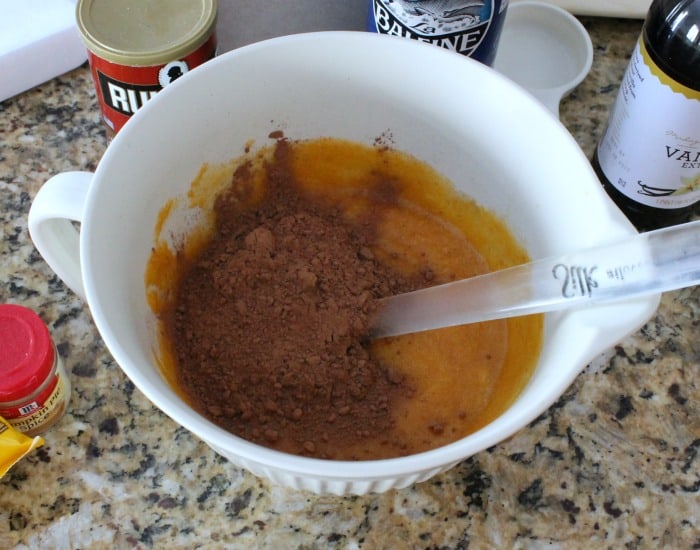 I stirred until the batter was chocolatey. It's easier to add the cocoa powder during this step because it takes a few extra stirs to get it all mixed up.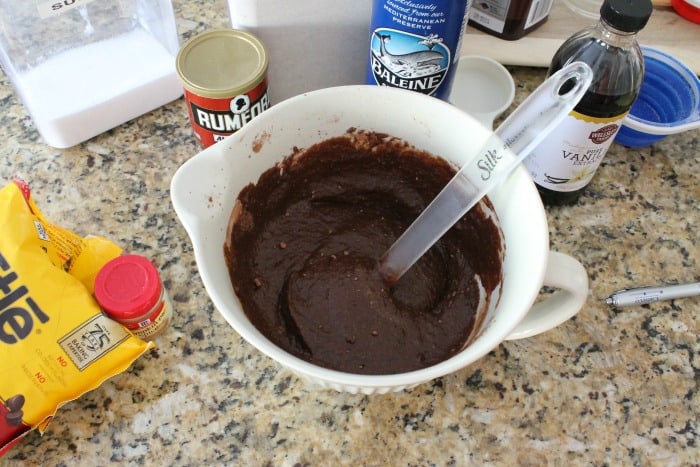 I added the flour, spice, salt, and baking powder to the bowl. This is a 1-bowl recipe. We've discussed this before, but I will mention it again, most of my baked good recipes have turned into 1-bowl recipes out of pure laziness. But it works so win win.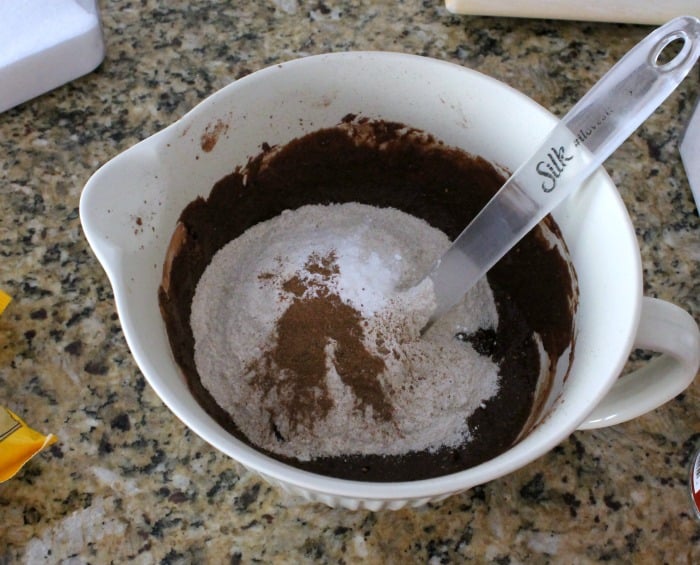 Give the batter a few stirs until all the ingredients are combined. Slowly stir in the chocolate chips. I guess you could leave out the chocolate chips to reduce the calories a little more but then it wouldn't be double chocolate and would just make everyone sad. But I won't judge.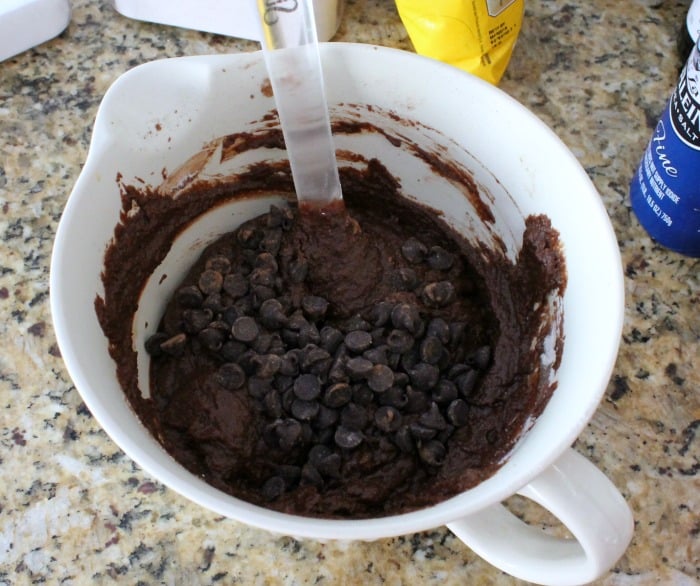 Now add the batter to a 9 inch baking pan sprayed with cooking spray. This is a thick luscious batter.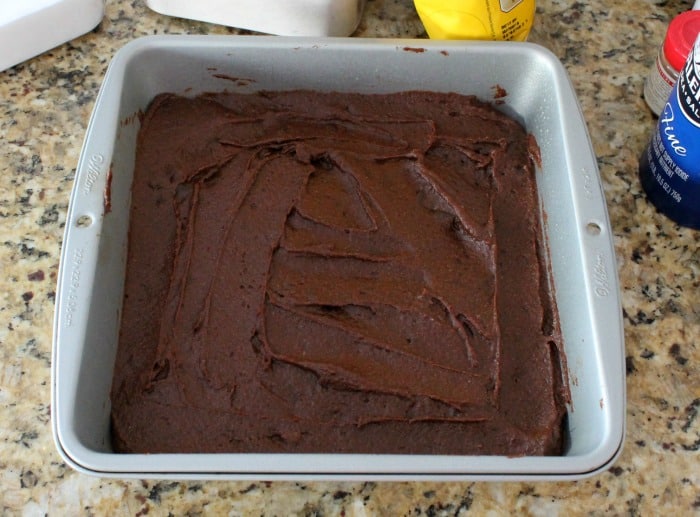 Bake for 22-23 minutes in a 350 degree oven. Don't over-bake your brownies because not even pumpkin could save a dry over-baked brownie.
Cut the brownies into 16-squares after they cool. Yes I know my squares aren't even. But there is a method to my madness. The big squares are for "omg I need chocolate" days and the smaller squares are for my "kinda feel like chocolate" days. Well not really, I just cut them wrong, but hey it works for me.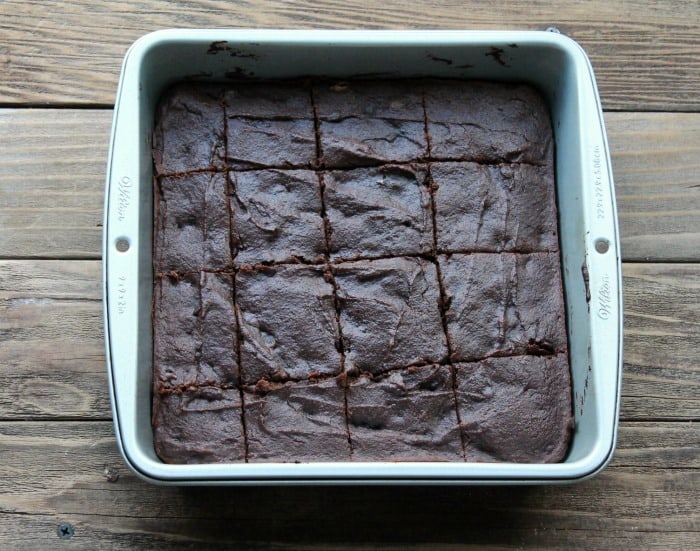 After the brownies were completely cooled I stuck them in in a freezer bag, laid the bag flat in the freezer, and once brownies were frozen I put the bag where I needed it to be in the freezer. Laying the bag flat helps keep the brownies from sticking together when frozen. I highly recommend freezing these brownies. First, they taste great right out of the freezer. Second, the brownies thaw fast if you rather not eat frozen. Third, if you don't freeze the brownies there's a possibility you will eat the entire pan. See, I'm looking out for your best interest.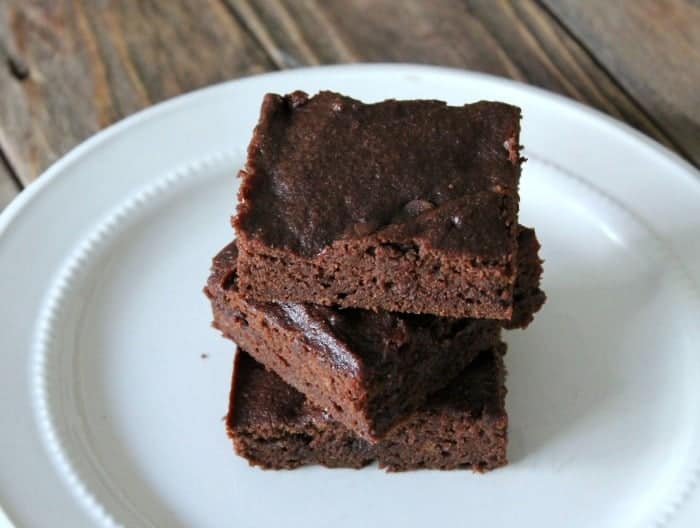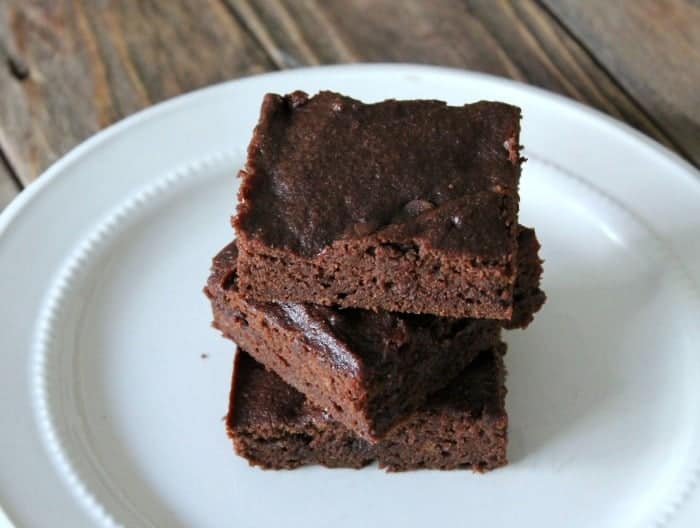 Ingredients
¼

cup

unsalted butter

melted

1

cup

sugar

2

eggs

beaten

1

teaspoon

pure vanilla extract

1

cup

canned pumpkin

not pumpkin pie filling

1/2

cup

cocoa powder

¾

cup

white whole wheat flour

1

teaspoon

pumpkin pie spice

¼

teaspoon

salt

½

teaspoon

baking powder

½

cup

semi sweet chocolate chips
Instructions
Preheat oven to 350 degrees.

In a large bowl cream together the butter, sugar, and eggs.

Stir in pumpkin and vanilla.

Then stir in the cocoa powder until the batter is dark and chocolatey.

Add the flour, pumpkin pie spice, salt, and baking powder to the bowl and stir until all of the ingredients are combined.

Slowly stir in the chocolate chips.

Pour the brownie batter into a 9-inch baking pan and bake for 22-23 minutes or until a toothpick is inserted and crumbs stick to it.

Let the brownies cool in the pan for about 10 - 15 minutes and then cut into 16 squares.
Notes
Sugar: 16
Make-ahead instructions
Let the brownies cool completely and then place in a freezer bag and lay flat. Once the brownies are frozen you can put the bag wherever you need in the freezer. Enjoy from the freezer or let thaw for 1/2 hour or so on the counter before you eat.
Nutrition
Serving:
1
g
|
Calories:
145
kcal
|
Carbohydrates:
23
g
|
Protein:
3
g
|
Fat:
6
g
|
Saturated Fat:
3
g
|
Fiber:
2
g