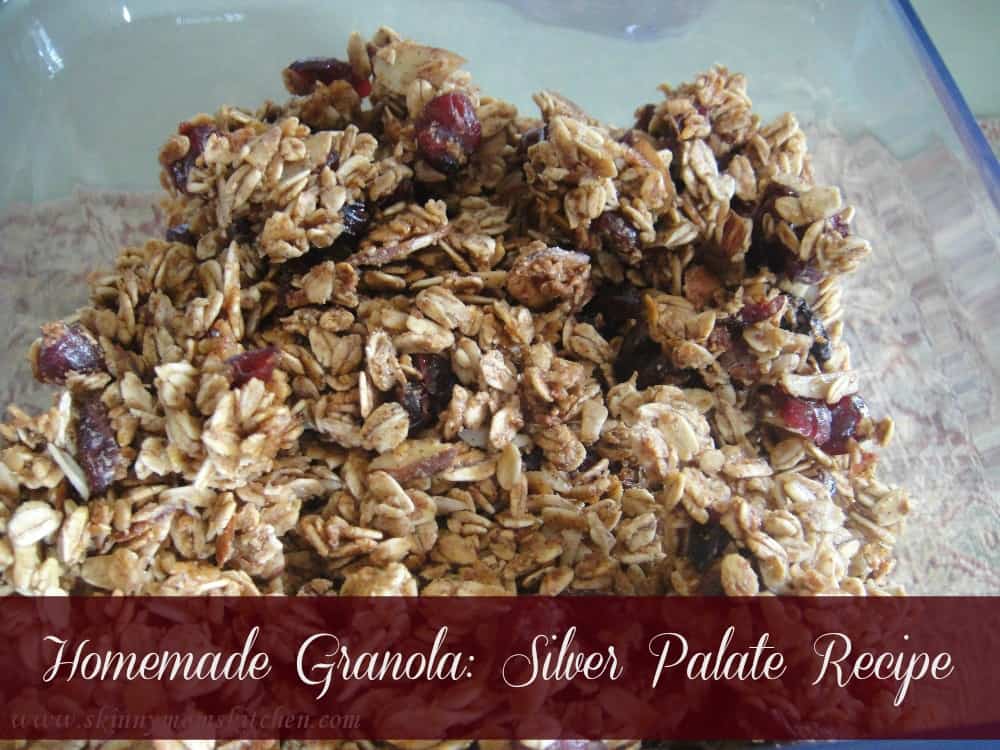 Have you ever did something then wonder to yourself, why didn't I do that years ago? Well that is exactly how I felt after making this homemade granola recipe.
The original recipe is from the Silver Palate Thick and Rough Oatmeal box. I adapted it slightly adding toasted wheat germ and only using slivered almonds and cranberries because that is what I had on hand.  The recipe is incredibly easy to make and the results are heavenly. Seriously, I am pretty sure I know what heaven smells like now.
This homemade granola  is healthier, cheaper, and taste better than anything you can purchase in a store. I highly encourage you to make it. Your entire family will love sprinkling it on yogurt, eating it with milk, or straight from the container as a snack.
Homemade Granola

Servings: Makes around 5-6 cups of granola

Serving size: 1/4 cup

Approximate nutrition information:

Calories: 150 * Carbs: 27 * Fat: 4 * Protein: 4 * Fiber: 3

Ingredients:

3 cups Silver Palate Oatmeal or Old Fashion Rolled Oats

1/2 cup toasted wheat germ * optional

1 cup slivered almonds (you can use any combination of nuts)

1 cup dried cranberries (you can use any combination of dried fruit)

1 tablespoon pure vanilla extract

1 tablespoon cinnamon

1/2 teaspoon salt

1/3 cup brown sugar

1 cup pure maple syrup

Directions:

Preheat oven to 325 degrees

Step 1. Mix all the dry ingredients together.

Step 2. Stir in the maple syrup and mix until everything is coated.

Step 3. Spread out on baking sheet.

Step 4. Bake at 325 for 40 minutes stirring the granola halfway through.
After the granola has completely cooled store in airtight containers. I just bought some Oxo "Good Grips" Pop 2.4 Quart Food Storage Containers
and they are awesome. Perfect for this granola.
I have not tried to freeze this granola yet but will update this post once I do.
Enjoy this recipe and please let me know what you think after you try it. Also, if you make any substitutions or additions please share because I am thinking the sky is the limit with this granola recipe.
Get Instant Access to My Best Weight Loss Tips & Strategies!
Sign up now for a free step-by-step 7-day email course that I created exclusively for my email subscribers! That's you. I will teach the best habits, strategies, and insider tips so you can enjoy a lifestyle that encourages and supports weight loss! Stop relying on willpower and take control back over your life! You can do this. Let me help!