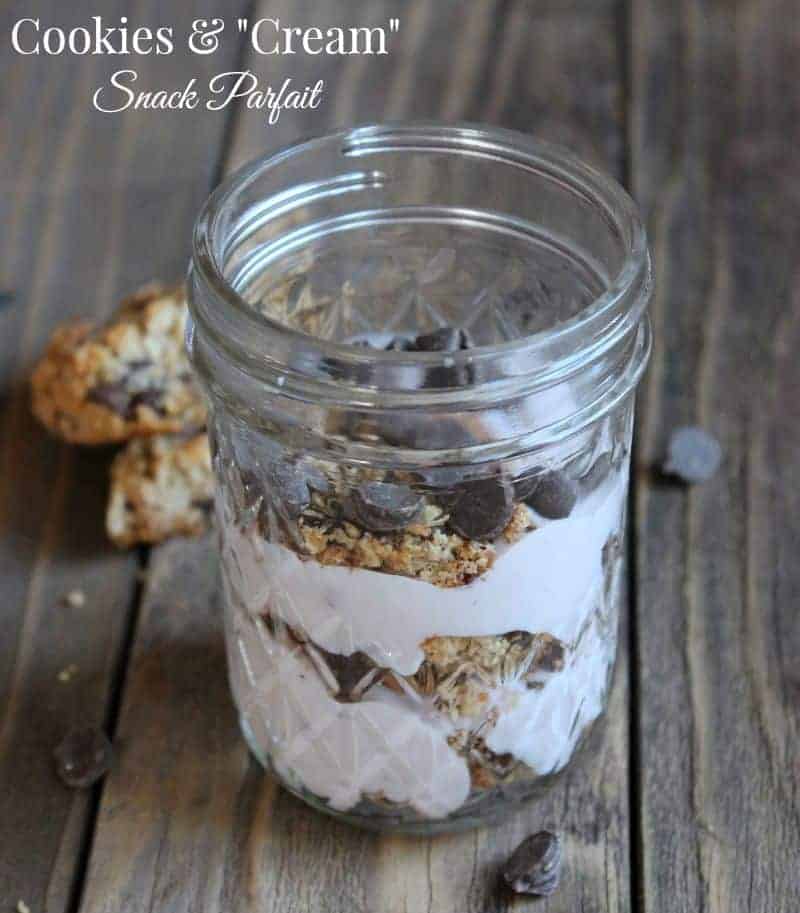 This Cookies & Cream Snack Parfait recipe is brought to you by Whitewave. Thanks so much sponsoring this post and inspiring this simple delicious recipe idea!
Parfaits are one of my favorite snack options. Each parfait recipe I create is completely dependent on my mood that day. Some days I feel fruity and will layer the parfait with lots of strawberries, blueberries, and other berries. Other days I might be feeling tropical so then pineapple and coconut it is. Sometimes I like to keep it simple with a little granola and raisins.
I was excited when Silk asked me to create a new simple parfait recipe using Silk Dairy-Free Yogurt Alternative. Before, I get to the recipe let me talk about the taste of Silk's new product. I purchased their strawberry and peach mango flavors and I gave both a taste prior to layering the parfaits. I thought each one was smooth, creamy, and delicious.Silk Dairy-Free provides 6 grams of soy protein per serving, with no cholesterol.  It's made with real fruit, without any artificial flavors or colors.
If you are looking for a dairy-free alternative to yogurt then give Silk's new product a try because I think you will enjoy it. You can get a coupon here.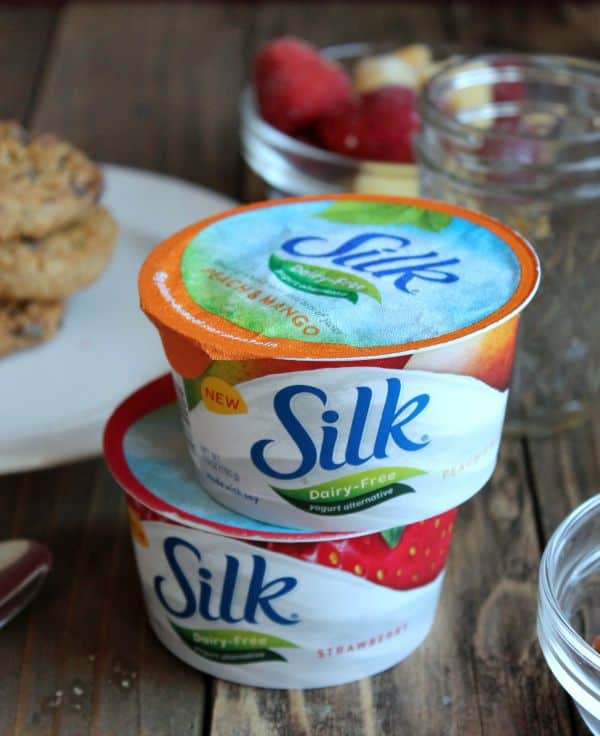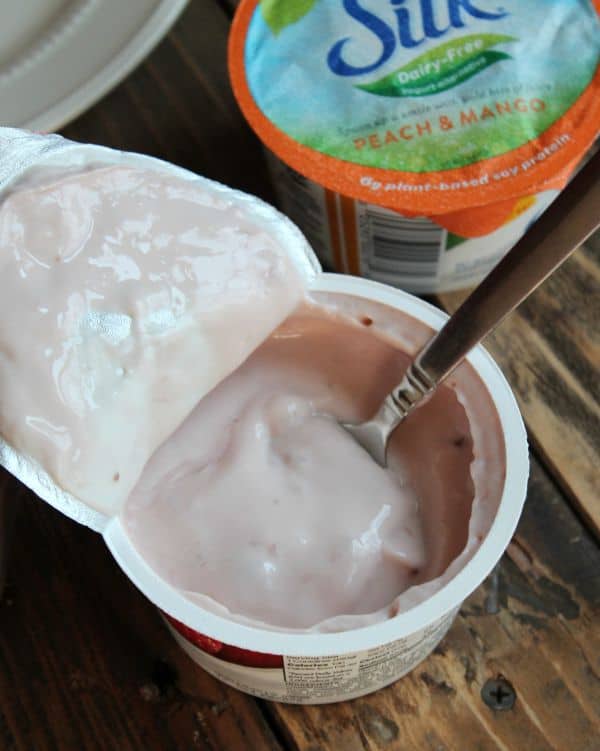 For this new parfait recipe I was inspired by a trip to our local ice cream hangout. Now that summer is in full swing, and the 90-degree humid days are here, we are taking lots of trips for ice cream cones, sundaes, and blended frosty treats. One of the ice cream treats I noticed the other day had a mixture of cookies, ice cream, and chocolate chips. Mmmmmm I wanted it so bad! But because I am the good healthy lifestyle blogger I decided to tap into my willpower, resist the treat, and make a healthier version at home. See the way you all keep me in line 🙂
It was easy to create a homemade version using Silk Dairy-Free Yogurt Alternative, 1 small chocolate chip cookie, and a sprinkle of chocolate chips. I opted to use the strawberry flavor.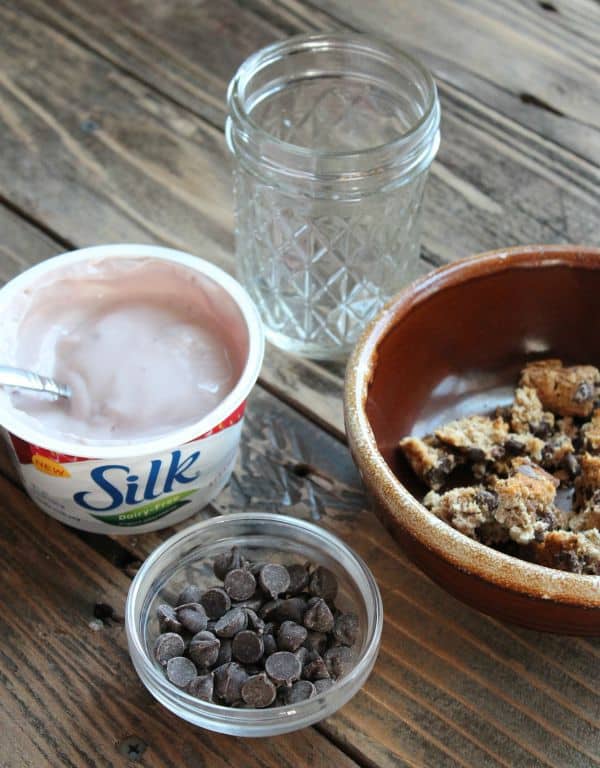 It was the perfect combination. In my opinion, strawberry with chocolate chip cookies and chocolate chips is heaven in a mason jar. By the way I love using mason jars for parfaits. It is the perfect parfait vessel plus it makes the recipe portable. This is important if you are packing it for a snack on the go or to bring with you to the office.
Here are my simple instructions.
Take one chocolate chip cookie and crumble it up. You can use any chocolate chip cookie you like. I used a high fiber prepackaged chocolate chip oatmeal cookie made with quality ingredients. However, you can use homemade if you have some available. I put half of the cookie crumble in the bottom of the pint size mason jar.
Next I layered half of the Silk Strawberry Dairy-Free Yogurt Alternative on top of the cookie crumble and then repeated the layers. I topped the parfait with a teaspoon of chocolate chips. Then I dug in!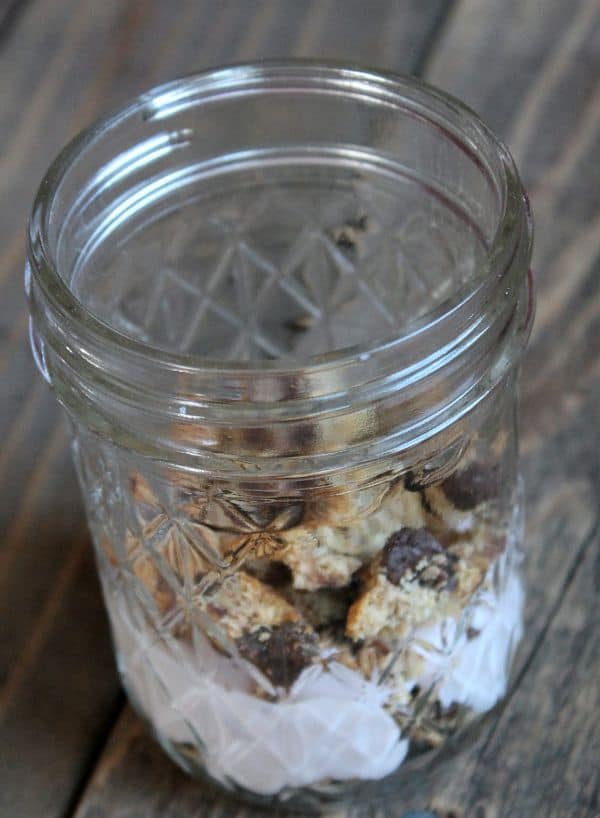 This cookies & "cream" parfait hit the spot. It was super tasty and completely statisfied my ice cream craving. I highly recommend making this parfait next time you want a chocolaty cookie treat but don't want to bust the calorie bank. I know you will love this! Again, you can get a coupon to try Silk Dairy-Free Yogurt Alternative here.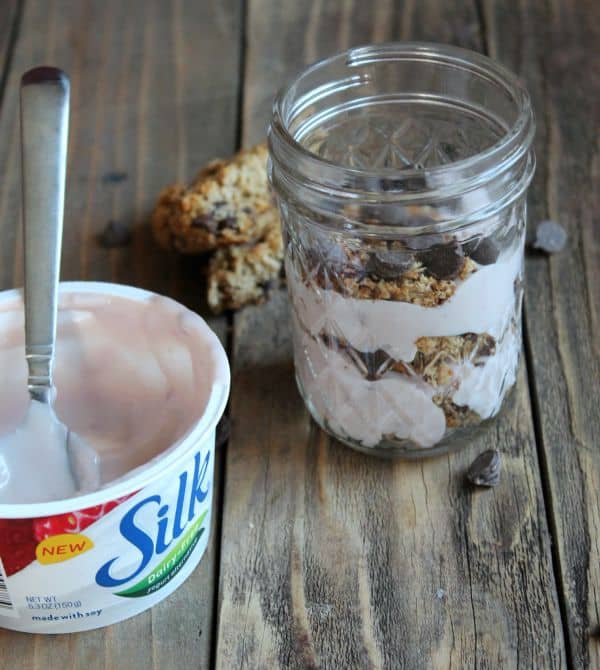 Cookies & "Cream" Snack Parfaits #TopitTuesday @LovemySilk
Author:
Organize Yourself Skinny
Ingredients
1 pint-size mason jar
1 (5.3 ounce) container Silk Dairy-Free Yogurt Alternative
1 chocolate chip cookie, crumbled
1 teaspoon chocolate chips
Instructions
In the mason jar layer the ingredients starting with ½ the cookie crumble, ½ the yogurt alternative then repeat the layers again. Finish with chocolate chips.
Nutrition Information
Serving size:
1 parfait
Calories:
283
Fat:
10
Carbohydrates:
42
WW Points +:
7
Fiber:
6
Protein:
8
This conversation is sponsored by Silk. The opinions and text are all mine.
Get Instant Access to My Best Weight Loss Tips & Strategies!
Sign up now for a free step-by-step 7-day email course that I created exclusively for my email subscribers! That's you. I will teach the best habits, strategies, and insider tips so you can enjoy a lifestyle that encourages and supports weight loss! Stop relying on willpower and take control back over your life! You can do this. Let me help!