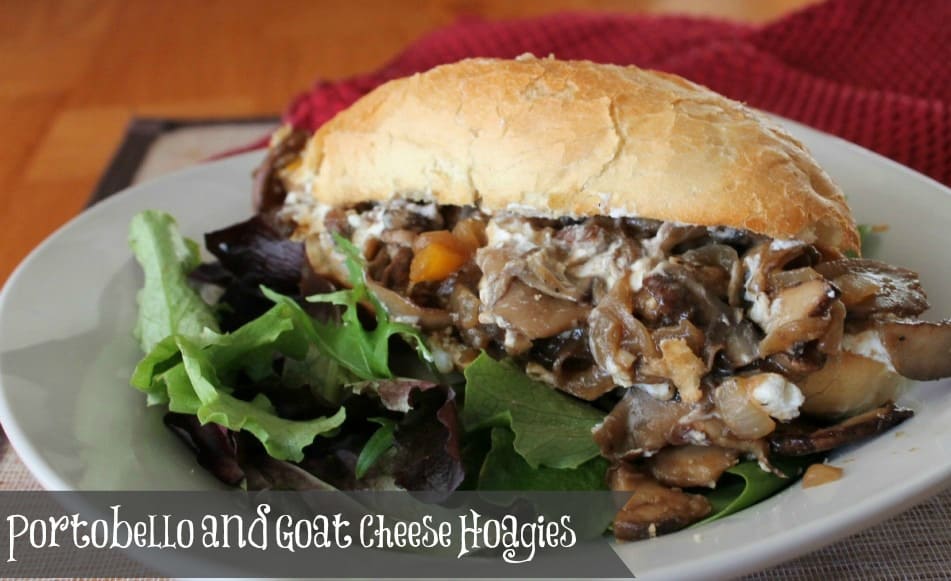 Here is a little secret for you – well maybe not a huge secret if you follow this blog – but I am a comfort food junkie. Give me pasta with a creamy cheese sauce, any type of pizza, or a sloppy gooey sandwich and I am one happy mama. Of course, it is not very often that I eat the full throttle versions of these foods because if I did this blog would no longer be called Organize Yourself Skinny…just sayin. Instead, I am always trying to find healthier – yet still tasty – versions of comfort food classics. That is exactly what I am going to share with these Balsamic Portobello and Goat Cheese Hoagies.
I was inspired to make this recipe after I found these Philly Cheese "Steak" Hoagies by Eating Well. In fact, I had every intention of making that recipe until I realized I had goat cheese I needed to use up and what goes better with goat cheese than balsamic vinegar…right?
Right off the bat I need to tell you that these hoagies (with the bun) are only 256 calories – I swear to you I am not lying. I checked and recheck the calorie count on My Fitness Pal a few different times. Are you excited yet? You should be because I guarantee if I did not mention the calories you would easily think they are 500 calories or more. Nopers they are less than 300 calories! The bun is actually more calories than the filling!
The key to this recipe is to thinly slice the mushrooms, peppers, and onions. The mushrooms, after they cook, should take on the shape of thinly sliced steak. Also, you want to toast the roll with a little butter on it. Personally, I think it gives it a much more authentic hoagie or hot sub taste. Trust me and just get the butter out. When all is said and done you will feel like you are chowing down on a super unhealthy hoagie! But your not!
These sandwiches are amazing and everything you want in a comfort food. They are gooey, messy, and even though you should eat them with a fork it is much more fun using your hands. Enjoy.
Balsamic Portobello and Goat Cheese Hoagies
Author:
Organize Yourself Skinny
Ingredients
3 large portebello caps, cleaned and sliced thin
2 teaspoons olive oil
1 white onion, thinly sliced
1 yellow pepper, thinly sliced
1 clove garlic, minced
1 tablespoon whole wheat flour
¼ cup plus 1 tablespoon of vegetable stock
1 tablespoon balsamic vinegar
½ teaspoon ground pepper
½ teaspoon salt
¼ cup goat cheese
3 whole wheat hoagie or sub rolls
½ pat of butter each hoagie roll
Instructions
Heat oil, over medium heat, and cook onion until softened. Add peppers, garlic, and mushrooms until all the vegetables are very soft. You might need to add 1 tablespoon of vegetable stock during this time to deglaze the pan as the vegetables cook.
Sprinkle vegetables with 1 tablespoon of whole wheat flour then add the rest of the vegetable stock along with the balsamic vinegar. Cook 1 -2 minutes more, or until liquid slightly thickens. Turn heat off and set aside.
When the vegetables are almost done cooking spread the inside of each of the hoagie rolls with ½ tablespoon of butter. Toast in a toaster oven, or regular oven, at 350 degrees for about 3-5 minutes or until butter is melted and bread is toasted. Crumble 1 ounce of goat cheese in the bread and spread it around.
Divide mushroom mixture evenly among hoagie rolls and enjoy.
Notes
Make Ahead Instructions The filling can be made 1-2 days ahead of time and stored in the refrigerator. Warm up in the microwave when ready to eat. Toast the buns as directed.
Nutrition Information
Serving size:
1 hoagie
Calories:
257
Fat:
13
Carbohydrates:
29
WW Points +:
7
Fiber:
4
Protein:
10
Get Instant Access to My Best Weight Loss Tips & Strategies!
Sign up now for a free step-by-step 7-day email course that I created exclusively for my email subscribers! That's you. I will teach the best habits, strategies, and insider tips so you can enjoy a lifestyle that encourages and supports weight loss! Stop relying on willpower and take control back over your life! You can do this. Let me help!