If you are looking for some healthy Cinco De Mayo recipes to make this year, you should take a look at some of the recipes below! The best part is you can actually make these Mexican food recipes any day of the year!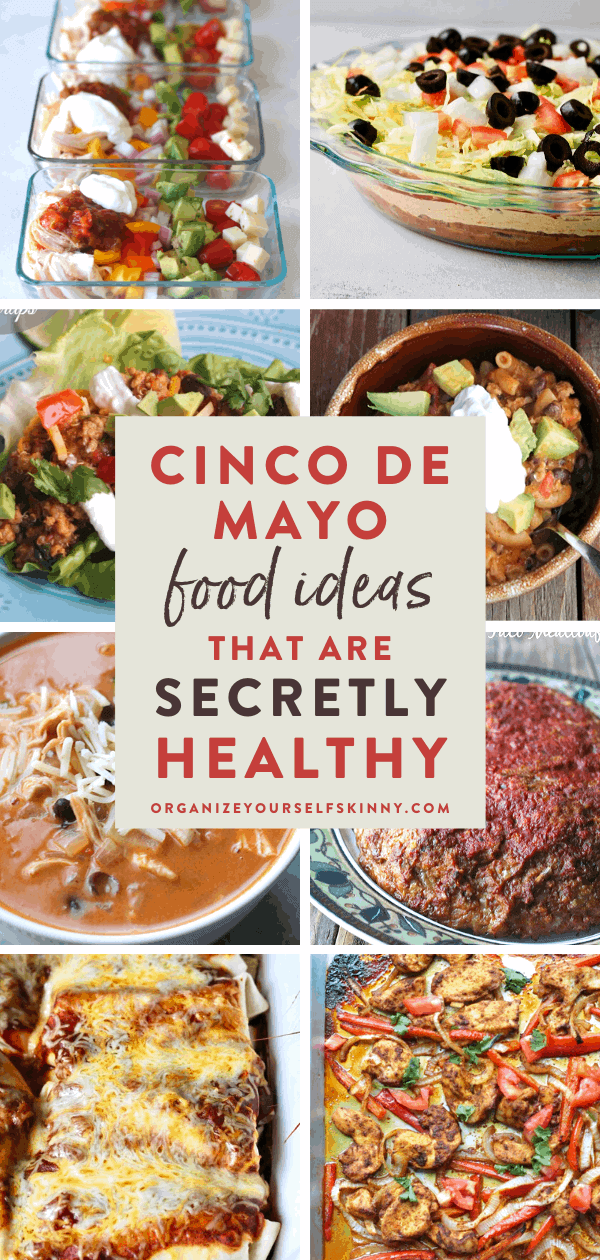 Whether it's baked salsa chicken or a taco-inspired turkey meatloaf, you can always find some type of Mexican inspired food in my house – we love it! It's one of those cuisines, besides Italian, that I know the entire family can agree on.
As much as we love these meals, they don't tend to be the healthiest or calorie-friendly. With Cinco De Mayo coming up soon, I really wanted to serve up some dishes that we could all enjoy.
So, naturally, I decided to create healthier versions of all of our favorites so we can enjoy them more often.
And can I just say…I might like them even more than the regular recipes – and so does my family!
Tips To Making Cinco De Mayo Recipes Healthier
When I was coming up with all of these Cinco De Mayo recipes, I was trying to find healthy ingredients that were still delicious and didn't take away from the Mexican flavors. It actually wasn't that hard!
Here are some tips I've learned to reduce fat and calories from our Mexican food favorites:
Use ground turkey instead of ground beef. Ground turkey can be just as flavorful and blends well into any easy Mexican recipe while cutting the fat and calories.
Add beans. If you want to up the fiber and protein in your dish, then add a can of beans (dark red, black, pinto) to the recipe. Beans not only add nutrition but it helps to stretch a recipe!
Add brown rice or quinoa. Swapping out the Spanish or white rice can add fiber, protein, and bulk to a recipe.
Substitute plain Greek yogurt for sour cream. You'll get the same creamy texture as sour cream but less fat and calories.
Use low-fat condiments like salsa. Salsa is low in calories and fat but adds a ton of flavor to many of these recipes.
Portion out the cheese. It's easy to just dump cheese by the handful into a recipe. However, when you do this, you add a lot of extra fat and calories without even realizing it! I would recommend measuring out the cheese before adding it to a recipe so you can control the amount.
Use low carb wraps or lettuce wraps. If you want to keep refined carbs under control, then either swap out tortillas for a low carb wrap or use a lettuce wrap for recipes like tacos or quesadillas.
Make your own taco seasoning. Trust me, I'm not above store-bought taco seasoning. But, many brands are filled with sodium along with artificial ingredients and preservatives which I really don't like. So, I prefer to make a simple homemade taco seasoning!
Simple Meal Prep Hacks When Making These Easy Mexican Recipes
My favorite thing about this type of cuisine is that you can meal-prep them ahead of time, and the flavor just continues to build from there. They tend to do well in the fridge and freezer for quick family meals throughout the week.
Here are some of the meal prep hacks I've learned when it comes to these recipes:
Make all of the taco meat and shredded meat recipes ahead of time and store it in the refrigerator or freezer.
All slow cooker meals can be prepped the night before and then started in the morning.
Meal prep bowls and mason jar salads can be prepped on Sunday for the entire week.
Enchiladas can be prepped up to 2-3 days ahead of time and then thrown in the oven the night you want to serve them.
Meatloaf can be put together 1-2 days ahead of time. Throw it in the freezer if you're not going to cook it within 2 days. If you need a little more guidance, see my meatloaf freezer instructions here!
Cinco De Mayo Recipes That Are Secretly Healthy
Now that you know all of my tips and tricks when it comes to lightening up some of these recipes, I want to share our all-time-favorites!
Okay, time to take a look at these Cinco De Mayo recipes…
Appetizers
I love to serve some of these appetizers at a fun party or as snacks when the kids get home from school!
This taco dip is always a party favorite!
It doesn't require any cooking and can be made 1-2 days ahead of time. Serve with corn tortillas or cut up veggies as a side dish.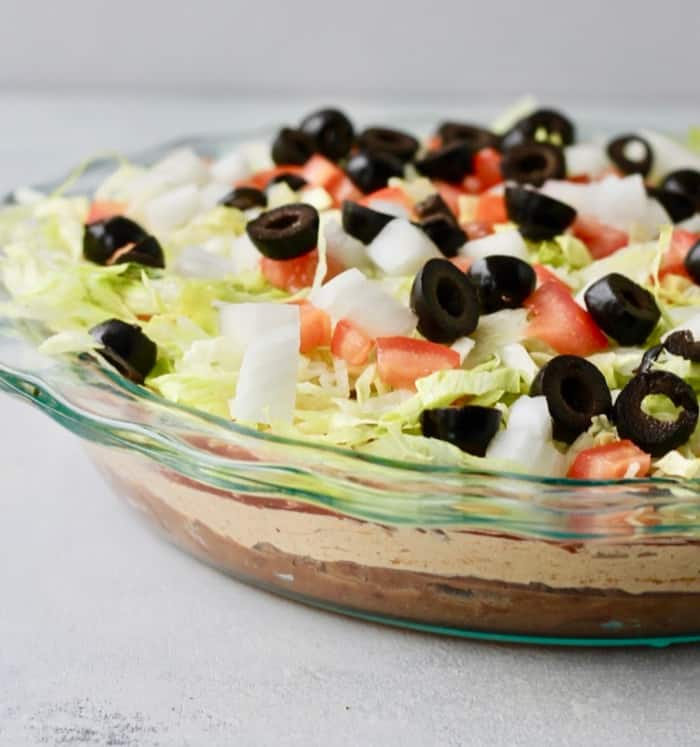 These turkey nachos go great with all of your favorite healthy nacho toppings! Switch it up with some different cheeses or even different beans.
Serve with some fresh salsa and plain greek yogurt! This is perfect for a big family or an easy weeknight dinner to serve on Cinco De Mayo.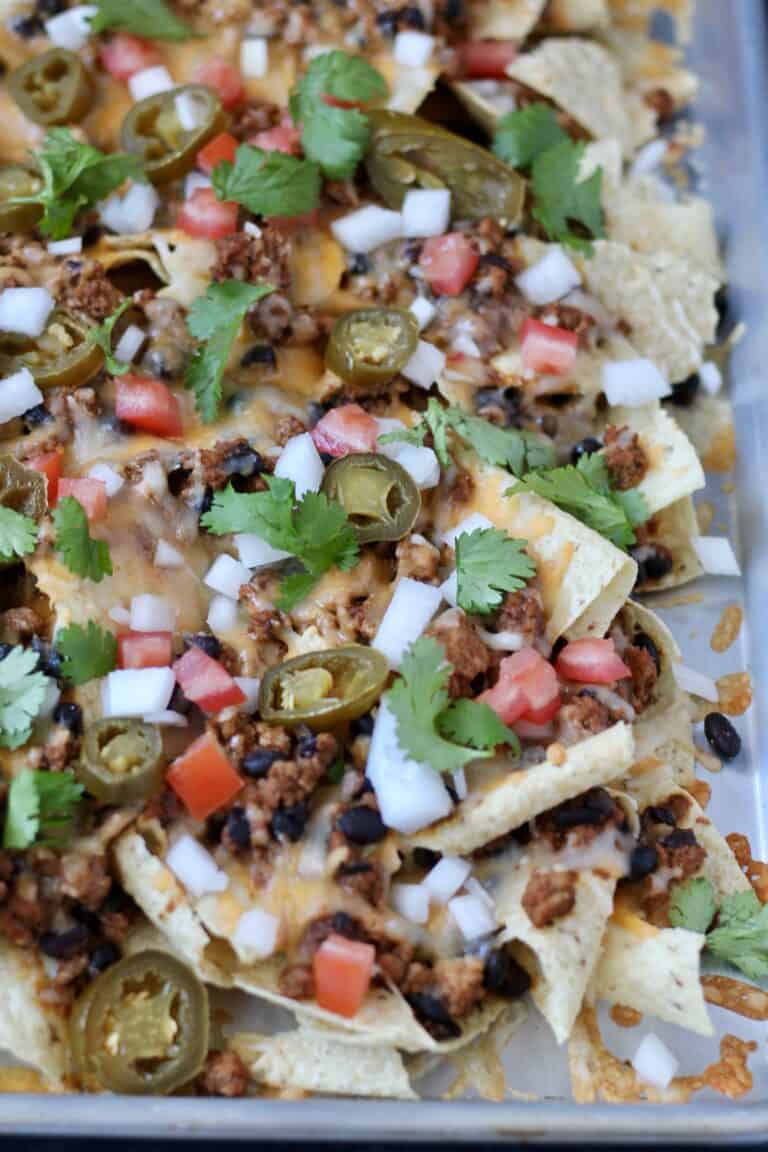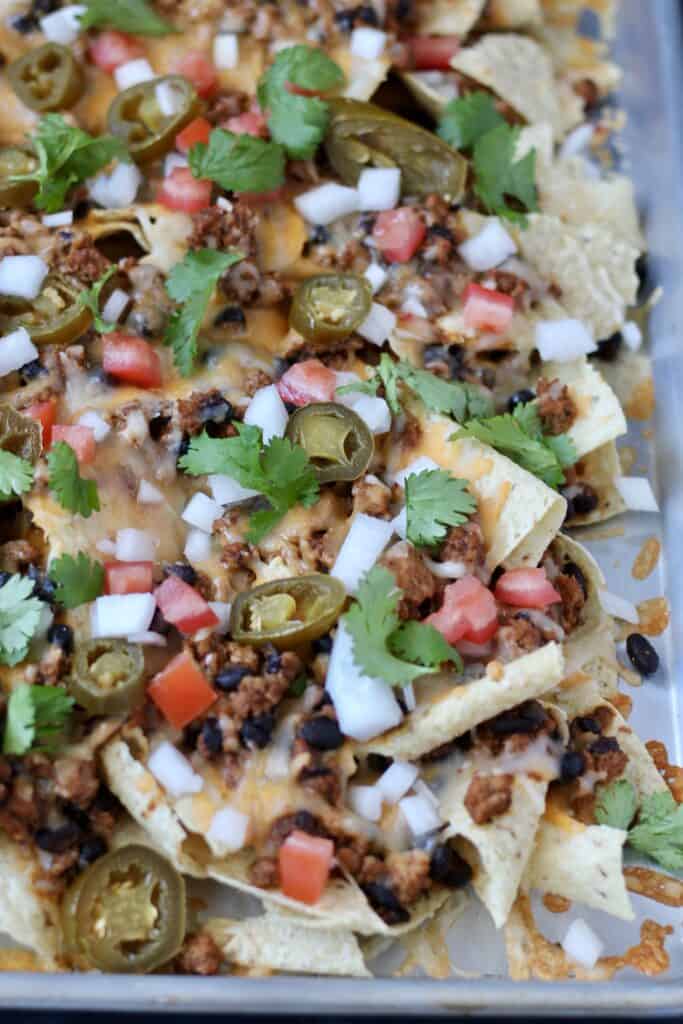 Lunch
If you're looking for a low carb lunch option, then these next couple of recipes will fit the bill. You can even make them on Sunday to eat throughout the week!
This recipe is the best of a delicious burrito – without the tortilla. You can add all of your favorite toppings, protein options, and veggies to make it your own.
I love to add shredded Mexican chicken, avocados, diced peppers, and salsa!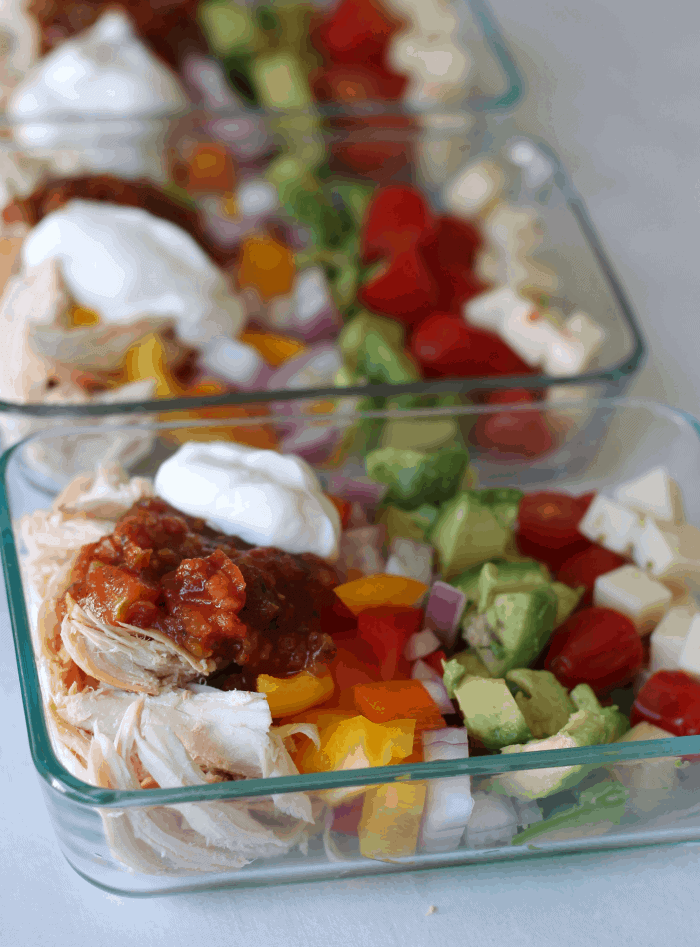 This recipe is super easy to make and meal prep! It's packed full of protein and is served with brown rice. But, if you are keeping it low carb, swap it out with some cauliflower rice or just leave it out altogether.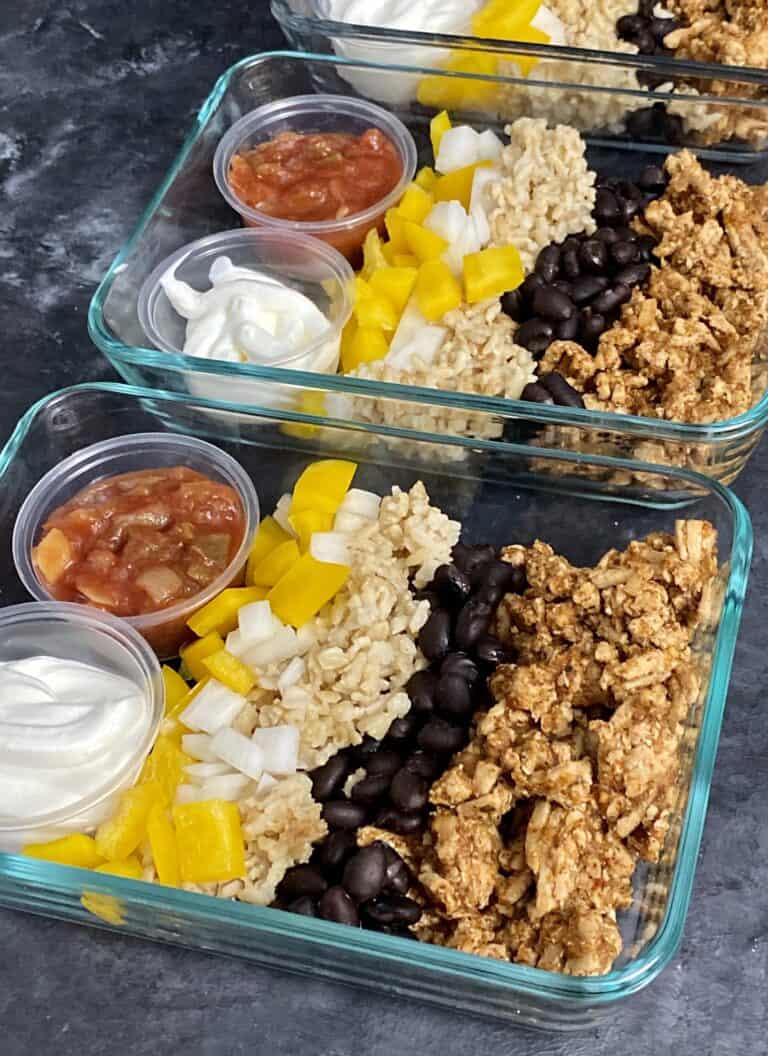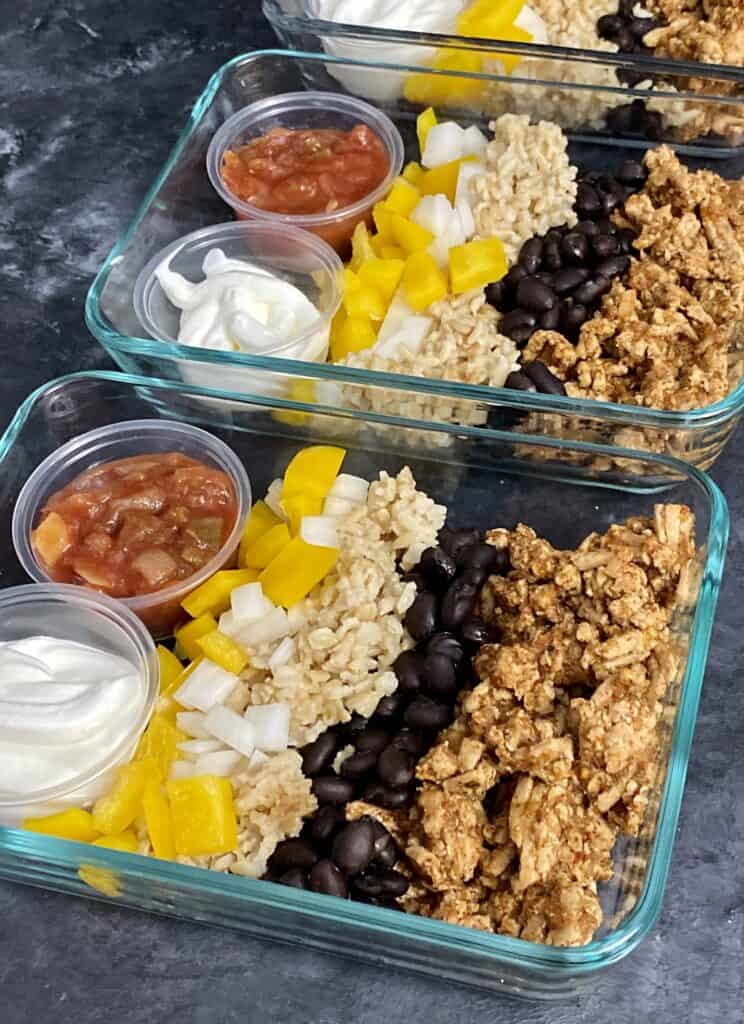 Who doesn't want a little bit of Doritos in their life? This Dorito Taco salad takes a potluck favorite and turns it into a delicious lunch for the week!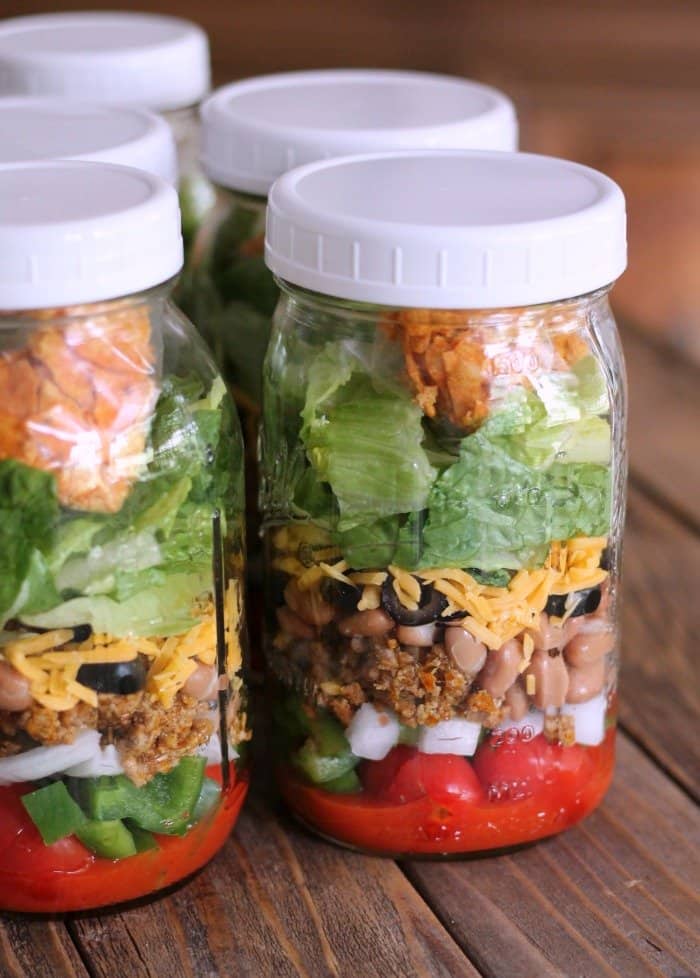 This taco salad can be enjoyed for lunch, but it also makes a great portion-controlled dinner too. Add your favorite taco fillings as a layer and shake the jar or dump it into a bowl to eat!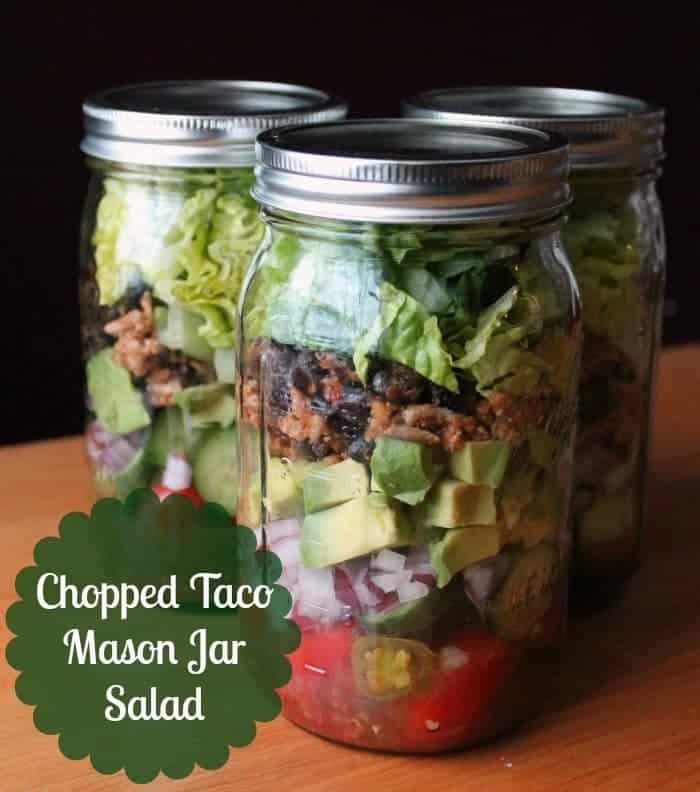 Dinner
Dinner time is where it gets tough so having a lot of these recipes on hand and ready to go makes it so much easier! Especially when the kiddos (and my husband) really want Mexican food and I refuse to drive through Taco bell!
I haven't decided what I am going to serve for Cinco De Mayo yet because everything sounds SO good. You really can't go wrong with any of these.
These beef enchiladas can be stuffed with either taco meat or this slow cooker shredded Mexican beef. Whichever you use, make it ahead of time to make this an easy dinner to prepare.
Also, you can use store-bought enchilada sauce or if you have time, whip up a batch of this delicious homemade enchilada sauce!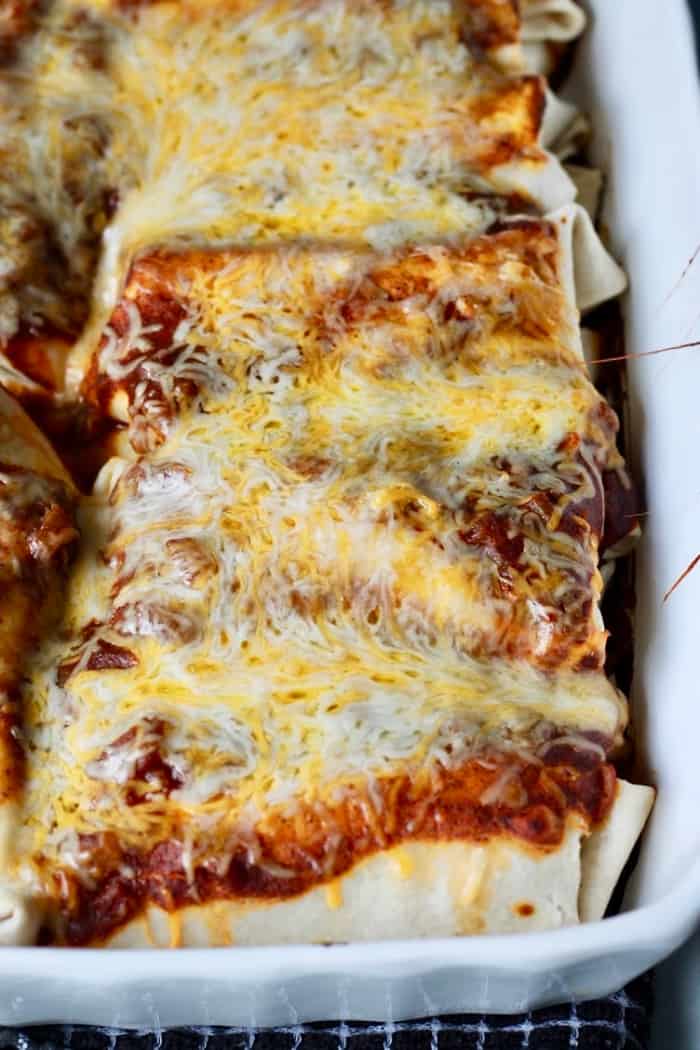 If you want to add a twist to taco night, then try this taco meatloaf made healthy with ground turkey.
The leftovers taste amazing so don't worry if there are extras.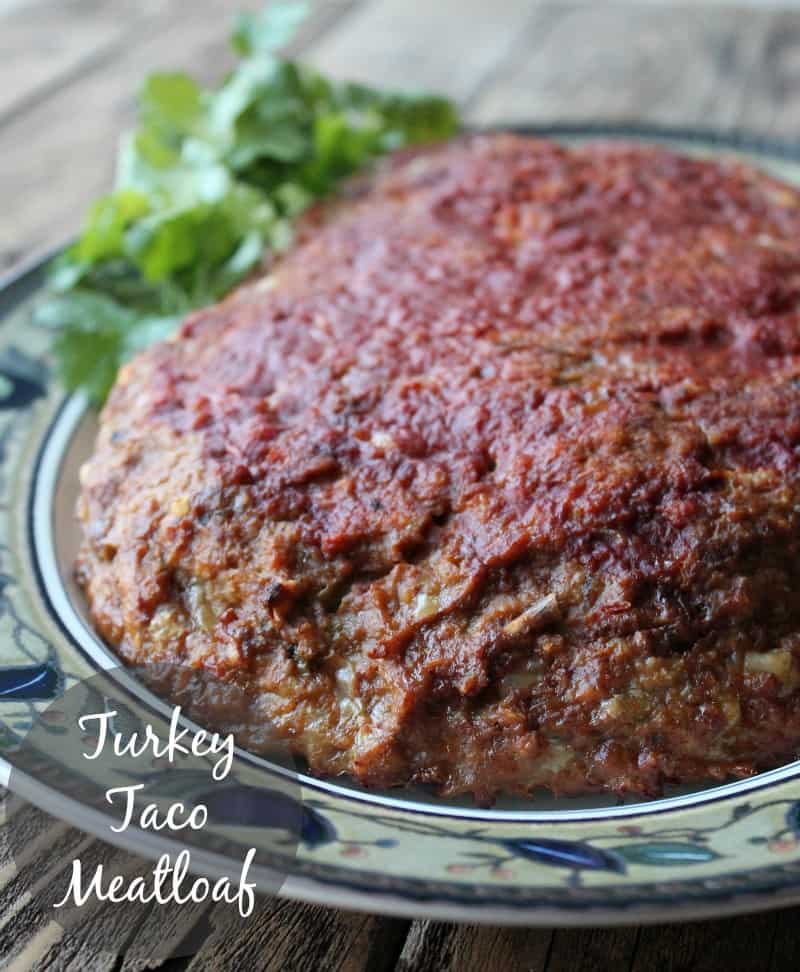 For those nights you just want to throw ingredients onto a sheet pan and have dinner ready within 40 minutes, this sheet pan chicken fajita recipe is for you!
You can eat this as is to keep it low-carb friendly or serve with some warm tortillas and all the fajita toppings you want.
You can also swap out the chicken and make beef fajitas on a sheet pan!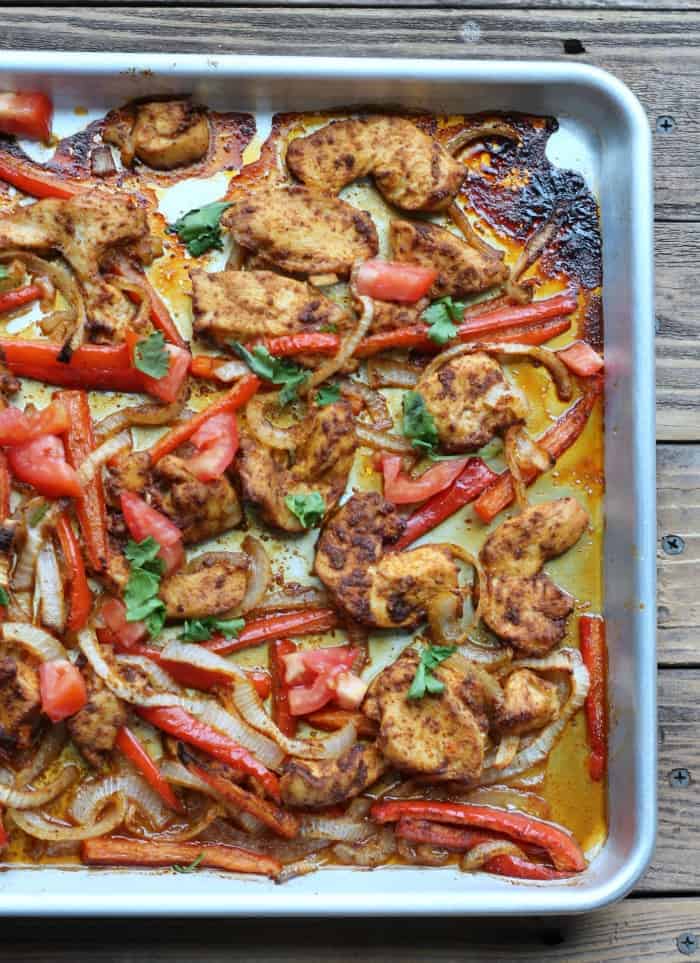 If you're craving comfort food on taco night,  then make this one-pot taco supreme macaroni. It's filled with ground turkey, beans, cheese, and tomatoes. To add a little bit of extra fiber and protein, I decided to use whole-grain noodles.
This Mexican inspired dish is so deliciously creamy.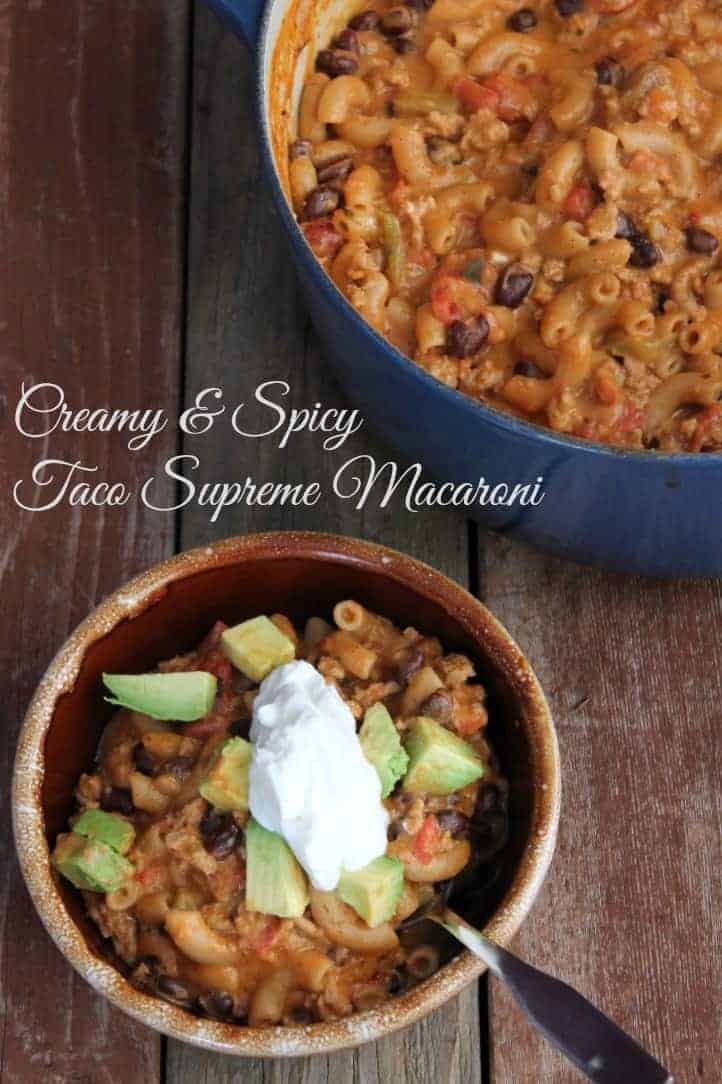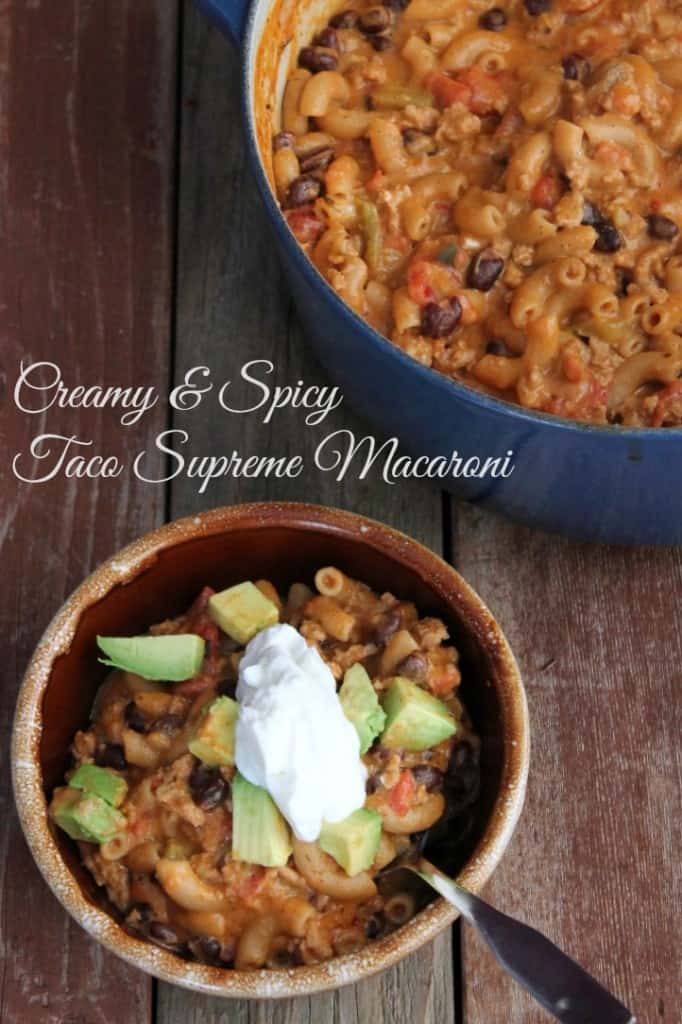 If you're feeling chicken parmesan but want to make it taco-style, then you have to try this! It's so easy to make.
Serve it with this quinoa Mexican black bean skillet or with some cauliflower rice. You'll love it.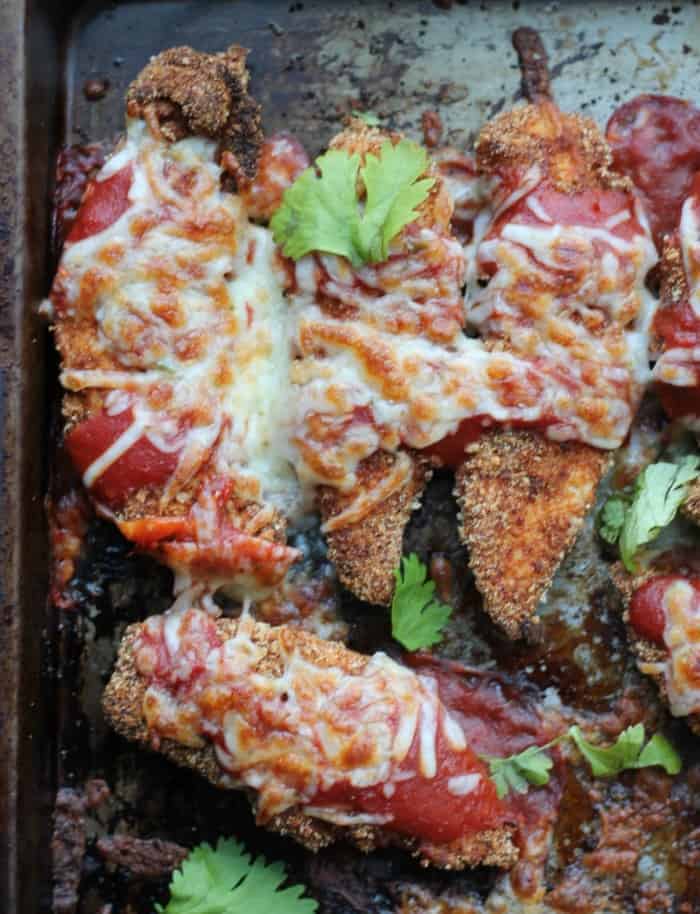 If I had to pick one recipe I make the most, it would definitely be chicken quesadillas.
I make a batch of this slow cooker salsa chicken over the weekend and quickly make quesadillas during the week. During the busy sports seasons, I'll even make a few quesadilla bowls to have during the games!
This one is definitely a #1 family favorite.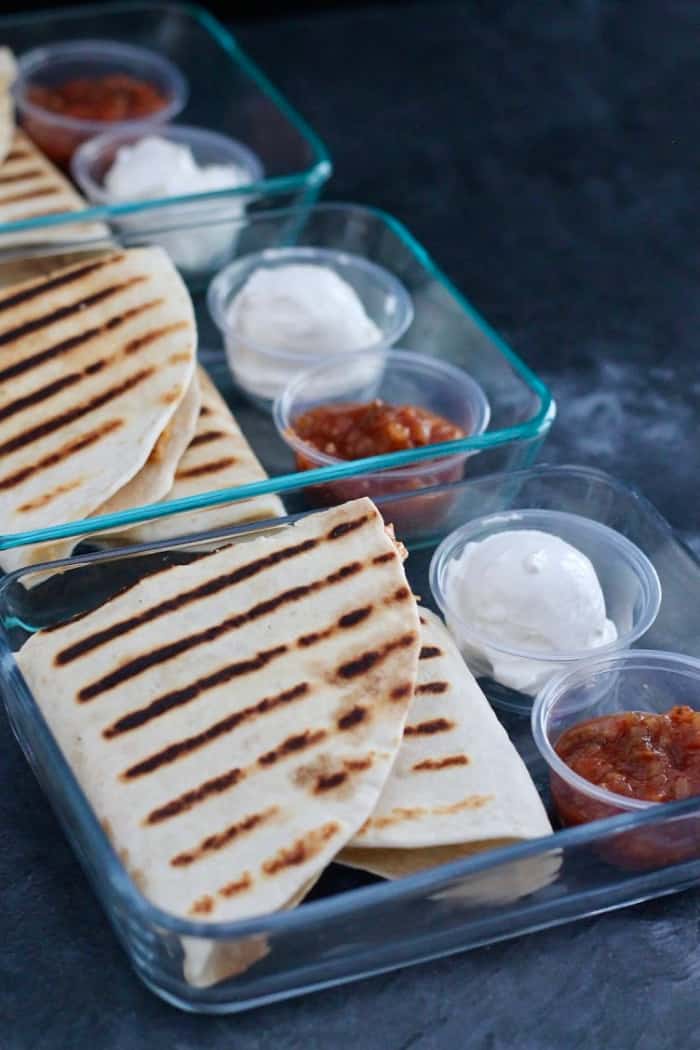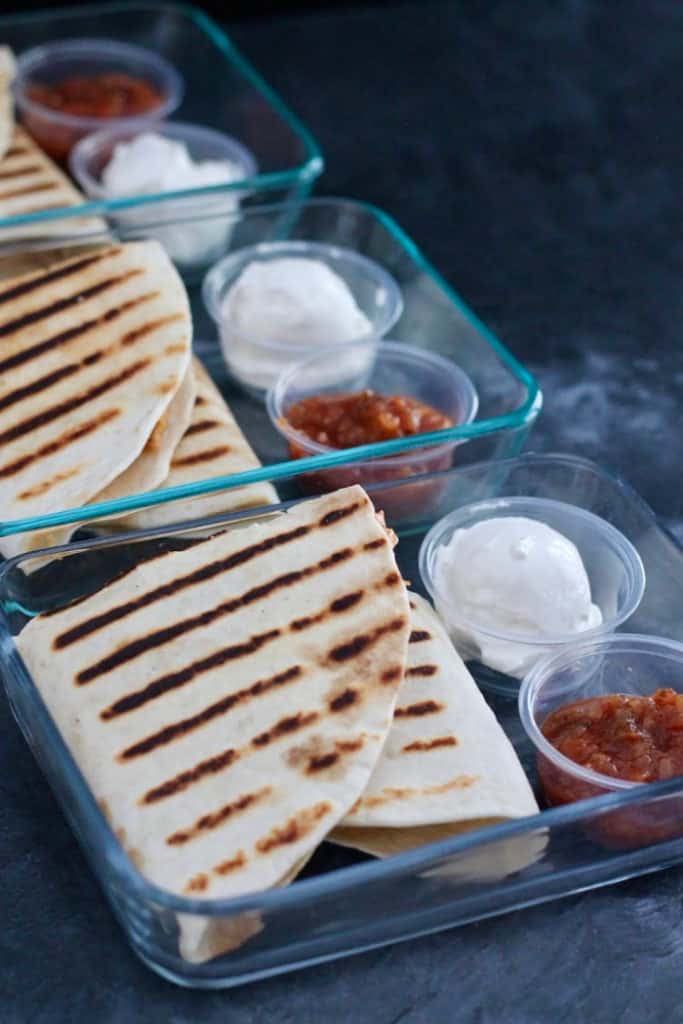 Whether you are looking for some new Cinco De Mayo recipes or just a quick and healthy Mexican recipe to have on hand for the week, all of these recipe suggestions are amazing! Your family will totally love them.  Share a picture and tag me on Instagram or Facebook if you decide to try any of them!