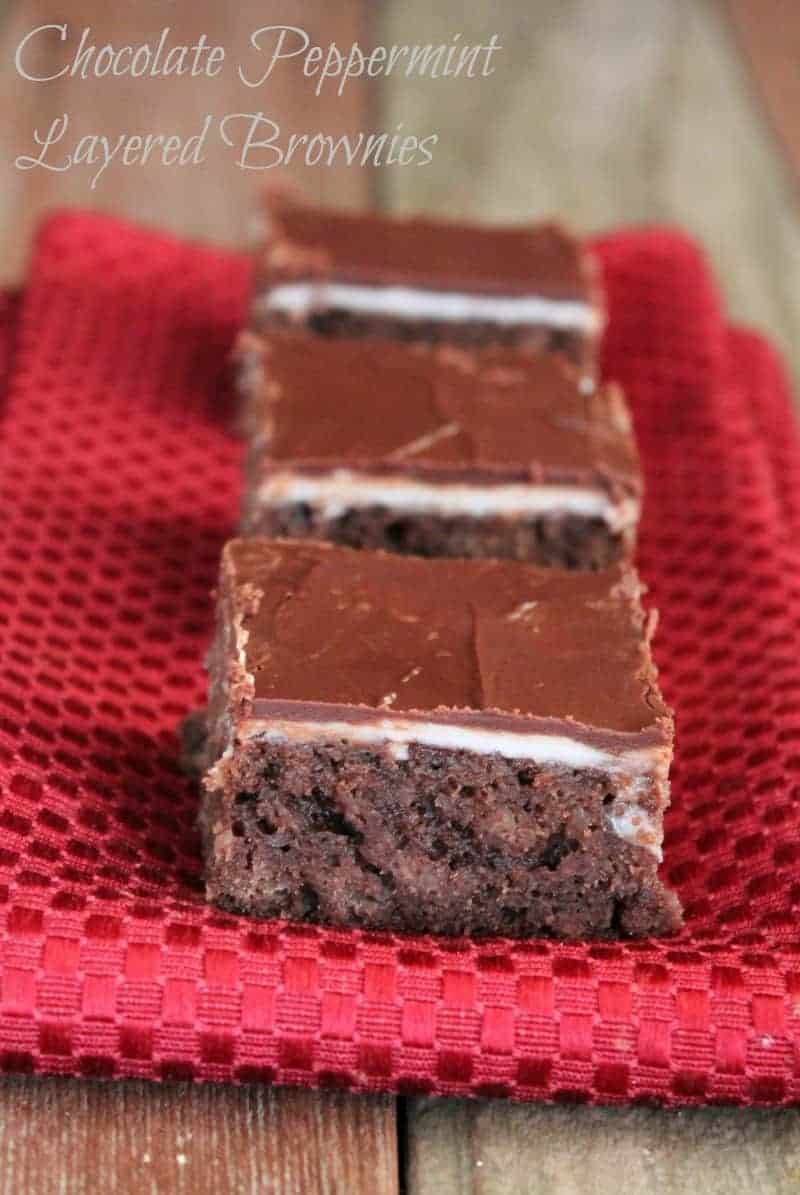 I will only eat one. I will only eat one. Okay maybe two. These Chocolate Peppermint Layered Brownie are AMAZING. Think York Peppermint Patty meets brownie. Delicious!
I found the original recipe in my Cooking Light Way to Bake Cookbook last year. It has been on my list of desserts to make but I just never got around to it. Well I finally made it and OH MY it is good. It's dangerously good. In fact, this recipe is the reason I don't make desserts. Seriously, I will eat the entire pan. But I know you all want dessert recipes thrown into the mix – so I do it because I love you all.
This recipe, with its three layers, is a little more high maintenance than I usually prefer. I am more of a 1-layer brownie type of girl. However, don't let the layers and extra steps scare you. It is actually a lot easier than it might seem or look. Not to mention you will feel like a superstar after these are done. I can't wait to show them off at Christmas Brunch.
Let's talk about the layers. The first layer is a fudgy rich brownie. It is soooo important not to overcook this layer. If you do then it will be dry and no one likes dry brownies. The original recipe called for 23 minutes but mine needed a little longer – they cooked perfectly at 27 minutes. You know they are done perfectly when you can stick a toothpick in the center and it comes out with some crumbs sticking to it, maybe even a little batter.
After the brownie is done cooking let it cool a little on a wire wrack. While it is cooling put together the middle mint layer. This mint layer tastes EXACTLY like the inside of a peppermint patty. I must admit I was not expecting that so I was pleasantly surprised. This layer is almost the consistency of buttercream frosting but a little thicker. I found it helps to have the brownie layer a little warm when spreading this frosting on. The frosting gets softened just enough to make spreading easier. It still takes a little finesse but just take your time.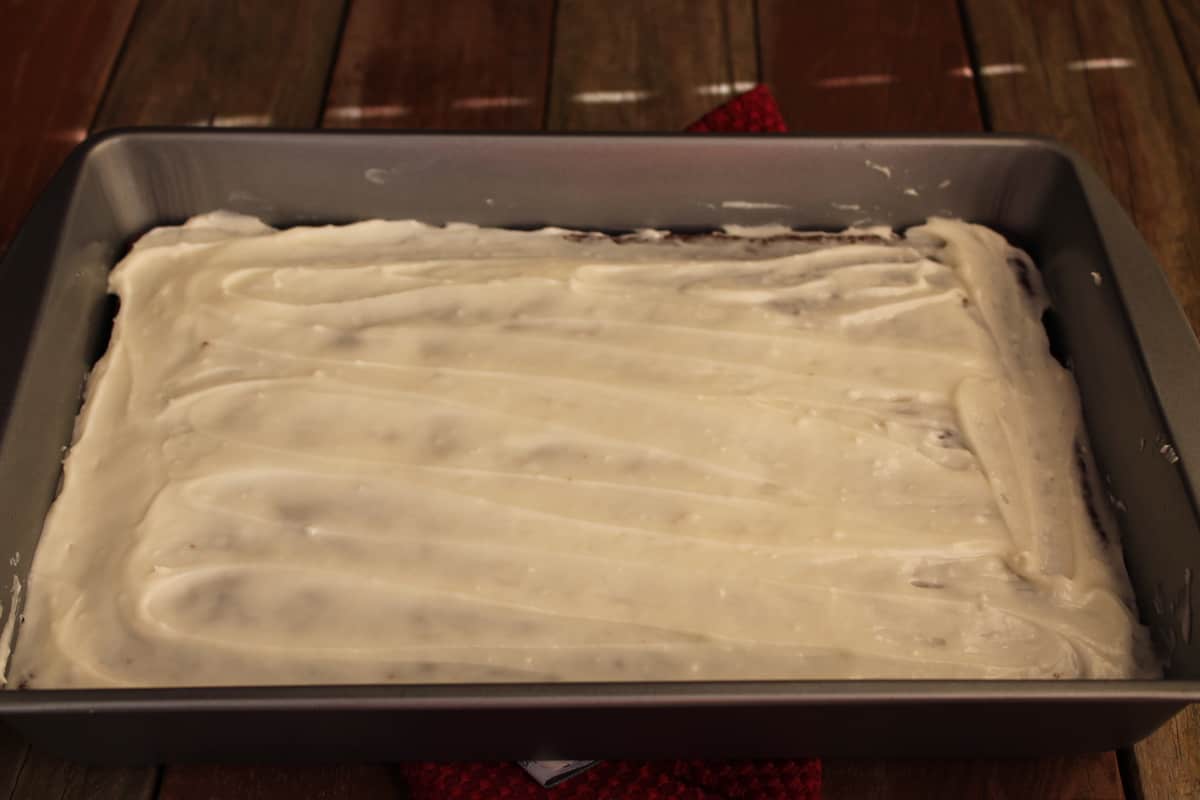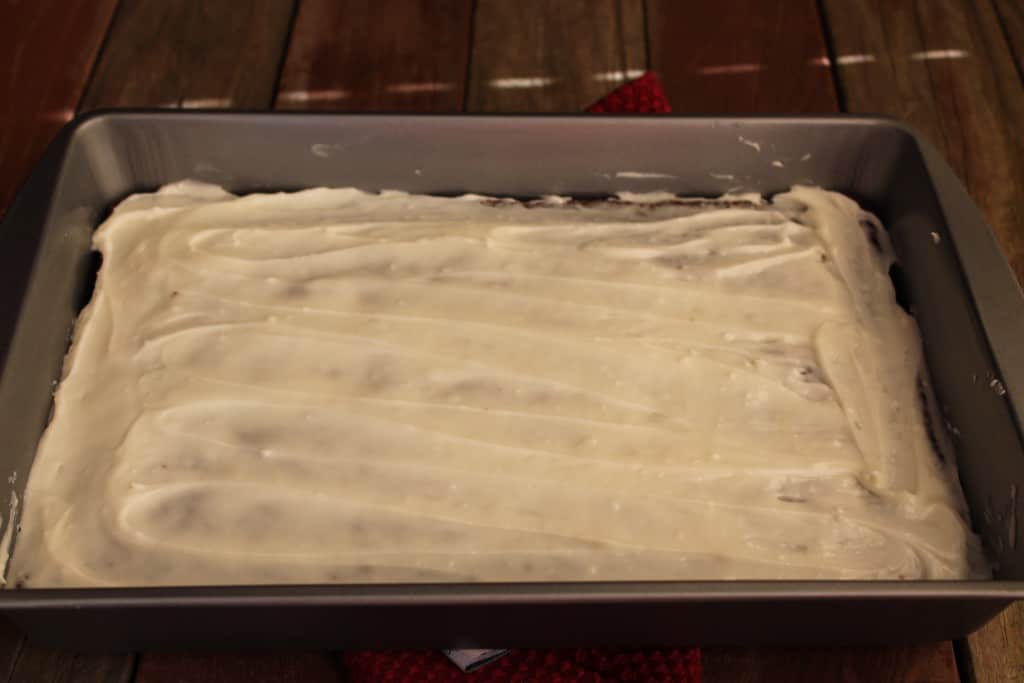 The last layer is the chocolate glaze. Think the chocolate outside of the peppermint patty. Oh baby! This is easy to make. All you need to do is melt the butter and chocolate together in the microwave. This takes about 1½ minutes depending on your microwave. After the chocolate is melted, let it stand for a minute, and then spread on top of the mint layer. Again this will take a little time and finesse but if I can do it then you can do it.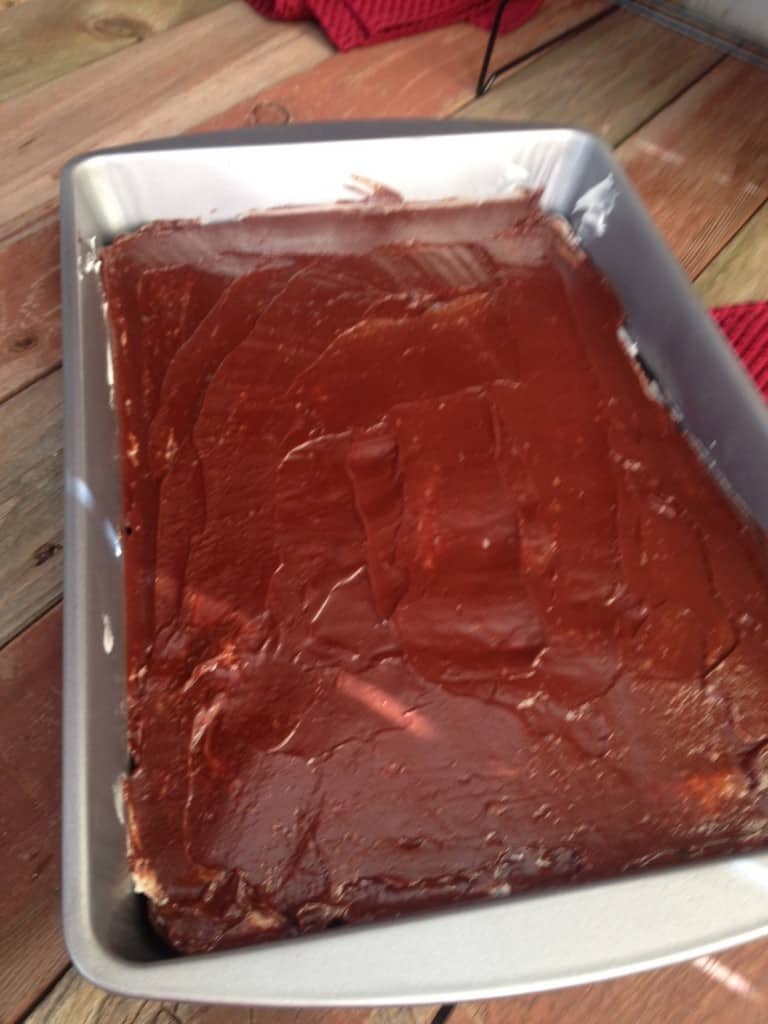 These Chocolate Peppermint Layered Brownies taste better the next day so go ahead and make them 1-2 days before you need them. They are a perfect make ahead dessert recipe.
I think it is pretty obvious that while this recipe is from Cooking Light it still doesn't mean you can eat the whole pan. Sorry. These Chocolate Mint Layered Brownies are meant to be a treat not breakfast everyday. Therefore, enjoy them in moderation and savor every bite because they are scrumptious! This pan can be cut into 30 brownies. Each serving is 185 calories and 5 weight watchers points plus. Enjoy!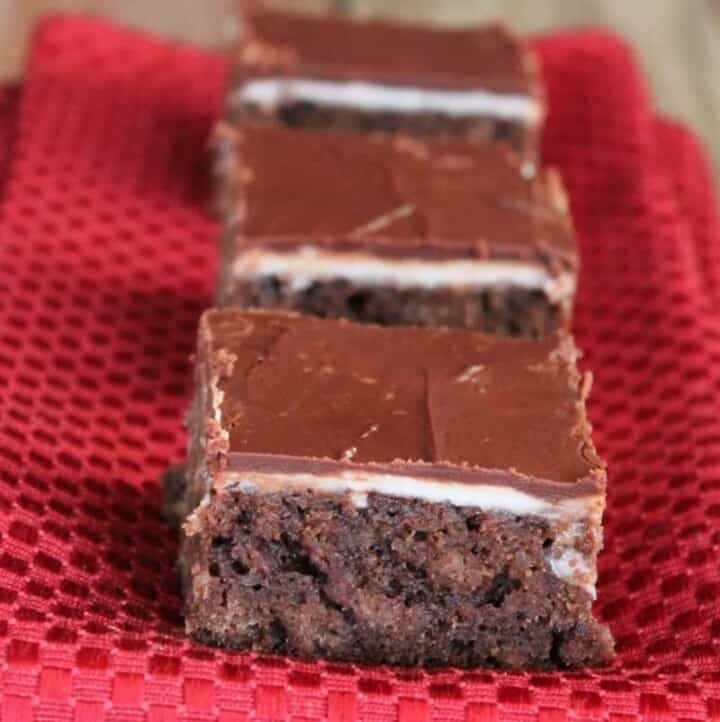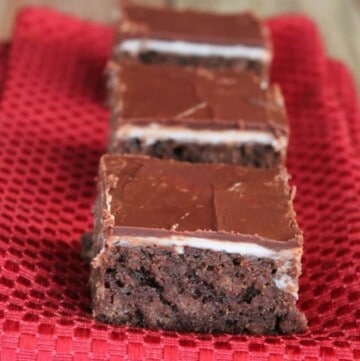 Ingredients
Bottom layer

1

cup

flour

½

teaspoon

salt

1

cup

sugar

4

eggs

beaten

1

teaspoon

vanilla

¼

cup

butter

melted

1

16 ounce can chocolate syrup

cooking spray

Middle layer

2

cups

powdered sugar

¼

cup

butter

melted

2

tablespoons

1% milk

½

teaspoon

peppermint extract

Top layer

¾

cup

semi sweet chocolate chips

3

tablespoons

butter
Instructions
Preheat oven to 350 degrees

Start with the bottom layer. In a medium bowl whisk together flour and salt. Set aside.

In a large bowl, stir together sugar, eggs, vanilla, butter, and chocolate syrup. Slowly stir in the flour and salt mixture. Stir until just combined.

Pour batter into a 13 x 9 baking dish sprayed with cooking spray. Bake for 23 – 27 minutes or until a wooden toothpick inserted into the center comes out almost clean. Mine cooked for about 27 minutes. Keep an eye on this towards the end. Do not overcook this brownie layer because it will be dry.

Let the brownie layer cool, in the pan, on a wire rack. You want the brownie to be a little warm when spreading the mint layer on. I found it makes it easier to spread.

For the middle layer (mint layer) stir together the powdered sugar, melted butter, milk, and peppermint extract. This will form a thick frosting. Spread the mint frosting over the brownie layer. Again, this is easier if the brownie layer is a little warm.

Next make the top layer (chocolate glaze) by combining the chocolate chips and butter in a medium bowl and microwaving for 1 minute or until melted. Stir after 1 minute then after every 30 seconds. This gets hot so let it stand for a minute before spreading it on the middle layer.

Place in the refrigerator to cool for 2 – 3 hours or overnight. Cut into 30 squares.
Notes
Make ahead tips
For best results these brownies should be made a day or two ahead of time.
Nutrition
Serving:
1
g
|
Calories:
185
kcal
|
Carbohydrates:
31
g
|
Protein:
2
g
|
Fat:
7
g
|
Sugar:
5
g