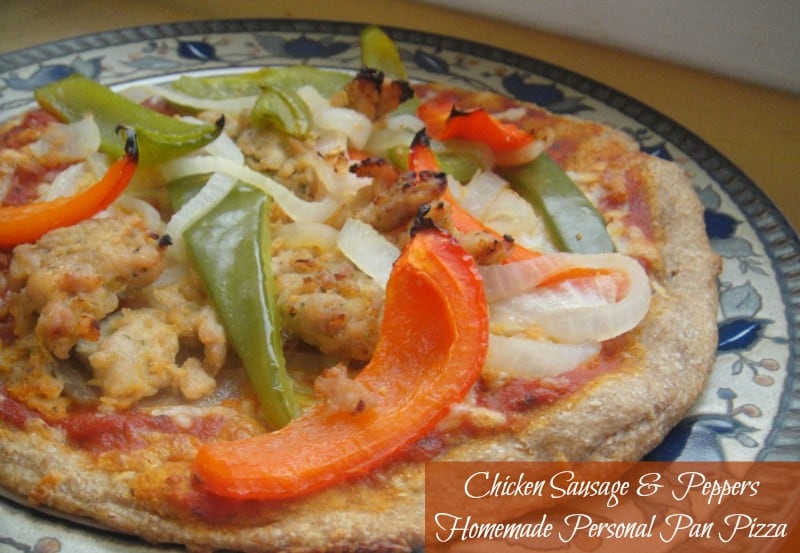 A few weeks ago while working on a stuffed pizza recipe I was faced with the dilemma of not having a big enough pizza pan. Of course this is something I probably should have realized beforehand but hey I am a busy woman! As I looked around the kitchen trying to find a suitable pan I came across two lonely 9 inch pie pans I received 10 years ago for a wedding gift tucked away in the cupboard. Perfect! Why did I not think of this earlier? Not only were these pans just the right size for personal pan pizzas they also solved the problem of everyone wanting something different. I have not looked back since.
The girls put together their usual turkey pepperoni and cheese pizzas but daddy and I ventured out and created a scrumptious chicken sausage, peppers, and onion pizza. We almost felt like we were out to dinner.

Chicken Sausage and Peppers Personal Pan Pizza
Author:
Organize Yourself Skinny
Ingredients
1 package prepared whole wheat pizza dough (separated into 4 pieces, 2 will be used for this recipe and the rest can be frozen or used for the kids pizzas)
2 chicken sausage links with cheese (you can substitute any chicken sausage and if the package has more than two links cook up the rest and freeze for a later recipe)
1 red bell pepper, sliced or chopped
1 green bell pepper, sliced or chopped
½ onion, sliced or chopped
2 tablespoons prepared pizza sauce per pizza
⅓ cup mozzarella cheese per pizza
Instructions
Preheat oven to 375 degrees
Squeeze the sausage out of their casings and into the frying pan coated with cooking spray. Break up with spoon or spatula, brown, and cook for about 7 minutes or until almost cooked through.
Add peppers and onions. Cover and cook for another 5 -7 minutes until the sausage is cooked through and vegetables have begun to soften a bit but are still crisp. Set aside.
Spray two 9 inch pie pans with cooking spray. One at a time take the pizza dough and stretch it out to the size of the pan. You might need a little flour on your hands to keep it from sticking.
Add pizza sauce, cheese, and ½ of the sausage, peppers, and onion mixture to each pizza. **The sausage, peppers, and onion mixture release some liquid. Try not to get a lot of liquid on the crust or you will have a mushy pizza. I used tongs to move the mixture.
Cook for 20 - 25 minutes. Cooking times can vary depending on your oven.
Notes
Make ahead tips
Dough and topping can be prepared ahead of time for this recipe and stored in the fridge or freezer. If frozen give enough time to thaw in the refrigerator. Put pizza together and continue with recipe when ready to eat
Nutrition Information
Serving size:
1 pan pizza
Calories:
375
Fat:
8
Carbohydrates:
38
WW Points +:
9
Fiber:
5
Protein:
37
Special note: These pizzas are easy to make and very versatile. Use whatever size pan you have and play around with the ingredients. Just keep in mind changing ingredients will cause the nutritional information to fluctuate.
Get Instant Access to My Best Weight Loss Tips & Strategies!
Sign up now for a free step-by-step 7-day email course that I created exclusively for my email subscribers! That's you. I will teach the best habits, strategies, and insider tips so you can enjoy a lifestyle that encourages and supports weight loss! Stop relying on willpower and take control back over your life! You can do this. Let me help!