Thanks to Tuttorosso for sponsoring this recipe and blog post today. I was compensated for my time however all opinions and thoughts are my own. You can visit the Tuttorosso website for more recipes, and product information.
---
It's no secret that I like easy meals. Of course easy meals can mean different things to different people and even my definition can change depending on my mood. You'll be happy to know that yesterday my mood was screaming simple ingredients, 1 pot, and comfort. Thus ,the birth of the One-pot Chicken Sausage and Mushroom Pasta recipe I'm sharing today.
I know it's a little surprising to see a pasta recipe since I've been keeping on the lower carb side this year. However, some days call for pasta and yesterday was one of those days. In my defense, I did my best to keep this pasta recipe on the healthier side by using whole wheat pasta and less of it. I also included lean chicken sausage, meaty mushrooms, juicy tomatoes, peas, along with a little cheese.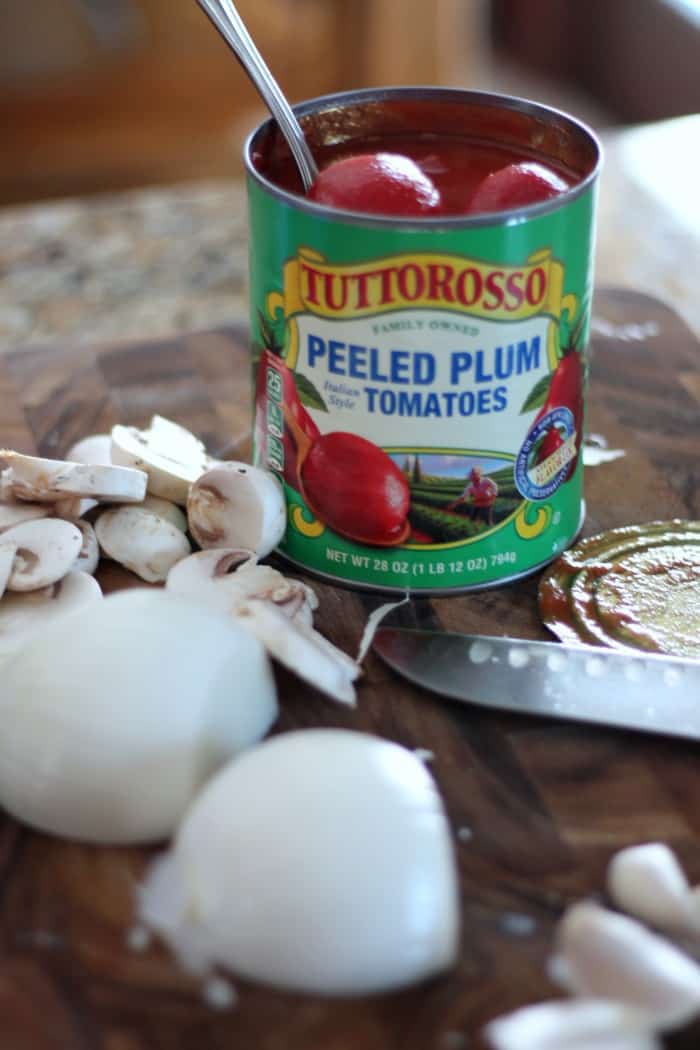 This one-pot pasta recipe is easy to make AND healthy. It's also very versatile,  use whatever vegetables and meat you have on hand.
Let's walk through the recipe.
I started by removing the chicken sausage from it's casing and cooked it in a couple tablespoons of olive oil. As the sausage cooked I broke it into small pieces.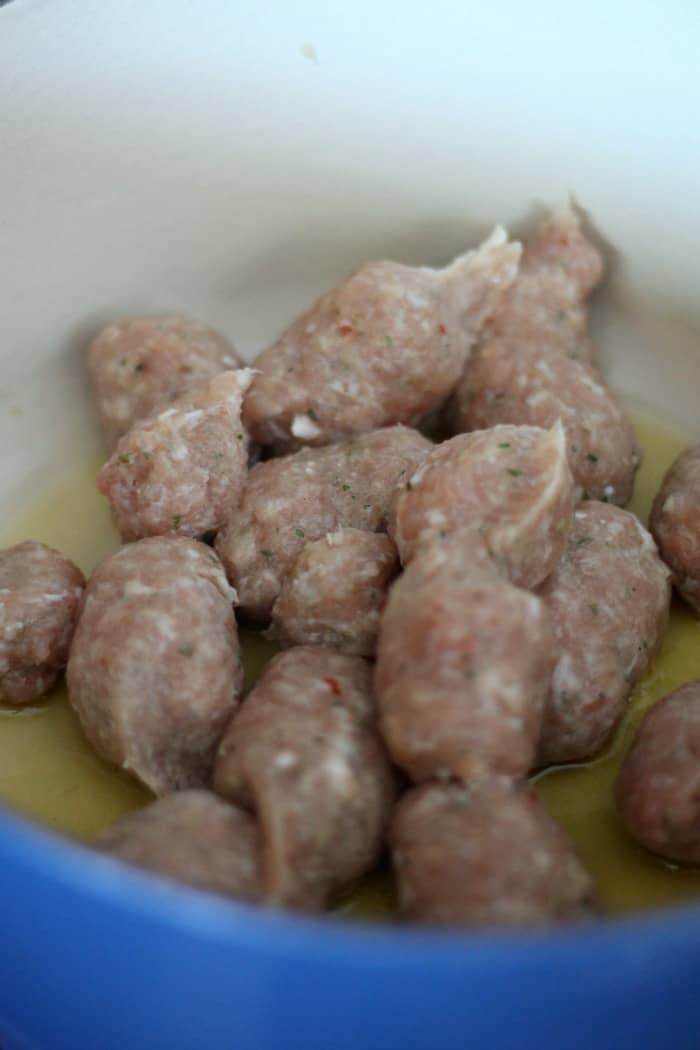 When the sausage is almost cooked through I pushed it over to the side of the pot and placed in the onions and garlic.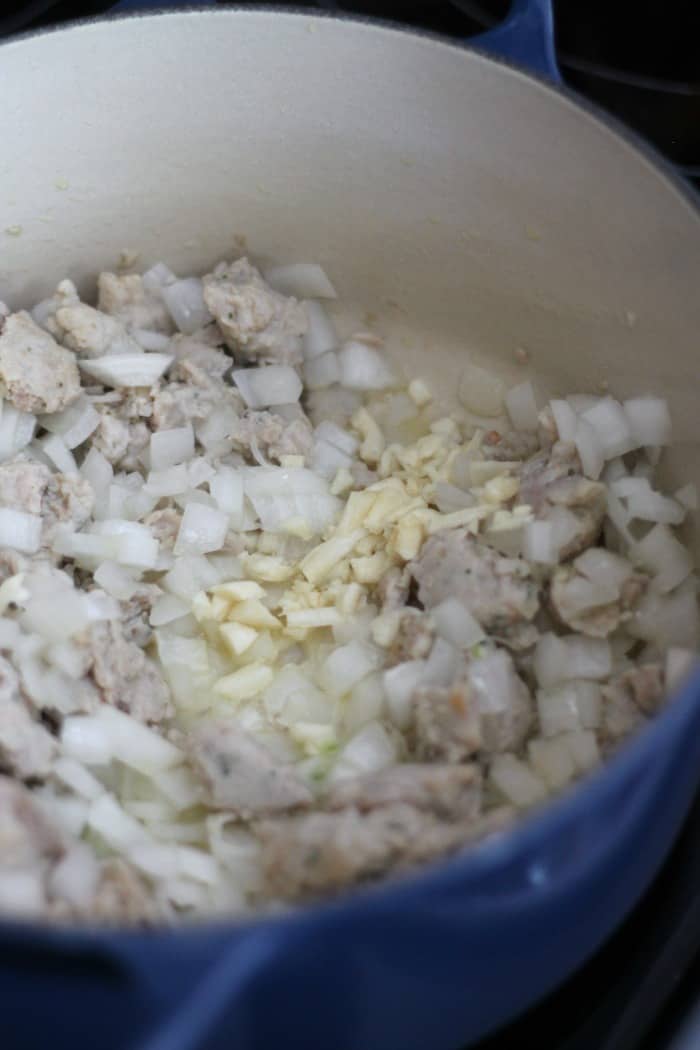 After the onions and garlic cooked for a few minutes I stirred in Italian seasoning and let that cook for another 1 -2 minutes. I poured in 1/4 cup white wine and cooked that down for another 2-3 minutes.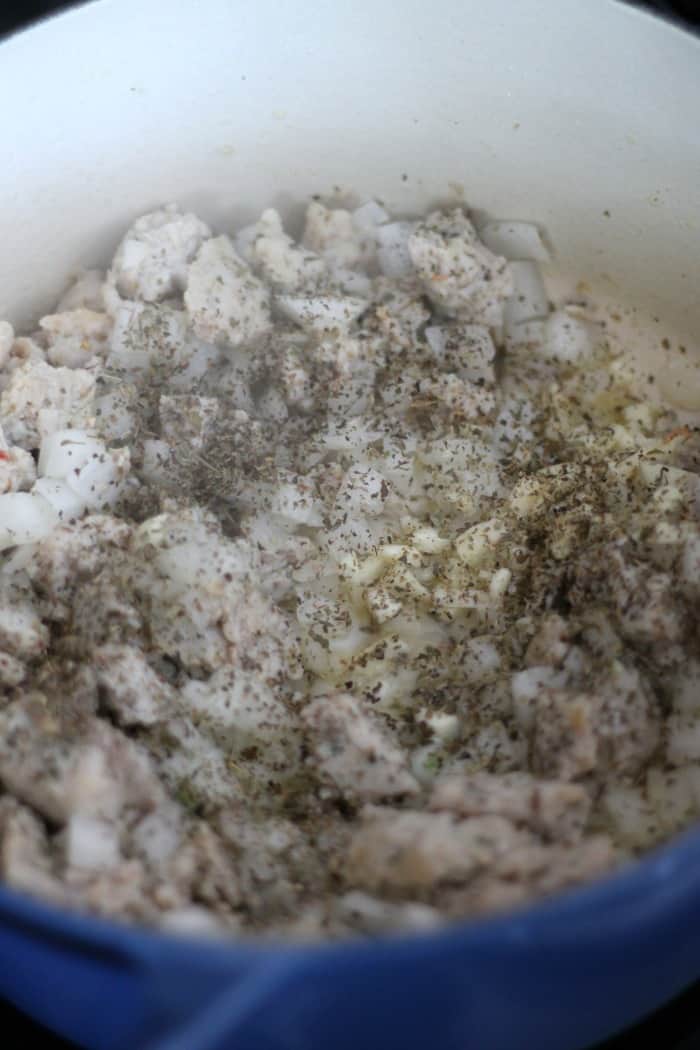 Then I added in the mushrooms. I used basic sliced white mushrooms and broke them up as they cooked.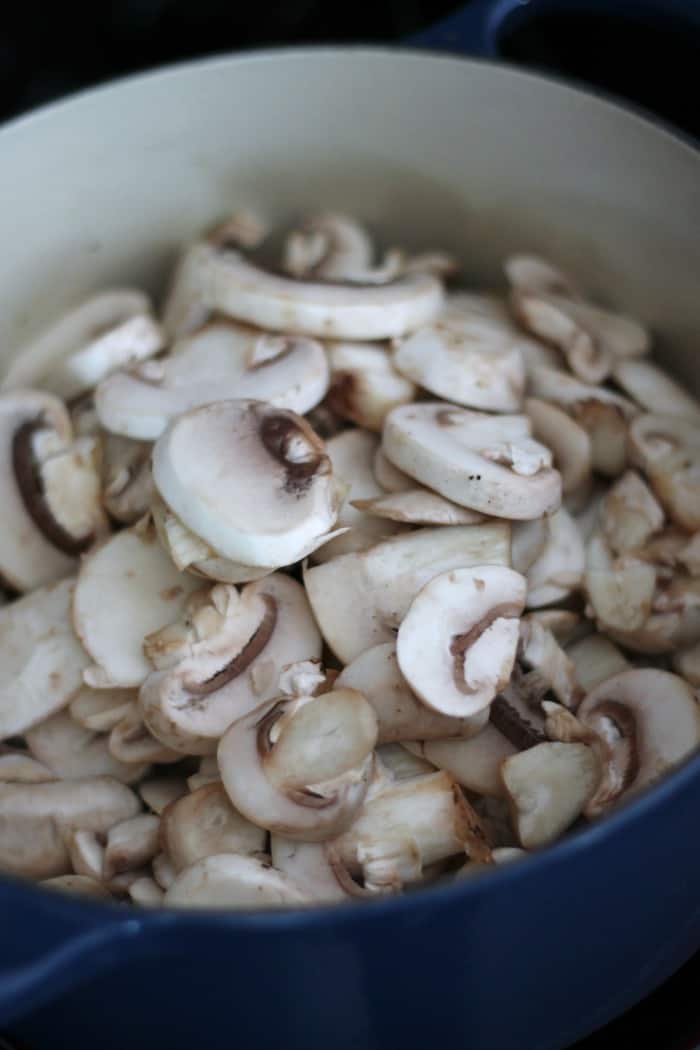 As the mushrooms cooked I got the tomatoes ready. I used Tuttorosso peeled plum tomatoes for this recipe. At first I thought about using diced tomatoes but I love using whole tomatoes and breaking them into chunks as they cook.
I've been a loyal fan of Tuttorosso Tomatoes for well over a year now. Their tomato quality far surpasses all of the other popular brands available. I mean, just look at those tomatoes! Each one is perfectly round, red, and juicy.
There's a reason Tuttorosso Tomatoes offer a superior quality that you can see and taste. They have careful growing practices, hand sort all the tomatoes, and use their proprietary Steam Seal Flavor Loc™ system. The Steam Seal Flavor Loc™ system is basically the way grandma used to seal cans back in the day. It seals in all the freshness and flavor without anything artificial.
I visited Tuttorosso's facility last year and I can tell you first hand they have an impressive high quality process to producing the absolute best-tasting tomatoes. You can learn more about Tuttorosso Tomatoes on their website.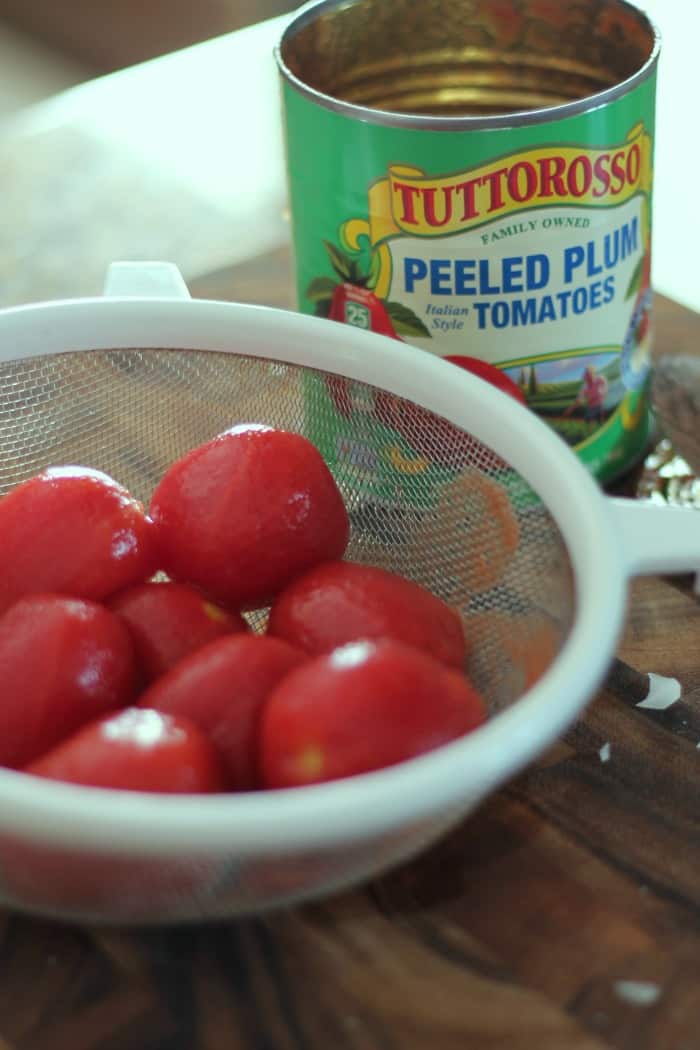 I placed the tomatoes on top of the mushrooms and then broke them apart with a spoon.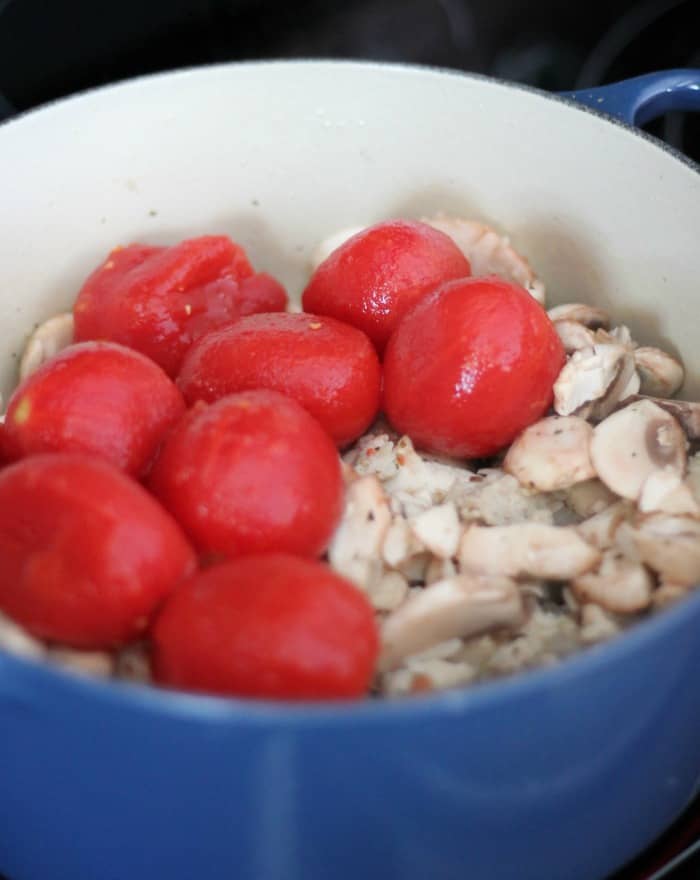 The tomatoes, along with the other vegetables, release a lot of juice which is one of the reasons why I drain the tomatoes prior to adding them to the recipe. Yum I can stop the recipe right here and just grab a fork and go to town.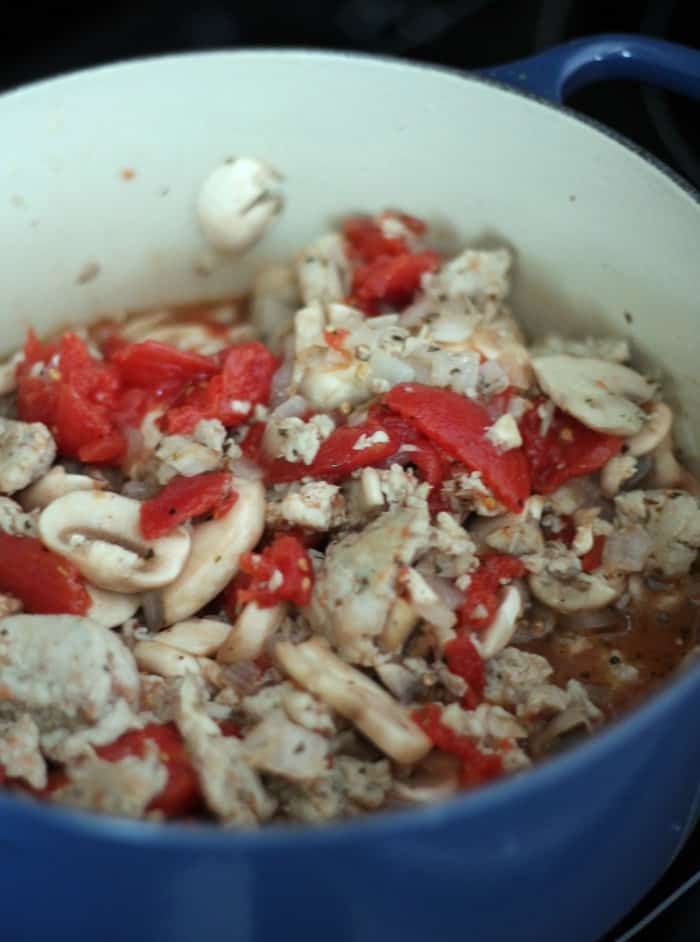 Okay now we are getting ready for the pasta. Now if by some chance you don't want to add the pasta in then just skip the chicken broth step and go right to the peas and cheese. However, if you want to keep this a true one-pot dinner then pour in 1 1/2 cups of chicken broth and then bring to a boil.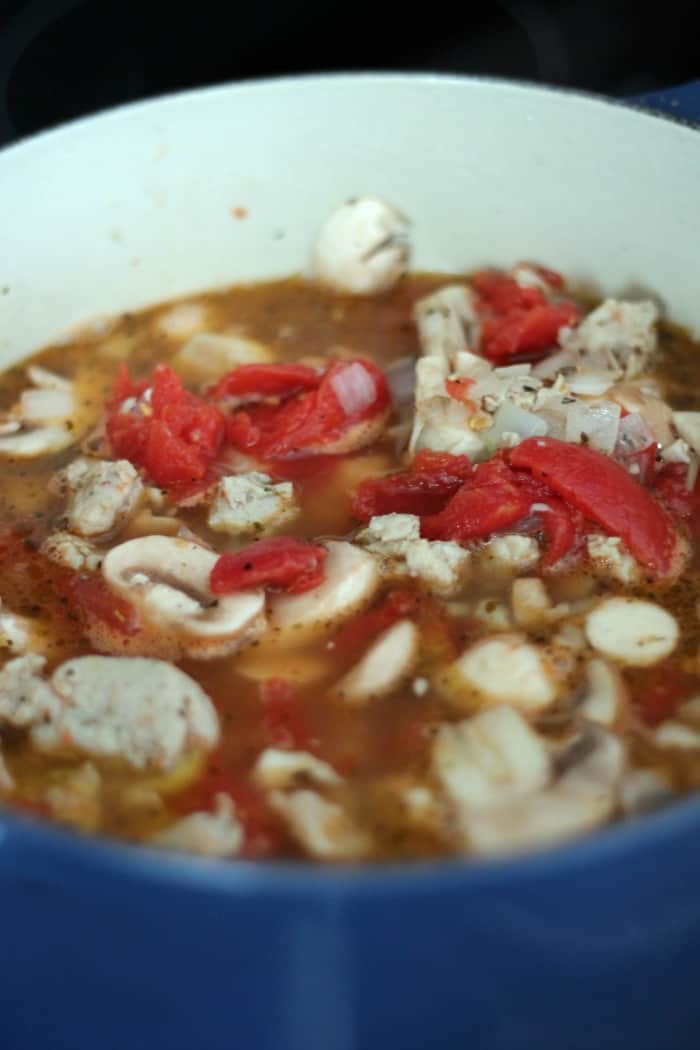 Stir in 8 ounce of whole grain penne pasta or use any short pasta you'd like. Let the pasta cook for about 8-10 minutes, maybe a little longer. Please note the sauce will thicken up as it sits.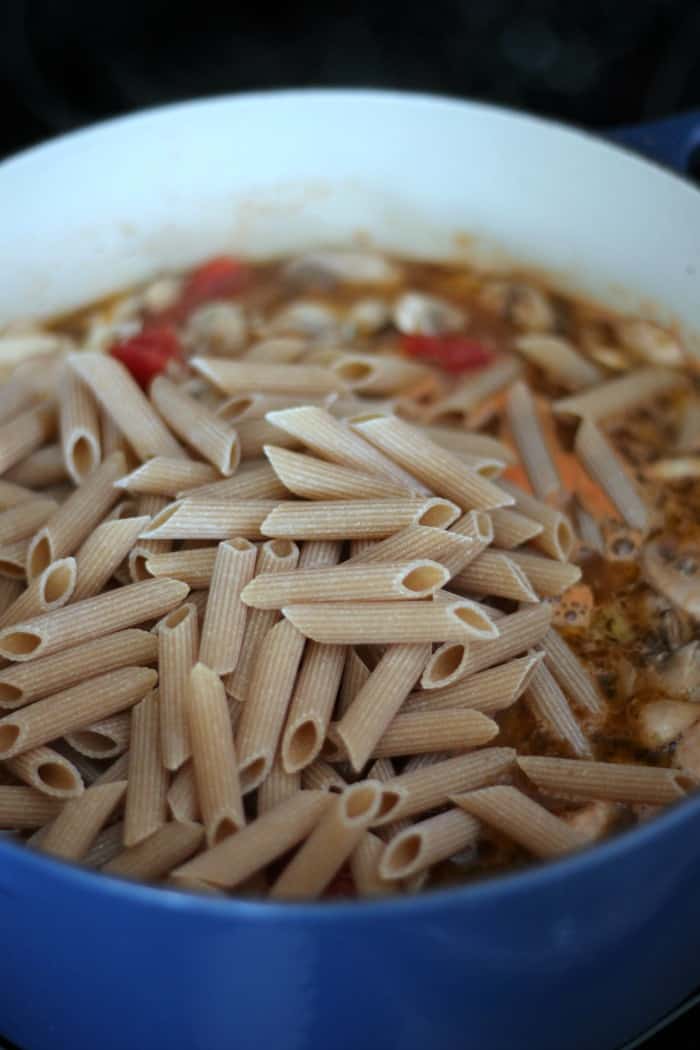 After about 6-7 minutes stir in the peas, ricotta cheese, parmesan cheese, and half and half. Cook until the sauce is heated through.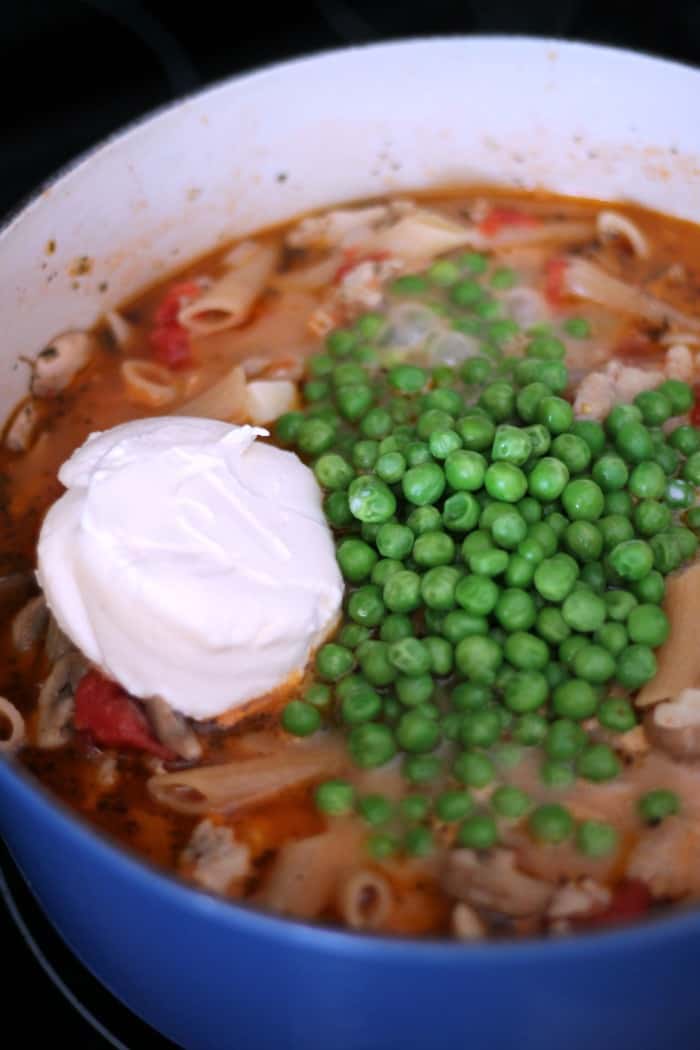 Again, this pasta will absorb the liquid and the recipe will thicken as it sits.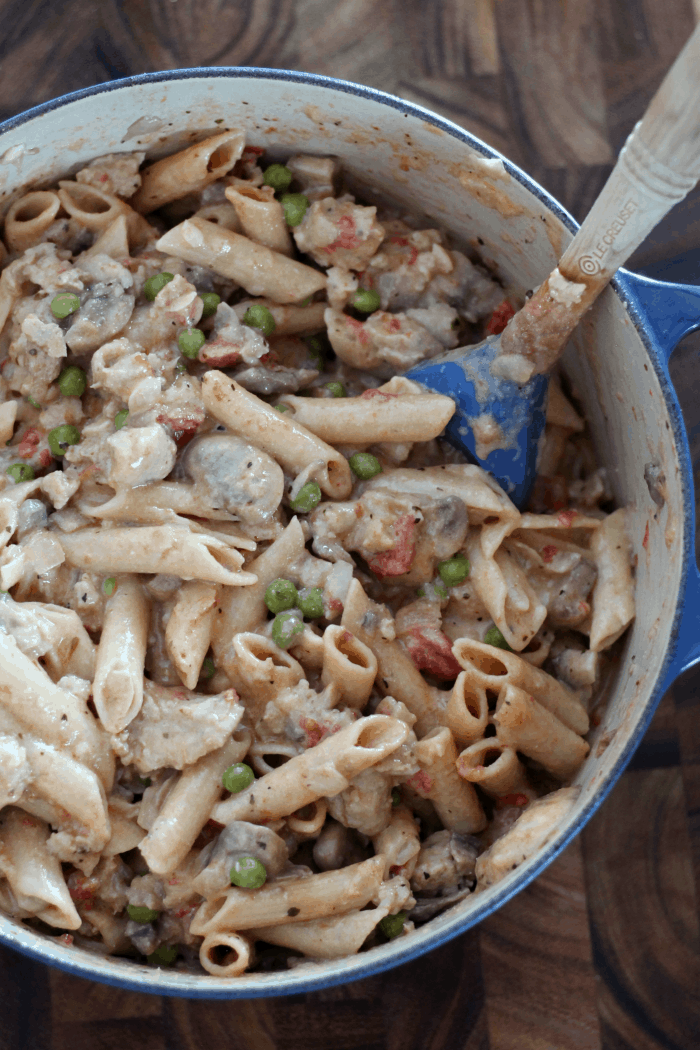 I loved this recipe – and so did everyone else. It was hearty, comforting, and filled with delicious ingredients. The sausage was flavorful with some spice, the tomatoes added a burst of tang, and the peas gave it a light touch of sweetness. The ricotta, along with the half and half, brought it to the next level with a creaminess that was almost sinful. This was a perfectly balanced comfort food recipe.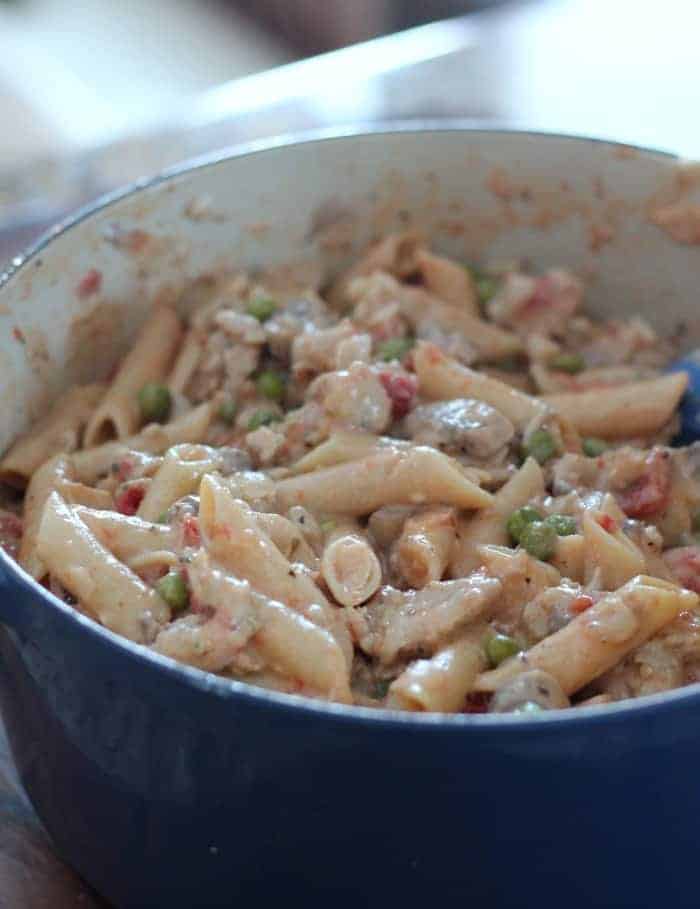 If you're searching for a healthy pasta recipe then I recommend giving this one-pot recipe a try. It makes a ton so plan to feed a crowd or for leftovers.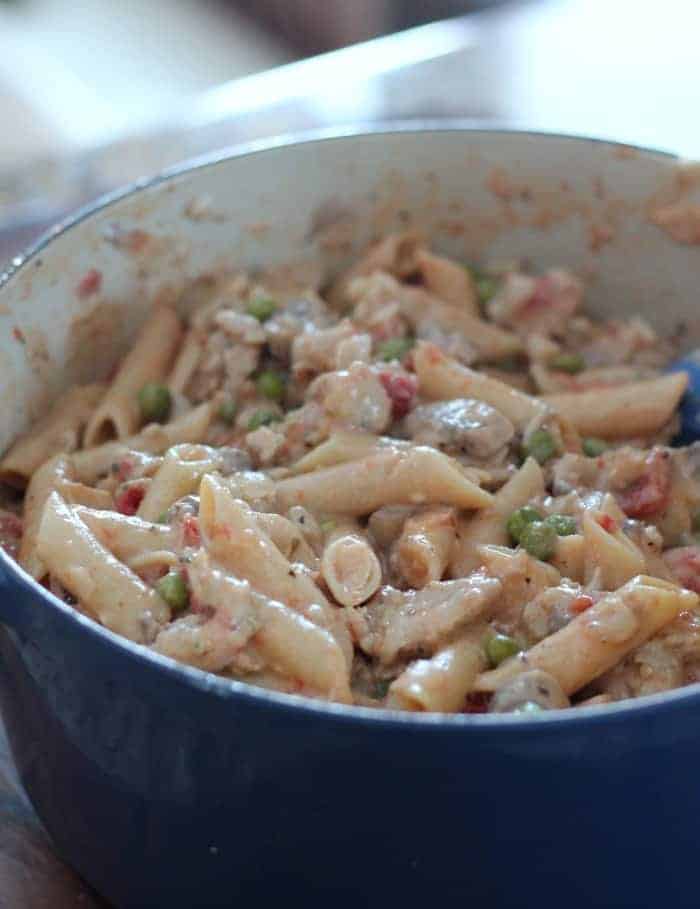 Ingredients
2

tablespoons

olive oil

1

lb

chicken Italian sausage

casings removed

1

medium white onion

chopped

4

cloves

garlic

minced

1

teaspoon

Italian seasoning

1/4

cup

white wine

16

ounces

sliced white mushrooms

1

28-ounce can whole plum tomatoes, drained

1

cup

chicken stock

8

ounces

whole wheat penne rigate

1

cup

frozen peas

thawed and drained

1/2

cup

ricotta cheese

1/2

cup

half and half

1/4

cup

grated parmesan or romano cheese
Instructions
Heat oli in a 6-qt pot. Add in the chicken sausage and break up into small pieces as it cooks.

When the sausage is almost cooked push it off to the side and add in the onions. Cook the onions for about 3-4 minutes and then add in the garlic. Cook for about 1-2 minutes and then stir in the Italian seasoning. Cook for another minute.

Stir in the white wine, bring to a boil, and cook for about 2-3 minutes or until the wine has cooked down.

Add the mushrooms and break into pieces as they cook down.

Once the mushrooms have soften add in the tomatoes. Using a large spoon, break the tomatoes into pieces and stir together with the rest of the ingredients.

Pour in 1 cup of chicken stock and bring to a boil.

Reduce to a simmer and stir in the dry pasta. Cook for about 8 minutes or so or until pasta absorbs the liquid and starts to soften.

Stir in the peas, ricotta cheese, and parmesan cheese.

Continue to simmer until the most of the liquid is absorbed and pasta has soften. Remove from heat and let sit for about 5 minutes.

Taste for salt and pepper and serve hot.
Notes
Sugar:8
Make-ahead instructions
This recipe can be made ahead of time without adding in the pasta. Leave out the chicken stock and store it like you would a sauce. You can also freeze it for 3-6 months. I've also made this recipe completely ahead of time and kept it in the refrigerator. It can be stored for 1-2 days like that.
Nutrition
Serving:
1
g
|
Calories:
440
kcal
|
Carbohydrates:
37
g
|
Protein:
30
g
|
Fat:
19
g
|
Fiber:
6
g