Calzones are the perfect meal to use up leftover ingredients from other recipes. For example, this calzone recipe used up leftover sausage links from my chicken and sausage breakfast egg cups; ricotta from my spinach and feta stuffed shells; and I always have some kind of leftover cheese lying around. I did go out and buy the mushrooms only because my hubs love mushrooms and I am all about having a happy hubby 🙂
I purchased the pizza dough from the store so the only task that took a little time was cooking the meat and getting the filling together. But even that was a cinch to prepare and super simple to have ready ahead of time – I actually prepared it over the weekend and then just stuffed the calzones the night we ate them. However, if you want you can completely make these ahead of time and freeze for an easy heat and eat dinner. Basically, what I am trying to say is that calzones are a very versatile meal. Not to mention, I don't know many people who do not love dough stuffed with cheese and meat then dipped in sauce?
These chicken sausage and mushroom calzone are delicious, comforting, and completely satisfying. You will love them! Did I mention they are only 365 calories each. Yeppers!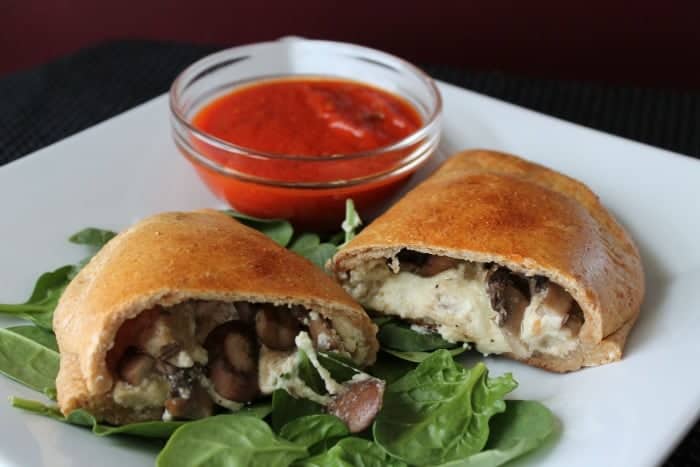 Chicken Sausage and Mushroom Calzones
Author:
Organize Yourself Skinny
Ingredients
2 cups part skim ricotta
1 cup shredded provolone or mozzarella
¼ cup grated parmesan
3 links chicken sausage
½ teaspoon onion powder
½ teaspoon garlic powder
½ teaspoon oregano
1 egg
⅛ teaspoon salt
¼ teaspoon pepper
1 10 ounce package sliced baby portobello mushrooms
1 recipe whole wheat pizza dough (homemade or store bought)
1 egg
Marinara sauce
Instructions
Remove casings from sausage and cook on medium heat, breaking into small pieces, until no longer pink. Remove from pan and place is a bowl or plate and let cool slightly.
Wipe out the pan, spray with cooking spray, and add 1 teaspoon of olive oil. Sauté mushrooms until soft. Remove pan from heat and set aside.
In a medium bowl stir ricotta and egg together until combined. Stir in the shredded cheese, parmesan, onion powder, garlic powder, oregano, salt and pepper. Stir sausage into the cheese mixture. Set aside.
Divide the pizza dough into 10 balls. Use a rolling pin, roll out one ball at a time until it is a 5-6 inch round circle. Try to get the dough as thin as possible without tearing. This does take a little work but usually by the second or third one you are a dough rolling pro. After the dough ball is rolled out fill it with ⅓ cup cheese and sausage mixture and some of the mushrooms. You may use a little more or less depending on how your dough came out. You don't want to overfill the calzones because the filling will come out as it cooks. Fold the dough over and pinch ends close using a fork. Continue with the rest of the dough.
Whisk egg and brush it over the calzones. This gives the calzones a nice golden color and crisp. Bake for 15 -16 minutes or until golden brown.
Serve with marinara sauce.
Notes
Make Ahead Instructions These calzones can be prepared ahead of time 2 different ways. First, you can make the filling ahead of time, store in the refrigerator, then fill calzones and bake the night you want to eat them. Second, you can cook them completely, cool, then flash freeze on a pan. When frozen put calzones in a plastic bag. When ready to eat cook in a 350 degree oven for 15 - 20 minutes or until heated thoroughly.
Nutrition Information
Serving size:
1 calzone
Calories:
365
Fat:
13
Carbohydrates:
39
WW Points +:
10
Fiber:
7
Protein:
37
Get Instant Access to My Best Weight Loss Tips & Strategies!
Sign up now for a free step-by-step 7-day email course that I created exclusively for my email subscribers! That's you. I will teach the best habits, strategies, and insider tips so you can enjoy a lifestyle that encourages and supports weight loss! Stop relying on willpower and take control back over your life! You can do this. Let me help!