This Healthy Chicken Parmesan is a family favorite and one of the first freezer meal recipes I have ever put together. In this post, I'll show you how to make this baked chicken ahead of time, and how to turn it into a freezer meal for an easy weeknight dinner or Sunday supper.
I recently made this baked chicken parmesan recipe and it was definitely a crowd-pleaser!
This is one of my favorite 'lightened up' Italian American recipes to make. In fact, I bet you can serve this at any dinner party and no one would ever guess it's baked and not fried.
It has the perfect amount of seasoning, sauce, and cheese to make any die-hard chicken parm lover a believer. Trust me, I don't mess around with Italian recipes.
My nonna would disown me!
I just want them tasty and satisfying, but that's sometimes difficult when I'm on a time crunch.
Thank god for my freezer.
How To Turn Healthy Chicken Parmesan Into A Freezer Meal
Today, I want to show a couple of different ways to freeze this recipe for a future dinner. Because let's be honest- As easy as this chicken parmesan is to make, I still don't have the time, patience, or energy to cook up chicken during the week.
So, making this dish ahead of time to pop in the oven on a busy night is the perfect solution.
I'll be showing you two different freezer meal methods.
However, they both start with baking the chicken breasts. So, the first thing you need to do is season, bread, and bake the chicken.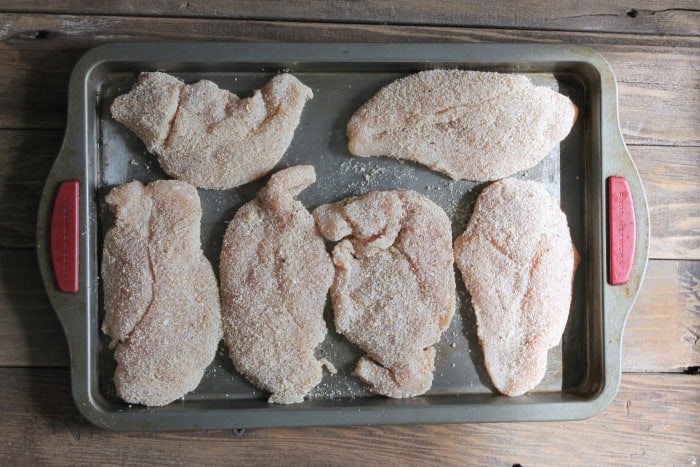 After that, you can either put everything together into a dinner freezer kit or assemble it to have a complete meal ready-to-go, and all you have to do is pop it into the oven.
Method #1: Dinner Freezer Kit
Let's start with the dinner freezer kit!
With a freezer kit, all you need to do is place the cooked (and cooled) baked chicken breast into a gallon size freezer bag. Then, in the same bag, you will place a bag of marinara sauce (about 2 – 3 cups) and a bag of shredded mozzarella cheese (about 1-2 cups).
If you don't want to add sauce to your kit, just make sure to have a jar of marinara sauce in your pantry. My favorite brand is Rao's!
After you have everything put together, label the kit with what's inside and the date it was assembled before putting it into the freezer.
How To Cook This Chicken Parmesan Freezer Kit
When you're ready to cook the chicken parmesan, take it out of the freezer the night before and let it thaw in the refrigerator. If you can take this out 2 nights before, that will assure it's completely thawed ahead of time.
If by some chance the chicken is not thawed completely, that's fine. It can still be cooked frozen!
However, you'll need to warm up the sauce so it can be spread over the chicken.
To cook this baked chicken recipe, assemble the healthy chicken parmesan in a casserole dish, cover with foil, and bake it for 30 – 40 minutes in a 375-degree oven.
Remove the foil after time is up and cook for another 5-7 minutes or until the cheese is completely melted and slightly brown and crispy.
The benefit of a chicken parmesan freezer kit is that you assure all the ingredients are available, but it doesn't take up a lot of space in the freezer. So, you can easily make a few healthy chicken parmesan freezer kits, and have them have ready for dinners over the next couple of months.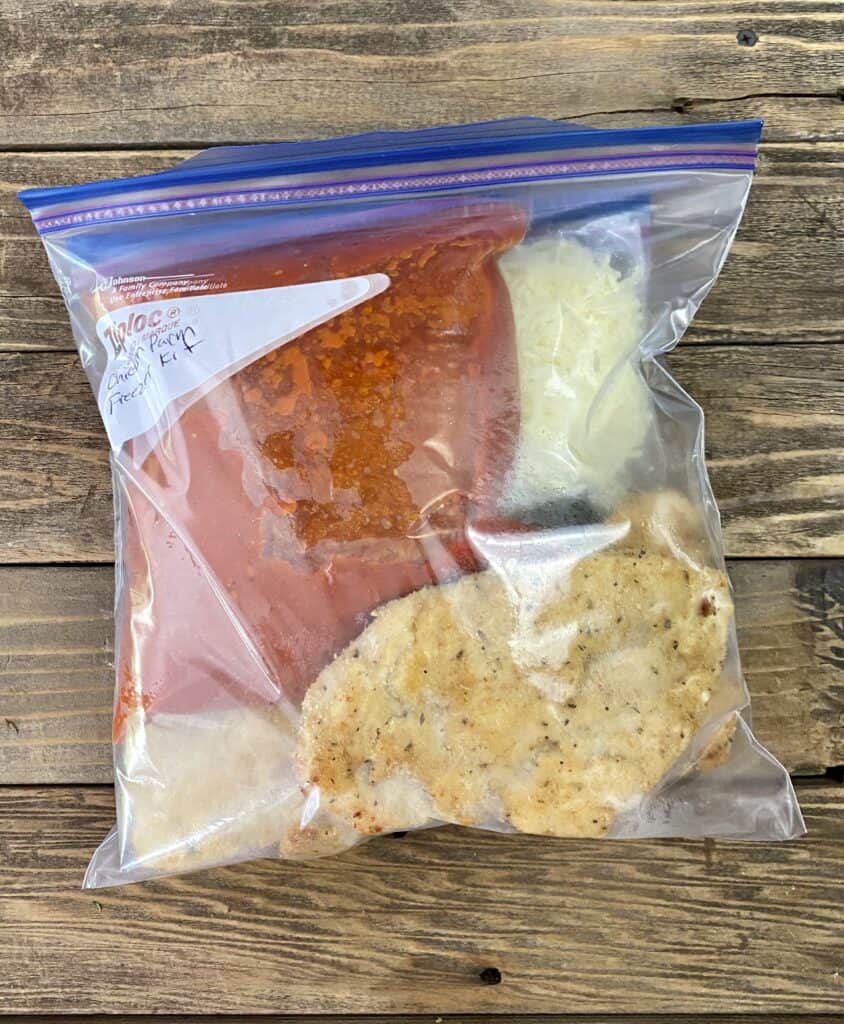 Method #2: Assemble A Meal-Ready Casserole Tray
If you have the freezer space, my favorite way to assemble a healthy chicken parmesan freezer meal is to layer the ingredients into a casserole dish, cover it with foil, label, and then freeze. You can use a disposable pan or a glass casserole dish if you have one to spare.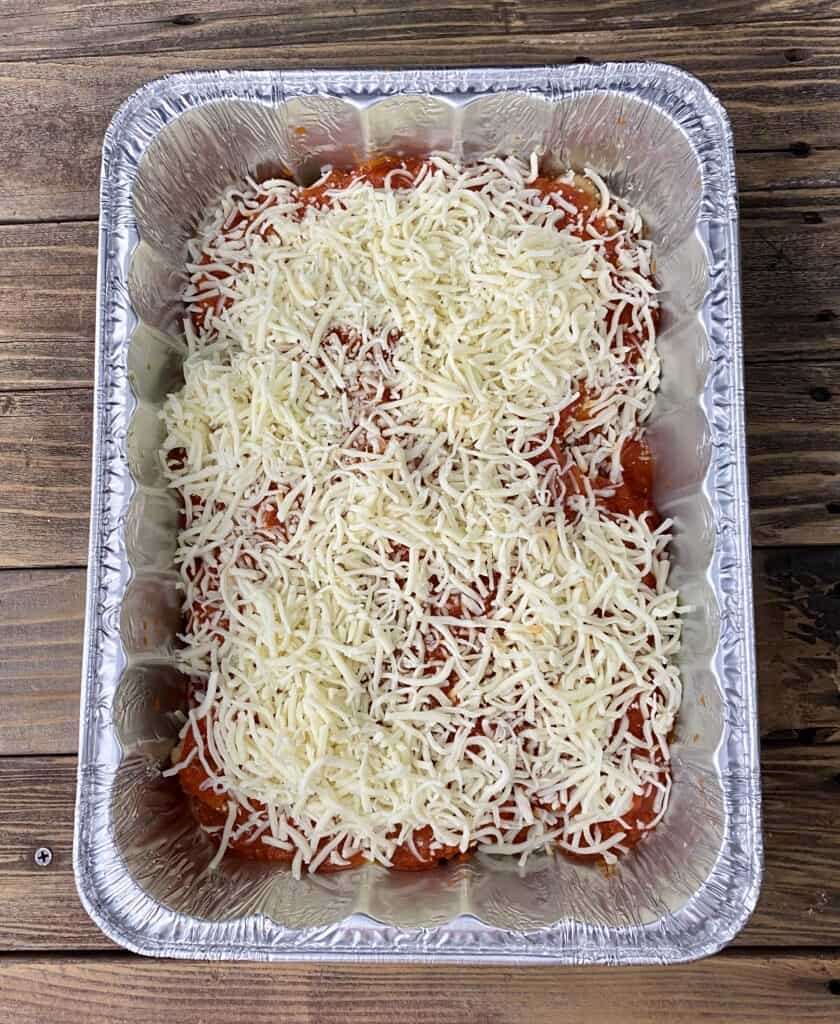 With this freezer method, all you need to do is pop it into the oven and bake. If you cook it straight from the freezer, you'll need to plan for 1 1/2 hours of cooking time. This isn't ideal for a busy weeknight, but it could work just fine for a Sunday supper.
If you plan to make this during the week, then I strongly recommend taking it out of the freezer 2 days prior to cooking it and letting it thaw in the refrigerator. It still might need to cook for 45 – 60 minutes, but that's much better than 90!
When I tested this recipe I cooked it straight from the freezer. After it baked in the oven for 90 minutes, I removed the foil and let it cook for another 10 -15 minutes until the cheese was melted and browned.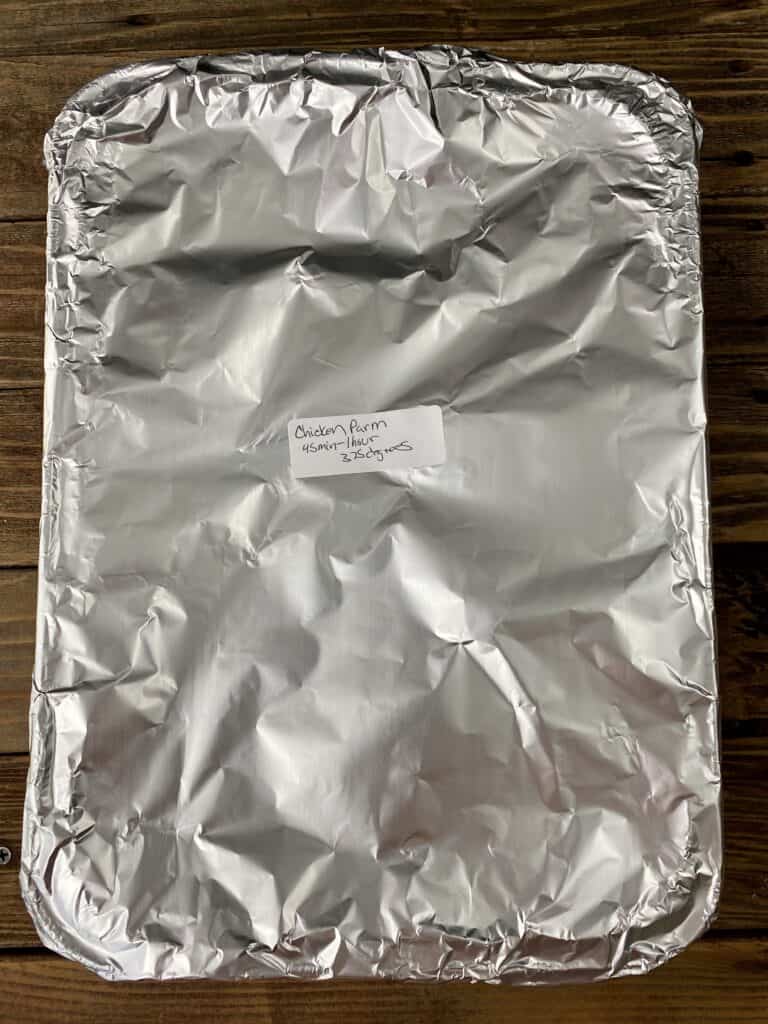 Cooking Tips For Casserole Freezer Method
This chicken parmesan came out perfect! The chicken was tender and delicious.
A couple of things to keep in mind when using this casserole freezer method:
If you're freezing in glass containers, don't cook it straight from the freezer because the shock of the heat can cause the glass to shatter.
You can use any size casserole dish when freezing chicken parmesan. If you want to make a smaller amount, using an 8-inch pan can work in your favor.
You will need to adjust the cooking time if you use a smaller dish! If you are cooking it while it's still frozen, leave it in for 20 – 30 minutes.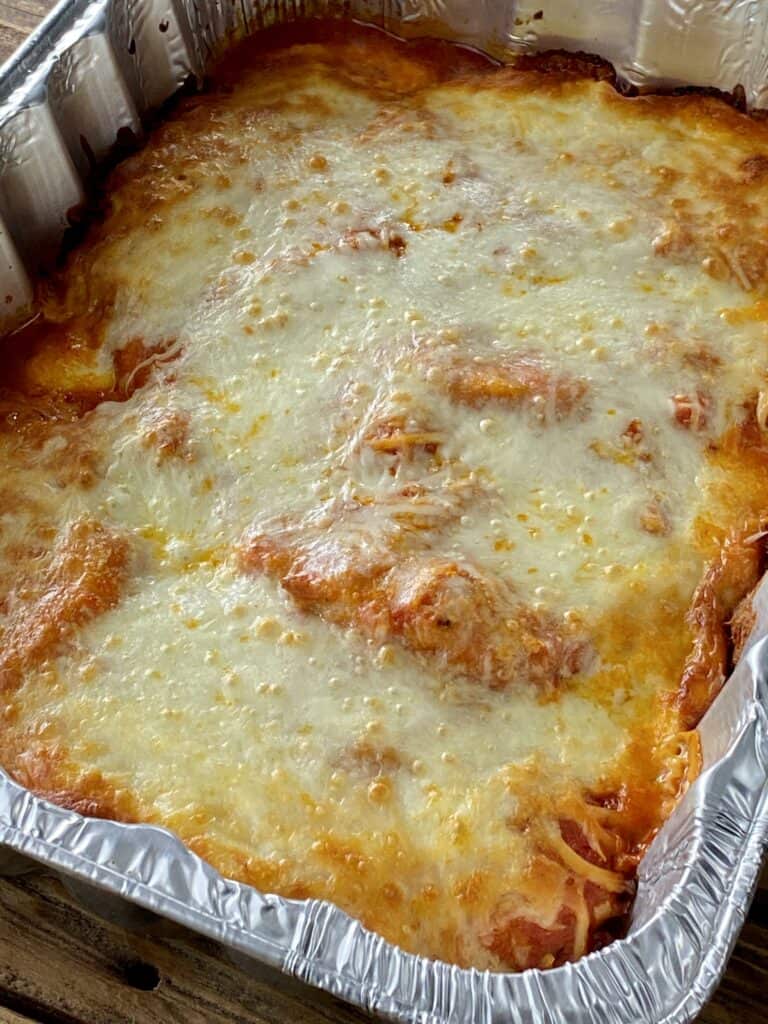 What To Serve With This Healthy Chicken Parmesan
Chicken parmesan freezer meals are great to have on hand for a busy week!
However, this baked casserole along with other freezer meals are also nice to give to new moms, elderly neighbors, or someone who just had surgery. Basically, it's perfect for anyone who can appreciate the convenience of a ready-to-bake, home-cooked, healthy chicken parmesan dinner.
Here's a list of sides I like to serve with chicken parmesan:
Whole grain or gluten-free spaghetti
Zoodles
Caesar salad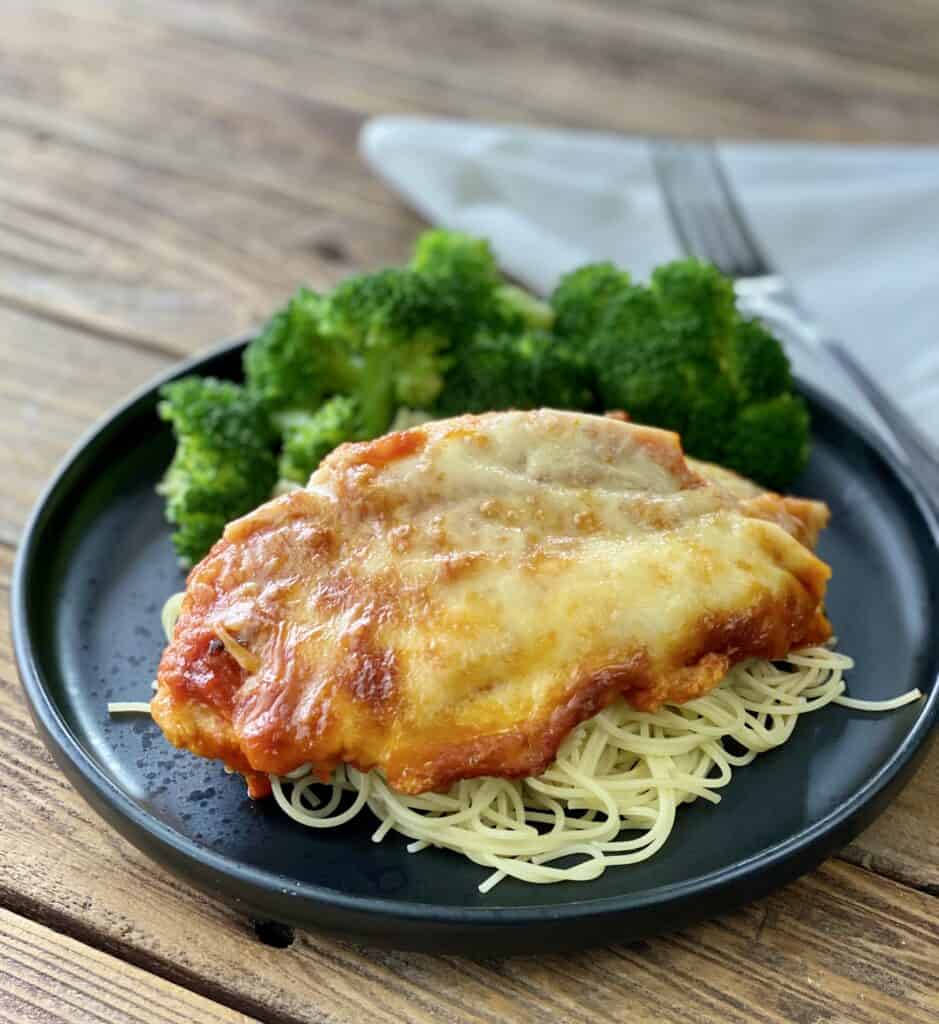 Next time you decide to meal prep some freezer meals, make a couple of portions of this Healthy Chicken Parmesan. That way you have an easy and delicious meal ready to cook. Share a picture and tag me on Instagram or Facebook if you decide to make it!