This Spicy Chicken Rigatoni recipe, sent down from the Italian heavens, includes a tomato cream sauce, hot cherry peppers, and shredded chicken. It is such a simple dish but the flavors are incredible.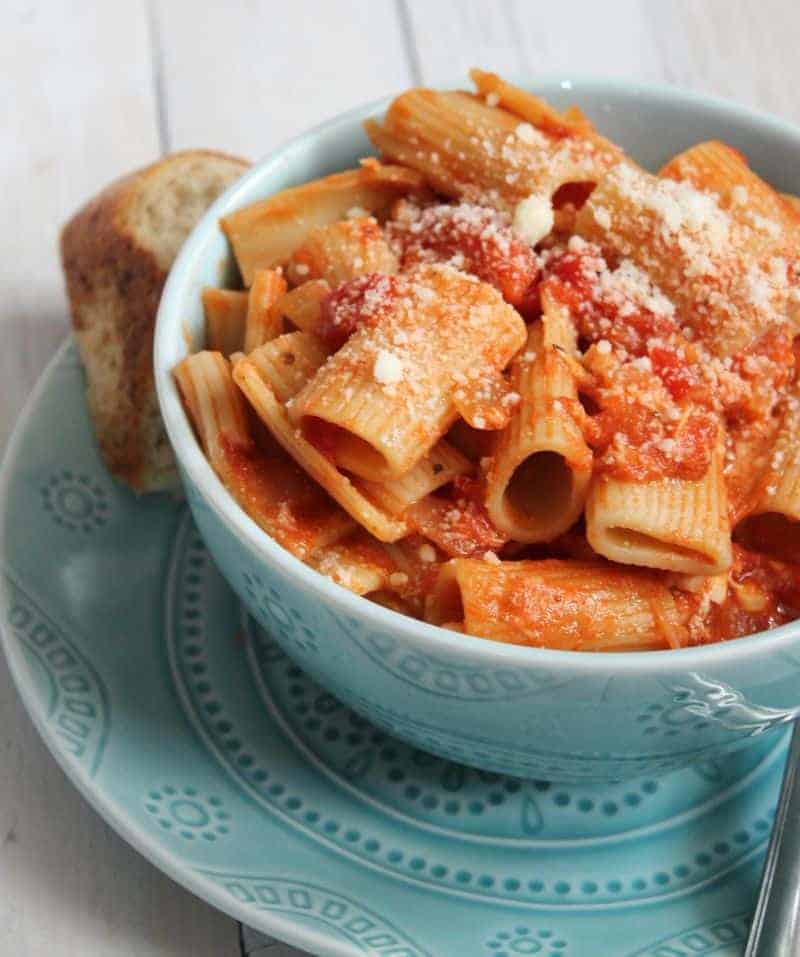 If there's one meal I can eat for the rest of my life it would the Joe Shaw Rigatoni from Mulberry Italian Restaurant in Lackawanna, New York. Mama Mia it is easily one of the most delicious Italian dishes I ever had the pleasure of eating.
Even though Mulberry's has a huge selection of Italian dishes to choose from the only thing I order when I go is the Joe Shaw rigatoni. I am obsessed. It comes to me perfect every time. Come to mama!
I really appreciate the consistency Mulberry Italian Restaurant provides with their dishes. I know I can go any time of the day and my Joe Shaw Rigatoni is going to taste just as delicious as the first time I had it. I try to bring that same consistency to the food I make for my family. It's important to me that my family trusts the food I prepare. I spend a lot of time cooking new recipes and I want my family to look forward to the food I make for them. I know their taste buds and try to create recipes they will love just as much as the basic pizzas I make for them. When I put a plate a food in front of my family I want them to get excited about it. From the food Mulberry's offers and the atmosphere they create I suspect they want the same thing for their customers.
Let's talk a little bit about the atmosphere because, in my opinion, that is just as important as the food. I grew up in an Italian-American family so I am very used to my house smelling like sauce, red sparkling wine on the table, and Frank Sinatra playing in the background. That was my life and the memories I completely cherish. The moment I walk into Mulberry's I immediately feel at home. It is warm, comforting, and welcoming. It is the type of place you want to spend time at…with the people you love. Everyone from the hostess to the chefs' work hard to put a personal touch on everything to make me feel welcomed. As soon as I walk in the door I am greeted with a smile. The waitress acts as if she's there to just take care of my family and I. And the food taste so homemade you'd swear Grandma was in the kitchen. The chef's are great about preparing a dish with extra ingredients or leaving things out. This is something I appreciate because sometimes I like things extra spicy or without added cheese.
That is the exact atmosphere I want to create for my family and friends when they come to my home. I want everyone that walks through the door to have that same warm feeling that they are being taking care of and loved by an Italian mama.
Of course, it's my goal to create healthier versions of my favorite restaurant recipes. I do love to enjoy the originals when I am sitting down and being served by someone else. However, in between my restaurant visits I like to make my own.
I've been eating at Mulberry's for a few years now and since the first time I took a bite of the Joe Shaw rigatoni I wanted to create my own version. As I said this recipe is very simple but has bold flavors. It's a tomato sauce with a little bit of cream. The bold flavor comes from the hot peppers and maybe a little garlic and onions. There is also some shredded chicken thrown in. I love the way the chicken is cut small. Most dishes just throw a chicken breast on top or cut it up into large chunks. This dish blends the chicken in nicely.
How to Make Spicy Chicken Rigatoni
I started with sautéing some garlic and onion in olive oil. Not sure if the original calls for garlic and onion but I am not sure I can make an Italian dish without these two ingredients.
Then I sprinkled in a ½ teaspoon of Italian seasoning. I prefer to use Italian seasoning instead of dried basil or oregano. To me it provides better flavor.
For the heat and bold flavor I used jarred hot cherry peppers. I sliced them up and threw them in with the other ingredients. The aroma will have your mouth watering and also clear out your sinuses at the same time.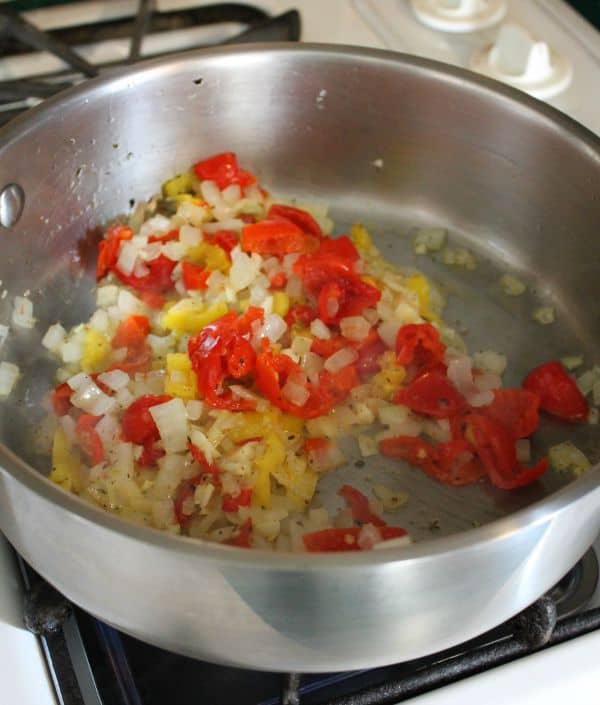 Next, I poured in a can of whole tomatoes, tomato sauce, and let that simmer for a little bit.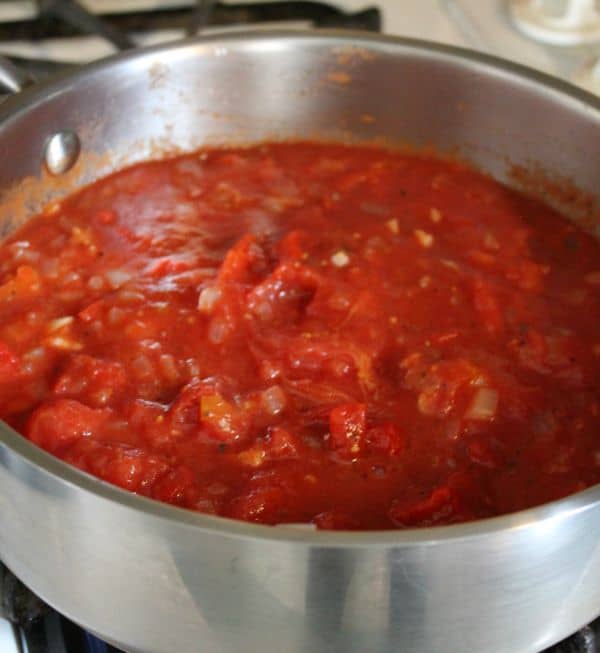 Then I stirred in shredded chicken, some grated Romano cheese, half and half and let that simmer for another 5 minutes. I kept this recipe easy by using a rotisserie chicken. You could cook and shred your own chicken but a rotisserie lends great flavor and keeps this recipe simple.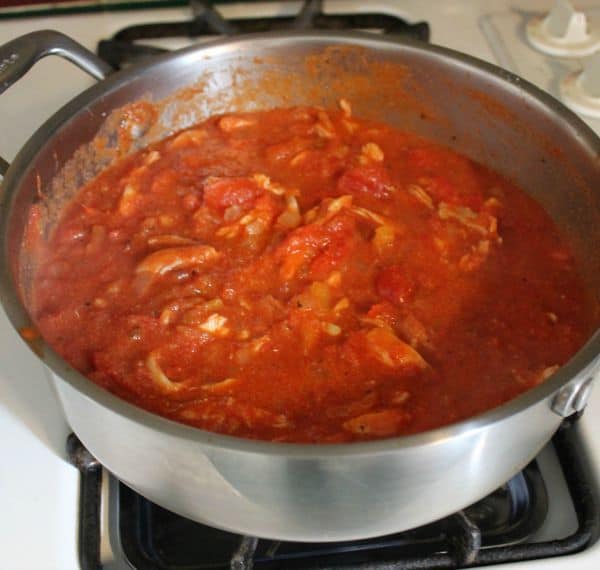 The last thing I did was toss in the rigatoni. Oh the rigatoni! If there is a type of pasta that brings me right back to my childhood it's rigatoni. I love it and whenever I see rigatoni on the menu ANYWHERE I will order it. I highly recommend you use rigatoni in this sauce. It grabs the sauce and flavors in ways I don't feel another pasta could do. You could also serve the sauce on top of the rigatoni.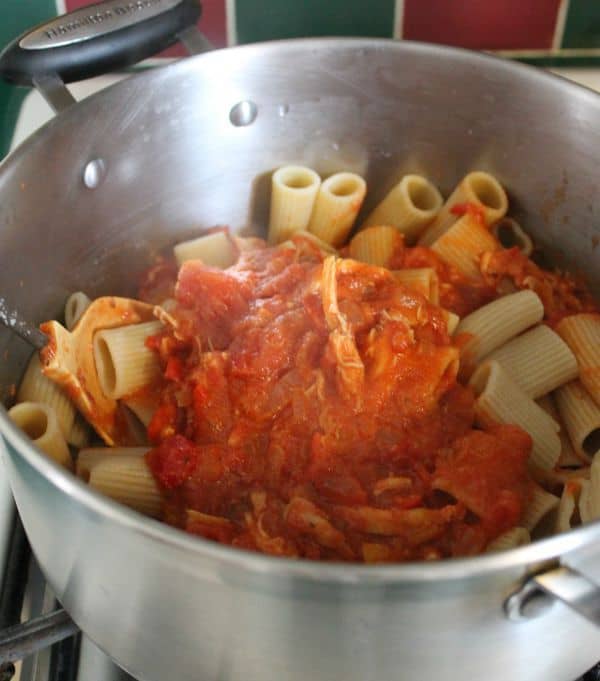 My version might not taste exactly like the original but it was still absolutely positively scrumptious! The flavors were bold and delicious. Most importantly it was made with love and with one taste you won't doubt it.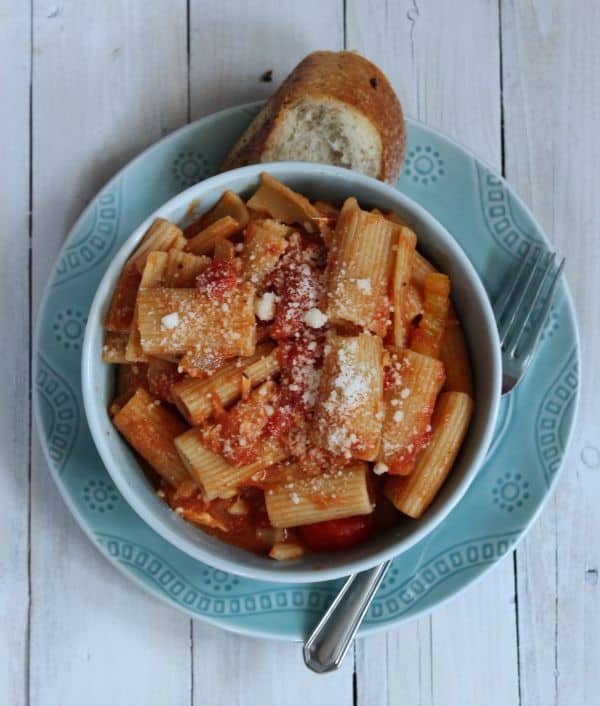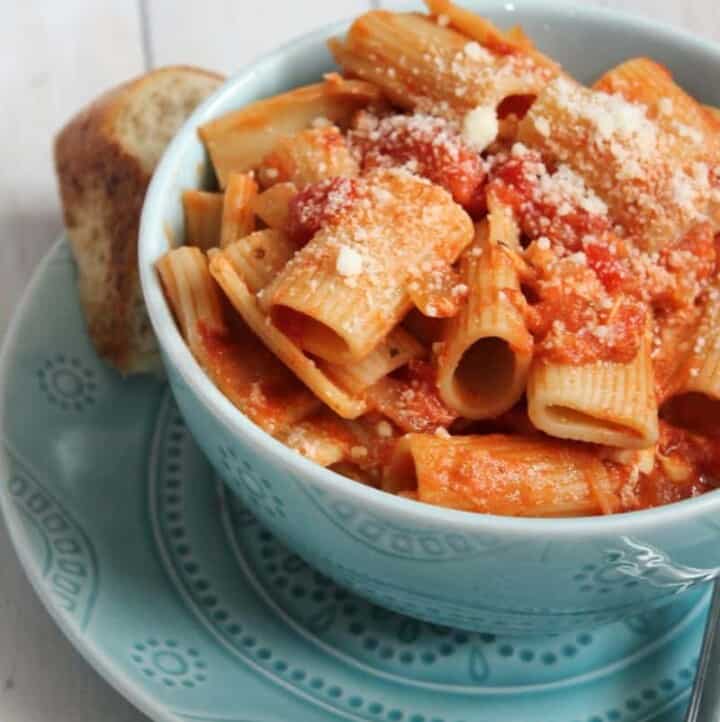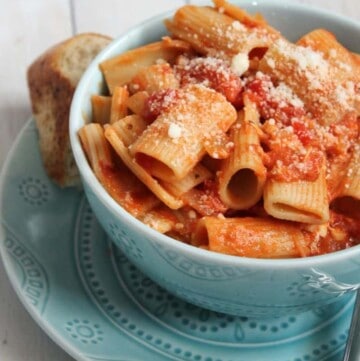 Spicy Chicken Rigatoni
This Spicy Chicken Rigatoni recipe, sent down from the Italian heavens, includes a tomato cream sauce, hot cherry peppers, and shredded chicken. It is such a simple dish but the flavors are incredible.
Print
Pin
Rate
Ingredients
1

tablespoon

olive oil

3

cloves

garlic

chopped

1

small white onion

chopped

¾

cup

jarred Peppadews

hot cherry peppers, drained and chopped

¼

cup

jarred sliced banana pepper rings

drained and chopped

½

teaspoon

Italian seasoning

1

28-ounce can whole tomatoes

1

8-ounce tomato sauce

1 ½

cups

shredded chicken

white and dark meat

¼

cup

grated romano cheese

½

cup

half and half

8

ounces

Rigatoni pasta
Instructions
In a large pan heat the olive on medium high and sauté onion for about 3 minutes or until translucent. Add in the garlic and sauté for another 2 minutes or until garlic is fragrant.

Stir in Italian seasoning and sauté for another 1 minute. This gives the spices a chance to bloom.

Stir in the peppers and sauté for another 1 -2 minutes.

Stir in whole tomatoes and tomatoes. Bring to a boil and then simmer for 25 minutes. Break up the whole tomatoes into pieces.

Slowly stir in shredded chicken and let simmer for 5 minutes or until chicken is heated through.

Slowly stir in the romano cheese and half and half. Cook until heated through. Toss with rigatoni and serve. You can serve this with extra romano cheese.
Notes
Make ahead instructions
The sauce can be made ahead of time and frozen. Reheat on the stovetop.
You can also freeze this into individual freezer meals. Keep pasta and sauce seperate. Heat in microwave.
Nutrition
Serving:
1
g
|
Calories:
335
kcal
|
Carbohydrates:
49
g
|
Protein:
16
g
|
Fat:
8
g
|
Fiber:
5
g
Want to meet purveyors who are making a difference with their customers? Check out BonAppetit.com's "Out of the Kitchen", an ongoing exploration of the relationships that build and sustain the food industry. See how hyper-local food markets operate and how their focus on quality and service keep customers coming back for more.
I was compensated by Epicurious for this post. All opinions and text are my own.