There are endless possibilities of recipes whether you flip thru cookbooks, browse the Internet or exchange your favorites between friends.  At the end of my day, after my daughter is tucked into bed, and I need a little "unwinding time", I love to scroll through the internet, particularly Pinterest and my favorite blogs to look for recipes.  As you know, there are literally 1000's of recipes posted on any given day.
I tend to be attracted to recipes that are fairly simple in preparation, minimal ingredients and here is the big one…I steer clear of any recipe that has descriptions like cheesy, creamy or fried.  At least I did.
Through my "research" (scrolling blogs and Pinterest is considered research, right??), I have found some substitutions that offer lower calorie, tasty options!
Fried.
My father in law makes a version of chicken we lovingly refer to as Poppa's KFC Chicken.  I equate KFC (Kentucky Fried Chicken) with deep fried.  Let's be honest, deep fried is not one of the recommended food groups!  Enter, Poppa's KFC Chicken.  Want to know what the secret is??  He bakes it!  First, he coats the chicken with a mix of flour, garlic powder, onion powder, pepper and seasoned salt.  He has also done a variation of using flour and a BBQ rib rub for a little tangier bite.  To be fair, he uses a tiny, itty bit of oil in a very hot pan in order to brown the chicken on both sides before baking it.   The end result is better than the inspiration, minus the grease and extra unnecessary calories.
Cheesy.
I used to believe that adding cheese to anything made it taste that much better.  I also used to order French Onion soup out at a restaurant just to enjoy the layers of melted, browned cheese.  Or how about when you order a dish at an Italian restaurant and the entrée is served with a layer of cheese so thick, you could choke on it.  I know that's possible because it happened to me once.  Embarrassing. Now, let's be clear, I enjoyed every mouthful.  Of cheese.  And then I had an epiphany of sorts.  I was not  even tasting the food.  I was missing out on the simple goodness of the dish.  Since I have cut back on sprinkling on the cheese, and by sprinkling, I mean piling; I have been introduced to a few new tastes that I realized I enjoyed.  I realized that I can still enjoy cheese but by reducing the amount I get to enjoy the dish it covers even more.
Creamy. 
I kind of envy anybody that selects recipes that call for cream as a basis of a sauce.  I could never live on the edge that much and throw caution to the wind.  I am pretty calorie conscious in helping me to maintain my goals and I feel like heavy cream is the devil in disguise.  Every time I passed up a recipe like that, I felt cheated.  I happened to come across this recipe.  Vodka sauce that uses greek yogurt instead of a creamy alfredo type sauce.  Along with fresh basil, this was de-lish!  And it freezes great.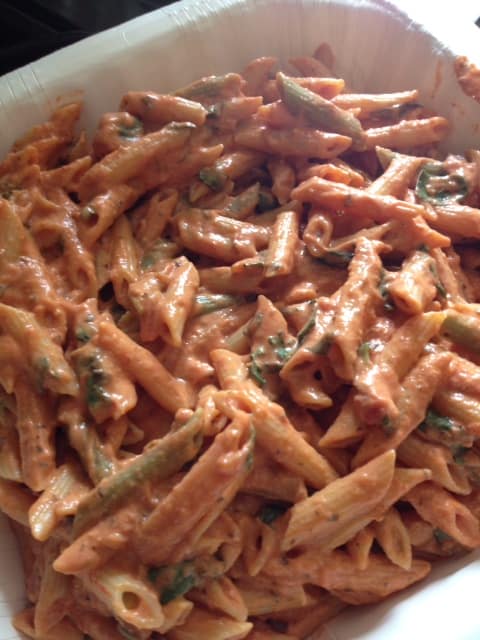 But anyhow, it has inspired me to continue to use greek yogurt any time a recipe calls for cream.  Hmmm…now my wheels are turning and I feel like an Ode to Greek Yogurt should be featured in an upcoming post!
My point here is not so much about specific recipes but really just to plant the seed of thinking outside of the box in terms of healthy substitutions.   And more importantly, I think this lends to the idea of never depriving yourself.  In my opinion, deprivation leads to failure.  The more I am living and learning with the lifestyle I live, I am realizing that I don't have to "miss out" on anything.  I just have to find a way to make it work for me.  And sometimes that simply means defining fried, cheesy or creamy in our terms, the way it works for us and with us.
What are some ways you have turned unhealthy favorites into healthy one?
Get Instant Access to My Best Weight Loss Tips & Strategies!
Sign up now for a free step-by-step 7-day email course that I created exclusively for my email subscribers! That's you. I will teach the best habits, strategies, and insider tips so you can enjoy a lifestyle that encourages and supports weight loss! Stop relying on willpower and take control back over your life! You can do this. Let me help!