Blue Apron is a meal delivery kit service that offers restaurant-style recipes you can make at home. They offer a nice variety of classic and eclectic meals. I tested out Blue Apron and this is my honest Blue Apron review.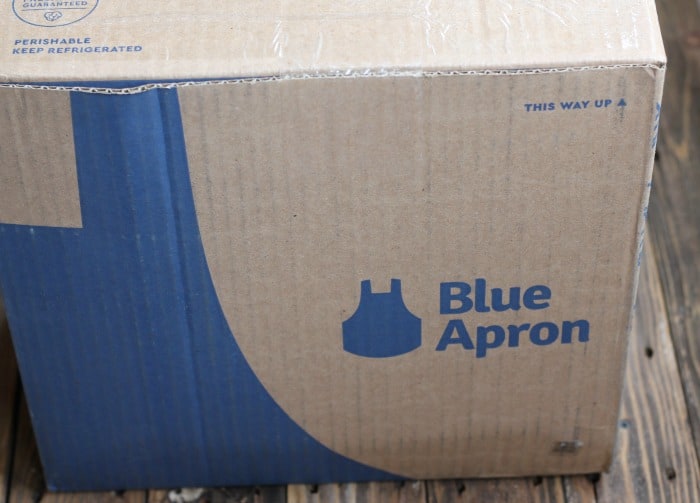 This post contains affiliate links. I am an affiliate for Amazon Associates and other brands and earn a small commission on qualifying purchases. You're by no means obligated to use my links but, if you do, thank you for supporting Organize Yourself Skinny.
Blue Apron Review
Some might say I'm a meal kit junkie! Well, I wouldn't say I'm a junkie – okay. maybe I am – but I do enjoy meal kits and like testing them out so you can decide if it's a good fit before purchasing. In the last 2 years, many different meal kits. You can see all my meal kit reviews here.
This week I'm testing out Blue Apron.
I'm actually surprised I haven't tested out Blue Apron yet considering they were one of the first (if not the first) meal kit delivery service to make their way onto the food scene. I guess you can say they were the meal kit subscription pioneers!
Anyway, up until now, their recipes didn't call out to me. They seemed like a basic meal delivery kit company, nothing special. However, back in January, I saw they were offering Whole 30 options and recently Mediterranean Diet options. So my interest was peaked. I know many of my readers turn to meal kit delivery companies to help them move towards a healthier diet so I decided to give Blue Apron a try.
In this Blue Apron review, I'll go over the costs, recipes, and even do some comparisons with the other meal kit delivery services I've tried. If you have any questions that I don't answer in this Blue Apron review please write it in the comments and I'll get back to you.
If you don't want to read my Blue Apron full review and are ready give it a try, then here's $110 off over your first 5 boxes!
How Much is Blue Apron
First, let's go over the costs because I know this is the most common concern with new customers.
I've said this in other reviews, but I'll say it again, meal kit delivery services are not in the business to give you "deals" on food. Meal kits will be more expensive than cutting coupons, walking into a store, and purchasing the ingredients yourself – it's just the way it is.
Maybe you can get some items cheaper but, most likely, it's going to be slightly more expensive than what you can find in your local grocery store. So if you're looking to save money with meal kits then you'll be disappointed.
You are paying for the convenience of someone else putting together a meal plan, shopping and organizing all the ingredients, and shipping it straight to your door. All you need to do is cook it. <–that's what you're paying for. Personally, I think it's worth every penny, but that's just me.
However, I'll say this. If you frequent restaurants, or order take out often, then subscribing to a meal kit service will save you money and help you eat healthier. So, it really depends on your current situation and what your goal is with using Blue Apron or any other meal kit delivery service.
With that said, I don't think meal kit delivery services are over the top expensive. In fact, I do think they're affordable especially if you're used to spending money on restaurants and take-out. And if you're trying to eat healthier, and don't know where to start, then ordering a meal kit might be the solution.
Okay, here are the current costs with Blue Apron.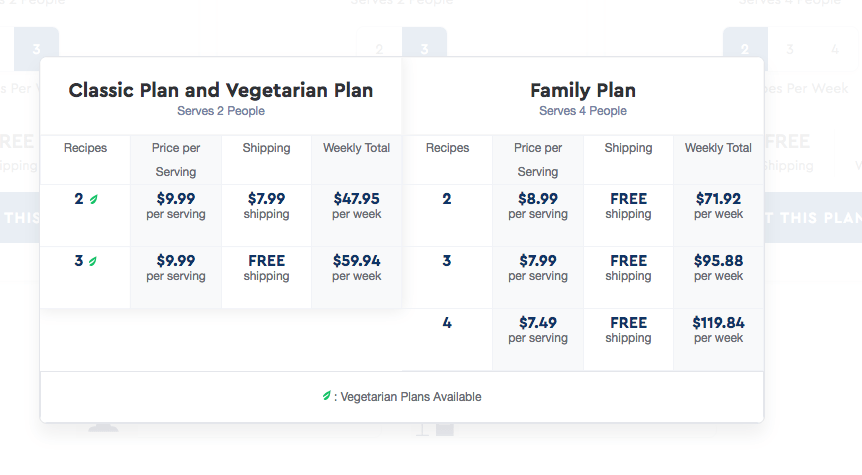 Blue Apron is the cheapest of the meal kit delivery services I've tried. For example, Hello Fresh is $129 a week for 4 people 3 meals – that's over $30 more. Sun Basket is $150.87 a week for 4 people 3 meals – that's well over $50 more. So if you're looking to try a meal kit delivery service without spending a lot of money then Blue Apron is going to be your best option.
Blue Apron Recipes
Okay, let's get to the recipes. Just like all the other meal delivery services I've tried you pick the recipes that'll be sent. Blue Apron provides 8 recipes to choose from which I think is a nice selection. The issue – at least for me – is they only offered 2 Mediterranean diet recipes and no Whole 30 recipes. Apparently, the Whole 30 approved recipes were only offered at the beginning of the year. Is this the end of the world? No, because the other recipes looked great but I do think it would be nice for Blue Apron to offer more than 2 Mediterranean selections and I think they should make Whole 30 permanent. In my opinion, if people join because they are enticed by Whole 30 recipes then it makes sense those people would want that same type of selection week after week. Just a thought.
If you don't want to read my Blue Apron full review and are ready give it a try, then here's $110 off over your first 5 boxes!
Regardless, I thought the recipe selection was very good. They had a little something for everyone. Recipes ranged from classic-style to more eclectic.
Before jumping into the recipes I tried lets first talk about the packaging.
All the ingredients come delivered to your door in a sturdy recyclable box.
Items are chilled by being kept in an insulated bag with a large ice pack that can be reused or recycled.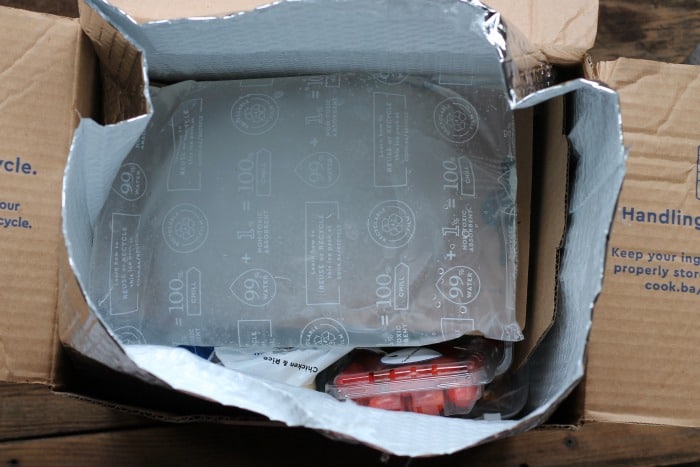 All the recipes come with their own colorful recipe card. At first, I didn't think the recipes included nutritional information. However, when I opened up the condiment or "extras" bags – that came with each recipe – I noticed small nutritional information cards. I felt the nutritional information should just be on the recipe cards. That'd make it easier for those of us that need that information.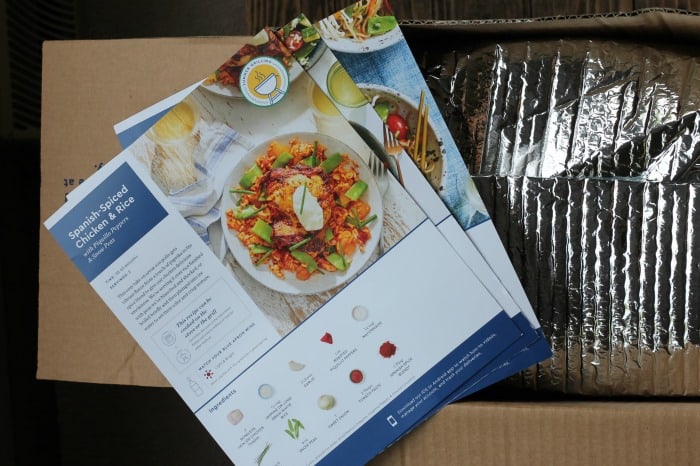 Now let's get to the ingredients.
I'm not going to lie, I was annoyed when all the ingredients were simply tossed in the box. Other meal kit delivery services group recipe ingredients into their own bags and I find that very helpful. Again, is this the end of the world? No? Will it stop me from ordering in the future? Probably not. But here's the thing. I'm a busy woman. I order these meal kit boxes for the convenience.
When my box was delivered we were rushing out the door to a party so it would've been nice to just grab the recipe bags and throw it in the refrigerator. Instead, I had to get a plastic bag and put everything in myself. And none of the ingredients are labeled (or color-coded) for the recipes. This isn't a huge deal because I can figure out which ingredient goes with what recipe but if someone is just starting out I can see where it can get confusing. Also, every other meal kit deliver service organizes the ingredients by recipes and I think it would be a nice touch for Blue Apron to do the same.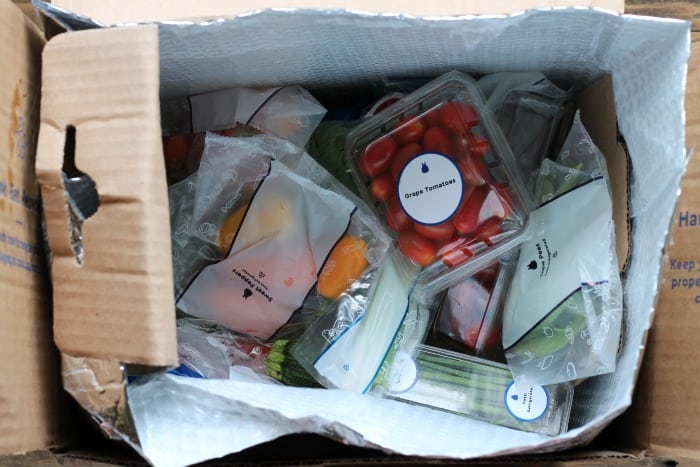 The first Blue Apron recipe I made was the Middle Eastern Spiced Cod. I like to order fish when I'm testing out meal kit delivery companies because I want to see how fresh it is.
All the ingredients were fresh and the cod was white and firm. Also, it didn't smell "fishy" which is a good thing. I was very impressed with the quality.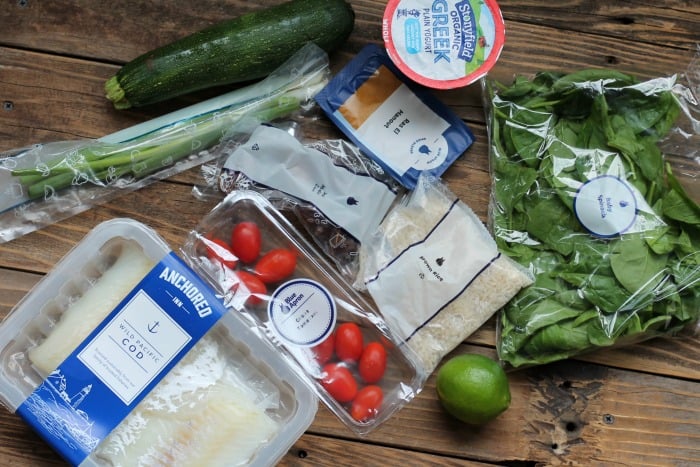 This recipe came together really easy and the cod was delicious. The flavors were very different from anything I've tried before. This is one of the things I really enjoy about meal kit delivery services. I get pushed out of my culinary comfort zone and discover new flavors.
This recipe is part of the Mediterranean diet selection. I really enjoyed the rice and all the veggies that came with it.
First Blue Apron recipe was a success.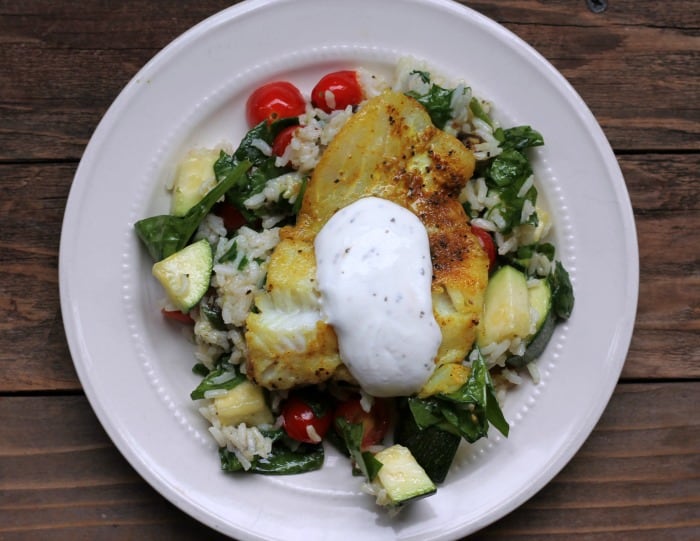 The second recipe I made was the Spanish-spiced Chicken and Rice. All the ingredients were perfectly portioned and I loved that they took extra care and put the chicken thighs into a plastic bag. This is huge with meal delivery kit services because if the meat leaks this can ruin the whole box. So, I think it's worthwhile for meal kit companies to take this extra step.
I thought the chicken was high quality and had great flavor.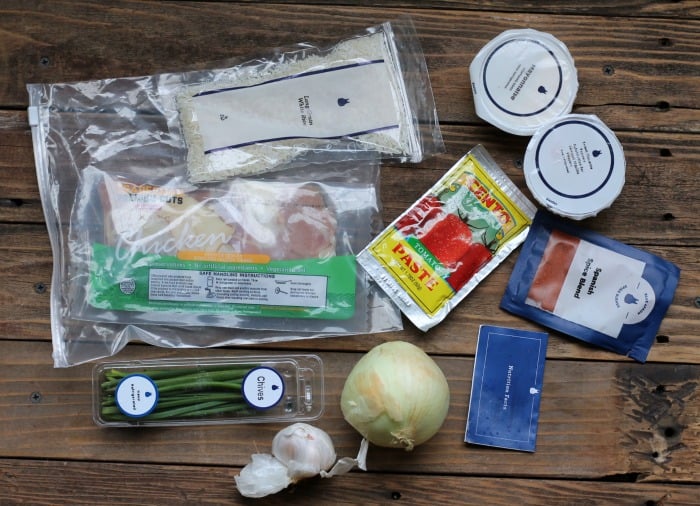 This was my favorite of the 3 recipes. Mike and I thought it had great flavor. The only issue is the rice took a lot longer to cook than what the recipe said. Not a huge deal, and I kind of figured it would take longer, but if you don't feel like waiting 40 minutes or longer for dinner to cook this recipe could be frustrating. Although you could easily make the rice ahead of time. Anyway, it was worth the wait to me and the leftovers kept great.
The only thing I didn't like about this recipe was it called for blanched snow peas. Some people might not care about blanching snow peas but during the week I aint got time for blanching anything. So, I simply steamed them in the microwave, problem solved.
However, if you want to try blanching, but need a visual, then go to the Blue Apron website and view your recipes, they give great tutorials on the cooking methods used in each recipe. I actually really liked this feature.
If you don't want to read my Blue Apron full review and are ready give it a try, then here's $110 off over your first 5 boxes!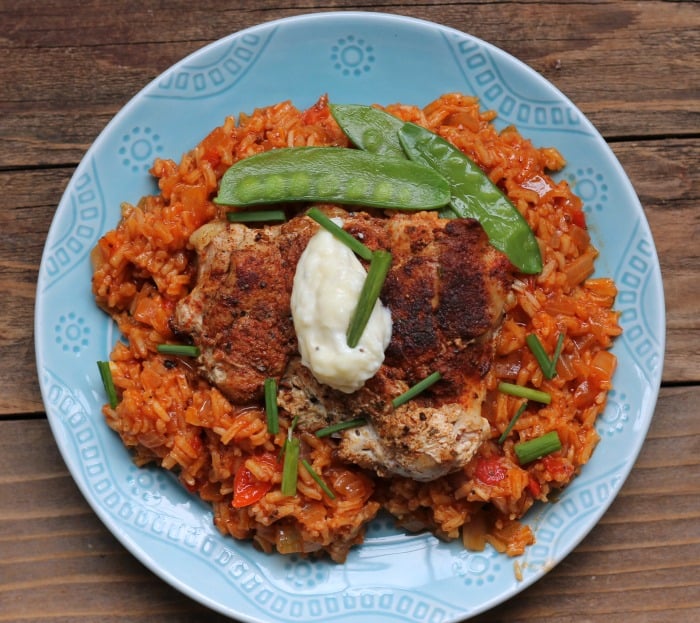 The third recipe I made was Soba Noodles with snow peas and Marinated Enoki Mushrooms. This recipe was delicious. I love any type of Asian-inspired noodle and veggie recipe. I think they could've left the marinated mushrooms out and simply added white or portobello mushrooms to the recipe. All the recipes I made seemed to have an extra ingredient on the side that needed some attention. I prefer one-pot meals but this might be totally fine for you.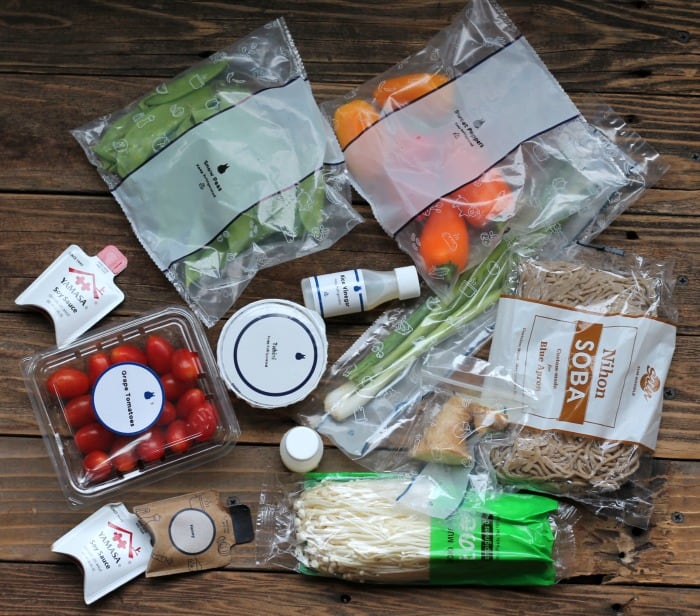 Regardless, the flavors were all there. Very tasty. I also like that it was filled with vegetables. Of course, this would've been great with shredded chicken but I like vegetarian meals too and appreciated this one.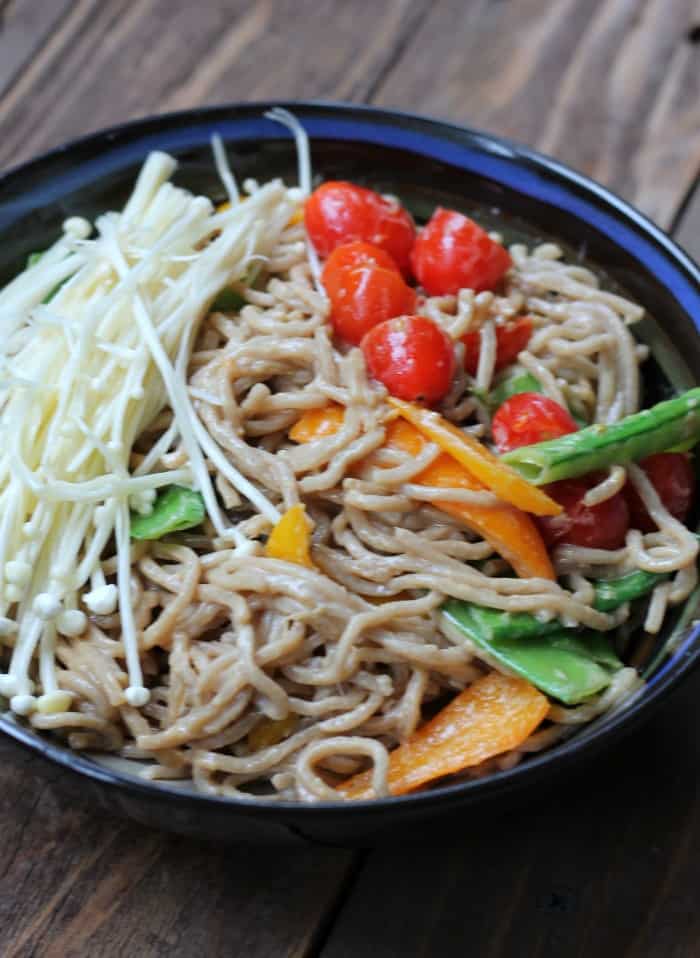 Overall, I feel the recipes I tried were delicious and easy to put together. I did think they took a little longer than what the recipe stated but that could've just been me.
Blue Apron prides itself on providing restaurant-quality dinners you can make at home and I have to say I'd agree that all of these dishes could easily be found in a restaurant. They are different than anything I'd make on a regular basis but that's one of the reasons I enjoy using meal kit subscription boxes, they keep me creative as a home cook.
Blue Apron doesn't offer organic ingredients or state that the ingredients used are GMO-free, gluten-free, or anything like that but I felt all the ingredients were fresh and high quality. Like I said the cod and chicken had great flavor and texture.
If you're still on the fence let's go over some Blue Apron pros and cons.
Pros
It's the cheapest out of all the meal kit delivery services I've tried. If you're curious whether or not a meal kit delivery service would meet your needs then Blue Apron is a good one to start with.
They offer 8 dinner options to choose from. That's a great variety and sure to offer something you'd like.
If you eat at restaurants often then you'll enjoy Blue Apron meals. They are restaurant quality and very tasty.
Ingredients are fresh and high quality. Since this review, I've order Blue Apron a couple more times and opted for beef dishes. I was highly impressed that both recipes came with grass-fed ground beef. It was delicious and very high quality for a great price. Besides Sun Basket, I think Blue Apron has the best meat and fish quality out of the other meal kit delivery services.
Portions are hearty. You don't have to worry about being hungry after cooking these meals.
It's a great way to learn to cook or elevate your cooking. The instructions on the recipe card are very clear and they offer video tutorials on their website to assist with some of the methods you might not be familiar with. Like I said, this is one of my top reasons for using meal kit companies. I love learning new recipes and cooking techniques. I truly believe my cooking has improved because of this.
They do offer some specialty diet options. I think they started to experiment with this and will most likely offer more in the future. In fact, they'll have to if they want to compete with the other companies.
Cons
You have to email them to cancel your account. Of course, this isn't a huge deal but something to consider.
They only offer 1-2 specialty diet options. If you're turning to meal kit delivery services to eat Paleo, gluten-free, or low-carb then this won't work for you. Instead, try Sun Basket (check out my Sun Basket Review for more info) or Green Chef. Update: Blue Apron now offers WW Freestyle Menu options. So, if you're looking for weight watchers meals delivered then definitely check out this option. You can see my full review here.
The recipes I tried took between 30 – 50 minutes to prepare. Some things can be prepped ahead of time but if you don't then it'll take a little time to get the recipes together.
I've said this with other meal kit reviews but I would like to see healthier twists on classic recipes. Many of the recipes Blue Apron offered were more on the eclectic side. If that's what you like then those recipes will work for you. However, many people are not as adventurous so I think more familiar family-friendly recipes would work great.
I would like to see the group the recipes into bags. It makes it so much easier to move the ingredients from the box to the refrigerator. I think it overwhelming to open a box and see it filled with ingredients not knowing which recipe it goes to. Of course, once you go through the recipe card you can figure this out but when I pay for the convenience that's what I like.
Last, I would like to see them put the nutritional information right on the recipe card. This makes it so much easier. I don't know why they chose to put it on a separate card in with the condiments. Also, I can't find the nutritional information on their website for the recipes. So, if you lose that card then it'll be difficult to tracks calories and other nutritional information.
Blue Apron Vs. Hello Fresh
I decided to throw in this last section because many readers have asked what's the difference between Blue Apron and Hello Fresh. I've been using Hello Fresh for almost 2 years so I feel very familiar with this company, you can read my full Hello Fresh review for more information.
Here are my thoughts.
Hello Fresh is more expensive. However, I do feel the portions are bigger.
Blue Apron has higher quality meats and fish. Other ingredients are the same quality.
Hello Fresh offers more family-friendly classic recipes. Blue Apron has more eclectic recipes.
Both are trying to offer more health-conscious recipes. Keep in mind, anytime you cook at home is going to be healthier than ordering take-out so in this case they are both the same.
Hello Fresh groups all ingredients (except meat) into bags. I love this. Although Hello Fresh doesn't take the extra step to put meat in separate plastic bags. I wish they would. Blue Apron does take that extra care with meat.
Hello Fresh clearly states nutritional information.
Hello Fresh offers a lot of one-pot meals.
Both services include a lot of pasta, rice, and potatoes so if you're watching your carbs neither of these meal kit services will work for you.
I hope you found this Blue Apron review helpful as you search for the best meal kit delivery service.
I'd love to hear from others who have tried Blue Apron. What's been your experience? How has it compared to other meal kit delivery services?
**This post contains affiliate links. I will receive a small commission if you decide to subscribe to Blue Apron. However, this is my completely honest review and you're by no means obligated to use my links. If you do thanks so much for supporting my site.
More reviews