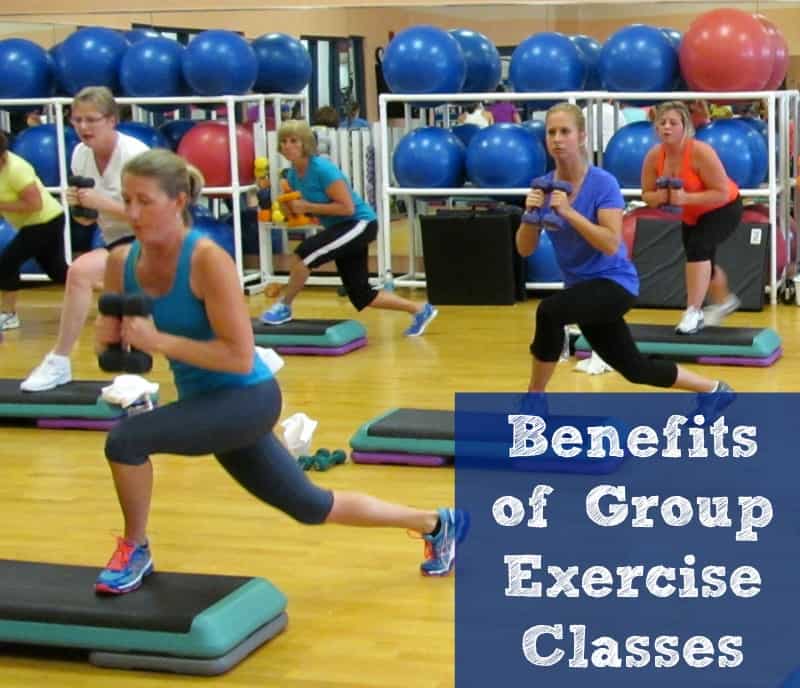 If you've never taken a group exercise class, listen up!  I used to be just like you.  For a while I just exercised on my own by walking outside and doing workout DVDs in my living room.  Then I decided to join a gym for a change of pace.  I went regularly for a couple of years without ever taking a single class.  I would do my own thing on the cardio and weight machines, occasionally peering into the classroom out of curiosity.  The people in those classes looked so intense and they all knew what they were doing, which equipment to get and how to use it, how to set up for class, they knew the teacher's name and chatted before and after class with each other.  I just didn't belong in there.  Well, I don't remember why I ended up taking a class the very first time, but I remember that I was immediately hooked.  Suddenly I had the class schedule printed and hanging on my fridge so I could always know when a class was and which one I would try next.  I learned quickly which teachers I liked best, which classes challenged me the most, and
I couldn't imagine why I was so afraid to do this before.  In fact, I liked it so much that I decided to become a group exercise instructor.  One of the teachers at my gym took me under her wing and trained me, and then I went to get certified.  I started subbing classes here and there, and now five years later, I have my own five classes every week.  I am here to tell you with firsthand experience how amazing and awesome group fitness classes are, and hopefully convince a few of you to get out there and try one!
Schedule
Classes are set at certain times of the day every week.  When we are left to exercise on our own time, sometimes we make up a ton of excuses why we can't fit it in.  Or you have the best intentions, but then just never get around to it.  With group exercises classes, you have to work around the schedule that is made by the gym.  It's already decided for you what time you start and finish.  This is good motivation, especially once you find a class you really like.  You will find a way to be there at the designated time.
Experts
Group exercise classes are taught by professionals who have been educated in the fitness field or certified by a fitness organization.  They know what they are doing.  As an instructor I can tell you that to become and stay certified is a lot of work and studying.  I had to pass both written and performance tests to get my certification.  To keep it, I have to take a certain amount of continuing education hours each year.  This means instructors are constantly introduced to new techniques, music, routines, etc., and they get to pass it all on to you.  You aren't going to get that running on the treadmill.   These instructors will bring you new moves from their workshops that will challenge you more than anything you can do on your own.
Motivation
Ok, let's say you decide to workout at the gym for an hour, spending half the time using the free weights and half the time on the elliptical.  Good for you!  Not a bad plan at all, however, an hour in a group class will push you harder and longer than the plan to work out alone.  When you are in class, and the instructor has you repeating your 20th squat and your legs are quivering, you do not want to be the one to stop and rest.  You do not want to feel  like you can't keep up.  Somehow you find a way to keep squatting and push until the end.  Out on the free weights floor, no one is going to notice if you stop squatting.  Also, the instructor is constantly giving you verbal motivation about why you should continue, what a great job you're doing, and how you can be stronger than you think.  These positive messages can really help push you past what you thought was your limit.
Friendship
I have made so many friends since starting to take and teach classes.  You will notice right away that group classes are attended by regulars who are always there.  Before class, you get to chatting with them.  You discover you're both in the same profession.  You learn about each other's families all in these 5 minute conversations.  Some of them you become closer with and go out for coffee after class.  During your workout, you look around at these people who are all there for the same reasons as you, and you feel a sense of companionship.  You know that if you fell, they would all stop to make sure you are okay.  You realize that when you miss two weeks of class your absence is noted and people were worried about you.  It is a great way to meet new people and feel the bond of fitness between you.
Something For Everyone
There are so many different types of group classes out there.  I currently teach Spinning, Total Body Sculpt and a class called TNT (Tight 'N Tone).  My gym also offers Pilates, Yoga, Kardio Kick, Tabata, Aerobic Jazz, Piyo, Step Aerobics, and many others.  All of these classes can be taken by any level of exerciser.  Instructors are trained to show modifications for challenging moves and options for high and low impact moves so that everyone feels comfortable and can always keep moving.  If you feel nervous, introduce yourself to the instructor and tell her it's your first class.  She will be happy to help you and make sure you have a good experience.
What are your thoughts on group exercise classes?
Get Instant Access to My Best Weight Loss Tips & Strategies!
Sign up now for a free step-by-step 7-day email course that I created exclusively for my email subscribers! That's you. I will teach the best habits, strategies, and insider tips so you can enjoy a lifestyle that encourages and supports weight loss! Stop relying on willpower and take control back over your life! You can do this. Let me help!