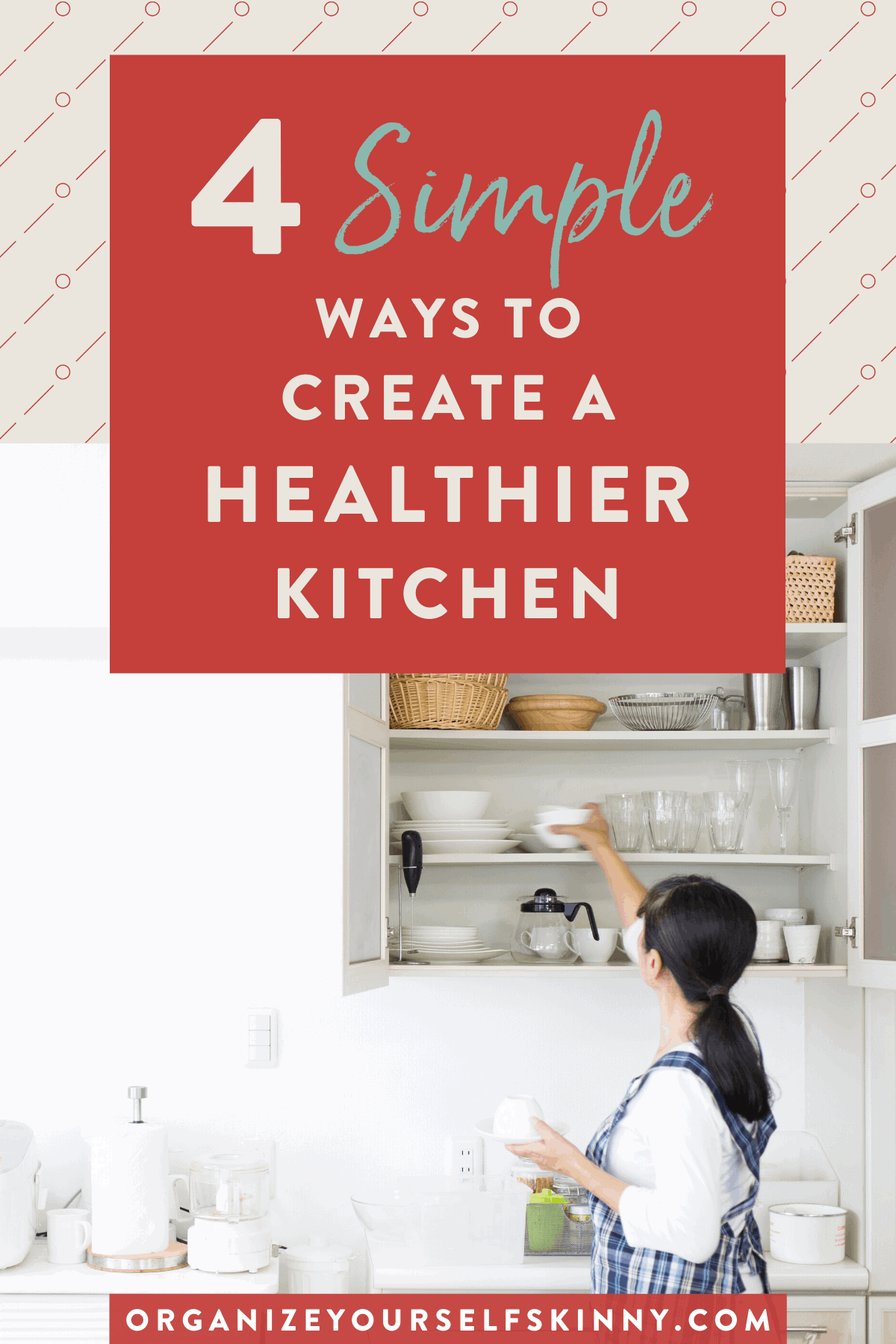 To adopt a healthier lifestyle you must set up an environment that allows you to succeed. You cannot expect to lose weight or even maintain a healthy weight if your environment is not set up for success.  Start off on the right foot by working to create a healthy kitchen with these 4 basic yet effective ideas.
Rid your environment of all temptations. If there is a food that is your weakness, do not have it in the house.  For me it's pretzels.  I absolutely love those salty snacks and if they are around me, I will eat all of them.  If you don't want to or simply can't completely rid your home of the temptations, then just portion them out so you know exactly how much you are eating. Another way to portion control tempting snacks is to purchase 100 calorie packs or single servings.  The key is to set your environment up in a way that helps you, not hinders you in keeping your eating under control.
Stock cupboards and the fridge with healthy, ready to eat snacks. Now that all the temptations are gone or greatly reduced, you will have room in your kitchen for healthier food and snacks.  I think a common misperception is that all healthy food tastes like water and cardboard.  This could not be further from the truth.  I have found that fresh, minimally processed foods actually taste better.  Once you start eating healthier foods you will actually prefer them over the junk.  The key here is not to just have the food in your kitchen but to have it prepared, ready to eat, and part of your weekly menu plan.  The last thing you want is your vegetables to go rotten just because you didn't feel like chopping them up during the week after a long work day.
Here are some posts that can help.
Create a Healthy Snack Bin in Your Refrigerator
A Beginner's Guide to Once a Week Food Prep
Utilize small kitchen appliances to make preparing and cooking foods easier. There was a time where many of my small appliances just took up space on my kitchen counter. Since I started using them, I can't imagine living without them.  The three small appliances that I use every week to prepare meals are my rice cooker
, indoor grill
, food processor
, and now breadmaker
.  Once I took the time to learn to use them, I was thrilled with how much easier it became to prepare meals.
Have measuring cups, utensils, and a food scale easily accessible. To know the correct portions and calories of the foods you eat, you will have to measure and weigh many of them.  Don't be fooled by fad-diet hype that tries to make you believe that calorie counting is this daunting task because it is not.  It's as simple as pouring creamer into a tablespoon first, instead of right into a coffee mug, to know how much you are consuming.  Controlling portions and calories is the foundation to any sustainable healthy weight loss. For you to lose weight and maintain that weight loss, it becomes critical for you to understand the caloric value of the food portions you are eating.  Once you understand and implement this concept you will be able to create a plan that fits into the dietary and lifestyle needs of your family.
These 4 ideas will help create the groundwork you need to build an encouraging environment for losing weight. However, don't overwhelm yourself trying to implement everything at once. Take your time, make changes slowly, and before you know it healthy eating and weight loss will naturally find its way into your life.
Check out my ebook Organize Yourself Skinny fore more weight loss tips and strategies including a bonus 4-week make-ahead meal plan.
Get Instant Access to My Best Weight Loss Tips & Strategies!
Sign up now for a free step-by-step 7-day email course that I created exclusively for my email subscribers! That's you. I will teach the best habits, strategies, and insider tips so you can enjoy a lifestyle that encourages and supports weight loss! Stop relying on willpower and take control back over your life! You can do this. Let me help!