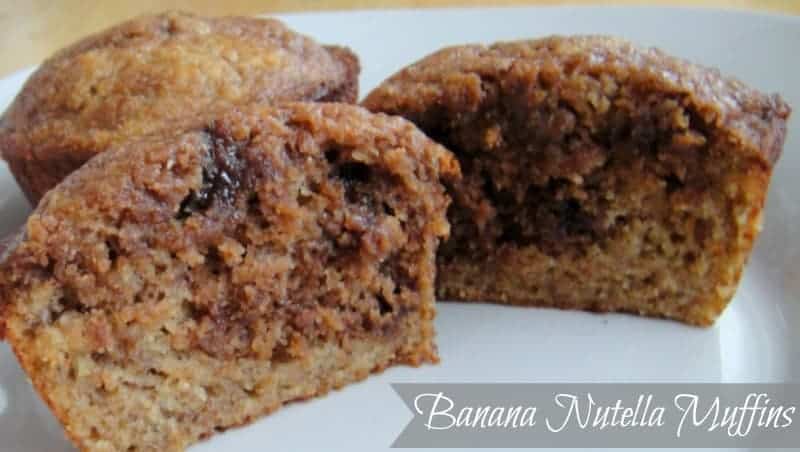 Where do I start with these muffins? I am not even sure I can find the words to describe the pure awesomeness you get with each moist tasty bite – well I guess that will do.
The inspiration for this banana nutella recipe came about one weekend when I witnessed 3 lonely bananas getting to end of their time. Of course, I could have made an everyday banana bread recipe but I wanted something different. Not sure why my brain went to Nutella because before this adventure I never even tasted it – I know I am starting to think I was seriously deprived as a child. First it was sloppy joes, now Nutella, what's next? Well now that I think about it I never had that marshmallow fluff stuff – hmm my mom is getting a call when I am done here. Anyway, I digress.
Well let's just say Nutella and banana bread were meant to be. They are perfect for one another!
I used a basic banana bread recipe from my Cooking Light Way to BakeCookbook but you can turn any of your favorite banana bread recipes into a nutella creation. Just follow the recipe then take half the batter and stir in the nutella. Then swirl the two batters together. Super easy.
I highly recommend you make these as muffins and not as a loaf of bread. It is much easier to keep the portions under control with muffins. For example, the recipe I used called for 16 servings when making it as bread. Well when I made it as bread I was lucky to get 10 servings, not good. However, when I put the batter in muffin cups I was able to stretch it out to 16 servings. Gotta love portion control.
Maybe someday we can meet up for a virtual coffee break and enjoy these together. Until then…enjoy…alone preferably 😉
Servings: 16
Serving size: 1 muffin
Calories: 178 * Carbs: 27 * Fat: 6 * Protein: 4 * Fiber: 3 * WW Points +: 5 * Old Points: 3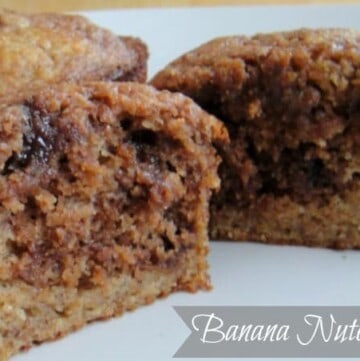 Ingredients
1 ½

cup

whole wheat flour

¼

cup

ground flaxseed meal

I used Bob's Red Mill Organic Flaxseed Meal and found it in the nature food section of my grocery store

1

teaspoon

baking powder

½

teaspoon

baking soda

½

teaspoon

salt

½

teaspoon

cinnamon

3

medium ripe bananas

mashed (this equals to about 1 1/2 cups mashed)

1/3

cup

plain greek yogurt

2

eggs

½

cup

sugar

½

cup

dark brown sugar

unpacked

5

tablespoons

unsalted butter

melted

¼

cup

nutella

softened
Instructions
Turn oven on to 400 degrees

Combine in a medium bowl flour, flaxseed meal, baking powder, baking soda, salt, and cinnamon. Mix well and set aside.

In a large bowl, using a hand mixer, mix together bananas, greek yogurt, eggs, and sugars. Slowly mix in the butter until combined.

Slowly stir in the flour mixture into the banana mixture until just combined. Don't over mix.

Take half of the batter and place into another bowl (I quickly washed out and used the dry ingredient bowl). Stir the nutella into one of the batters.

Place about 2 tablespoons of each batter (start with the plain banana batter and end with nutella batter) into each muffin cup sprayed with cooking spray. Using a butter knife gently swirl the batters together.

Bake for 14-16 minutes or until toothpick comes out of a muffin clean. Let cool in muffin pan for about 5 minutes then place muffins on baking rack to finish cooling. Enjoy warm or at room temperature.
Nutrition
Calories:
178
kcal
|
Carbohydrates:
27
g
|
Protein:
4
g
|
Fat:
6
g
|
Fiber:
3
g
|
Sugar:
5
g
Make Ahead and Freezer Cooking Instructions
These muffins freeze great. Prepare muffins completely, let cool, then wrap in plastic wrap, place in freezer bag, and freeze. To thaw, take out of the freeze and let thaw on the counter. You can also warm these in the oven at 350 degrees for 5 minutes or until desired temperature.