A wholesome breakfast cookie sweetened with banana and pure maple syrup and filled with hearty grains and almond butter to keep you satisfied all morning!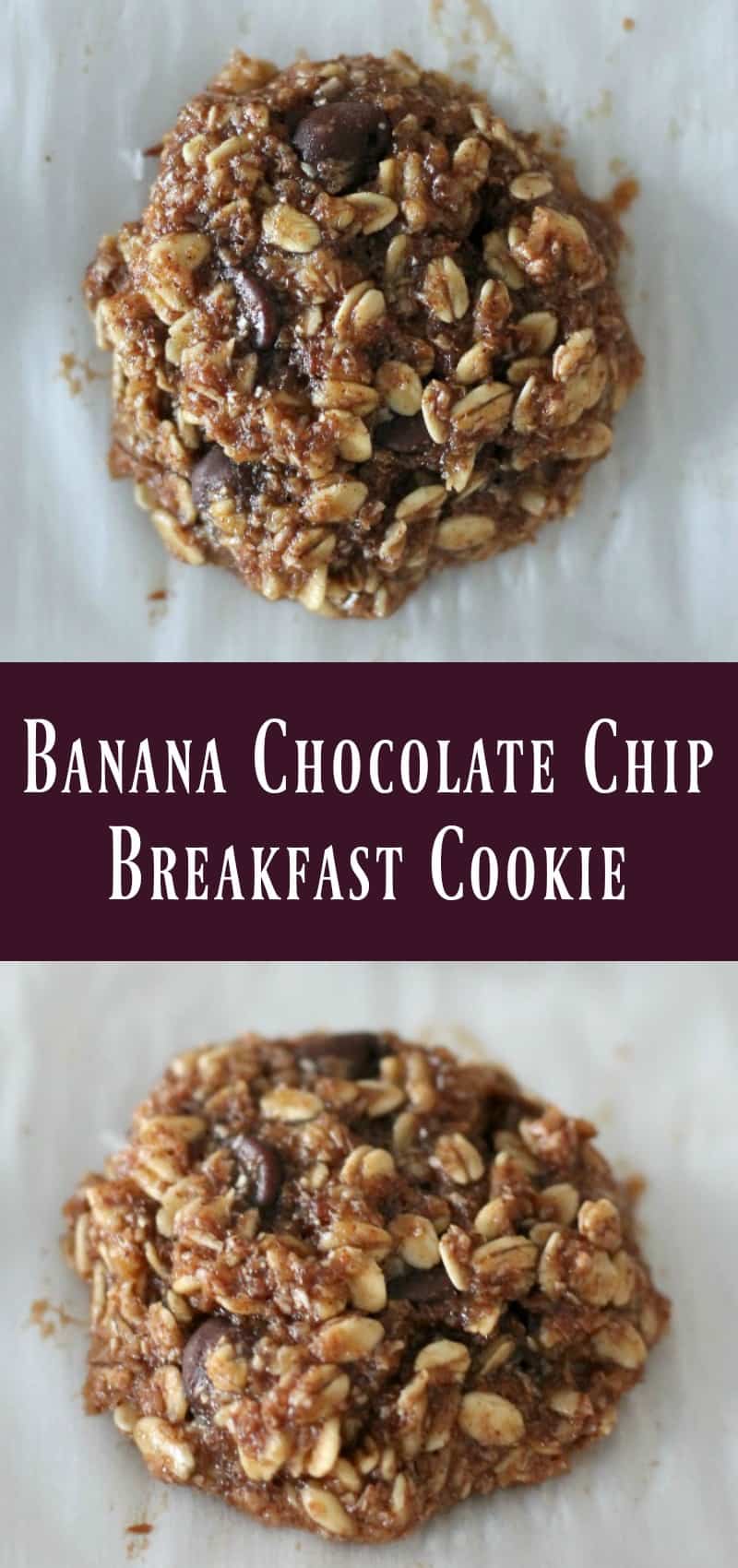 I'm all about options. At least it seems that way when it comes to bananas and chocolate. First of all, who knew that my beautiful readers (that's you) would be so in love with all things banana and chocolate. Seriously, the banana and chocolate chip oatmeal cup recipe is one of the most popular recipes on my blog. And the banana chocolate chip energy bite I shared a couple months ago is booming on Pinterest. You like banana and chocolate…me too.
I have a confession though. These recipes were born out of necessity to use up ripe bananas annnnd I just happened to have chocolate chips in the pantry. So, basically these recipes happened by accident but were easy to make with ingredients I already had on hand. Meaning, if you're anything like me, you can make all these recipes right now! Including this new banana chocolate breakfast cookie recipe I'm sharing today.
This recipe was inspired by the banana chocolate chip energy bite I made a couple months ago. Have you tried that yet? It's good! I wanted to make a breakfast cookie with the same ingredients but just a little different.
I started with 1 smashed up ripe banana, 1 egg, pure maple syrup, almond butter, and vanilla extract. The banana and pure maple syrup are the only ingredients sweetening these breakfast cookies. No extra sugar here. Almond butter has quickly become my favorite nut butter to use. It's delicious and works great in energy bites and this breakfast cookie.
I should also point out there's no oil or butter in the recipe. Since I used almond butter I didn't think it was needed – I was correct.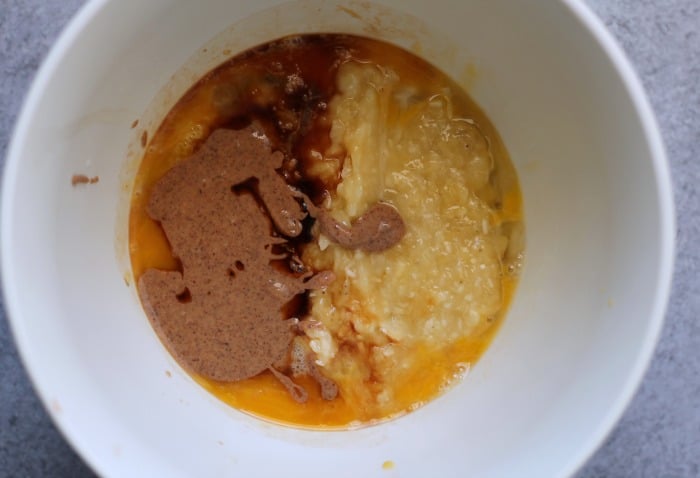 Next I added the rolled oats, wheat bran, cinnamon, and a small pinch of salt. I decided to keep flour out of this recipe. It's not needed with energy bites so I didn't bother adding it to this cookie recipe. I wanted only wholesome hearty grains used.
I opted to leave out baking soda or baking powder. The egg is the binder and only leavening agent needed. These breakfast cookies are wholesome and dense so I'm not expecting or needing them to rise.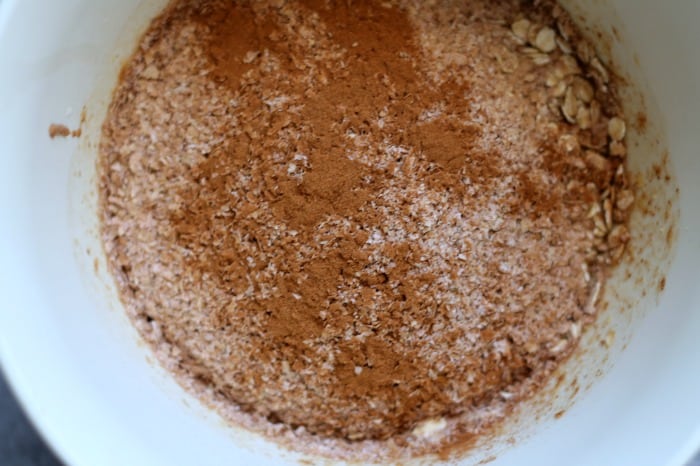 I stirred all the ingredients together until the dry and wet ingredients were blended. Last, I stirred in the chocolate chips.
Okay this is where I did things a little different. When I make energy bites I let the batter sit for a couple hours before I roll into balls. This helps form the balls and it also creates a nice texture with the oats. So for these breakfast cookies I decided to do the same thing and let this batter sit for a couple hours before I bake the cookies. This gave the oats and wheat bran a chance to soak up some of the liquid and for the batter to thicken a bit.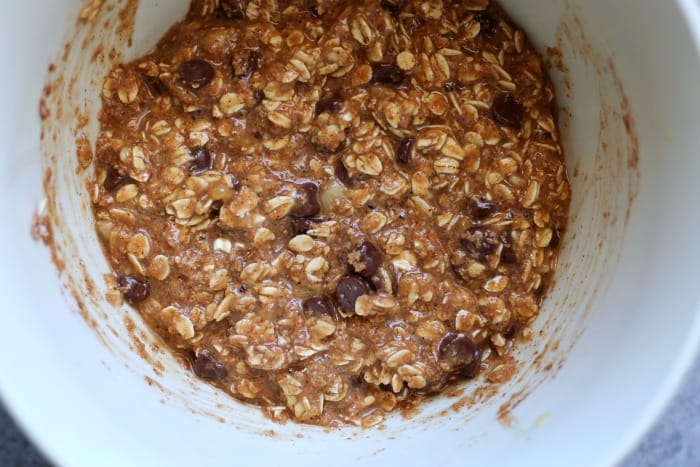 Then I scooped out 12 cookies using a medium cookie scoop. Using my hands I shaped the cookie exactly the way I wanted it to bake. Please note these cookies don't spread or rise so however you put them on the baking sheet is the way they'll bake. They are also messy so you might need to wet your hands.
I baked the cookies for 10 – 12 minutes in a 350 degree oven. Please note these cookies can't be touched right away and might still look a little "wet". No worries after the cookies cool they will be perfect! In fact, these cookies taste even better the next day.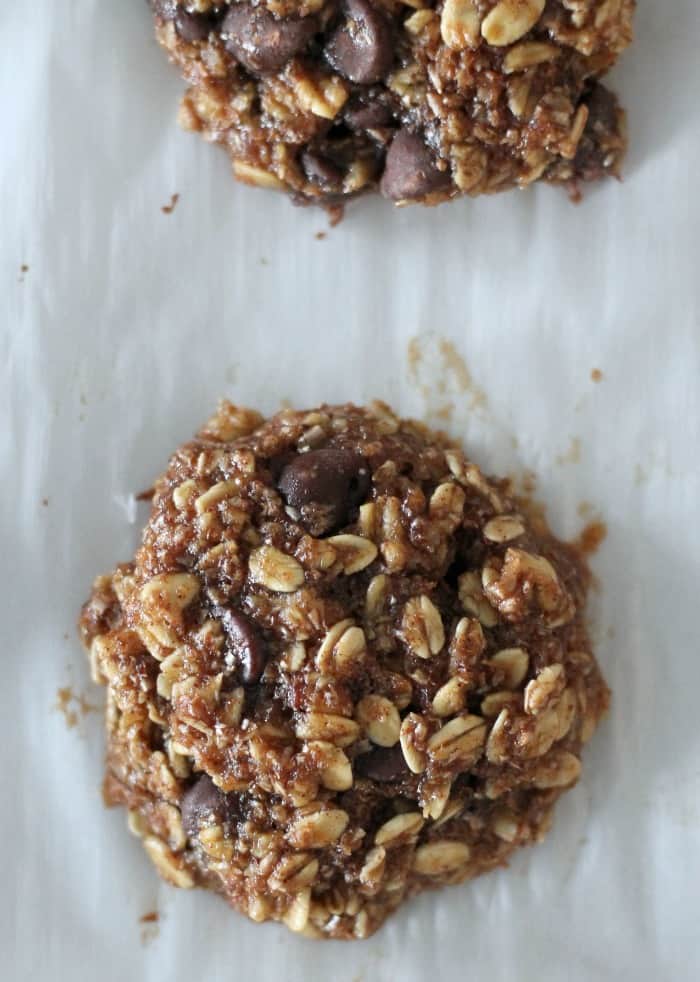 Just like all my other banana chocolate chip recipes this breakfast cookie is scrumptious! The flavors are outstanding and the cookie is hearty! One cookie will curb hunger pains and satisfy a sweet tooth craving.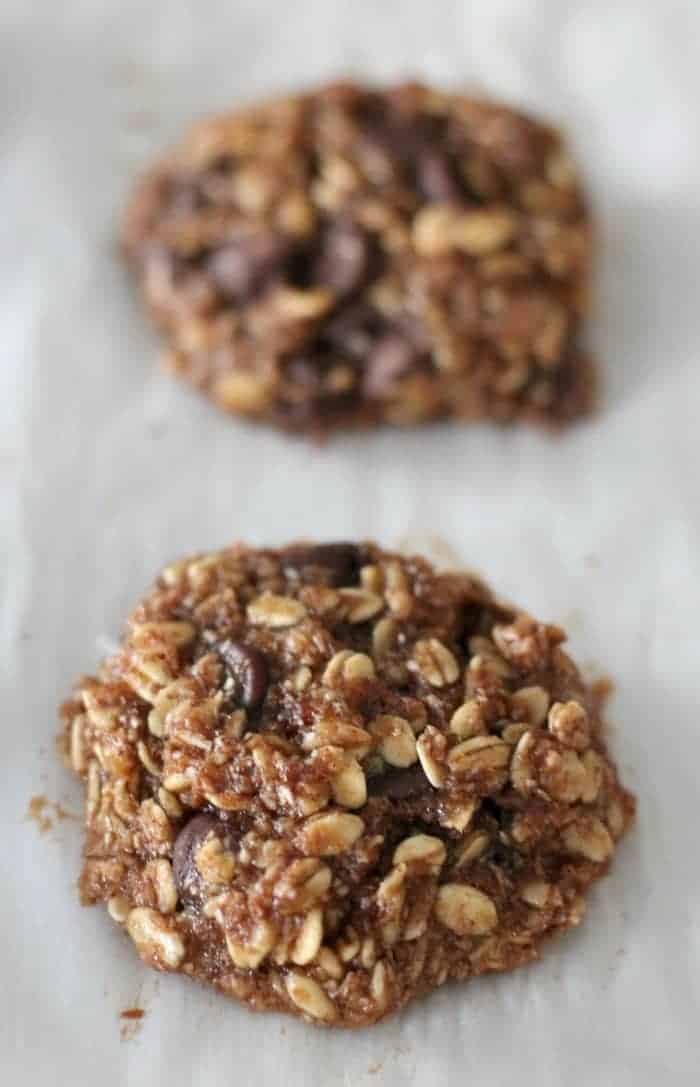 After the banana chocolate chip breakfast cookies were cooled I stuck them in the freezer. I grabbed one on my way to the gym, or for a mid-afternoon snack, and they were delicious right out of the freezer or after it thawed a bit.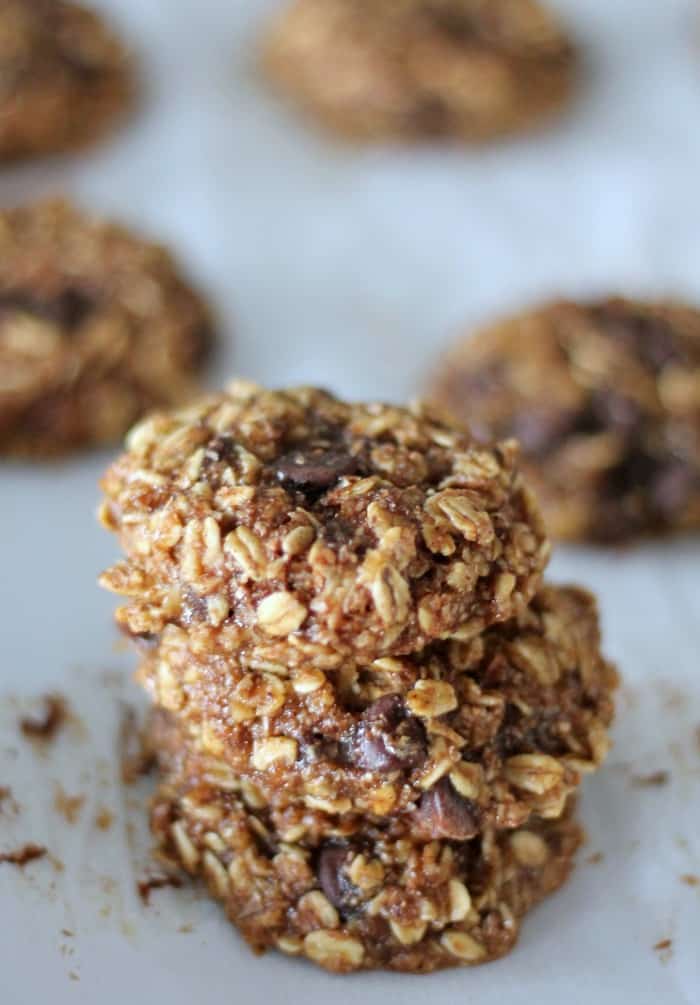 If you have ripe bananas and chocolate chips laying around I recommend whipping up a batch of these healthy breakfast cookies. Of course the cookies are kid-friendly but even better they are waist-friendly since each cookie is free from refined sugar, flour, and oil.
If you decide to make these banana chocolate chip breakfast cookies please share them on Instagram using hashtag #organizeyourselfskinny.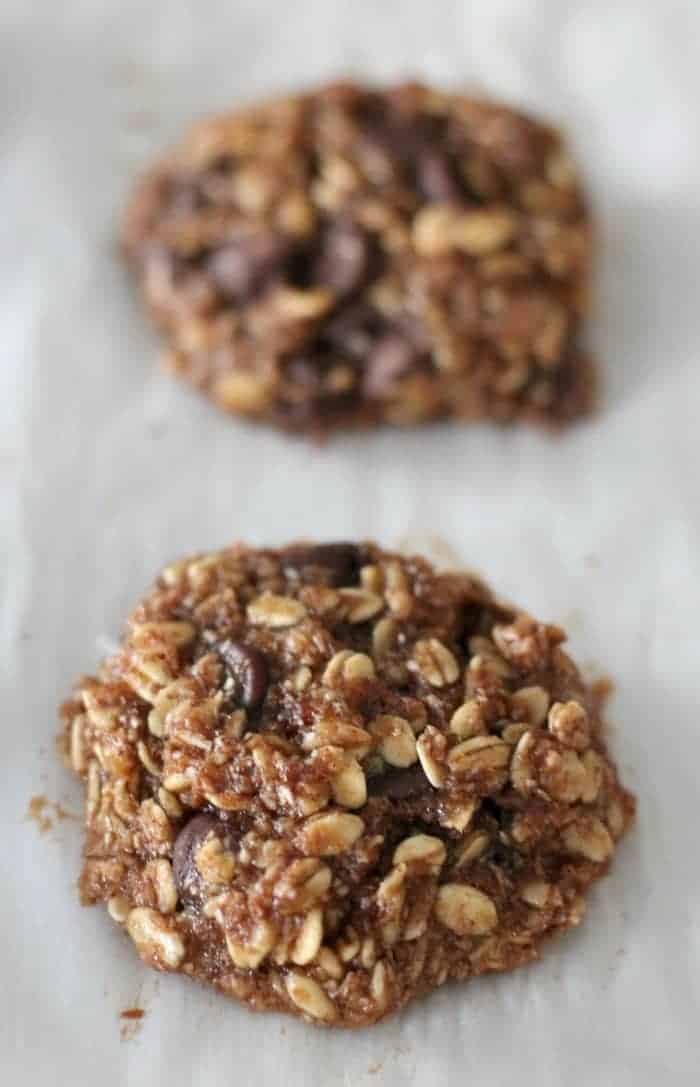 Ingredients
1

medium ripe banana

peeled and mashed

1/3

cup

pure maple syrup

1/4

cup

almond butter

1

large egg

1

teaspoon

pure vanila extract

1

cup

rolled oats

1/2

cup

wheat bran

1

teaspoon

cinnamon

1/8

teaspoon

salt

1/2

cup

chocolate chips
Instructions
In a medium bowl mix together the banana, pure maple syrup, almond butter, egg, and vanilla extract until blended.

Add the rolled oats, wheat bran, cinnamon, and salt to the wet ingredients. Stir until all the ingredients are combined.

Stir in the chocolate chips.

Cover the batter and place in the refrigerator for 2 hours.

Preheat oven to 350 degrees.

Using a medium cookie scoop, portion out 12 cookies onto a baking sheet. Either use parchment paper or spray the cookie sheet with cooking spray.

Bake for 10 - 12 minutes or until the cookies are set. They will still look a little wet.

Let the cookies cool on the baking sheet for 15 minutes and then carefully move them to a wire wrack to cool completely for an hour or so.

Store in airtight container on the counter, refrigerator, or freezer. I kept mine in the freezer so I didn't eat the whole batch.
Notes
Sugar: 13 grams
These cookies can be prepared completely ahead of time and stored in an airtight container or freezer bags in the refrigerator (up to 5 days) and freezer (up to 3 months). Let thaw on the counter.
Nutrition
Serving:
1
g
|
Calories:
157
kcal
|
Carbohydrates:
23
g
|
Protein:
4
g
|
Fat:
7
g
|
Saturated Fat:
2
g
|
Fiber:
3
g