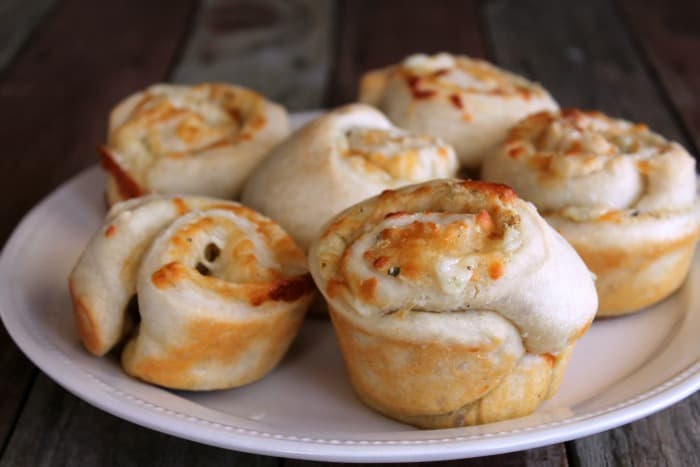 Compensation for this post was provided by Unilever via AOL Media. The opinions expressed herein are those of the author and are not indicative of the opinions or positions of Unilever or AOL.
Can we talk garlic roll deliciousness today? Good! Because I seriously have one of the most delicious, easiest garlic roll recipes ever to share with you. I actually wish you were here with me so I could really share them with you. They are the kind of food that brings comfort to a whole new level and can outshine any main dish on the table. Before I get to the recipe, let me talk about my garlic roll inspiration. This inspiration is why this garlic roll exists in the first place.
While I love trying new things, I am also a creature of habit in all areas of my life. I like to be simple and comfortable, but can always be ready for a challenge or new adventure. I live to step outside my comfort zone but love the safety of familiar surroundings. It's kind of weird when I think about it. But it's who I am.
The same rings true when I go out to dinner. I love going out to dinner. It is so nice to just sit down with family or friends, have someone else cook for me, and just enjoy life. Just the thought has me in euphoria right now.
Anyway, I pride myself on trying new foods. There really isn't anything I shy away from. Okay, maybe snails or frog or something like that, but for the most part I am up for anything. However, I am starting to notice, recently when going out to eat, I often order at least one familiar item. There seems to be one or two things on the menu that I can never pass up – no matter how many times I eat it.
This is where the recipe inspiration comes in.
There is a restaurant in the mall near my house that serves this killer garlic cheese pan bread. It is amazing. Every time I go there with family or friends I always order it. I am pretty sure it is around 1000 calories a bite, but it is good and very hard to resist. I know this is bad, which is the reason why I don't go there very often to eat.
But I can make my own homemade version. Yes please!
Homemade comfort food is so much better for a few reasons. First and foremost you control the ingredients. You know exactly what is going into a recipe. When making food at home you can include whole grains, good fats, and other quality ingredients to a recipe. For example, you can choose to sauté vegetables in good fats like olive oil or buttery spreads made with plant-based oils. Both are sources of good fats. You can also include ingredients like walnuts, almonds, or other nuts and seeds to a simple salad to increase the amount of good fats in your meal. Most of us don't get enough of the good fats in our diet so making small changes like this can help with increasing good fats each day. Personally, I used to be weary about adding fats to my diet. But now I know good fats are a source of energy and essential fatty acids your body can't produce on its own. Multiple studies also show that reducing intake of saturated fats in your diet and replacing them with a similar amount of good fats (monounsaturated & polyunsaturated) may help reduce the risk of heart disease.
Of course, you still need to watch your overall calorie intake. Personally, I feel better and look better when I am intentional with the amount of good fats I eat every day. If you have questions about good fats then check out the Good Fat 5 campaign here. Their website is fantastic and answers all your good fat questions.
Second, you control the portions. We all know that one restaurant size portion can feed a family of 5. Okay, maybe that is a bit of an exaggeration but restaurants are not worried about proper portion sizes. Nope, that is our job. When you prepare a recipe at home, you control the portion along with the food that makes up that portion. For example, you can add more vegetables to a portion and reduce the pasta. You can add more salmon or sprinkle a small amount of seeds on top. If you want whole grain instead of white flour, then you can do that. If you want to increase the amount of good fats, not a problem. It's up to you to create a perfect well balance portion-controlled meal.
Third, homemade means love and effort. Taking the time to make something homemade is always going to cause you to be more intentional with your food. This helps you to think before you eat.
These baked garlic cheesy rolls are all love. Trust me, if you make these for someone, they will feel so loved and special. Not kidding. They are so easy to make too. So while that special person might think you spent all day making these special love buns, they really come to together in less than 40 minutes. But no one needs to know that. Your secret is safe with me.
I used pizza dough for this recipe. You can make your own pizza dough but I kept it simple and bought mine from the store. You can use either white or wheat dough. I used white because that is what the store had. Then I stretched out the pizza dough until it measured about 9 x 13. I used a 9 x 13 small baking pan to help me with measurements.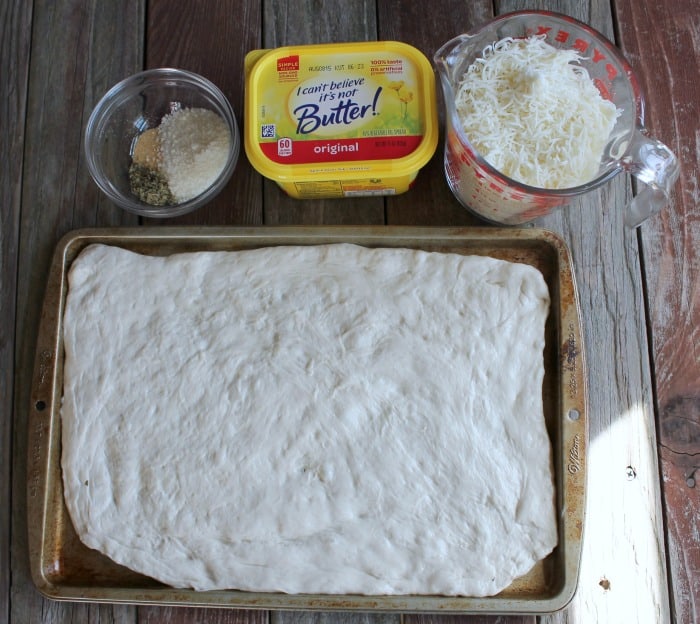 After the dough was stretched out, I slathered a tablespoon of I Can't Believe It's Not Butter on it. I Can't Believe It's Not Butter gives these rolls a rich delicious buttery taste but without all the extra saturated fat and calories of butter. As I have mentioned previously, they have changed their recipe to include simple non-GMO sourced ingredients. They are also a part of the "Good Fat 5" foods because it's made with plant-based oils. You can read more about the Good Fat 5 on their website.
Next I mixed together some Parmesan cheese, granulated garlic, and dried oregano. I sprinkled that evenly over the top of the I Can't Believe It's Not Butter spread. Then I covered the spices with 1 cup of shredded mozzarella cheese. Oh mama! I know, doesn't this already look amazing?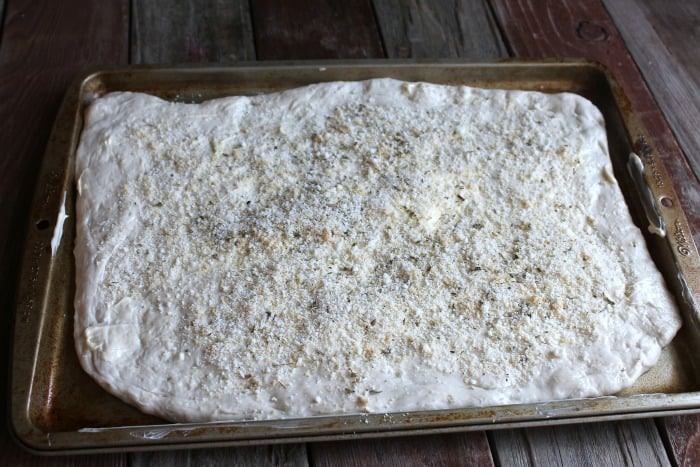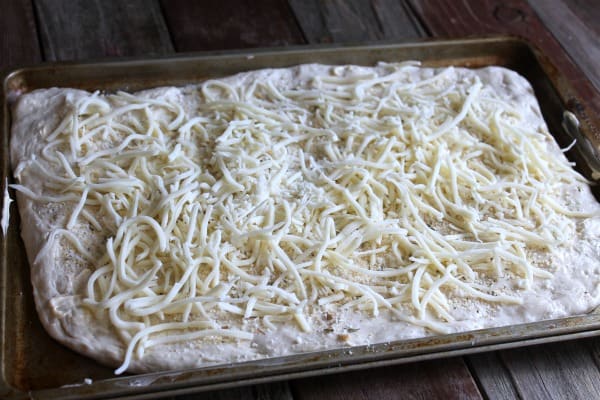 Now the fun part happens. I roll the dough jellyroll style. You might notice this technique resembles cinnamon rolls. If you are thinking that, you are correct. This is the same way I make cinnamon rolls, of course using different spices and ingredients.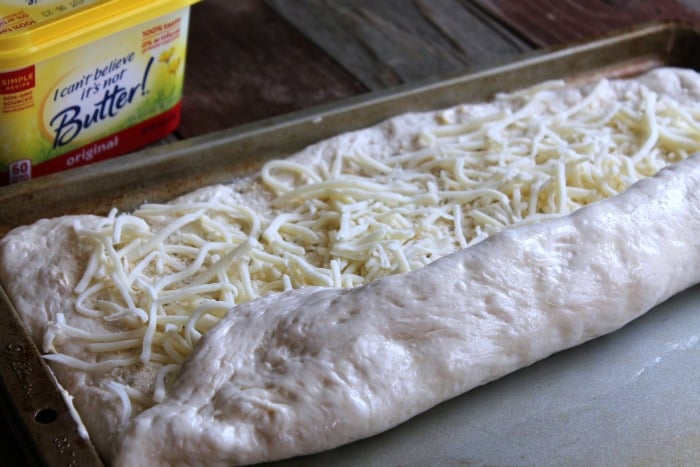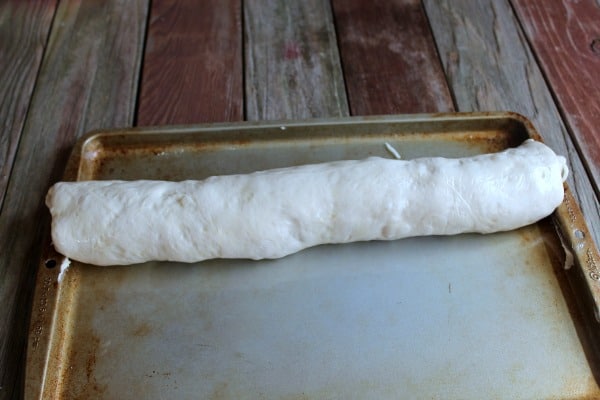 I cut the long roll into 6 pieces. You can probably go smaller for smaller portions but I decided to do 6 this time around. I used a large 6-tin muffin pan to bake these rolls. I greased each tin with about 1 teaspoon of I Can't Believe It's Not Butter. This helps to brown and crisp the outside of the rolls nicely. It also gave them great flavor.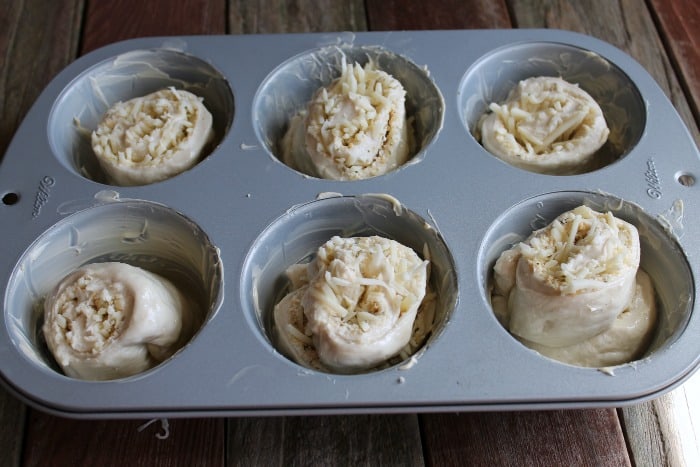 Using I Can't Believe It's Not Butter in place of cooking spray to grease the pan was a great way to add a nice butter taste and good fats to the recipe. This buttery spread was perfect for these rolls. They baked for 25 minutes in a 350-degree oven and cooked up golden brown and were scrumptious. Beyond scrumptious.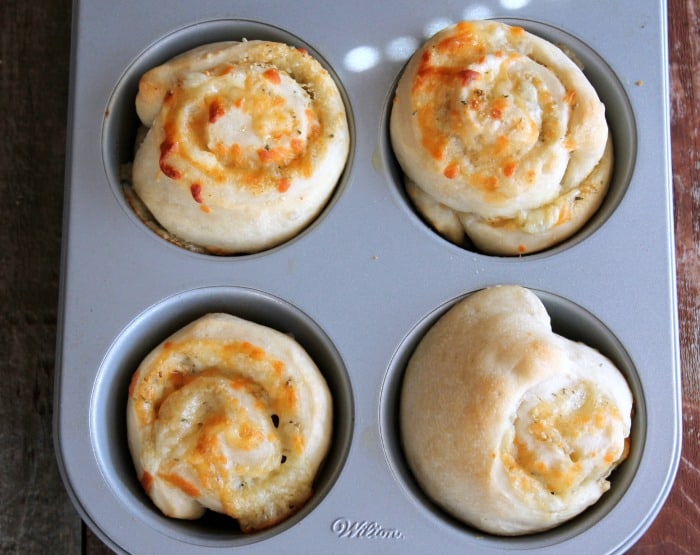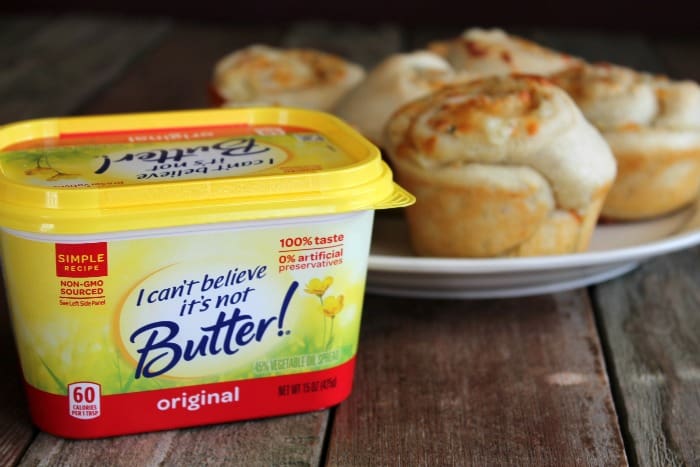 You can learn more about good fats and find other delicious good fat recipes on icantbelieveitsnotbutter.com. Get more recipe inspiration here.
Baked Garlic Cheesy Rolls
1 package fresh pizza dough
1 tablespoon I Can't Believe It's Not Butter
2 tablespoons grated Parmesan cheese
1 teaspoon granulated garlic
½ teaspoon dried oregano
1 cup shredded mozzarella cheese
6 teaspoons I Can't Believe It's Not Butter
Directions
Preheat oven to 350 degrees.
Stretch pizza dough out to a 9 x 13 rectangle.
Slather the I Can't Believe It's Not Butter over the top of the pizza dough.
Mix together the Parmesan cheese, granulated garlic, and dried oregano.
Sprinkle shredded mozzarella cheese over the spices.
Roll the dough up jellyroll style. Cut into 6 pieces.
Grease a 6-tin large muffin pan with I Can't Believe It's Not Butter. I used 1 teaspoon per cup.
Place a piece of the rolled up dough into each of the muffin tins.
Bake for 25 minutes. Serve warm.
I Can't Believe It's Not Butter! sources ingredients that are not genetically modified. However, in the field-to-tub journey of making our buttery spread there is some contact with genetically modified vegetable oils, resulting in a small amount in this product.