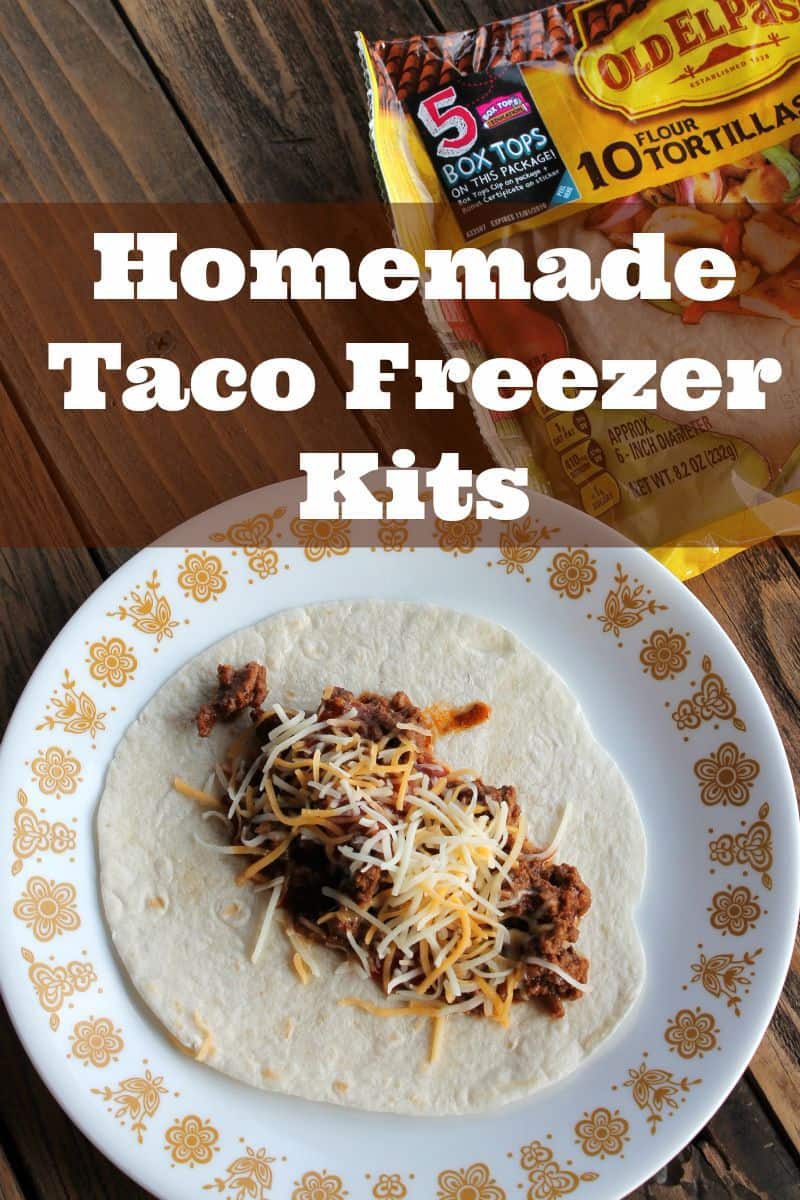 Thank you General Mills® for sponsoring this post today. You can learn more about the Box Tops Program at Walmart by visiting their website.
Back to school is right around the corner and I am trying really hard to get ahead of the game. Last week I purchased all of my kids school supplies, entered all the after school activities into the calendar, and organized their back to school clothes. I still feel like I have a ton to do but at least the importance stuff is complete.
Now that the school essentials are organized I am going to turn my attention to stocking my freezer with some quick and easy dinners. Life is better with a stocked freezer.
Our schedules are busy this year and most school nights we won't eat dinner until 7pm or later. For this reason, it's important to have after school snacks available for my kiddos and no-fuss dinners for when we get home.
One of my favorite quick, easy, and no-fuss weeknight dinners is tacos. My kids love them and even if I have to make tacos from scratch it only takes about 20 minutes. However, they are even easier when prepared ahead of time. One of my absolute favorite ways to do this is to create taco freezer kits.
Last week, when we were shopping at Walmart, we picked up a couple packages of Ortega Flour Tortillas. I had my kids searching for Bonus Box Tops items at Walmart and my oldest (Emma) went right to the tortillas. She is probably the biggest taco fan of all time.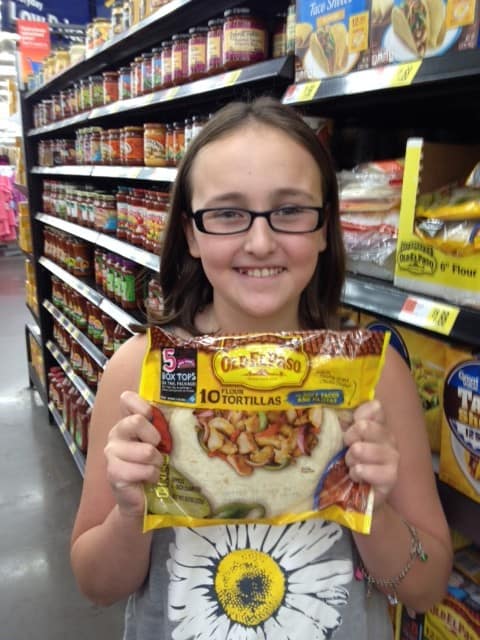 She also grabbed this huge box of yogurt.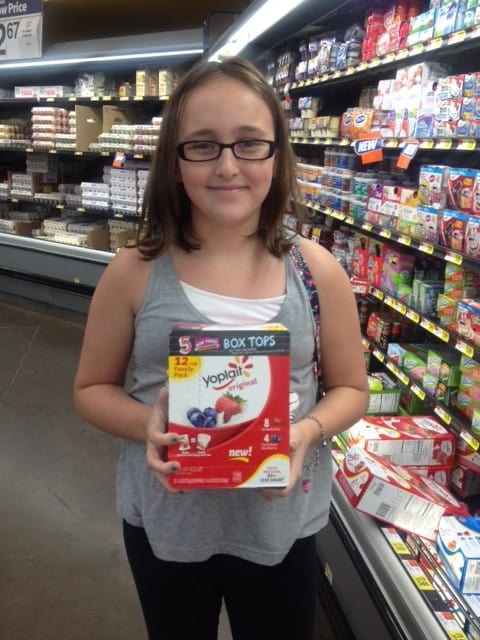 As I've mentioned before my girls and I are working together this year to collect Box Tops for their school. I don't have a lot of time to volunteer. However, I do need to grocery shop every week so I thought this would be a great way to help their school by doing something I am already doing. I am all about the win win! The only thing different I need to do is be more intential with checking that the products I purchase have Box Tops.
I look forward to working on this with my girls this year. It's make me feel like I am contributing and also gives my girls a sense of pride and purpose. They love doing things that they know are helping their school be a better place. Win for everyone!
If you are not familiar with the Walmart Box Top Program then check out their website for more information. They have bonus Box Top offers on select General Mills products!
The second Emma grabbed the tortillas I thought taco freezer kits. I know having a few of these in the freezer will make my life much easier when school starts. So I went a grabbed some ground beef and shredded taco cheese. Don't mind the cinnamon rolls! hahaha that was my kids "I was good at Walmart" reward 🙂 #momwin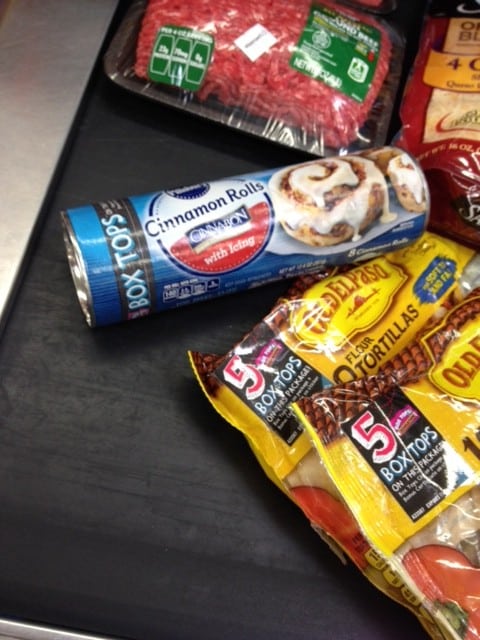 That night I put together 3 taco freezer kits. The purpose of a taco freezer kit, and the reason they will make your life easier, is that each kit contains all the basic ingredients you need for tacos (cooked taco meat, cheese, tortillas). This way you don't have to worry about an ingredient you need for tacos not being there. It is very frustrating to have cooked taco meat but no cheese or tortillas. Nobody wants to run to the store after a long day to wait it crazy lines just for cheese. These kits keep together all the essentials you need for tacos. The only items you would need to pick up on grocery day are taco condiments. If you prefer hard shells then just freeze the meat and cheese together. You can keep the shells in the pantry.
These taco kits are easy to assemble and can be customize to your tastes and like. I use about 1lb of cooked ground taco meat per kit. That's enough to feed a family of 4 and sometimes have a little leftover for a taco pizza later in the week. I should mention that you could use whatever kind of taco seasoning you like.
I place the cooked ground beef and about 1 cup of shredded cheese in individual quart size freezer bags. Then put both along side the tortillas in a gallon size bag. I label the bag and place in my freezer.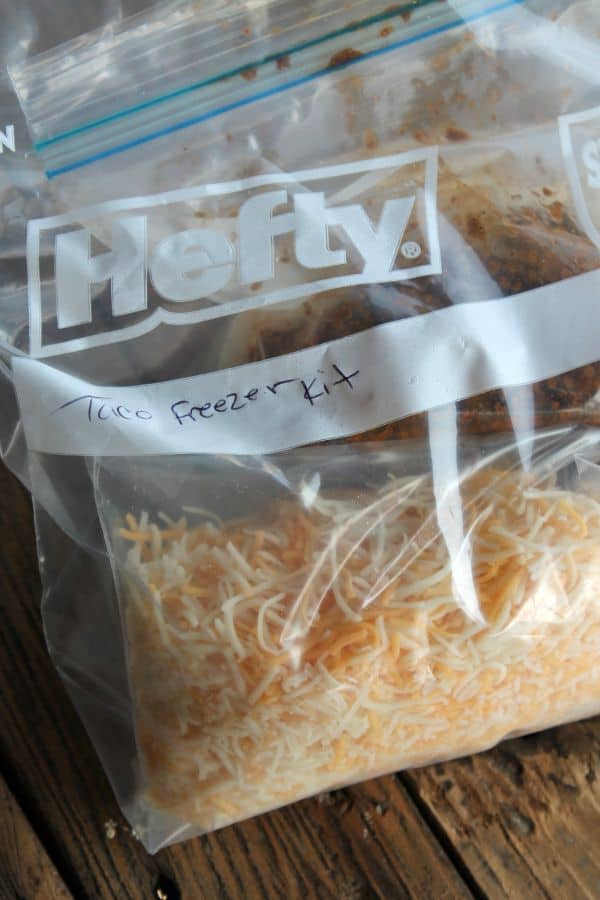 When we are ready for tacos I take the kit out the night before to thaw in the refrigerator. I warm the meat up in the microwave but you can certainly warm up on the stove.
Having these kits ready makes busy back to school nights less hectic. Everyone can sit down to a homemade meal that was prepared in less than 20 minutes. If you are a taco fan and find yourself running crazy at dinner time trying putting together a few of these kits. Trust me, you will be soooo happy you did.
This is a sponsored conversation written by me on behalf of General Mills®. The opinions and text are all mine.