Post by SMK Contributing Writer Danielle.
Back to school means back into routine. My daughter thrives on routine and it is absolutely necessary for a successful morning in our house. Have you ever seen those movies or television shows that feature the mom neatly dressed, flawless hair and make- up all the while preparing a gourmet breakfast of pancakes, eggs and bacon for the kids before they head out the door for the day? You know exactly the scene that I'm talking about, right? Well, I can assure you that does not happen in my house. For a successful morning routine in my house, I have defined it by two components. One, lowering my expectations of a picture perfect morning and two, preparing healthy breakfast options for Fiona.
NO PRESSURE!
Last year was Fiona's first year in big girl school. She is in a Pre-K program but it is a full day of regimented teaching, with scheduled time for nap and play time. It was a pretty big deal for us as we felt we were sending our precious little dolly out into that big, scary world. With that, I had visions of a picture perfect morning complete with a lovely breakfast (of frozen waffles, her choice), posed pictures, a leisurely drop off at school to get more posed pictures and the list continues…Well, I was a little disappointed. The real life version was a little more chaotic than the version I had planned out ever so carefully in my head. Without realizing it, I put so much pressure on her to give me that picture perfect morning and it did not occur to me that this event was as stressful to her as it was exciting for me. This September, pressure is off!
BREAKFAST OF CHAMPIONS, SKINNY MOM STYLE
I am headed over to Skinny Mom's Kitchen for the perfect breakfast inspiration and I chose a couple recipes. My first pick was the Peanut Butter and Jelly Steel Cut Oats, AKA the most genius recipe of all time! How can anyone refuse the wafting smell of steaming hot peanut butter and jelly mixed with a hint of cinnamon and nutmeg? Is your mouth watering yet? The convenience of this recipe works well. I doubled the batch and left half the batch in the fridge and froze the other half. In the morning, I measured out a serving, heated it up, stirred in a tablespoon of peanut butter and a tablespoon of jelly and done! Breakfast served! Just a side note to share, for myself, I use a tablespoon of peanut butter powder instead. It still offers the fantastic flavor of peanut butter, minus the majority of the calories. I believe my finicky 4 year old was impressed.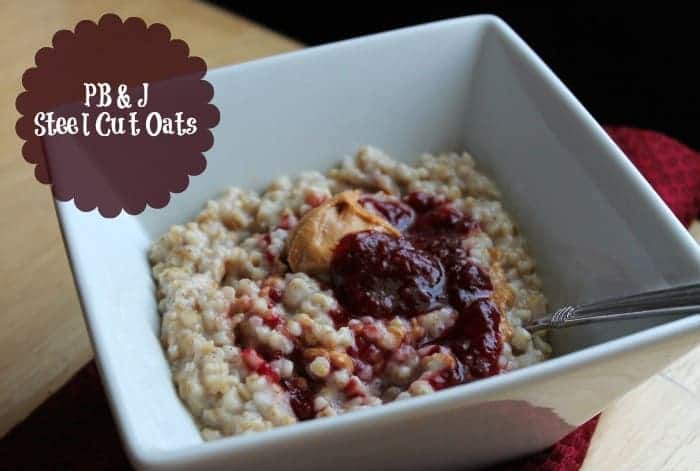 Next, I decided on the Buttermilk Pancakes. If I allowed it, my child would choose to live on two things, PB&J sandwiches and frozen waffles. As I have shared before, it is my goal to steer away from processed foods as much as possible. I thought these pancakes would make a great substitute for those frozen waffles. Again, preparation was minimal. To me, a breakfast of luxury is defined by pancakes and I am saving these to have on Fiona's first day. These are going to be the ticket that is going to sell me as that picture perfect, flawless mom that we see in the movies.
WHY BOTHER?
They say breakfast is the most important meal of the day as it provides the fuel to start your day with a full belly and clear head. I believe that to be true and I want to make sure I am doing what I can at home to offer my daughter the best start to her day. I think by providing her a healthier breakfast I am secretly offering her a few gifts such as an energy boost to get the day started on the right foot, a longer attention span to maintain focus at school and avoiding that mid- day sugar crash. All in all, a happier kid equals one happier momma!
What are your favorite quick easy ways to get a healthy breakfast on the table each morning.