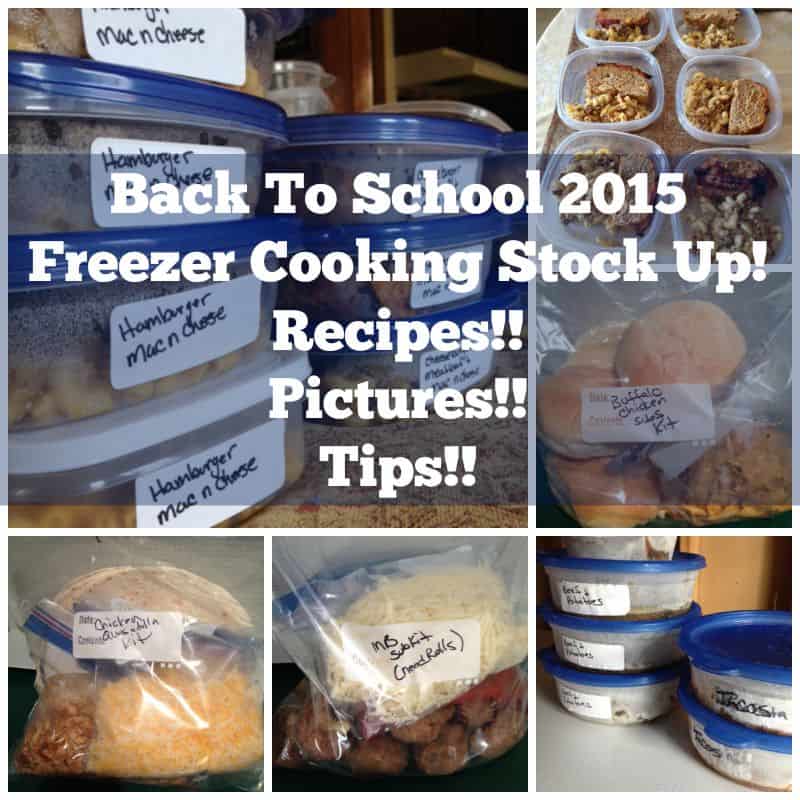 I survived the first week of school! YAY!
A couple days were a rough go but by Friday we stood proud and claimed victory over the week. Those of you that have school-aged kids understand the chaos that comes at the start of the school year. As organized as I try to be I still have overwhelming moments along with feelings of panic. Most of those moments are 10 minutes before we have to leave and my kids decided to fight to the death over the Ipad even though I told them not to touch it. You get it.
I have come to a point in my life where I don't try to control every little thing. Not only is it impossible but also it makes me nutty. Trust me, nobody likes a nutso mom. Instead I do my best to be prepared and organized while having the understanding that not everything is going to go as planned. It's just the way it is.
Stocking my freezer with meals is one of my favorite ways to prepare for the school year. I know I mentioned my busy school year schedule before but just in case you forgot let me remind you. Actually, let me just give you a glimpse into what my day looks like.
6:00am I wake up and drag myself downstairs to have a cup of coffee and drink some water.
6:30am I exercise (treadmill and sometimes toning)
7:30am jump in the shower
8:00am wake the kids up and fix their breakfast. They dress and groom themselves now. #finally #momwin
8:30am I finish getting ready and make sure all their bags are ready to go. I try to pack bags and lunches the night before but it never fails that I forget something.
9:00am get the kids to school.
9:15am – 3:00pm Blog work, cleaning, and errands. I try my best to stick to a work schedule but I have not mastered that yet. Hence, why I am always a day late and a dollar short with getting blog posts up. #justsayin
3:20pm pick kids up. Get them a snack, do homework, and get dressed for dance.
4:15pm – 7:15pm Dance or other activities. Some days we are done by 6:15.
7:30pm eat dinner, get ready for bed, and relax.
9:00pm bed for kiddos
9:30pm or 10:00pm Bed for me
Repeat the next day except weekends. Weekends are filled with grocery shopping, cooking, cleaning, and family things.
As you can see my days are packed and there's not much time to cook dinner every night. Not to mention we get home relatively late so we need quick to prepare meals. Since I don't want to depend on fast food, take-out, or boxed meals I take time before school starts to stock our freezer with healthy meals. It takes me a couple days, and is quite exhausting, but opening up my freezer to meals for the month or so makes it totally worth it.
Here is what I made. I provide pictures, links, and tips for all of the recipes I made. I also created a menu for this freezer cooking session in my Plan to Eat account. If you are a subscriber, and friend me (username organizeyourselfskinny), you can print out the menu and grocery lists. I keep track of all of my freezer meals using Plan to Eat. You can read how I do that here.
Let's start with breakfast.
I still had a bunch of steel cut oats in the freezer so I didn't need to make any more of those. However, the breakfast burritos I made over the summer were gone so I needed to restock the burritos. My youngest LOVES breakfast burritos and sometimes eats 2 at a time. I swear she is this little peanut but eats like a 250 lb beast football player.
I made 20 sausage and cheese breakfast burritos and will probably make another 20 this weekend because 1 bag is already gone. A quick note with the breakfast burritos…when you reheat them put a coffee mug of water in the microwave with the breakfast burrito. The steam from the water keeps the edges of the burrito from getting crispy.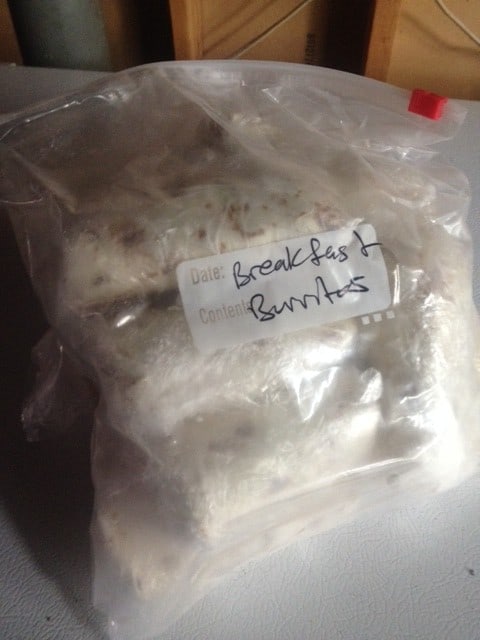 That's all I made for breakfast time. With our night schedule being so crazy I decided to focus more on quick and easy dinners, specifically freezer meal kits and individual freezer meals.
Freezer meal kits basically are components of a meal that are frozen together. This is helpful because you don't have to worry about not having a certain part of the meal. For example, cheese for quesadillas or rolls for buffalo chicken subs. It's all there.
These are the kits I made.
Buffalo chicken sub kits
I made a batch of slow cooker buffalo chicken then I divided it in half. In a large freezer bag I placed ½ of the buffalo chicken, 4 sub rolls, and 4 pieces of provolone cheese. The chicken and cheese I wrapped separately and then placed in the bag.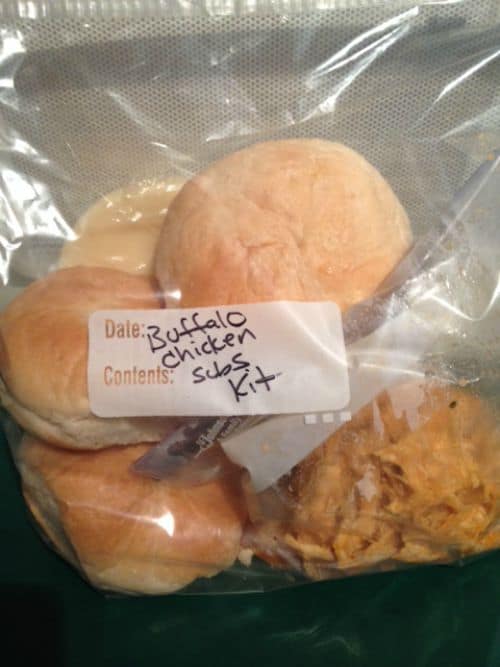 Like the buffalo chicken I made a batch of salsa chicken and divided it in half. In a large gallon size freezer bag I place 1 cup of Mexican cheese, chicken, and 6 flour tortillas.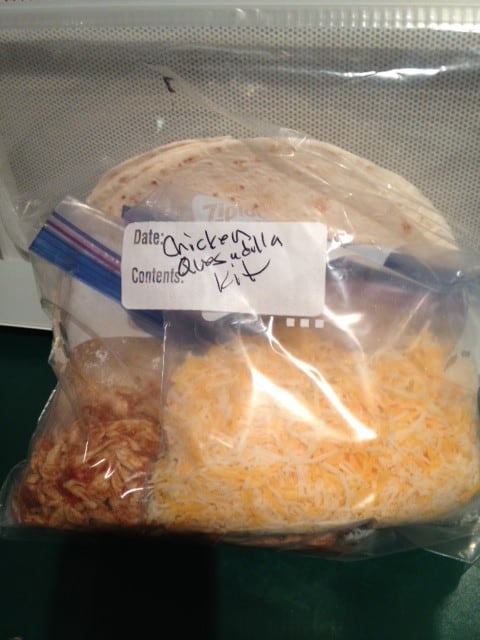 I cooked the meatballs ahead of time. When they were cooled I put them in a gallon size freezer bag with 1 cup of mozzarella cheese, and a bag of spaghetti sauce. The sub rolls did not fit so I just kept those on the side. For the sauce, I bought a jar of organic marinara sauce and divided it into 2 bags. The subs don't need a ton of sauce only enough to coat the meatballs.
Homemade pizza kits
In 3-gallon size freezer bags I put 1 ball of fresh store-bought pizza dough, 1 cup of store-bought pizza sauce, 2 cups of mozzarella cheese, and a handful of pepperoni.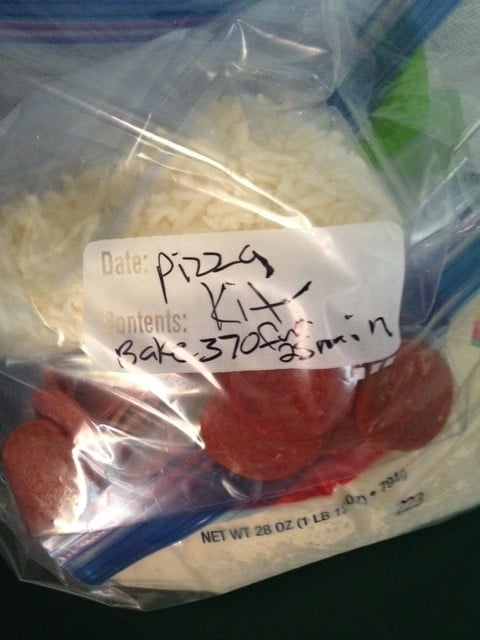 Taco meat
I didn't make these into kits but probably should have so I know we will have cheese. However, each container has enough taco meat for 4 people. I have taco shells in the pantry and just need to make sure I have the cheese and other taco condiments.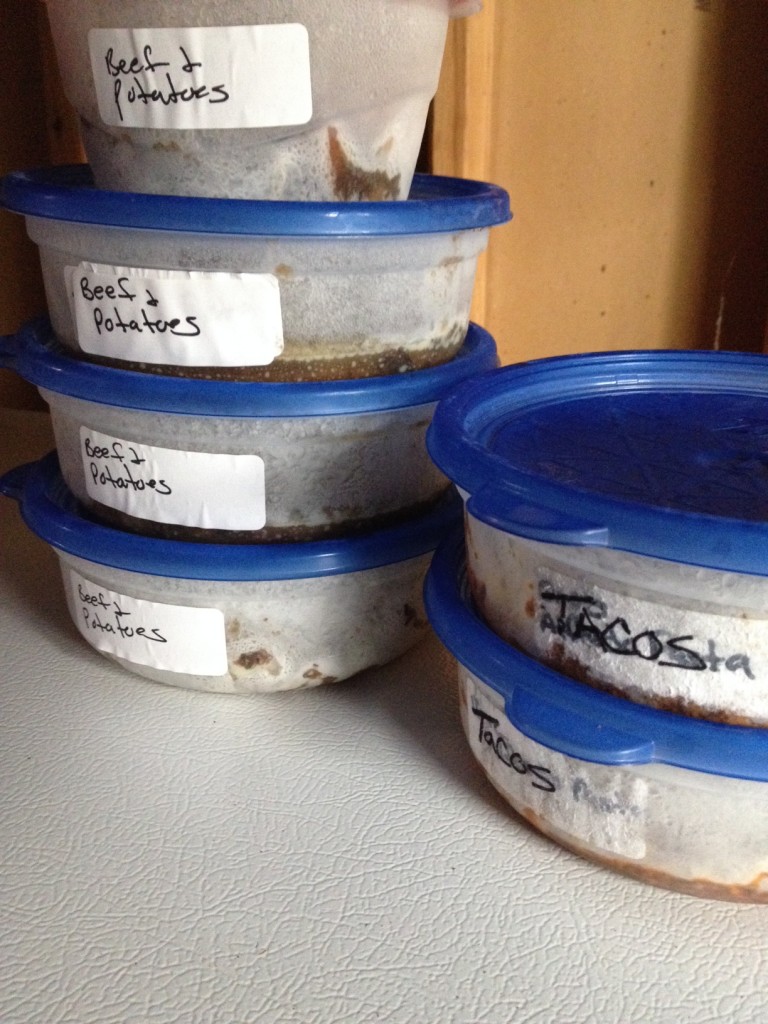 These kits were a lifesaver last week. It was so nice knowing that everything I needed for a meal was right there in the bag. The one thing to remember is you need to take the kit out the night before, or in the morning, to thaw. The sub and quesadilla kits can be thawed in the microwave but the pizza dough will need time to thaw. I took mine out in the morning and let it thaw on the counter. It was perfect by dinnertime.
I also put together individual freezer meals. I love making these! Seriosuly, it makes life so easy to just grab dinner out of the freezer, warm it up, and eat. It also helps when everyone is in the mood for something different for dinner. These meals work great for me because they are already portioned out and I don't have to worry about overeating.
Slow cooker beef and vegetables
The original recipe calls for short ribs but I used a roast instead. This is one of my favorite slow cooker beef recipes. After it cooled I portioned it out into individual freezer containers. When I am ready to eat I take the meal straight from the freezer, pop it on a plate, and reheat in the microwave.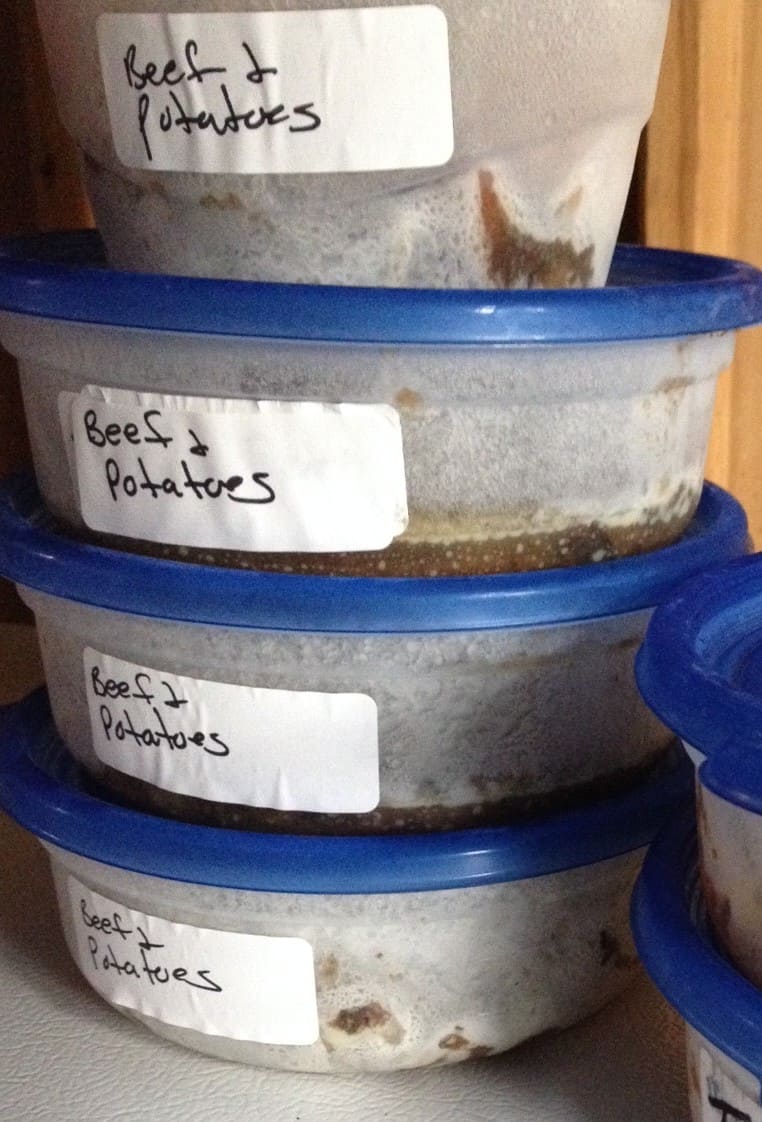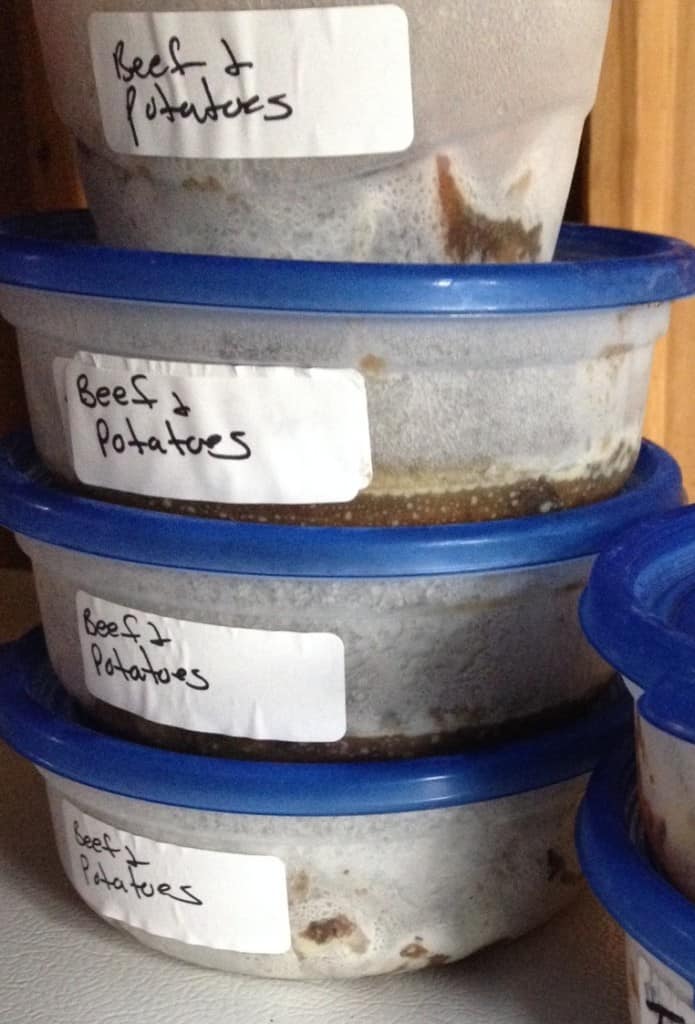 Bacon cheeseburger meatloaf and macaroni and cheese
For this freezer meal I cut the meatloaf into 6 pieces and placed them into a freezer container. Then I scooped a little bit of the mac and cheese into the container. I wish I used plain macaroni and cheese but at the request of my daughter I made hamburger mac n cheese so that's what I used. You could add broccoli, green beans, or a vegetable too. I consume a ton of veggies and fruits with my smoothies and mason jar salads so I wasn't worried about it.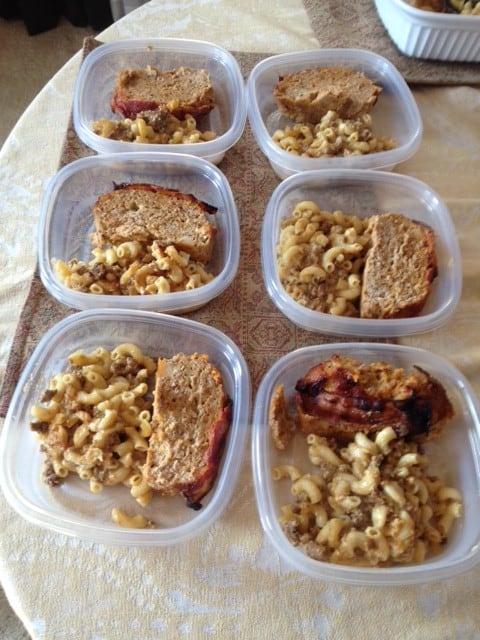 This is my oldest daughter's favorite dinner so I made a huge batch of it to freezer. After it was cooled I portioned it out into containers and froze. I know this freezer meal will come in very handy of busy dance nights.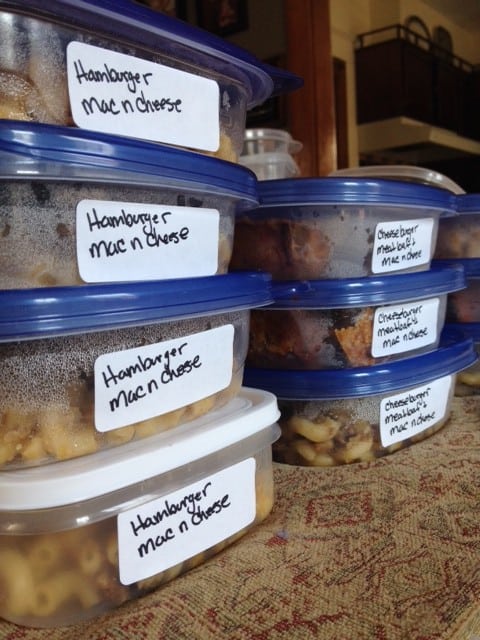 There you have it! All the meals I stocked my freezer with for back to school. I have enough meals to get us through the first month and then some. I anticipate making another batch of breakfast burritos but other than that I probably won't do a major freezer cooking session till October.
Do you have any questions for me? What are your thoughts? Did you freezer cook for back to school? What do you make?
If you want to read more about how I use freezer cooking and make ahead meals to lose weight and keep it off check out my ebook.