I have not been dabbling in too many apple recipes lately as apples are not welcome within my dietary limitations…bummer. But that is no reason to not offer these crisp, hearty, healthy delights to my family. So my daughter and I went apple picking! Do you believe that I live in an area that is basically known for our home grown apples and yet I was a virgin to apple picking? Shameful, I know. Anyhow, I did a little research and learned that there is a skill to apple picking. Grasp and twist. Grasp and twist. Okay, I can do that and I am positive a 4 year old can handle the responsibility as well!
Also, before we made plans, I wanted to make sure I was going with the specific intent of what to do with all those apples. I know myself and I know that when I get swept up in the excitement of experiencing something for the first time, I tend to get over zealous. I could visualize myself loading the back of my truck with bushels and bushels of apples. Well, that ain't going to work. I am not a pie maker so that's out of the question and I did not want a bevy of baked goods so here are some of the other interesting options that caught my eye…
Apple Butter. In a crockpot. You should know me by now to know that I look for minimal prep and minimal ingredients in any recipe. This one calls for 5 ingredients and the hardest part of the prep is peeling the apples. Well now, that's  do-able. Check it out . I imagine this would pair nicely with a fresh loaf of my homemade bread, toasted. I also think it would be excellent mixed in with a basic recipe of steel cut oats.
My daughter enjoys cereal bars and quite honestly, they make a great snack for on-the-go. However, they are store bought and I cannot trust that the manufacturer is choosing the best ingredients. With that, I found these. I swapped out the margarine and used butter instead. I particularly liked these because they use oatmeal as the basis of the crust and topping and I find that oatmeal serves to be a heartier crust.
Another idea I was attracted to was making my own apple chips. My daughter seems to like apples and she loves chips=a homerun! Except that my husband got a hold of the finished product first. I was able to save a handful for her. In fact they never even made it to the "air tight" container that was required to store them. Every time my husband grabbed another handful, I heard mumblings of "oooh, these are good" or something along those lines. Really?! That's all I needed to do was peel some apples, soak 'em in some lemon juice and toss 'em in the oven for a few hours in order to impress him?! Well, I guess I'll chalk this one up as a success.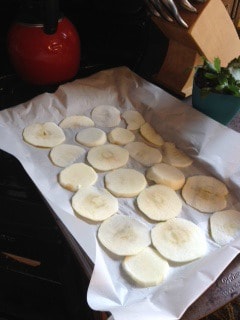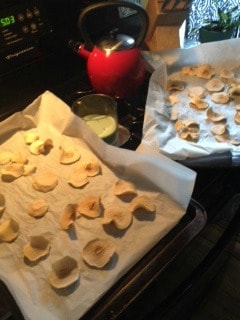 ENJOYING NATURE'S BOUNTY OF APPLES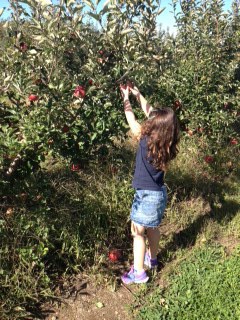 I decided to make a day of it and invited a couple of friends and their kids. I made it an especially awesome treat for my daughter as I picked her up from school early on a gloriously perfect fall afternoon. I still continue to try to get her excited about new experiences and foods. Apples are obviously an easy sell but you never know with her!
By the way, did you know there are literally 100's of apples to choose from? A delight for every taste bud. Some are softer, others are green, and tart ones, crispy ones, mini ones…
The place we choose was family friendly and offered an animal petting zoo, playground areas and other outdoors activities to keep the kiddos happy. We didn't need amusement rides, sticky fair food and the likes to keep them entertained and happy. This was good ol' fashioned, fresh air indulgent fun. On the cheap too. For the entire day, I spent $12.00 for my bag full of apples. Ooooh wait…add another $8.00 to that for a fresh baked, homemade Strawberry Rhubarb pie. Ok, now that was seriously a slice of heaven in my mouth.