Thank you so much for your interest in partnering with me to promote the Organize Yourself Skinny ebook and bonus 4 week make ahead meal plan as an affiliate. I put my heart and soul into this ebook package and I feel confident that readers will find this information motivating, encouraging, and helpful as they work to create a healthier lifestyle and lose weight. You can read more about the ebook and bonus meal plan here.
Affiliate FAQS
How much is the payout? 
For every ebook you sell you get 50% of the sale.
How and when do I get paid?
All payments are sent via Paypal by the 15th of the following month. For example, sales made in January will be paid by February 15th. You must have a verified paypal email address to get paid. You can sign up for that here.
Do I need to be a blogger to be an affiliate?
No. Once you become an affiliate you can promote my ebook on any of your social media outlets. However, I ask that you do not spam your friends and family. Not that you would, but they probably would not like that very much. If you are a blogger and have a readership that you think would benefit from the information in the Organize Yourself Skinny ebook then that's great! I have more affiliate information below specifically for bloggers.
How do I sign up?
Currently, my affiliate program runs through E-junkie. E-junkie is a little confusing so if you are not familiar with it let me walk you through it. If you are familiar with e-junkie and ready to sign up for my affiliate program than you can do that here.
Step 1. If you don't already have an E-junkie account then sign up for one. Click the login page then fill out the simple registration form.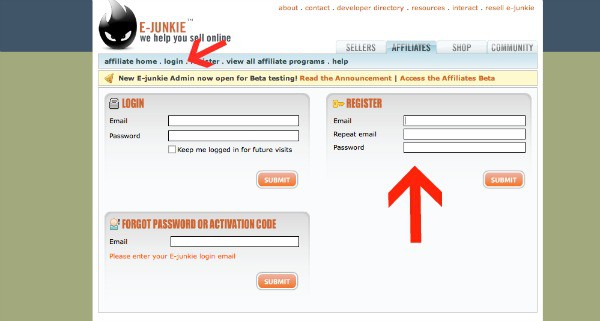 They will email you an activation code. Plug that into the box and click submit. You are all registered!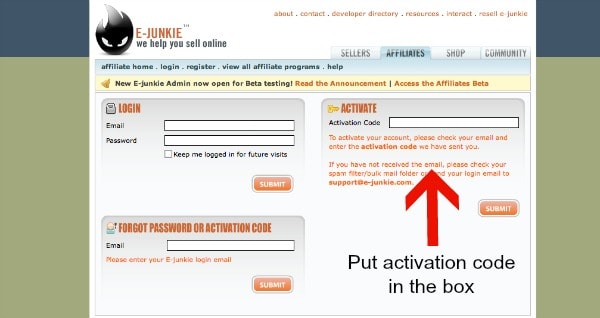 Step 2. Sign up for the Organize Yourself Skinny affiliate program. You can do that by clicking here. Once you do that you will see "you have successfully joined affiliate programs created by Organize Yourself Skinny" Then you are officially signed up. At this point you can access your affiliate code by clicking "get affiliate code"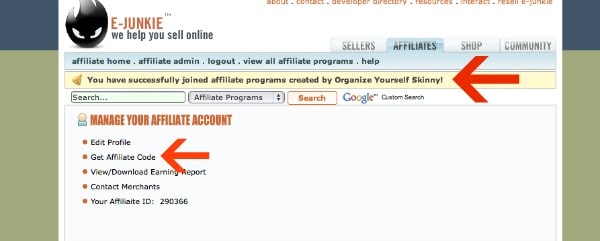 This screen will come up next. You affiliate link is what I highlighted below. However, please note your number at the end will be different. Your affiliate number is unique to you and is how the sales YOU make are tracked. That is the link you will use to promote the Organize Yourself Skinny Ebook and 4 Week Meal Plan. Just highlight your link, copy it, and use it in a blog post or however you will be promoting the ebook. That link will bring readers to the Organize Yourself Ebook and 4 Week Meal Plan sales page.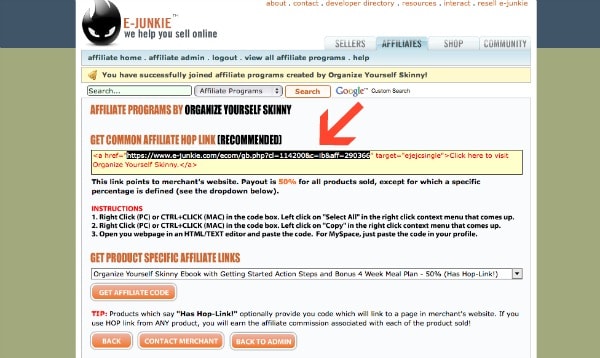 You also track your sales through the affiliate dashboard. Click on the "view/download earning report" and this will give you a report on the number of sales you have made.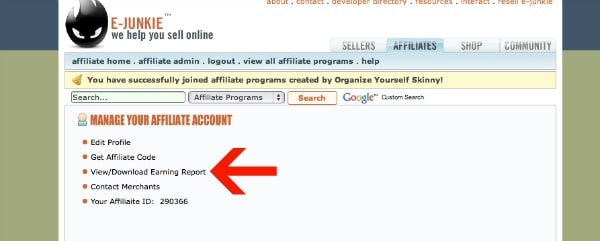 If you have any more question please do not hesitate to contact me via email at tammy@organizeyourselfskinny.com.
Do you have an advertising banner?
Yes I do. This banner is 300 x 338. You can right click and save this photo to your computer. It will fit perfectly into your blog sidebar or you can use the photo to promote the ebook on Facebook.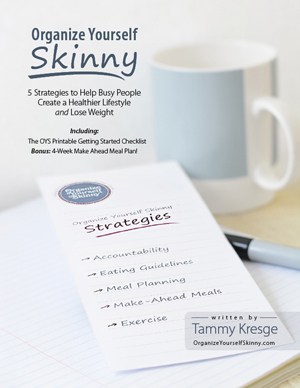 Additional affiliate information for bloggers
I have been blogging since March 2011 and recently became a professional blogger last year. I am very familiar with the ins and outs of partnering with other bloggers as an affiliate for their products. I have made a good amount of money helping other bloggers sell their ebooks and services. If you are a blogger, with an active readership, then there is potential for you to make a nice income selling the Organize Yourself Skinny Ebook and Bonus 4 Week Make Ahead Meal Plan. Of course, the amount of money you make depends on the amount of traffic to your blog and the different ways you promote. I am here to offer some affiliate marketing tips that worked for me.
First thing if you have a blog and would like a review copy then please email me at tammy@organizeyourselfskinny.com with your name, blog name, and your average monthly visitors and page views. I will send one right over to you. This brings me to my first tip.
Read the book first
Don't promote my ebook if you have not read it. I think it is really important to understand and believe in what you are promoting. It also helps you talk more naturally about it. You also want to make sure it is a good fit for your readers. My ebook is perfect for healthy lifestyle, food, parenting, and weight loss blogs. However, no matter what the blog topic, if you think your readership would benefit then just make sure you read it first to make sure.
Review my book
You can promote my ebook simply by writing a review after you are done reading. This type of post usually brings in a decent amount of sales. See one of my reviews here for an example.
Incorporate the strategies into your blog
As an affiliate for other bloggers I found that the absolute best way to make money with their products is to write about them naturally within blog posts. I highly recommend after you read my ebook that you try to incorporate the strategies and action steps into your lifestyle then write about it on your blog. There is a lot of information so you won't be short of ideas. As you talk about the strategies you can link back to my ebook. This method brings the ebook to life and shows readers how someone (you) is take the advice and putting it into action.
To give you an example check out my recent meal planning posts. I am an affiliate for Plan to Eat which I use weekly to plan out my meals. In my meal plan posts I show my meal planning calendar and the different ways I use it. This little tip has increased my affiliate sales with them significantly. And I look at it as a win win win. Win for the reader because it is an AWESOME service. Win for the company because they get a new subscriber. And win for me because I make some extra money.
If you have any questions or want to bounce some ideas around then email me at tammy@organizeyourselfskinny.com. I look forward to having you on board as an Organize Yourself Affiliate!!