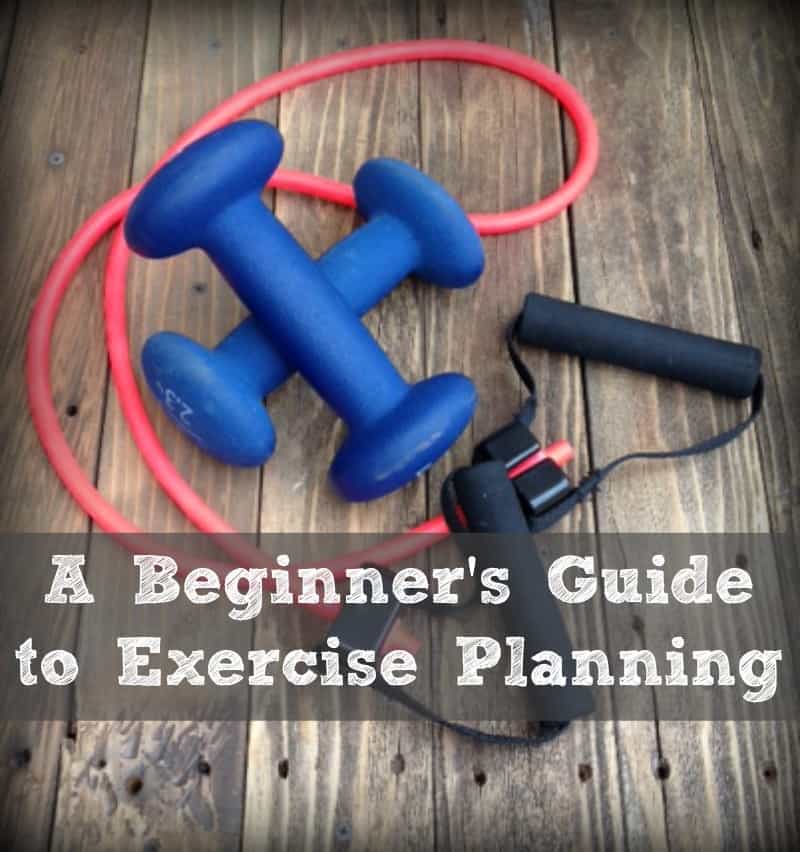 This post is by OYS writer Melissa. You can see more of her posts here.
Like menu planning, exercise planning can be an extremely valuable practice to add to your life on your journey towards weight loss or a healthier lifestyle. You can read Tammy's beginner tips for menu planning here. When you try to rely on exercising on the fly, especially in the beginning of your journey, sometimes your good intentions aren't enough, and you don't end up exercising as much as you wanted to. When you take that little bit of extra time to plan out your exercise routine for the week or month, you are more likely to stick with it because you are taking control of what you need to do. You are more mindful of how you are going to accomplish your goals. This, of course, can lead to the weight loss and healthier body you are looking for.
Again, just like with menu planning, there are many different ways to go about doing it, and there is no right or wrong way. You have to do what works for you and be somewhat flexible with your plans as well. What works for one person, may not work for you. The goal is to help you stay on track with your exercise routine, and that is only going to happen if it fits into your lifestyle. Below are a few tips to help you get started with exercise planning.
#1 Look at your schedule
You need to work with your schedule. On days when you have more time to exercise, you can plan a more involved workout routine that will take up more time. On days when you have less time, obviously you would want to adjust your workout to be a little simpler and/or quicker. And there are going to be some days when you are too busy to work out at all, and that's okay. It's good to look at your schedule for the week so you can anticipate extra meetings at work, your child's soccer game, or anything else that might interfere with your ability to exercise. Of course, there may always be additional things that come up, but having a tentative plan is better than having no plan. If you planned to work out on Monday, but your child got sick and it just didn't happen, don't beat yourself up over it. Just adjust the rest of your week to try to compensate for it. Let your family know how important it is to you to be able to exercise regularly and enlist their help to make it happen.
#2 Start with what's familiar
If you are just starting out with exercising regularly, then start with workouts that are familiar to you to help you get comfortably into a routine. Don't try to create intricate workout routines right off the bat. If your schedule allows for it, take a class…that way all of the planning is done for you and you just have to follow the instructor. You could also just start by doing some cardio on a machine or following along with a DVD. Once you have established a good routine and you are working out as regularly as you would like, then you can start adding new elements to your routine to change things up. Check out this post I did about the importance of switching up your exercise routine.
#3 Start simple
There are numerous electronic ways to plan and keep track of your exercise, but I would recommend just starting with pen and paper for at least the first week. Trying to learn how to use an app or online tool right as you are beginning to exercise can be a bit cumbersome and daunting. Don't overcomplicate the situation with that right now. Just writing out which days you are going to work out, what type of exercise you are going to do, and how long you are going to exercise for is enough to start. Once you are regularly working out following your written plan, you can start exploring the tech options out there. My Fitness Pal is an easy-to-use app that allows you to set exercise goals and keep track of your exercise, including calories burned. This can be very helpful when trying to lose weight, and can be used in conjunction with their menu planning tool as well. Tammy did a very helpful post on getting the most out of My Fitness Pal that you can read here.
#4 Make it Visible
Another reason I suggest starting with planning on pen and paper is this is a very visible tool to have to physically look at. The best thing to do is to hang it on your refrigerator or wherever else you post important things in your house. You want to be reminded constantly that you have this plan in place, so make sure it is hanging in a place you will see it often. If you transition to using an online journal or app, I would still recommend printing out your plan information and hanging it up so you can see it multiple times a day. Those apps are great, but if you don't get on there regularly to update your information, then it's kind of pointless.
#5 Prepare
Once you make your exercise plan for the week, make sure you take the necessary steps to ensure that it will happen. If you are going to be working out first thing in the morning, lay out your clothes and sneakers the night before so they are ready for you when you wake up. Check out this post on creating a morning exercise routine. If you are going to be working out later in the afternoon, pack your gym bag the night before and throw it in your car. You want to avoid any obstacles that might slow you down and come up with a reason not to exercise.
How do you plan for exercise? Do you have any beginner tips to share?
Get Instant Access to My Best Weight Loss Tips & Strategies!
Sign up now for a free step-by-step 7-day email course that I created exclusively for my email subscribers! That's you. I will teach the best habits, strategies, and insider tips so you can enjoy a lifestyle that encourages and supports weight loss! Stop relying on willpower and take control back over your life! You can do this. Let me help!