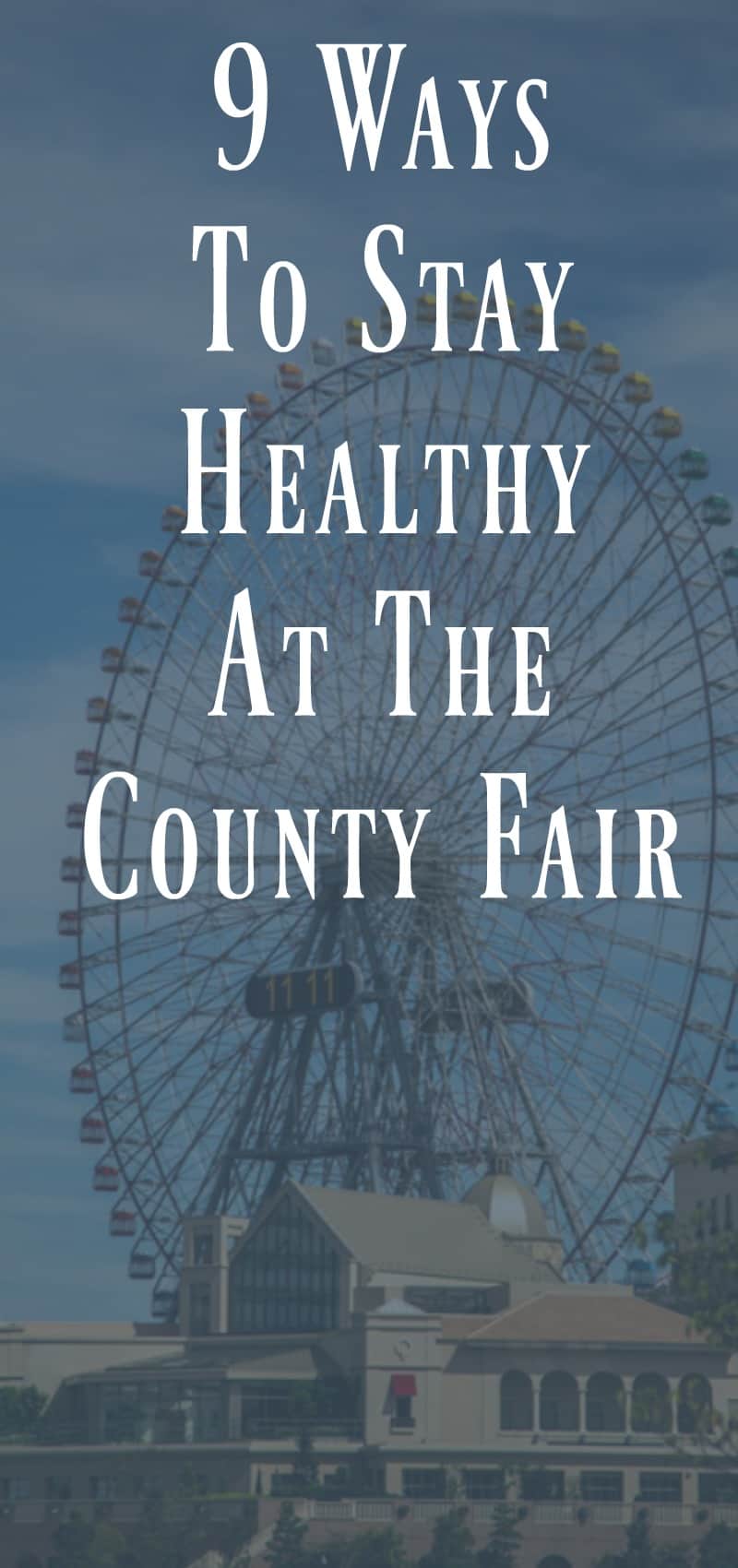 Cotton candy…candied apples…BBQ…funnel cakes…County Fair season is upon us. Going to the fair can be a great summer activity, especially if you have kids. There's so much to do and see, including great amounts of not-so-healthy food. So how do you stay on track with your healthy goals when it's time to hit the fair? Let's get to it!
#1. Make a plan
People who are successful at eating healthy are planners. You have to be prepared for any situation, otherwise you set yourself up for disaster. Before you head to the fair, plan out what you will eat. Think about all of the tasty options that are going to be there, and get it straight in your head what you will order. When you do this, you are more likely to stay on track and not eat five different things you really didn't want to eat.
#2. Eat before
Have a healthy snack before you go so that you are not starving and ready to scarf down every slice of pizza in sight. Make it a good balance of healthy carbs, fat, and protein. Some good options are a banana with peanut butter, baby carrots dipped in hummus, or Greek yogurt and an apple.
#3. Find balance
You should not expect to eat a perfectly healthy diet at the county fair…that's just not very realistic. If you tell yourself you can't have anything "bad," you are going to feel miserable and you probably won't have as good a time as you want to. Healthy eating is not about deprivation. So decide what treats you absolutely want to have and splurge on a little bit, and then keep the rest of your choices on the healthier side. If you really love fried dough, order it, but only eat some of it and then get a healthier main meal. If you love the Italian sausage sandwiches, go for it, but then either don't eat a dessert or keep it something simple and small, like a cup of frozen yogurt.
#4. Choose healthy
When you can, look for healthier options to help keep that balance. Look for grilled meats that are not doused in sauce, kabobs, corn on the cob, salads, wraps, and frozen yogurt. You could also try healthier versions of your unhealthy favorites. For example, you could choose veggie pizza over meat toppings, or poultry sausage over regular Italian sausage.
#5. Share
Not only is the food at the county fair mostly unhealthy, but the portions are also ginormous. When you are selecting your indulgence, keep in mind that you don't have to eat it all. A small portion of it will usually satisfy you. Share your splurge with someone else so you are not tempted to eat it all. Some food choices you will want to share are fried dough, cotton candy, kettle corn, and French fries.
#6. Hydrate
Carry a water bottle with you and drink regularly. You want to stay hydrated in the heat, but it will also help your stomach to feel full, leaving less room for food.
#7. Pack snacks
If you are worried that you will be so hungry that you will give in to the temptation, it can't hurt to pack a portable healthy snack to take that edge off. Carry along a handful of almonds, an apple, a granola bar, or something else that is easy to tote.
#8. Walk
The fair has a lot to see and do. Make sure you walk the whole fairgrounds, maybe more than once. The more steps you get in, the more you will earn that ice cream you are planning to eat.
#9. Focus on activities
Sure, when you think of the county fair, you probably think of food first, but there are so many other things to enjoy. Try out a couple of rides, play a few games to try to win a prize, or go check out the farm animals. There are usually stands set up with merchandise to buy, so do a little shopping. Most fairs also have shows you can watch, like animal shows, magicians, concerts, car shows, pretty much anything you can think of. Check out the program for that day and keep yourself busy.
My Plan
When I go to the fair, I usually order a Greek gyro made with grilled chicken. This is served in a pita with lettuce, tomato and tzatziki sauce. The sauce is a bit of a splurge, but I love it. This fills me up pretty good. If someone I am with orders French fries, I may have a couple because they are also something I love that I don't eat every day. My real treat is ice cream. I love getting ice cream at the fair, and I don't care if it's full fat. I just order the smallest portion they have, and I order it in a dish instead of a cone. Last year, I had this amazing coconut ice cream with almonds and dark chocolate, and it was worth every calorie!
Spending a day at the fair does not have to ruin all of your healthy progress. A little splurging is totally fine, in fact it would be wrong not to. Enjoy the day, knowing that the next day you will go right back to your healthy eating plan.
Get Instant Access to My Best Weight Loss Tips & Strategies!
Sign up now for a free step-by-step 7-day email course that I created exclusively for my email subscribers! That's you. I will teach the best habits, strategies, and insider tips so you can enjoy a lifestyle that encourages and supports weight loss! Stop relying on willpower and take control back over your life! You can do this. Let me help!