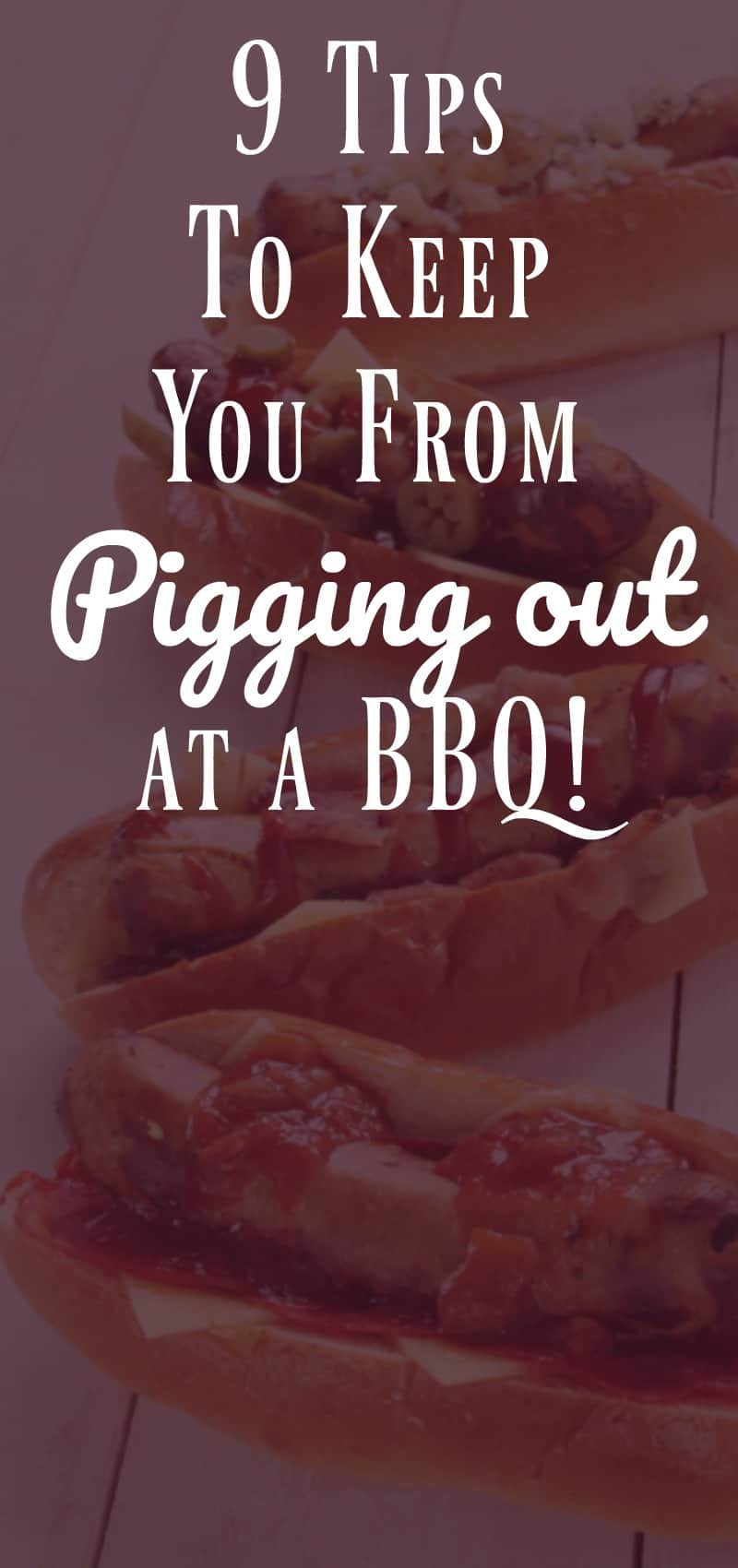 Summer is my favorite time of year.  I love being outside in the warm weather and enjoying lots of outdoor activities.  It also happens to be the time when we are more social with our neighbors, our friends, and our family.  Impromptu pool parties, 4th of July festivities, and good old BBQ cookouts are happening all the time.  As you probably know, all of these get-togethers are filled with lots of tempting food.  How do you survive a BBQ if you are trying to maintain a healthy lifestyle?  It is possible!
First let me say that the answer is NOT to avoid the party altogether.  Socializing is very important for our overall health, and you should not skip social functions because you are afraid of the food.  You just need to go in with a pocketful of strategies that will help you enjoy yourself while still maintaining your healthy lifestyle.  
#1 – Eat before you go
I'm not suggesting you eat a full meal before you go, but definitely have a substantial snack that contains protein, good carbs, and some healthy fats.  This will help fill your belly so you don't head into the party starving, and start gorging on everything in sight.  Try a piece of whole grain toast with peanut butter and sliced bananas, Greek yogurt with sliced strawberries, or baby carrots dipped in hummus.
#2 – Pick a splurge
Decide ahead of time what you want to splurge on.  Are you in the mood to have a few beers?  Can't pass up the creamy cole slaw?  Sticky BBQ ribs your fave?  Pick one thing to indulge in guilt-free.  Make sure you know what it is going in, so you have a game plan in your head.  Eat your splurge food slowly, and make the rest of your choices on the healthier side.
#3 – Drink water
Throughout the day of the BBQ, drink a lot of water.  This will help keep you feeling full.  I am usually one of the only people just drinking water at a BBQ instead of an alcoholic beverage.  I would just so rather spend my calories on delicious food than a drink, but that's just me.  By drinking water, you can save more calories for the food that you love.
#4 – Don't linger
The food table is usually where most people will gather and park themselves for the duration of the party.  Find someone to talk to who is not near the food.  If you aren't around it, you are less likely to keep dipping into the chip bowl.
#5 – Bring a game
Be the life of the party by bringing a fun, active game to play.  Something like horseshoes, volleyball, or bocce ball are sure to get a little healthy competition going.  Adults like to play games too, and all of that fun can take the focus off of the food.  Plus you will earn some physical activity points, which can help atone for anything you splurge on.
#6 – Chew gum
As you head into the party, pop a piece of minty gum in your mouth.  This will keep your mouth busy and will discourage you from eating everything in sight as soon as you get there.  BBQ sauce doesn't really taste good with a mouth full of mint.
#7 – Socialize
Focus more on catching up with friends and relatives who you haven't see in a while.  Strike up a conversation with someone new.  Ask people questions.  Tell people stories.  Enjoy your time with adults.  This is what life is all about (I mean food comes in a close second, but stay focused!).
#8 – Eat
It is a BBQ, so you should enjoy some of the yummy food.  Once you have decided on your splurge item, try to stick to this menu for the rest of the party: a hamburger with your favorite condiments, load up on all the veggies you want, fruit, and a small dessert.  
#9 – Don't eat
While you don't want to feel deprived, don't treat a BBQ as if it were your last supper.  If you really don't love, love, love a certain food, don't waste your calories eating it just because it's there.  Stay away from potato chips, heavy mayo salads like potato salad or macaroni salad, and baked beans, which are usually cooked with bacon fat.  If one of these foods is your splurge, have a small portion, and enjoy every little bite.
How do you enjoy a BBQ without blowing all your calories or points for the day?
Get Instant Access to My Best Weight Loss Tips & Strategies!
Sign up now for a free step-by-step 7-day email course that I created exclusively for my email subscribers! That's you. I will teach the best habits, strategies, and insider tips so you can enjoy a lifestyle that encourages and supports weight loss! Stop relying on willpower and take control back over your life! You can do this. Let me help!