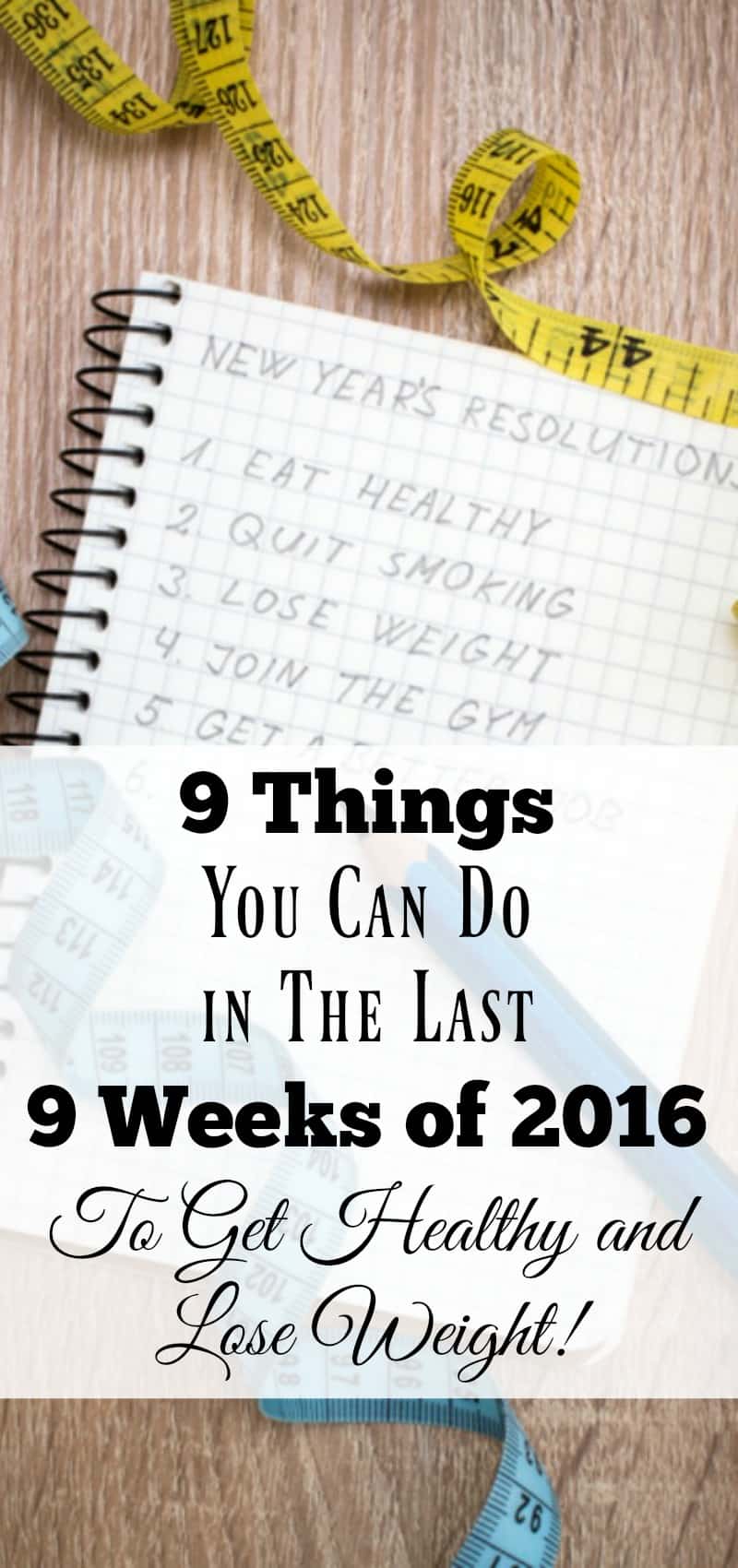 This post is by OYS writer Alexis from Trading Cardio for Cosmos. You can also find her on Facebook and Instagram sharing her awesome weight loss tips and motivation!! She's lost over 100lbs so she has lots to share!
---
The last few months of the year are upon us, and it won't be long until there are parties, brunches, huge family meals and dessert after dessert after dessert.
And not long after that, there will be New Year's resolutions, gym resolutions, new diet plans, cabbage soup diets, cayenne pepper cleanses and a number of other things that won't make it through Valentine's.
I know, because I started at least three diets between Christmas and New Year's, and restarted them in April, October… you get the idea.
But when I decided to get healthy and lose more than -100lbs, I started on November 15, 2014. So I know a little about what you can accomplish by January 1st.
There are nine weeks left in 2016. How are you going to spend them?
Here are my nine tips for what you can do right now in the last nine weeks of the year to get healthy and lose weight:
#1. Start
Start now. Everyone thinks you need to wait for Monday, wait for the first of the month, the beginning of the year. That's just not true. If you start today and losing a sustainable amount each week (1-2lbs) you could be down as much as 18lbs by New Year's Eve. That's an entire dress size!
#2. Pick a program or a plan that will enable you to eat sensibly through the holiday season.
Diet programs with pre-packaged foods mean you need to eat that food to lose, and that's hard on Thanksgiving, Christmas, Chanukah and the host of holiday gatherings you'll attend. Pick a program that allows you to eat real food in sensible portions and you can enjoy your holidays and still lose.
#3. Commit to your plan.
Part of the reason I wasn't successful long-term before is that I tried every crazy fad diet going and part of my lack of success was that I would commit, kind of. I committed until girls night, or until I didn't bring my lunch and hit a drive-thru. Committing to a plan means (for me) learning the rules and the expectations, but also learning how to make the program my own and how to incorporate the foods I love (i.e. tacos, brunch foods and French fries) without starving myself.
#4. Set a realistic goal.
If a sustainable weight loss goal is 1-2lbs a week, then losing -50lbs in 50 days is probably not realistic. And expecting that every week will be a loss is probably also not realistic. We're human, and sometimes we make mistakes. And sometimes we decide that the cake/burger/Cosmos are worth no loss or even a small gain. And you know what? That's awesome. If you consciously make the decision to eat and enjoy something then good for you! We're looking for thoughtful, good decisions, not perfection!
#5. Explore healthy recipes!
I was a big reader when I started my program, and I went looking for healthy recipes and healthier food finds that would enable me to eat the foods I love but stay on track. Yogurt-based salad dressings, recipes that added veggies to "bulk up" my portion with low-cal, low-SmartPoint foods. Check this post I did on my favorite food finds.
#6. Work to eat intuitively.
Before my weight loss I was such a creature of habit. I ate lunch at 12pm daily, without fail, because it was 12pm. Not necessarily because I was hungry but because it was time. I ate bigger portions that I needed because I wasn't eating slowly and enjoying my meal, and I definitely wasn't listening to my body's cues that I had eaten enough. Now I eat more slowly, taking my time and most importantly, I eat when I'm hungry and I don't eat when I'm not. I ask myself "Are you hungry enough for an apple?" and if I'm not hungry enough to eat an apple, then I'm probably trying to eat for the wrong reasons.
#7. Move your booty.
Now I know that winter is hard because it's cold outside and I'm the very first person to want to huddle up on the couch rather than go out in the cold, but you need to move your booty.
I like to go to the gym and now is a GREAT time to take advantage of the free beginner training classes most gyms offer before the masses descend in January! If the gym is not your scene, maybe a DVD class like CouchTo5K, Leslie Sansone or even exercise classes you can find free on YouTube?
#8. Celebrate your holidays!
So many times I see people skipping the things they love – the stuffing, Christmas cookies, champagne – at holiday events. Depriving yourself of the things you love, especially the things that only come around once a year, is bound to cause resentment and resentment makes you mad about your journey instead of committed and happy. So my advice is: pick the thing you really, really love (I see you, peppermint ice cream), eat a sensible portion and LOVE it. Then make healthy choices for the rest of the day. Moderation works!
#9 Take my Trading Cardio for Cosmos Online Group class!
That's right, I'm offering a three-part online group class on Tuesdays from November 15-29. When you register you will be emailed a link to the coaching session by 6am eachTuesday so you can listen at your convenience. Then each Tuesday evening at 9pm EST/6pm PST I will join you in a Facebook Live Chat in a private Facebook group where you can ask questions, share your journey and support your classmates.
Can't tune in? No worries – the Facebook Live video will also be available for you to access later if that time doesn't work for you! As a bonus, the day after each class you'll receive an email full of additional resources, recipes and tips based on that week's class! Get all the details here.
What do you think? How are you staying healthy or making healthier changes for the last 9 weeks of 2016?