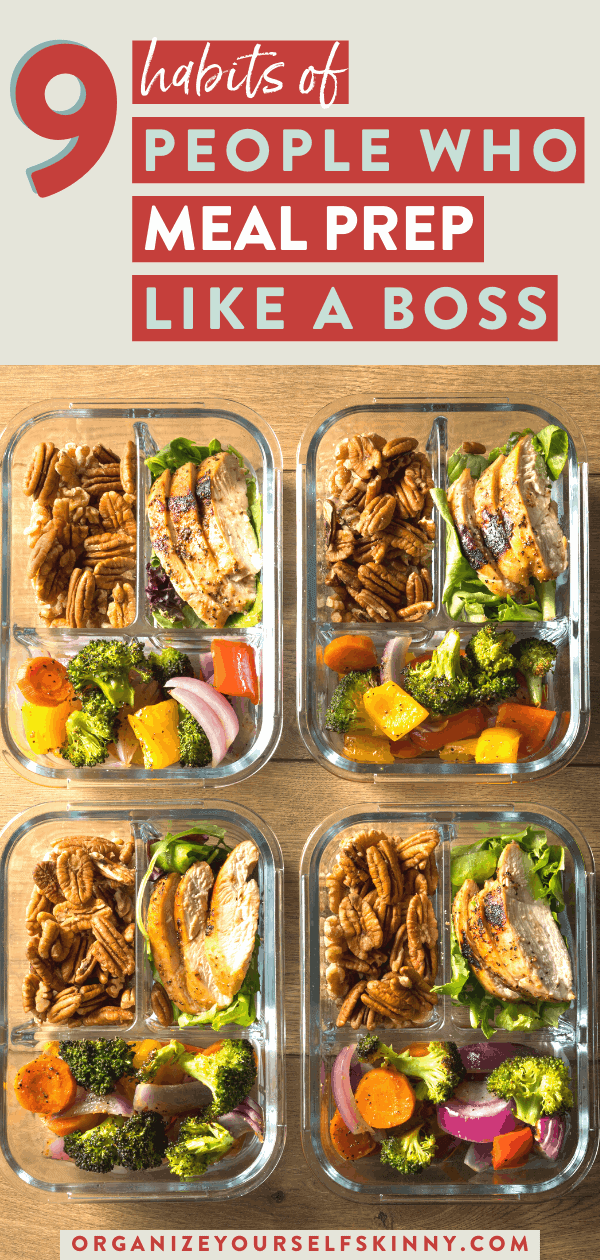 This post is by OYS writer Alexis from Trading Cardio for Cosmos. You can also find her on Facebook and Instagram sharing her awesome weight loss tips and motivation!! She's lost over 100lbs so she has lots to share!
---
With back to school upon us, time is scarce again. Trying to fit in healthy meals around school, soccer, ballet lessons and all of the other activities is nearly impossible.
While I don't have kids at home myself, I do commute almost 3 hours per day so I struggle with the same time constraints and wondering how to fit it all in!
My solution is to nail my menu plan and meal prep, and overtime I have learned lots of tips and tricks from people who have mastered the skill. Check them out:
#1 It all starts with having enough containers.
I know this sounds kind of ridiculous, but making sure you have enough plastic containers to meal prep is pretty crucial. Nothing worse than trying to fit 2 cups of food into a one and a half cup container!
While any will do, I love my Fitpacker containers because they're flat, fit a good portion and are dishwasher AND microwave safe!
Check out this post for more meal prep container solutions.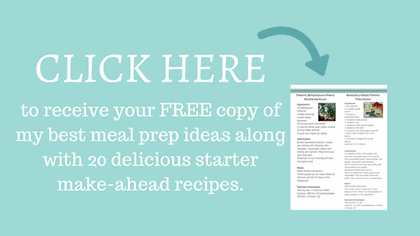 #2 They use proteins wisely and strategically.
Proteins like pork or chicken are used for their lunches, and proteins like fish, shellfish and steak are saved for when they're able to cook fresh at home.
Not every protein is created equal, and not all proteins keep as long as others. I prep for three or four nights when using chicken or pork, but will only take fish, shellfish or steak if it's for lunch or dinner the next day. Shellfish in particular becomes rubbery and fish takes on a weird texture when they are reheated.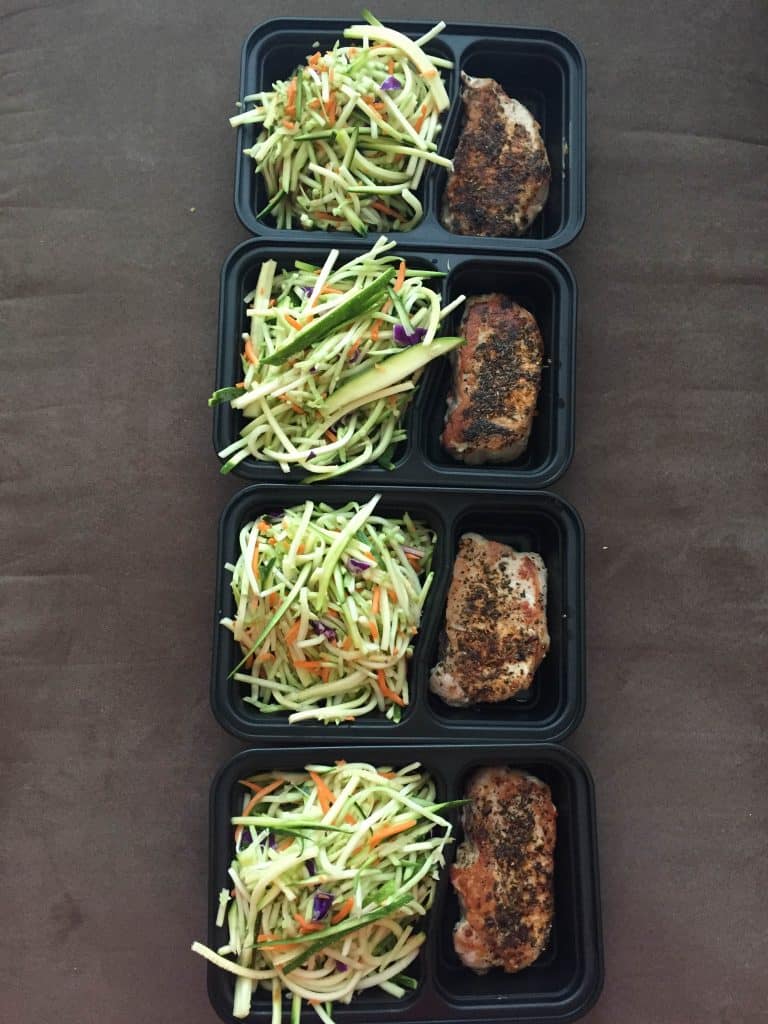 #3 They use cooking methods that maximize their effort.
During the summer, I love to throw my proteins and a mess of veggies on the grill. How easy is that? In twenty minutes you can have all of your protein and several different kinds of veggies ready for your meal prep! In the winter I like to bake or roast my proteins, and then throw a bunch of different veggies in at the end. While they roast I can make salads, peel eggs and do all of the other prepping, which cuts my kitchen time in half!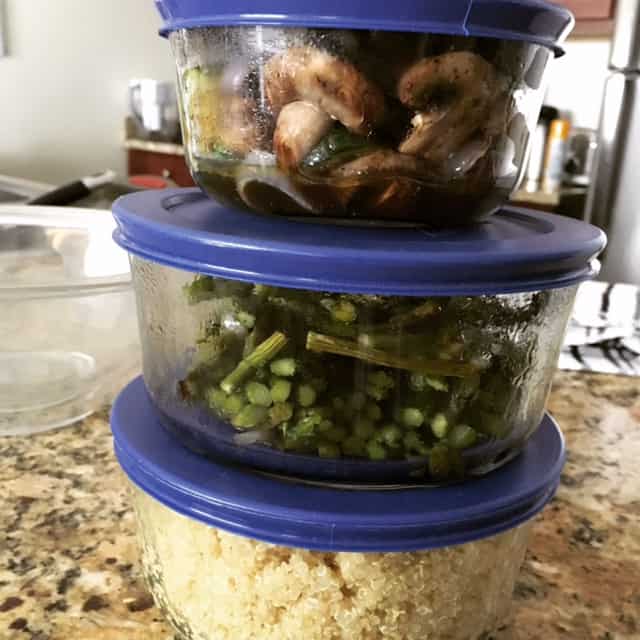 #4 They use different spices to "spice up" their same protein.
I never worry about taking the same protein for three or four days because I use sauces and spices to mix up my flavors. Teriyaki and BBQ sauce, lemon pepper seasoning, chimichurri spice blend, lemon and thyme, basil and garlic – by dressing your proteins at the end you can create all kinds of different meals!
Check out this post to see some of my pantry staples.
#5 They shop the Sunday circulars.
Eating healthy is expensive, definitely more expensive than eating a boxed meal, but meal prepping bosses know to shop the Sunday circulars before doing their meal prep so they know which proteins and fresh fruits and veggies are on sale, and they incorporate those items into their weekly menus.
#6 They shop specifically to save money.
My weekly grocery list is a direct correlation to the meals we are planning for the week. I know I need 6 eggs to make hardboiled eggs for snacks, 4 bananas for post-workouts, 3 chicken breasts for lunch, and so on and so forth. Because I have a list and I only go looking for those items, I significantly reduce the number of impulse buys I used to make, most of which were starchy, processed snacks I didn't need anyway.
#7 They eat seasonally.
Just like shopping the Sunday circulars, it's much less expensive to eat the produce that is seasonally available. Oranges and citrus fruits in the winter, apples and pumpkin and fennel in the fall, tomatoes and zucchini in the summer – these items are all less expensive when bought in season, which means you have more money for the rest of your groceries!
#8 Embrace your crockpot.
Dinners are so much easier when you can set it and forget it, and come home to a gorgeous pot of dinner! While you can make all kinds of soup like this awesome Olive Garden made healthy from Simple Nourished Living, you can also roast whole chickens! Yes, whole chickens! This recipe is one of my favorites! You can also use your crockpot to make large batches of shredded chicken, beef, or pork that can be used in recipes all week.
Here are some favorite shredded meat recipes.
Chipotle and lime shredded beef
#9 They use apps like Foodily (www.foodily.com) to find new recipes with ingredients you love.
With Foodily you search for recipes based on the ingredients you have or want to use, and you can also filter by ingredients you don't like, low-fat, gluten free and other menu styles!
Also check out Plan to Eat to save and organize recipes, create weekly weight loss menus, and easily generate grocery lists.
What about you? What are your go-to meal prep tips and tricks? Please share them in the comments below!