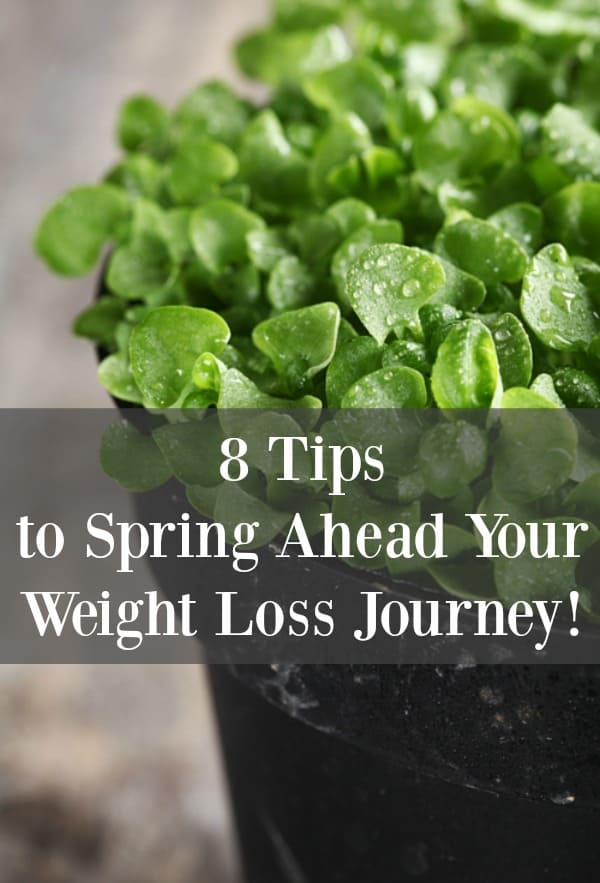 This post is by OYS writer Alexis from Trading Cardio for Cosmos. You can also find her on Facebook and Instagram sharing her awesome weight loss tips and motivation!! She's lost over 100lbs so she has lots to share!
---
I love Springtime! Everything turns green again, the weather warms and sandals and bare feet are once again in style!
I also love Spring because it's a season of hope and new beginnings, so I thought "What a great time to change up my routines!" Here are my top 8 tips to spring ahead in your weight loss journey.
#1 Go lighter!
Gone are the heavy sauces, the casseroles, the braised and roasted foods. Now is the time for adding more fresh fruits and veggies to your meals, especially as they come in season! I don't always think of adding fruits to entrees, but there are some great recipes out there for making sauces for
poultry dishes with blueberries and blackberries
, and
even rhubarb and strawberries over pork
! It's also a nice time to try cutting back on your carb and potato intake! I was able to cut back when making a potato hash by adding half the normal amount of potatoes and then diced zucchini or squash to make up the other half! The flavors were still great, and I significantly lowered my calorie/SmartPoints intake!
#2. Eat seasonally!
I always start my grocery lists with the thought "What is freshest now?" Spring is a terrific time for garlic, onions and fresh greens, so sautéed greens should definitely be on your menus. It's also a great time for asparagus and green beans, which go great as side dishes, but also in crust-less quiches and brunch dishes, as well as in mixed green salads or even potato salads for BBQs! Last week I put both dandelion greens and asparagus into some egg whites with shaved Parmesan cheese and it was SO yummy! There are also some fun "unique" fruits & veggies that are only on season in the Spring, so they're fun to add to your menus while you can! Think Fiddlehead ferns, ramps and rhubarb!
#3 Use the Spring as a great excuse to clean out your fridge and pantry.
It's a great time to get rid of expired condiments and freezer-burned foods, but it's also a great chance to get rid of those snacks, canned foods and other shelf-stable foods that aren't going to help you on your weight loss journey! If you don't want to throw the food out, and it's still good, then consider donating to your local food pantry.
#4. Move Your Booty!
The Spring is a great time to get in shape, or to get back in shape after a long winter! Many communities have bike paths or rail trails, and most are marked with mile markers so you can start slow but challenge yourself to add another half mile every few days or weeks! Many bike shops have rentals available, so you can try out a bike or a style of bike before you purchase it!
The Spring also kicks off race season, and many 5-10k races have the option of walking or running, so you can go at whatever pace is most comfortable for you. Plus, it's so much nicer to get out and walk around the neighborhood or down to get the mail when you don't need snow pants and a hat!
Further reading:
#5 Plant Your Garden!
One of the most convenient ways to get fresh fruits, veggies and herbs is to plant a garden! I've had big backyard gardens ever since I was a child, but I've also done pots, rail boxes, window boxes and even upside-down tomato plants while living in apartments! Right now is a great time to start growing onions, greens, lettuces and herbs that don't grow well in the hot, direct heat of summer sun. One of my favorite springtime veggies to grow is peas, which crawl up lattice, rope and just about anything else! If you have kiddos, this is a great family activity you can do all summer and into the fall, too, and I think the best tomatoes I ever ate were one I had to water and weed myself as a child!
Check out these books on gardening.
#6 Shop your local Farmer's Market or consider a CSA (community supported agriculture) share in a farm for the summer!
Your local farmers are working hard to grow fruits and veggies and raise animals that will feed their family and yours. I always feel better shopping through them first because (a) I know/can speak directly to the farmer, (b) I know my dollars are being reinvested in a small business in my community and (c) I know what I'm buying was harvested in the last day or two, or earlier that day, sometimes! Find a local CSA
here
.
#7  Infuse your water with fresh flavor!
A common struggle during weight loss is drinking the recommended daily eight, 8-ounce glasses of water. But what if you could add the flavors of fresh fruit, veggies and herbs to your water? I love the taste of blackberries and mint, basil and lime, even cucumber and cilantro, and you can reuse the same infusers for a couple bottles a day, so it's a pretty economical solution too!
#8 Break out the GRILL!
One of my favorite parts of the warmer weather is the ability to cook outside. I think the grill just imparts such great flavors, and I swear it makes so much less mess! My current favorite grilling recipe is from
Emily Bites and it's called "Lemon Pepper Iced Tea Chicken.
" Perfect for summer barbecues! One of my favorite things is to do my Sunday meal prep on the grill, where you can have 2-3 different kinds of proteins and a mess of fresh veggies all grilling at the same time! I bought
a Weber Vegetable Grill Basket
for the grill, so I'm able to even cook the smaller veggies on the grill (or onions, which never stay in rings for me!) without losing them down the grates.
What else can we do to Spring Ahead our weight loss? I'd love to hear your suggestions in the comments below!