This post is by OYS writer Melissa. You can view all her posts here.
Congratulations! You recently had a baby, and you are probably basking in the joy of parenthood right about now. I'm right there with you ladies, as I just had my second child. Keep enjoying every moment you can with your precious, new little one, but you will want to start thinking about getting back on the exercise wagon soon.
Your body has just gone through extreme changes, and needs time to bounce back before you jump into exercising again. Make sure you consult your doctor about when it is right for you to start working out again post-baby. Most doctors will tell you six weeks, but everyone is different, so check first.
Along with the joy and excitement of having a child, you are also probably exhausted from waking up in the middle of the night for feedings, tending to baby's needs all day long, and possibly taking care of older children as well. Once your doctor gives you the green light to exercise, please know that you still may not be ready, physically and mentally. You have to decide what's right for you. But I can tell you that the sooner you start, the easier it will be for you to drop those pregnancy pounds. More importantly, it will help you start to feel better about yourself and give you some much needed mommy time. This can help prevent or eliminate post-partum depression, which we all know is a very serious condition. Even though you feel tired and may not feel like exercising, it may actually help you feel more energetic. The key here is going to be to start slow. You don't want to jump right back into the same hard-core exercise routine you were doing before you got pregnant. It's all going to depend on how you feel.
There are three things you are going to want to focus on for your post-partum workout: cardio, strength-training, and stability exercises to help get your posture back into shape.
The best form of cardio for you to start off with is walking. Walking will ease your cardiovascular system, lungs, and muscles back into exercise gradually. A treadmill works, especially if you are required to be in the house to tend to children, but if you can, take your walk outside. Get some fresh air, notice the natural world around you, and just let it all go for 20-30 minutes. You could also opt to walk with your new baby in a stroller. You can slowly build this up to power walking, jogging, and running. Go at your own pace, and enjoy the feeling of your body working for you again.
You will also want to start strength-training again. Your muscles have probably been getting a little lazy lately, and it's time to tone things back up. Again, start slow. If anything feels too uncomfortable, don't do it until you're ready.   Try out some of the moves below to ease yourself back into a toning routine.
Move #1 – Lying chest press
Lie on a mat or step with a light dumbbell in each hand out at your sides. Slowly push your arms up and together, then back down and out. Really think about squeezing your chest muscles.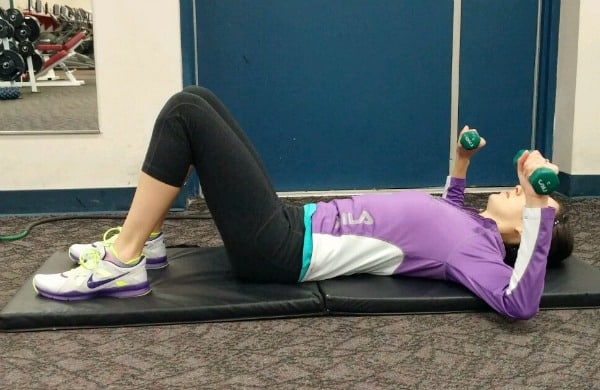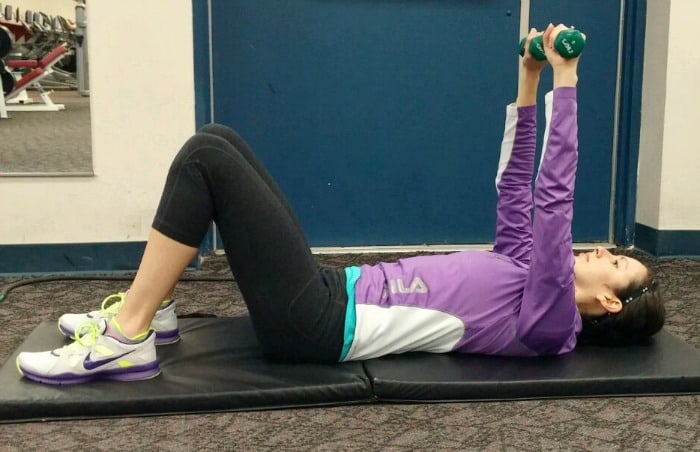 Move #2 – Lying bridge
Lie on a mat or the floor. Slowly lift your hips up and squeeze your glutes. Hold for a second, then slowly lower. This will not only tone up your butt, but it will also help those lower ab muscles start to get back into shape.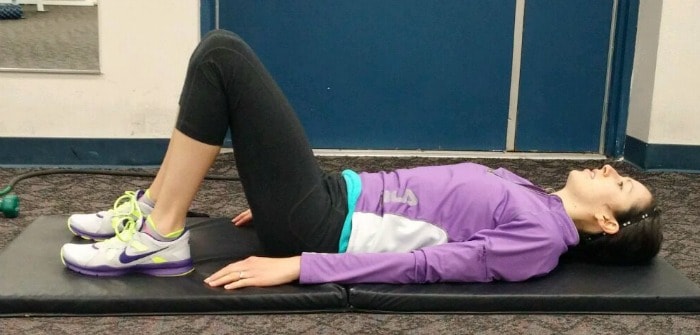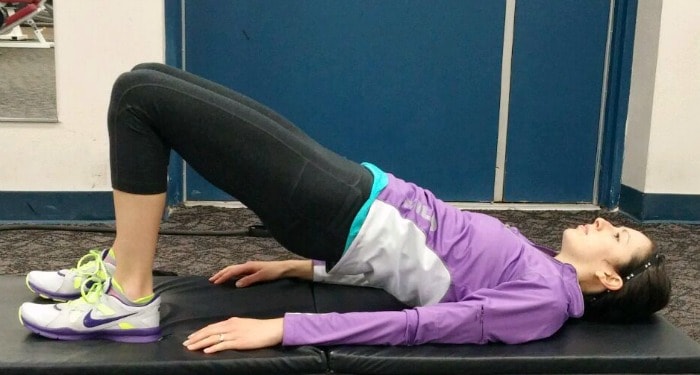 Move #3 – Crunches
Lie on your back with your knees bent and your hands lightly behind your head. Perform basic crunches, but go slow so the muscles have time to work.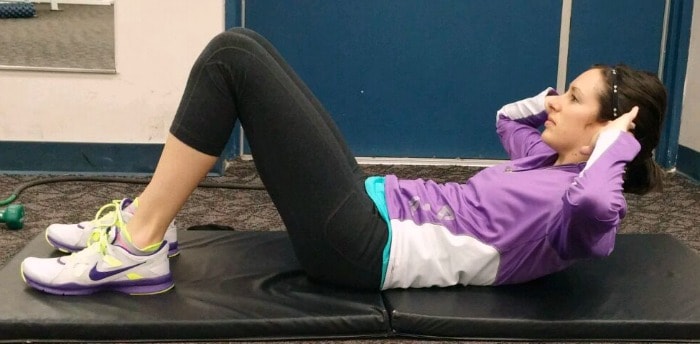 Move #4 – Sit up and down
Start in the same position as you would for crunches. Perform a full situp, then roll yourself all the way back down.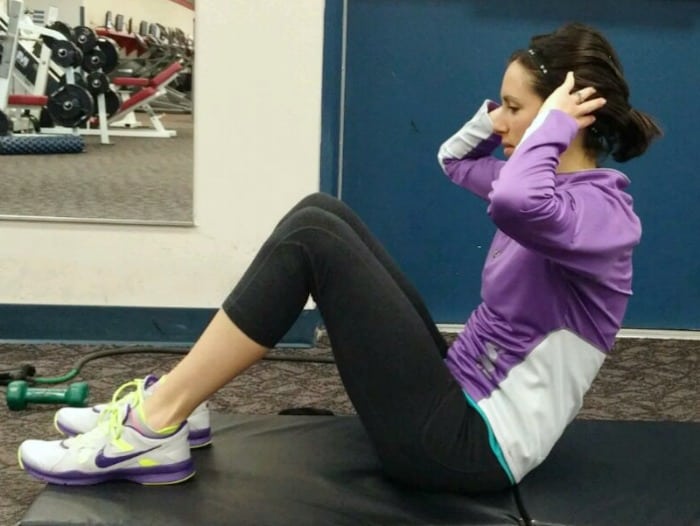 Move #5 – Seated row with band
Sit with your legs extended out in front of you. Wrap a resistance band around your feet and hold one end in each hand. Alternate pulling back with each arm. Stay in control of the bands and go slow.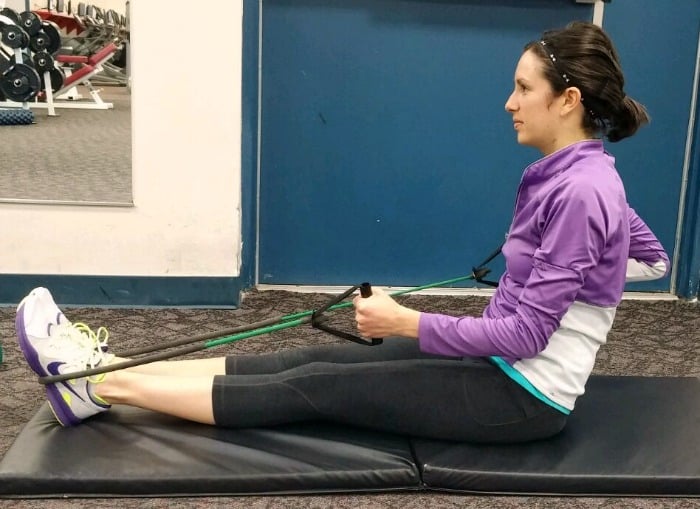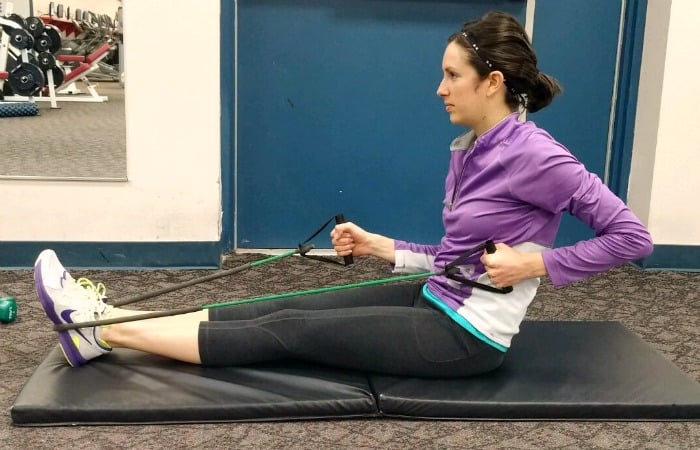 Move #6 – Wall squat
Stand with your back against a wall. Slowly lower into a squat and push back up. This will help your lower body ease back into strength-training. When you are ready, bring it away from the wall and add some dumbbells.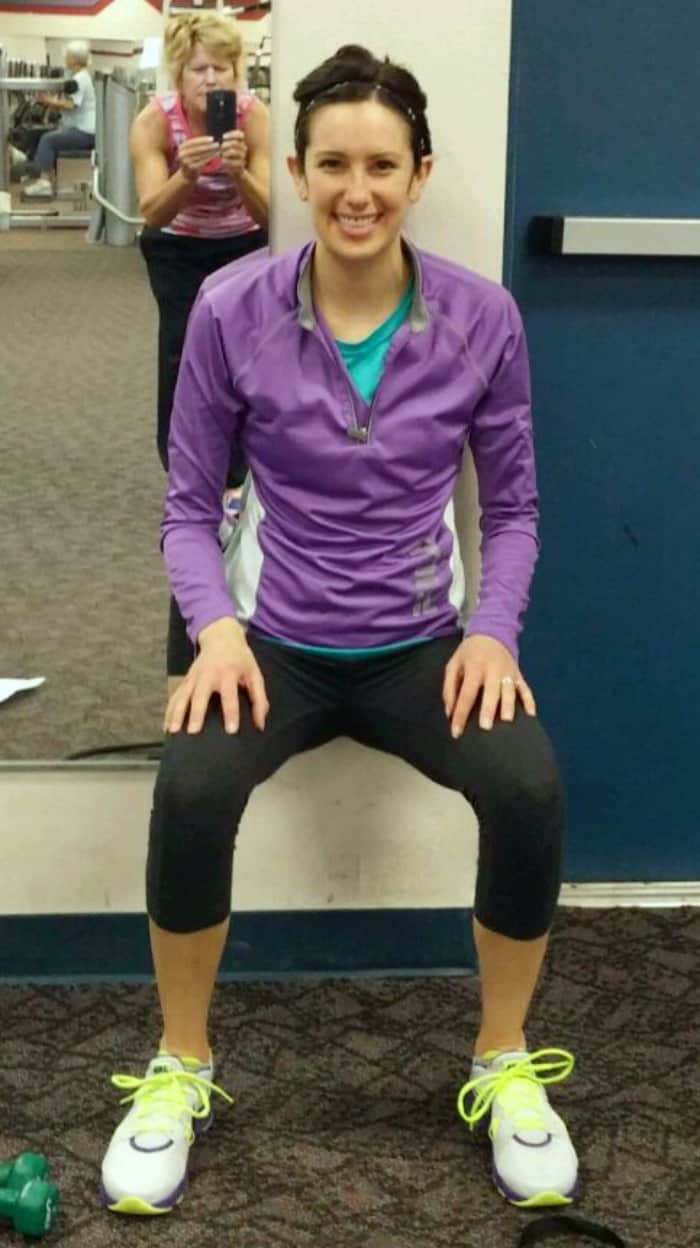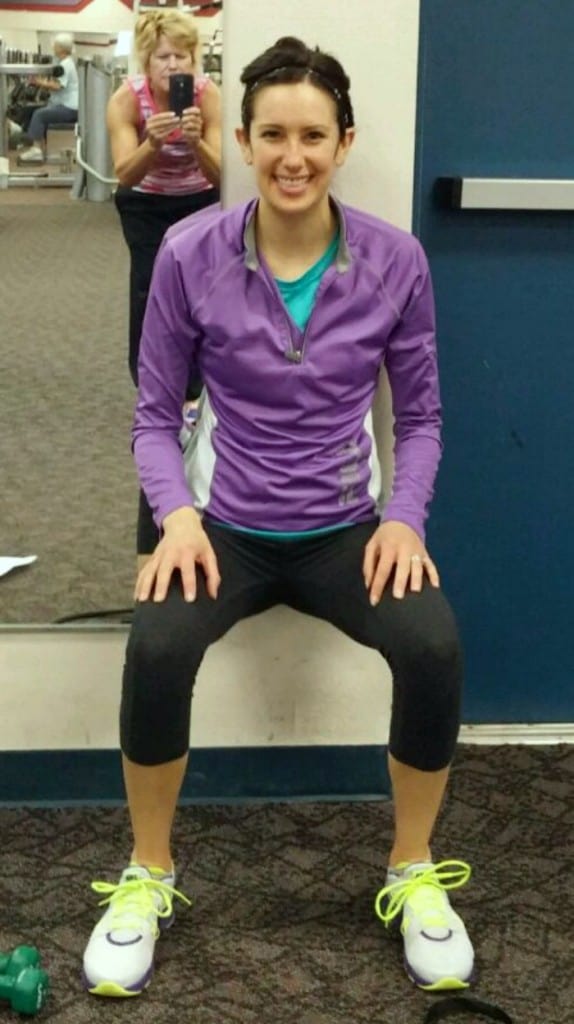 Move #7 – Planks
Get into plank position on your toes and forearms, and hold for as long as you can. Each time you do a plank, try to hold it a little bit longer.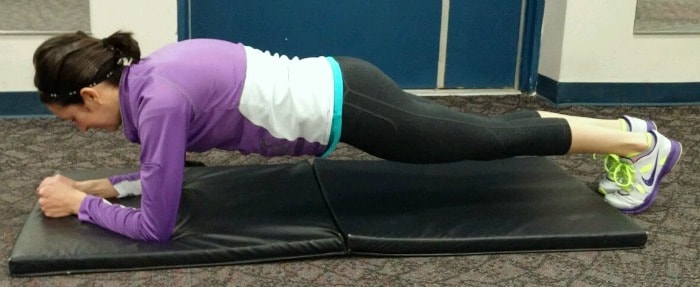 Equipment used in some of these exercises:
Get Instant Access to My Best Weight Loss Tips & Strategies!
Sign up now for a free step-by-step 7-day email course that I created exclusively for my email subscribers! That's you. I will teach the best habits, strategies, and insider tips so you can enjoy a lifestyle that encourages and supports weight loss! Stop relying on willpower and take control back over your life! You can do this. Let me help!