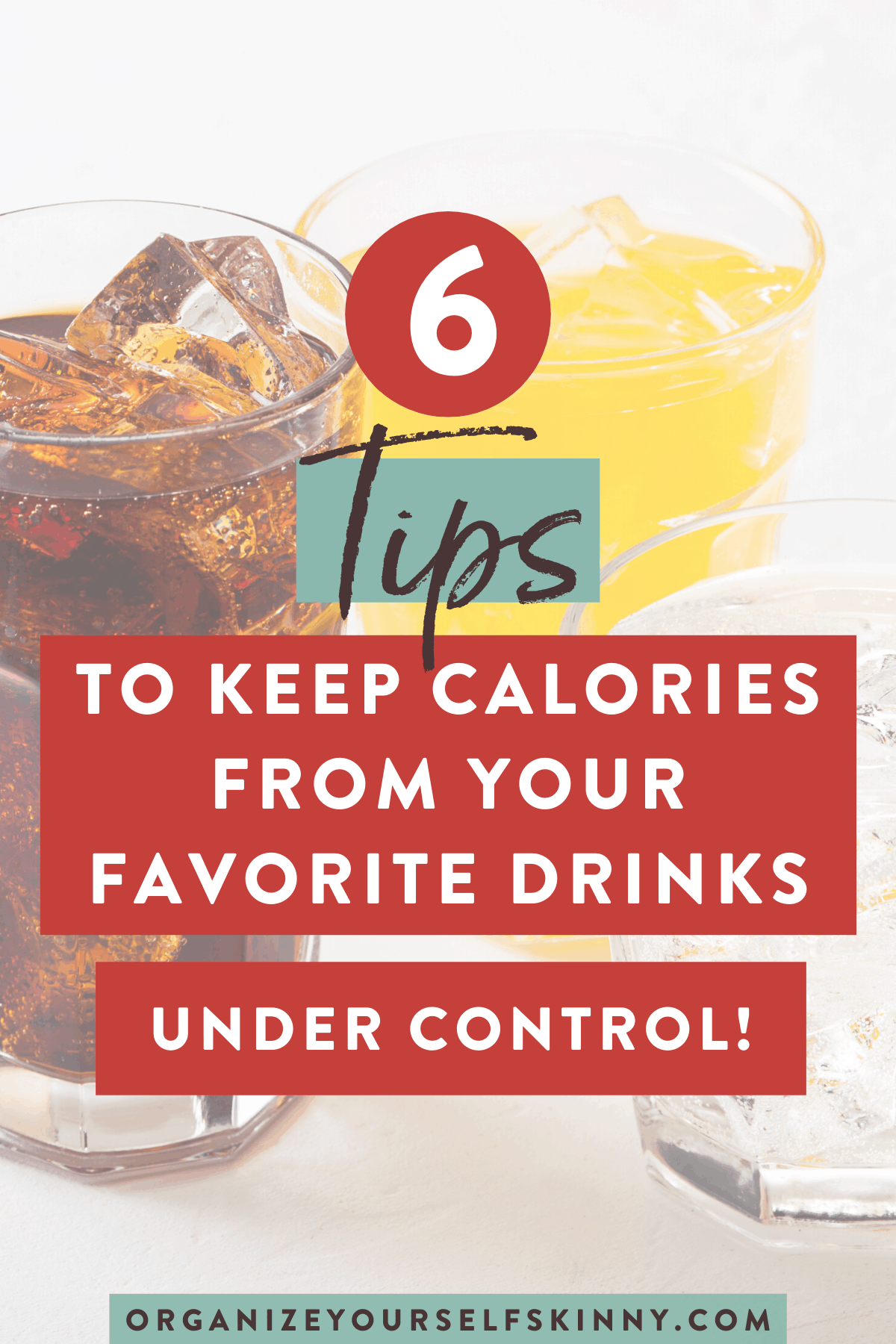 When I first started to keep a food journal one of the most shocking discoveries I made was the amount of calories I was drinking everyday in coffee drinks. 500 to be exact! This was more than what I was eating for some meals.
It was no wonder I struggled so long with my weight – I was drinking ⅓ of my calories everyday!
Calories count whether they come from drinks or food. It is very easy to overlook the amount of calories in drinks especially as you begin your weight loss journey. Most of the time when we think about losing weight we focus on the food and forget about the "hidden" calories in drinks. Unfortunately, the calories in drinks are not hidden and actually can be one of the leading factors hindering your weight loss progress. I know it was for me.
Here are some examples of the calories found in popular drinks. This information was found via My Fitness Pal and/or the CDC
16 ounce Starbucks Cafe Mocha with 2% milk and whip cream: 330 calories
Dunkin Donuts Coffee with cream and sugar (medium): 168 calories
International Delight Vanilla Iced Coffee (1 cup): 150 calories
8 ounces of orange juice: 110 calories
12 ounces of apple juice: 192 calories
20 ounce bottle of coke: 240 calories
8 ounce of Gatorade: 50 calories
6 ounce glass of red wine: 150 calories
12 ounce beer: 150 calories
Obviously, looking at this short list, there is no denying that calories in beverages do indeed count. The calories listed above are just for one serving. Many times people, without even realizing it, drink much more than 1 serving. This can increase the amount of calories consumed in a day very quickly!
If your favorite drink is listed I encourage you to head over to My Fitness Pal and look it up. Remember, my friends, denial is fierce and will only prevent us from succeeding in our weight loss goals.
Tips to reducing calories in drinks
Now you all know that I am not one to forbid foods so I am not going to say you must give up your favorite drink. I certainly could never give up cafe mocha's. Heck no! However, if we want to lose weight getting our calories under control is a must.
Here are 6 simple tips to help you reduce the calories in your drinks.
1. Portion control and serving sizes.
If you pour yourself a glass of OJ every morning and can not tell me how much you are actually drinking then more than likely you are drinking too much. Get the measuring cup out so you know exactly the number of servings you are consuming. Same with cream and sugar. Do you just dump the cream and sugar into your coffee every morning (like I used to) or do you use measuring spoons? I was amazed by the amount of calories I save just by measuring out my creamer.
To keep portions and serving size in check it is also important to read nutrition labels very carefully. Many sports drinks and individual drink bottles actually have more than one serving. For example, if a individual bottle of juice has 100 calories per serving but 2.5 servings and you drink the entire bottle you will have consumed 250 calories. See how sneaky those little bottles can be?
Same goes for the vino, beer, and other alcohol drinks. Most of the time you are getting more than 2-3 servings in one glass or mug. So it is quite possible you are  consuming 300+ calories every time you order a drink. Pay attention to serving sizes.
2. Order a smaller size.
Instead of a venti mocha get a tall or grande. You will still satisfy the craving but minus the extra calories.
3. Order coffee drinks with skim milk and no whip.
Trust me they still taste as good and you will save 70 -100 calories.
4. Reduce or eliminate soda (we call it pop in my neck of the woods).
When it comes to empty calories, in my opinion, soda takes the cake. I know many people think that switching to diet is fine but in my opinion both are equally bad because of the artificial colors, flavors, and sweeteners they are filled with. I think it is fine to have soda as a sometimes or special occasion drink but I would encourage you to try to substitute it with healthy natural drinks – like natural sparkling flavored water if you need to drink it on a more regular basis.
5. Reduce alcohol.
Alcohol, like soda, is a lot of empty unnecessary calories. A reader a month or so ago asked me why I did not have alcohol in my menu plan. Don't get me wrong I love having a glass of dry red wine with dinner once in a while but when it comes to extra calories I like to save them for my coffee. Yes I choose coffee over wine. Sorry if I drank both in a day I would probably have to eliminate lunch. Although some days I think I could choose wine over food 🙂
6. Drink more water.
Drinking water helps to keep you hydrated, curbs hunger, keeps you from overeating, among a million other health benefits. Also, it is completely calorie free! If you need more help keeping track of your water intake then try this water bottle
.
Here are some easy action steps to help keep your beverage calories under control
Research and list out the calories of all your favorite drinks. Remember just knowing is half the battle.
Reduce your drink calories to no more than 200 a day.
Next time you get thirsty grab water instead of ____.
Get Instant Access to My Best Weight Loss Tips & Strategies!
Sign up now for a free step-by-step 7-day email course that I created exclusively for my email subscribers! That's you. I will teach the best habits, strategies, and insider tips so you can enjoy a lifestyle that encourages and supports weight loss! Stop relying on willpower and take control back over your life! You can do this. Let me help!