Are you trying to juggle life, family, exercise, meal prep, AND starting your weight loss journey all at the same time? I get it. It can be stressful trying to juggle all of these things all at once. I've been in your shoes, which is why I wanted to come on here and share my top 7 meal prep hacks to help you be as successful as possible!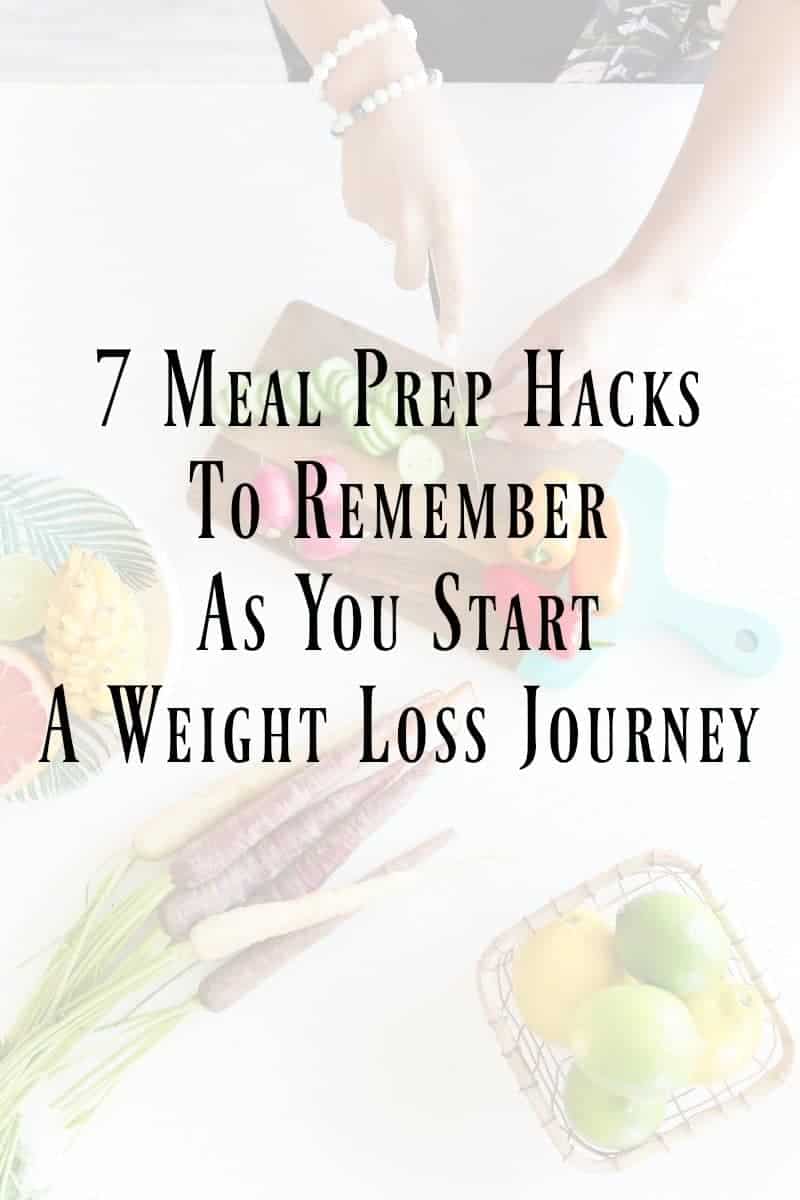 Meal prep is the #1 healthy habit I advise people to focus on when starting a weight loss journey. It was truly a game-changer for me when I started mine over 10 years ago.
Isn't it crazy it's been that long? Doesn't feel like it!
Prior to starting meal prep, it was nearly impossible to get a healthy meal on the table and any attempt at eating healthy was usually intercepted by missing ingredients, no time, or screaming kids.
All of you moms out there know exactly what I'm talking about.
Helpful Tips And Guides For Starting Meal Prep
Meal prep allows us to prepare meals when we have time so we can eat healthy when we don't. It was the one actionable goal I included in my day to day planning that really set me off on my weight loss journey.
I knew I've talked about meal prep many times over the years; but, if this is the one step you feel like you are missing, you should take a look at some of these other tutorials and guides I've put together to help you get started!
I've even had a couple of blogger friends hop on here and share a few of their secrets. Take a peek at this instant pot meal prep post written by Steph from Meal Plan Addict! She shares her 5 favorites foods to cook in the instant for quick and healthy snacks and meals.
7 Meal Prep Hacks To Remember When Starting Your Weight Loss Journey
Okay, so at this point, I've given you my tutorials, tips, and guides I've created over the years about meal prep. But now, I want to share 7 basic meal prep hacks I've learned along my weight loss journey.
Some you might already know, but maybe you don't. I know when I started I had no clue about some of these hacks, and a couple I just learned this year.
Anyway, I wanted to share these meal prep hacks with you so you can start your weight loss journey the best way possible!
1. You Can (And Should) Freeze Kale And Other Greens
Whoa, what?
Yep, it's true! I learned this little trick a few years ago when I discovered my beloved green smoothie. It's really helped me come up with some amazing and delicious green smoothie combinations like this detox one…yum!
There are actually 3 ways you can freeze kale, spinach, and any green – no more throwing leftover greens out! My favorite way is to freeze kale or other greens in frozen smoothie packs or I just shove the leftovers in a bag and stick in the freezer.
Mostly, I just use the greens for smoothies so I will use it straight from the freezer and blend. However, I've also successfully used frozen kale or spinach in soups and other recipes.
So, go ahead and purchase a huge bulk bag of kale or spinach and then freeze away!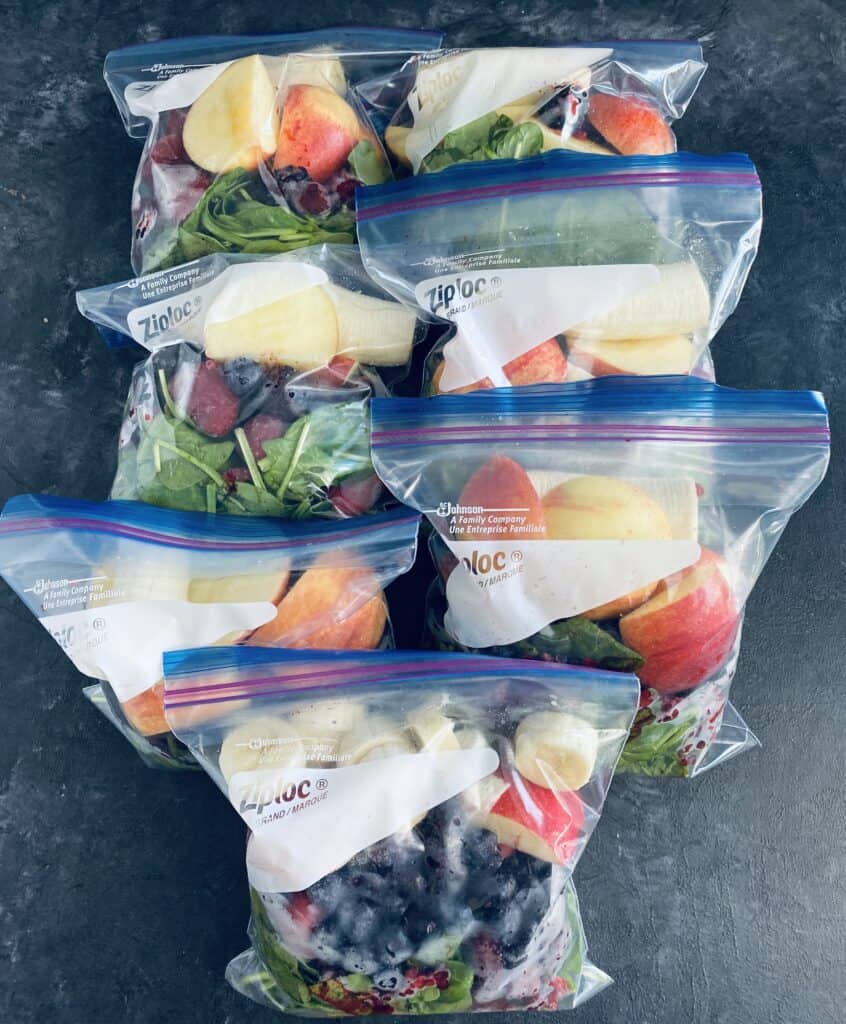 2. You Can Actually Freeze Rice And Quinoa If You Have Leftovers
You might already know this but just in case you don't, let me be the one to enlighten you. Yes, you can prepare rice, quinoa, and most grains ahead of time and freeze for future meals and recipes.
This meal prep hack has been a HUGE time saver because regular rice takes at least 30 minutes to prepare and quinoa takes about 20 minutes. This might not seem like a lot of time but when kids are screaming for dinner, it can turn 30 minutes into 5 hours in a torture chamber!
I freeze rice, quinoa, and other grains into recipe-ready pouches, about 1-2 cups each. You can see my instructions for freezing rice, and other grains in this tutorial post.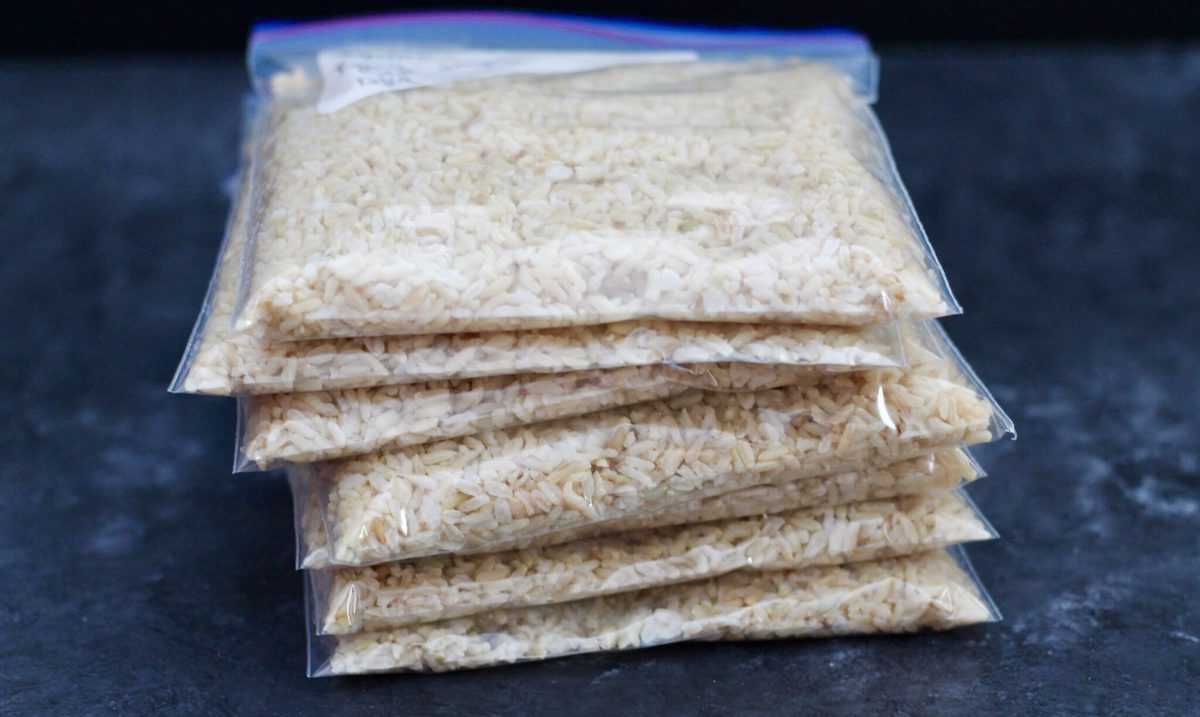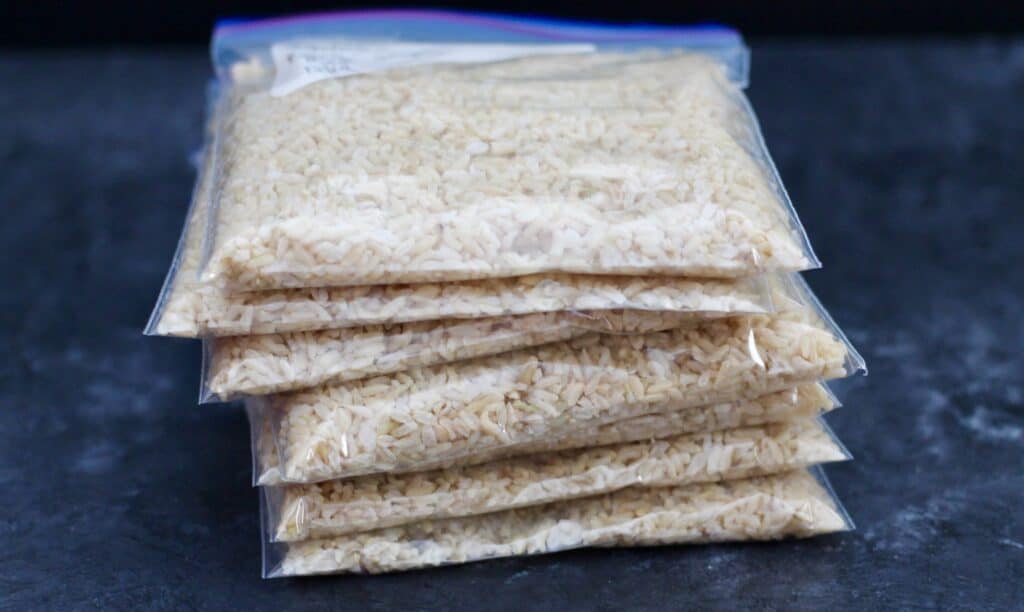 3. Portion Out Cooked Shredded Chicken Or Beef For Meals
I've talked about this meal prep hack before and actually put together an entire post on how to prepare and freeze shredded chicken ahead of time, but just in case you have some chicken and not sure what to do with it, now you do!
Cook it, shred it, and then portion it out to use in recipes later on. You can do the same with beef and pork. Then, use it in any recipe that calls for shredded chicken, beef, or pork like this chicken burrito bowl I frequently meal prep.
Imagine having prepared rice and shredded chicken in the freezer? The recipe ideas are endless!
Trust me- This makes dinner time so much easier during the week. Seriously, who wants to deal with raw chicken and cooking rice during the week? Nobody and that's why we order pizzas. Having those foods ready will help you get a healthy meal on the table fast.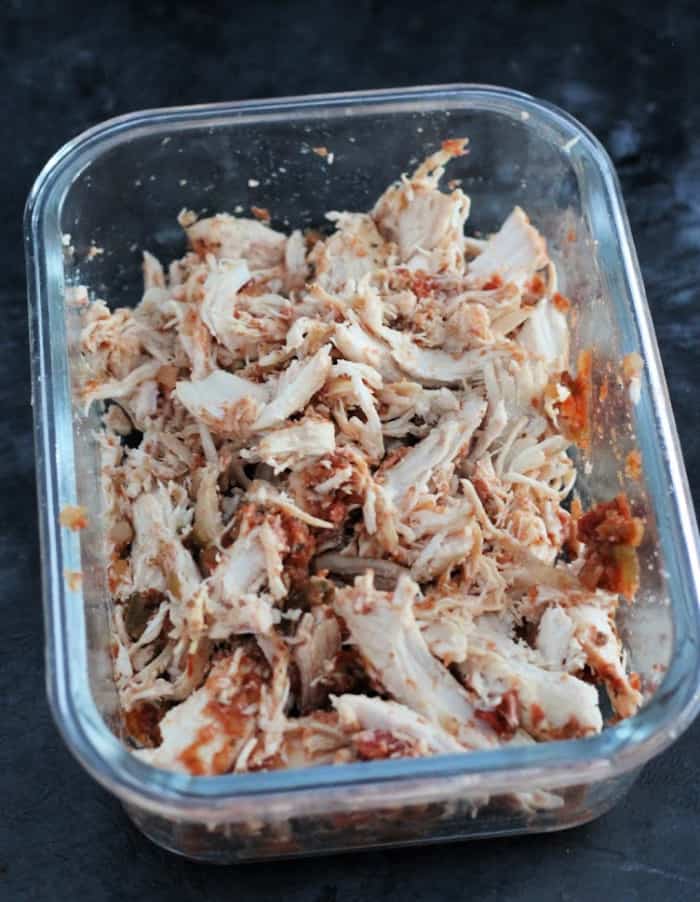 4. Use Meal Prep Containers For Portion-Control Meals
If you need better accountability with your meals, then I highly recommend investing in some awesome meal prep containers. Back in the day, I used to keep all my meal prep in large containers. Well, sometimes I still do that.
However, when I need more structure, I will portion out my meals on Sunday using these meal prep containers. This takes the thinking out of tracking. It's also helpful for on-the-go lunches and dinners. You can even make homemade freezer diet meals using meal prep containers!
I really like glass pyrex dishes to store my weekly meals in.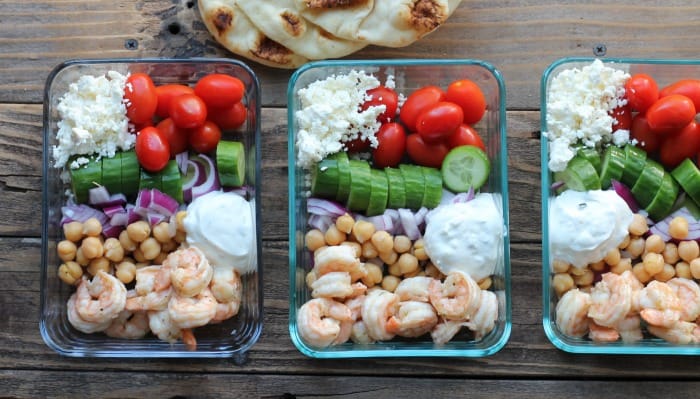 Also, these plastic meal prep containers come in handy for on the go snacks and meals.

5. Use 32-ounce Mason Jars To Stay Accountable With Water
I use mason jars for many things around here. Obviously, I love mason jar salads, seeing as I have a bunch of recipes on the blog  (this Greek salad is my favorite 😉).
However, I never thought to use mason jars to stay accountable with drinking a good amount of water. One OYS reader shared this tip with me earlier in the year. It's so simple but extremely helpful so I wanted to share it.
All you need to do is fill up two (32-ounce) mason jars every morning with filtered water. Then, just drink from the jars all day. You'll be able to keep track of the amount of water you drink by what's left. It's genius, right?
Try it! I'm telling you this is a very useful hack.
You can find 32-ounce mason jars at any grocery store or just order them off Amazon.
6. You Can Prep Slow Cooker Ingredients The Night Before
I'm sure this is common knowledge but it's been so helpful for me in the last couple of months that I wanted to share it again.
Slow cookers always come in very handy on meal prep day. You can cook shredded chicken, taco meat, oatmeal, and other large batches of food to eat throughout the week.
But, if you want to make a slow cooker meal during the week instead, you can:
Prep all the ingredients the night before
Refrigerate the insert overnight
Then, place it into the crockpot the next morning.
Turn it on and go about your day!
It can really be that simple. Depending on the recipe, I've even prepped slow cooker ingredients on the weekend and just had them ready to go.
My point is if you don't have time to prep meals on the weekend, then take time the night before and then let your slow cooker do the work for you the next day. Just a little meal prep hack I thought you might find helpful!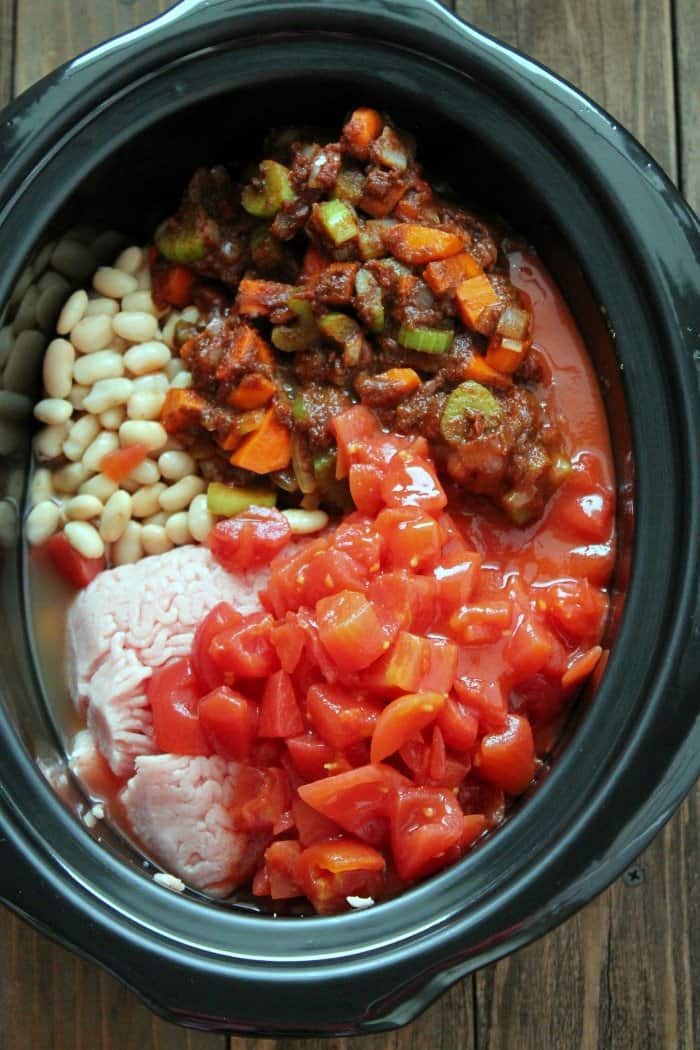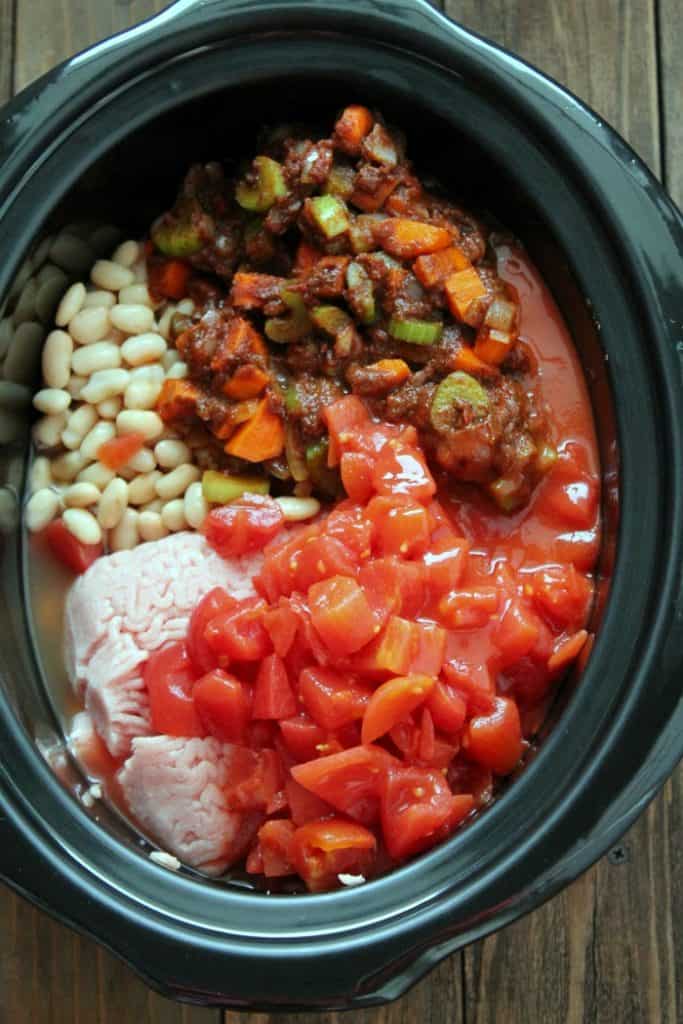 7. You Can Prep Ingredients Without Cooking Anything
Did you know that you don't need to cook anything on meal prep day if you don't want to? Seriously! You can simply just get ingredients ready for the week and just have them in the fridge in standby.
For example, you can:
Trim and slice chicken
Wash fruits and vegetables
Cut vegetables for recipes
Portion-out snacks
Basically, prepare ahead of time the food that would make YOUR life easier during the week. Start with the meals that would make the biggest impact if prepped ahead of time and then go from there. Don't feel like you need to prepare an entire meal plan. Do what you can and what would be the most helpful!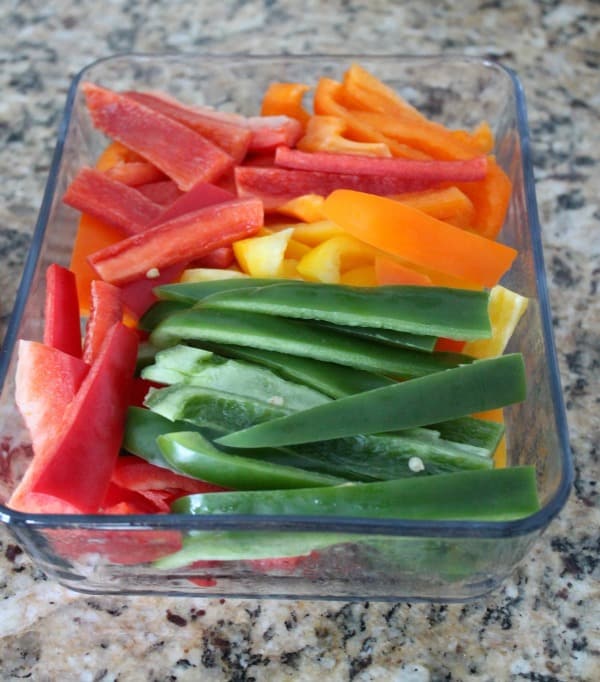 These are just a few of the simple meal prep hacks I've learned over the years and I hope you find them useful on your weight loss journey. Remember, meal prep is meant to make your life easier so if a tip doesn't work for your lifestyle then give another one a try.
I would love to learn more about any meal prep tips you've discovered on your weight loss journey. Share them below!