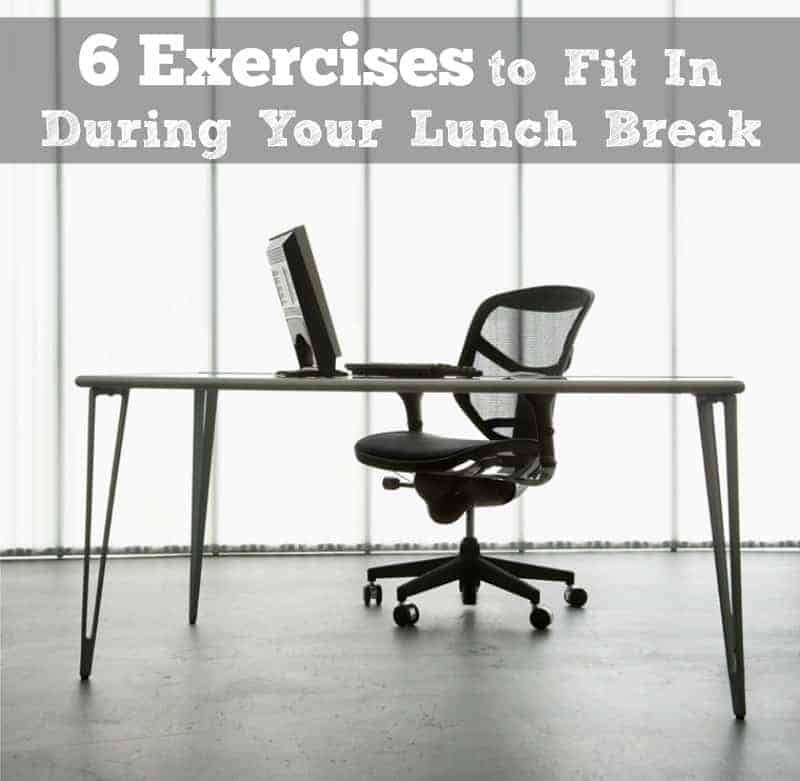 One of the biggest reasons people say they cannot work out is that they just don't have the time. If you have a full-time job, a family, and a house to take care of, then I get it, it's hard. In the morning you may be rushing to get the kids and yourself ready and out the door. After work, you may be driving the kids around to various activities and helping them with homework. By the time you make dinner and get the kids to bed, you are ready to collapse on the couch. Time is precious, and when you do finally have a few moments to yourself, you might just want to relax and enjoy it. So, if this scenario describes your daily life, when the heck are you supposed to work out? Turn to your time at your job. Everyone has lunch time at work. You might just need to start using your lunch time a little more wisely. All you need is a little bit of space and some motivation.
If you have an hour for lunch and you usually spend it going out to buy your food, eating, then heading back to work, you are wasting precious time (not to mention money, and probably taking in extra unneeded calories). Start packing your own lunch to take to work, and divide your lunch hour into 25 minutes of working out, 5 minutes to freshen up, and 30 minutes to eat your packed lunch. This way you still get some down time. With the packed lunch, you are going to save yourself money and probably be eating way healthier than anything you get at a restaurant.
Make sure you pack a workout bag the night before. Include a quick outfit change, a hair tie, and some toiletries to freshen up your hair and face afterwards. You are going to sweat a little, but not so much that you need to immediately take a shower. You also want to stash a set of dumbbells at your workplace to use with the toning moves. You can repeat this sequence as many times as you would like, but aim for 25 minutes worth of working out. Start with a light warm up, and always cool down and stretch after.
Move #1 – Lunge and curl
Hold a dumbbell in each hand. Step forward and lunge with your right foot, curling your left arm up. Step back and bring your arm down. Next step forward and lunge with your left food, curling your right arm up. Step back and bring your arm down. That is one rep. Do 15 reps.
Move #2 – Jump rope
Pretend you are holding a jump rope and simulate jumping for one minute. Stay on your toes. Or keep a jump rope in your office.
Move #3 – Squat and shoulder press
Hold a dumbbell in each hand up near your shoulders. Squat down, pushing your butt back. Come up and press your right arm straight up. Squat again, come up, pressing your left arm up. That is one rep. Do 15 reps.
Move #4 – Burpees
Bend down to touch the floor, jump your legs straight back, jump them back in, then jump up and reach your arms up. Do this for one minute.
Move #5 – Side lunge and upright row
Hold a dumbbell in each hand. Lunge to the right, pulling your right arm up. Step back to center and lower your arm. Lunge to the left, pulling your left arm up. Step back to center and lower your arm. That is one rep. Do 15 reps.
Move #6 – Jumping jacks
Do jumping jacks for one minute.
Do you exercise at work? What are your best tips for fitting exercise in during your lunch hour?
Get Instant Access to My Best Weight Loss Tips & Strategies!
Sign up now for a free step-by-step 7-day email course that I created exclusively for my email subscribers! That's you. I will teach the best habits, strategies, and insider tips so you can enjoy a lifestyle that encourages and supports weight loss! Stop relying on willpower and take control back over your life! You can do this. Let me help!