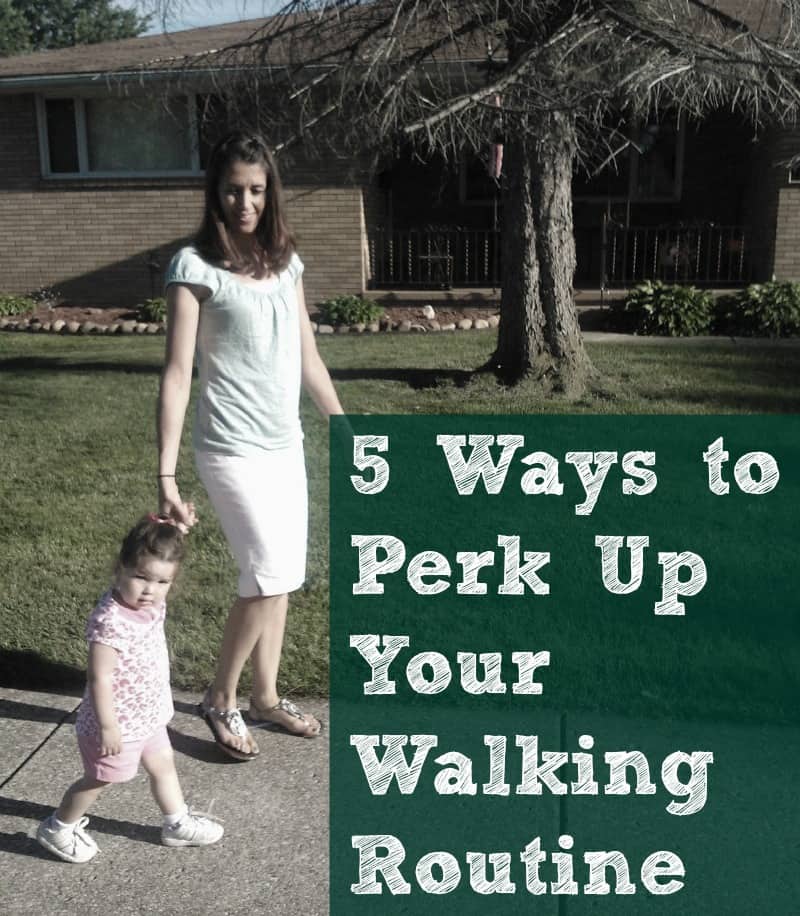 Walking is such a great form of exercise for so many reasons, especially for beginners. For starters, it's easy and almost anybody can do it. We've all been walking since we were little. Walking for exercise just gives it a difference purpose, to slim down and maintain good health. You don't need any equipment or a gym membership to walk. You can certainly do it on a treadmill if you like, but it's not necessary. Another great thing about walking is that it's low-impact and easy on your joints. If you are just starting out with exercise or have an injury, or you just don't like to jump around, then walking can be a good choice for you. Lastly, I think going for a walk is one of the best stress-busters. It allows you to clear your head, get some fresh air, and leave everything behind for a short while.
One of the things I hear people say a lot is that walking is boring. I agree, it can become tedious and repetitive if you constantly use the same walking routine. In order to keep it interesting, challenging and fun, you need to change it up from time to time. Read on for five ways to perk up your walking routine.
1. Walk With a Friend
We are all such busy individuals these days that sometimes we need to multitask. I know how hard it is to find time to catch up with friends, so why not combine it with exercise? Walking is a mild enough activity where you can still have a conversation as you walk. Ask a health-minded friend to join you. You could even make walking dates with a different person each day of the week that you walk. You can catch up on each other's lives while doing something good for your bodies. Plus it will make the time fly by even faster. You might even decide to walk a little further so you have more time to chat!
2. Change Up Your Playlist
In my opinion, music is one of the most important components of staying motivated to exercise. You have to have music that matches the type of exercise you are doing, your goals and your mood. If you are in the mood for a nice leisurely stroll one day, put on an easy but peppy playlist. If another day you are stressed and need a little bit of a power walk, add some faster songs so you feel compelled to increase your speed as you walk. There are tons of web sites that offer you ready-made playlists. I love the ones from Shape Magazine and Fitness Magazine.
3. Hit the Trail.
If you are walking the same 3-mile loop around your neighborhood, it's time to get some different scenery in the picture. Head to the nearest park or hiking site. It is said that walking among lots of greenery can boost your mental health and push you to work out longer. Plus looking at trees and streams is a whole lot prettier than the cars and houses on your street. One of the biggest benefits of walking on a trail is that it makes your work harder. The surface is more uneven and there tend to be more changes in elevation. Be sure to wear sturdy shoes or hiking boots so you don't injure yourself.
4. Add Strength-Training Moves
This option is good for you if you get bored just walking for a half hour or an hour. By adding in strength training moves every five minutes, you are keeping it interesting and also doing something great for your muscles. Now I'm not saying you have to carry dumbbells with you as you walk, just use your body weight to throw in some bonus moves. Here is a sample of how to do this:
Minutes 1-5                          Walk
Minutes 5-7                          Walking Lunges
Minutes 7-12                       Walk
Minutes 12-14                    Squat Jumps
Minutes 14-19                    Walk
Minutes 19-21                    Burpees
Minutes 21-26                    Walk
Minutes 26-28                    Pushups against a wall
Minutes 28-30                    Cool down walk
5. Add Intervals
This is a great choice if you think you might be ready to try a little jogging or running, but it doesn't have to be that. Your intervals could also just be variations in your walking speed. Using intervals is one of the greatest strategies when you exercise. By constantly changing your speed, you are revving your metabolism and burning extra calories, even long after you finish your workout. It's another extra challenge for you once just walking becomes too easy for you. Here is an example of how this might look:
Minutes 1-5                          Walk at an easy pace
Minutes 5-7                          Walk at a fast pace or jog
Minutes 7-9                          Walk at an easy pace
Minutes 9-11                       Walk at a fast pace or jog
Minutes 11-13                    Walk at an easy pace
Minutes 13-15                    Walk at a fast pace or jog
Minutes 15-17                    Walk at an easy pace
Minutes 17-19                    Walk at a fast pace or jog
Minutes 19-21                    Walk at an easy pace
Minutes 21-23                    Walk at a fast pace or jog
Minutes 23-25                    Walk at an easy pace
Minutes 25-30                    Cool down walk
What are your tips for perking up your walking routine? 
Get Instant Access to My Best Weight Loss Tips & Strategies!
Sign up now for a free step-by-step 7-day email course that I created exclusively for my email subscribers! That's you. I will teach the best habits, strategies, and insider tips so you can enjoy a lifestyle that encourages and supports weight loss! Stop relying on willpower and take control back over your life! You can do this. Let me help!