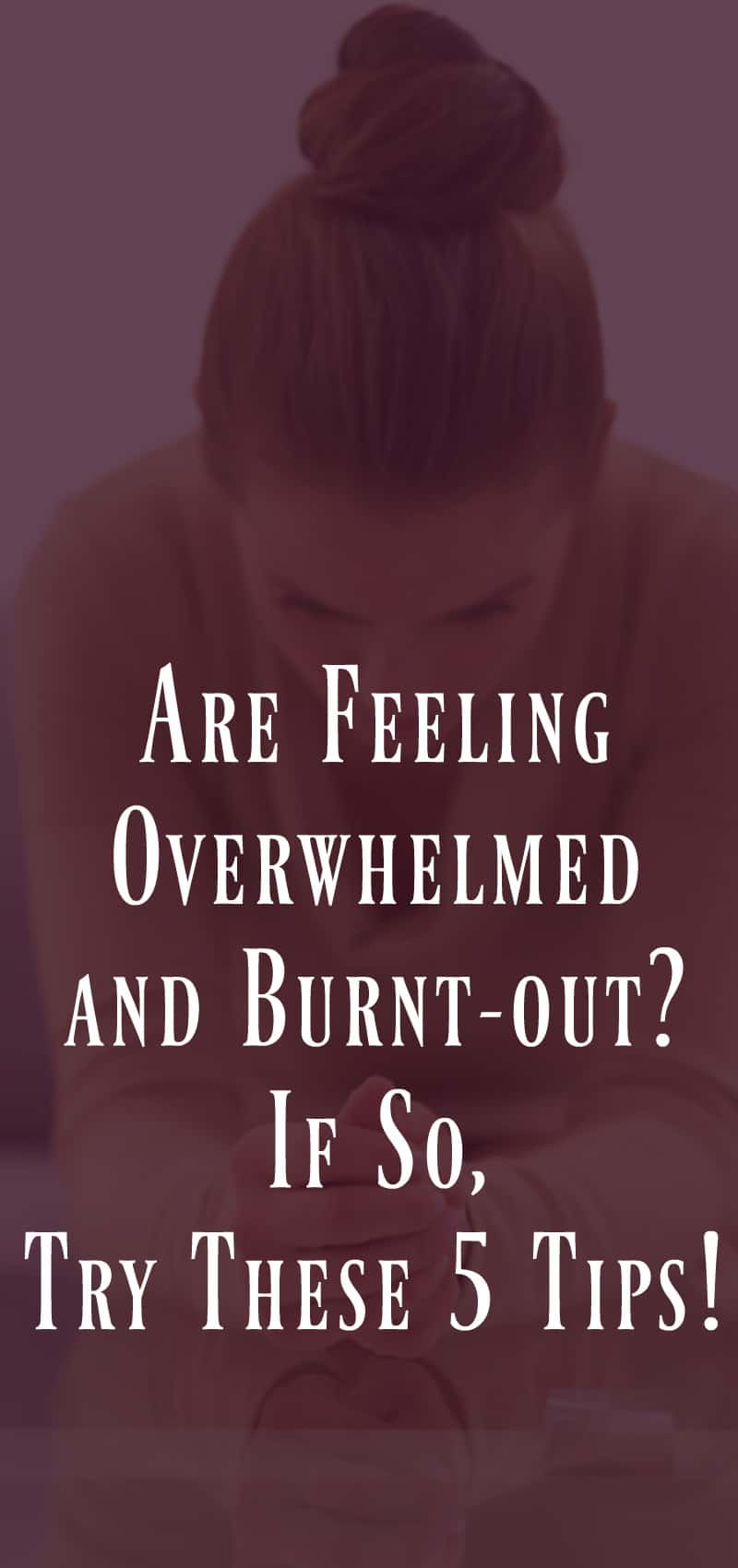 Burnout is when stress, mental and physical exhaustion, along with the everyday demands of life become off balance – and not in your favor. Unfortunately, at some point most of us have struggled with some level of burnout.
This past week I found myself staring burnout straight in the face and she was not pretty. Like many of you, I have a family, house, bills, boss, and a million other responsibilities demanding my attention every waking minute. My day is packed with things that need to get done – people depend on me. Sound familiar?
Life is not easy and the reality is no one can ever really prepare you for the stress of being knee deep in deadlines and diapers. Well my kids are no longer in diapers but you get my point.
However, burnt-out or not, life moves forward. This is why it is important to take care of you. It is difficult to be the best version of yourself when you are feeling stressed, overwhelmed, and ultimately burnt-out.
Taking care of you first means giving yourself permission to take a break. I say permission because I know how hard it is to actually take a break. It was really hard for me to sit down and watch a movie when I know laundry needed to get folded; the house needed to get cleaned, food needed to be cooked, blog posts needed to be written, and everything else in between. But I knew that if I did not slow down now I would not be able to get the spark back that I need to function at the level I want to. I needed to refuel.
Even the strongest of supermoms need to hang up their cape and take a timeout once in awhile.
And guess what?
The world is not going to come to an end by taking time for you. If anything the world will be a better place and you will feel healthier and happier.  We all know that when mommy is happy everyone is happy.
While I think taking a break is good the long term goal needs to be learning to manage stress consistently in order to prevent or minimize burnout.
5 Tips to Prevent or Minimize Burnout
Prioritize and organize. Whether we like it or not there are going to be many demands on our time that come from all the different areas of our life. Not to mention the fun things you want to fit in as well. Prioritize in order of importance then organize by using to-do lists and calendars. Make sure to stick to it because a calendar, to-do list, and plans will only work if you actually use them. If you need help organizing then I recommend checking out Laura at the Organizing Junkie blog. She has fantastic organizing information on everything from menu planning to storage solutions. I have been following her blog for a couple years and have found all the information she offers very useful.
Start the day doing something that relaxes you. Take time in the morning, if only for a ½ hour, to relax before the day begins.  This can be reading a magazine, watching TV, or working out. Whatever you want to do.
Stop overextending yourself. This is a big one because most of us supermoms want to do it all. We hate saying no. However, there comes a time were you have to say no because it becomes physically impossible to do it all. At least to do it all to the best of our abilities. It actually stresses me out more to do a mediocre job than to just not do it at all. So, it is better for me to say no if I know I can't give it my best shot.
Unplug. Again this is a hard one – at least it is for me. However, I don't even want to think about the number of hours I have wasted away on Facebook, Pinterest, and just plain ole internet surfing. Sometimes unplugging is the best way to recharge.
Eat healthy, workout, and get sleep. These three things are what help me the most to overcome stress but ironically are the first to suffer when I get really stressed out. Interesting, huh? Prioritizing your health is really the key to managing stress and minimizing or preventing burnout.
Get Instant Access to My Best Weight Loss Tips & Strategies!
Sign up now for a free step-by-step 7-day email course that I created exclusively for my email subscribers! That's you. I will teach the best habits, strategies, and insider tips so you can enjoy a lifestyle that encourages and supports weight loss! Stop relying on willpower and take control back over your life! You can do this. Let me help!