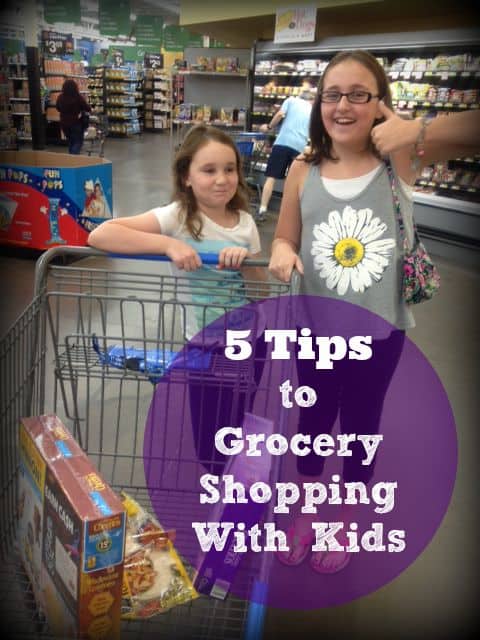 Thank you General Mills® for sponsoring this post today! Learn more about Box Tops at Walmart.
It is that time of year again! Back to school! I can't believe how fast the summer went. Incredible. As much as I love summer time I would be lying if I said I wasn't looking forward to my girls starting back to school. But they are excited too so I don't feel terribly guilty. Honestly, I think we are all looking forward to the structure the school year brings.
Before we drop off school supplies, pack book bags, make lunches, and pick out the first day of school outfits we need to first shop. Oh the beloved and dreaded back to school shopping. I love it because it's fun to shop for new things. However, I equally dread it because shopping with the kiddos is not exactly a day at the spa if ya know what I mean. Unless I have to I don't ever grocery shop or do any type of "serious" shopping with my girls. Not that I don't want them with me but when it comes to grocery shopping it's best I am alone. Trust me, it is not a pretty sight when we combine family time and grocery time. In fact, if a camera crew followed us around I am certain I would make millions on a reality show. My kids are either fighting over who pushes the cart, grabbing every package of junk food from the shelves, taking off to look at something without telling me, or just surprising me with new ways to torture me in a public place. They are so lucky they're cute!
Anyway, our past shopping experiences, I was determined to take my girls school shopping and enjoy it. Some of my best memories with my mom are back to school shopping and I want my kids to have those same memories. I should state for the record that my mom is a saint and has super human patience. I do not… but I want to so I try my best. Therefore, my shopping days require a plan.
Also, I know a lot of parents don't have a choice but to bring their kids shopping with them. Whether they are divorced, single, or their partner's travel for work many are trying to do all of the shopping on their own with kids in tow. I have so much respect for the parents that bring their kids grocery shopping week after week. I know it's tough. I know. Nonetheless you do it because that's what parents do.  This got me thinking. As I was planning for our big back school shopping day at Walmart I thought, "How can I make this a pleasant experience that results in happy kids and a sane mom or dad?"
Here are the tips I came up with, used, and now believe it.
#1 Put them to bed early the night before a big shopping day
This goes for the parents too. Nobody will have fun if everyone is cranky because they didn't get enough sleep. Like I said earlier, I don't have a lot of patience on normal days so if I don't get enough sleep forget about it. The same goes for my youngest. She is my mini me so I know that girl needs her beauty sleep. A rested family is a happy family.
#2 Feed the kids beforehand
My kids are notorious for discovering they are STARVING 5 minutes after we drive away from the house. EVERY. SINGLE. TIME. This time around I was one step ahead of the game. Before we left for our Walmart shopping excursion I made sure their bellies were full. Each had a breakfast filled with protein and fiber so they stayed satisfied till lunch. #momwin
#3 Pack some snacks and water
I know you are going grocery shopping and will be around a lot of food but it's not like the kids can just grab cheese sticks off the shelf and eat it – although, mine try every time. Seriously, if you every see me in a grocery store just sit back and enjoy the show. Anyway, for our big shopping day I threw a couple granola bars, cheese sticks, and water bottle into my purse. Each one of these snacks proved to be a saving grace around 2:00pm.
#4 Involve the kids in shopping
This year I am going to collect Box Tops for my kids' school. Embarrassingly, I never did this before so this will be my first time. I guess you can say I am a Box Tops newbie. Every year it is a goal of mine to get more involved in my kids school. However, with working fulltime outside the home the last 10 years and now running a home business I just don't have the time to dedicate. I don't want to use the "no time" excuse because honestly everyone is busy. The parents at my girls' school are wonderful and completely dedicated to creating an amazing fun learning environment. I am always blown away by the effort each one of them put into our kids school. Seeing this inspires me to do more. I help out when I can but I know I can do better. It's also important for my kids to share in that responsibility. I learned early on that when people (young or old) take ownership in their community they have a stronger sense of pride. For children this results in enjoying school more and being an active participant in making it a better place for them and their little friends.
Therefore, I thought my girls and I could work together collecting, saving, and turning in Box Tops. Anytime I can put my kids to work and teach them responsibility is a bonus in my books.
At Walmart I decided to make a simple Bonus Box Tops game to keep my kids involved and entertained. All they needed to do was find the products that had a Bonus Box Tops label on them. I like to keep things simple. Of course, I didn't just let them run wild and grab anything. They had to choose food or ingredients that we could make dinner with or could easily eat for breakfast and/or a snack.
Of course, they are both very competitive so a couple times it got a little ugly but overall it was a lot of fun.
My oldest grabbed some tortillas. We plan to make some taco freezer kits with those.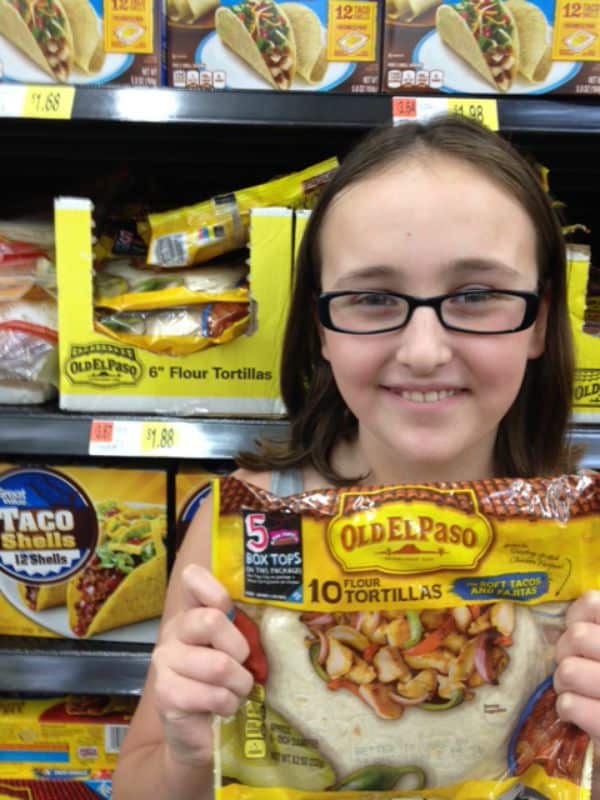 She also grabbed cereal. Personally, I like to have a couple boxes of cereal on hand for extra busy mornings.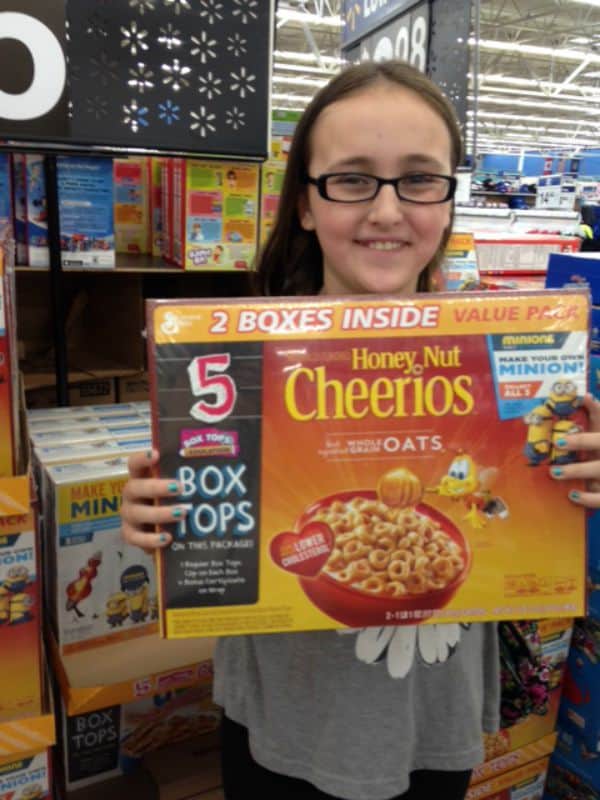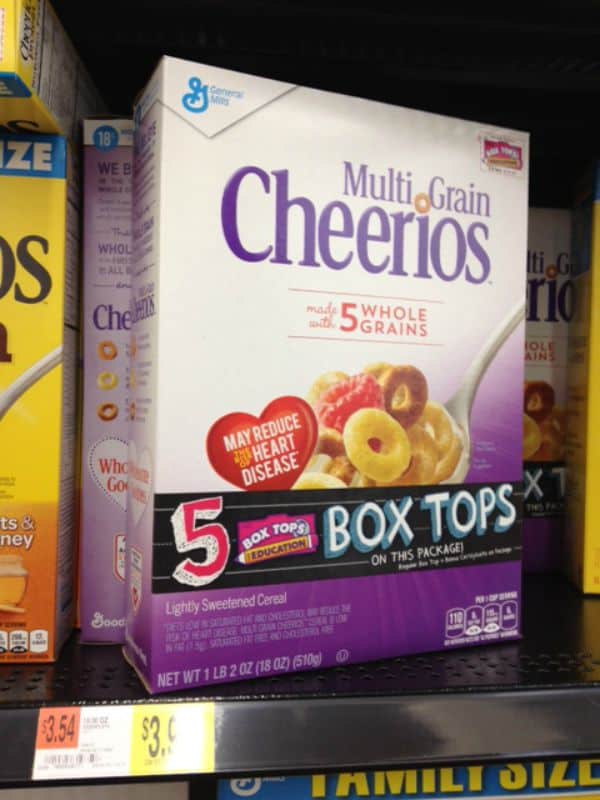 My youngest loves these Fiber One bars so I let her grab a box of those for a lunch treat. Gotta love the big sister photo bomb.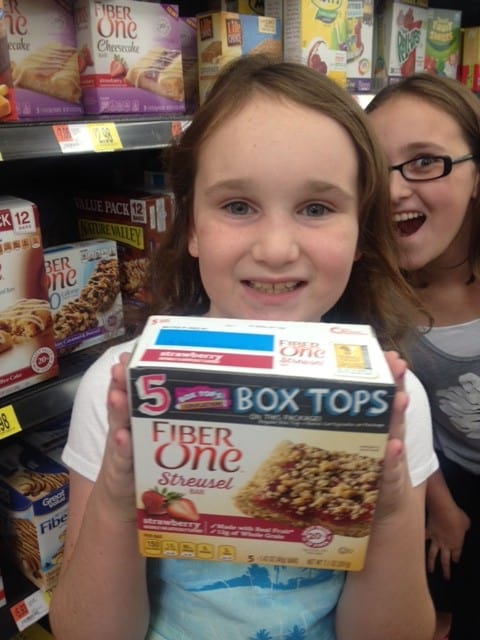 I find it helpful to give both girls a list of the items we need. Then they can just go aisle by aisle and look for everything. Of course, this causes grocery-shopping to go a little longer but that's okay. We are all together and having fun.
#5 Offer a reward for good behavior.
I have no shame in bribery. In fact, I would much rather call it a reward. Heck, I need a reward after a full day of shopping. Mine is typically a frothy coffee drink. For the kids I told them they could pick out one food item (Bonus Box Tops preferred) and if we get through shopping without any fights or meltdowns we will purchase it. They both wanted these cinnamon rolls. Mmmm. Sounds good to me. Everything in moderation is my way of life.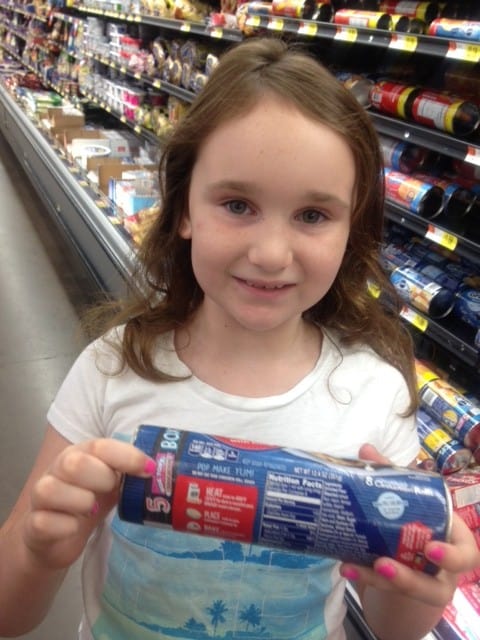 At the end of the day we were all happy. We left Walmart with our school supplies along with some groceries for snacks and meals. My girls were super pumped to start collecting Box Tops for their school so over all it was a great day.
If you need to grocery shop with your kiddos I hope these tips help you out. I know it can be stressful but in order to eat more at home it must be done. With a little creative planning you can certainly keep grocery shopping on your weekly to-do list without losing your mind.
What are your tips for grocery shopping with kids?
If you want to learn more about the Box Tops program at Walmart click here.
This is a sponsored conversation written by me on behalf of General Mills®. The opinions and text are all mine.
Get Instant Access to My Best Weight Loss Tips & Strategies!
Sign up now for a free step-by-step 7-day email course that I created exclusively for my email subscribers! That's you. I will teach the best habits, strategies, and insider tips so you can enjoy a lifestyle that encourages and supports weight loss! Stop relying on willpower and take control back over your life! You can do this. Let me help!