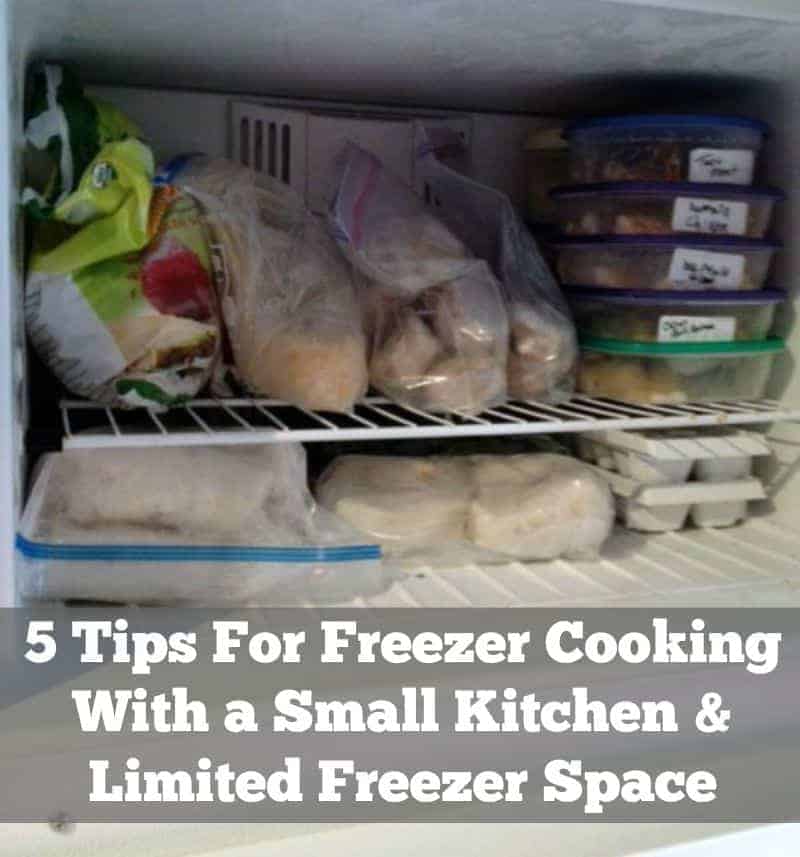 Make-ahead meals and freezer cooking are two strategies that continue to be the corner stone to feeding my family nutritious meals while also keeping me in my skinny jeans. Before discovering these cooking methods my freezer was filled with lots of processed junk that only kept me craving more food. Today it's filled with homemade meals that include ingredients I can pronounce.
Since starting my blog in 2011 I have been encouraging all of you to give freezer cooking a try. Not only does it help keep your kitchen stocked with healthy meals but it also saves lots of time and stress during the week when you are exhausted and cooking is the last thing you want to do. As I have said many times before…freezer cooking allows you to cook meals when you have the time so you can eat healthy nutritious meals when you don't. Sounds good, right?
I think it does.
However, while I can profess my love about freezer cooking till I am the only one left listening, not everyone is convinced. The most common challenge people think they will face with freezer cooking is lack of kitchen and freezer space. I read comments often about not having the room to cook and less room to store the freezer meals.
Let's talk about this.
There are no hard and fast rules when it comes to make-ahead meals and/or freezer cooking. At the end of the day you need to adapt methods in a way that will work for your lifestyle. I guarantee not everyone that cooks and freezes meals ahead of time do so in a large gourmet kitchen. I know I don't. My kitchen is actually small with little counter space. However, it's what I have right now and it works for me.
Here are tips that can help you start freezer cooking regardless of your kitchen and freezer size.
#1 Organize and clean out your freezer
Yes I know this sounds basic but trust me even a seasoned freezer cook such as myself is guilty of having one too many mystery packages floating around in my freezer. You know the ones I am talking about – all the packages and containers that are not labeled and fill with leftovers from a month ago or longer. More than likely you will never touch this food again so get rid of it and make room for the healthy new and LABELED meals that will soon fill your freezer. More than likely you will need those containers for new freezer meals. Therefore, as you empty out the old food throw the containers in the dishwasher to have them ready for your freezer cooking session. If your containers and dishes get spotty from the dishwasher then add Finish® Jet-Dry® to your dishwasher. This works great to remove spots and dry dishes better than ever.
Now if you can't bring yourself to throw food out then plan to spend the next week or so eating it until it's gone and out of your freezer.
Second, combine foods/ingredients if you can. For example, I had 3 different opened bags of chocolate chips in my freezer. Let's not ask why because I don't have the answers. I organized the chips by type (regular, mini, and white) and then combined all the bags into one large freezer bag. Now I know what I have for chocolate chips and they are easily accessible.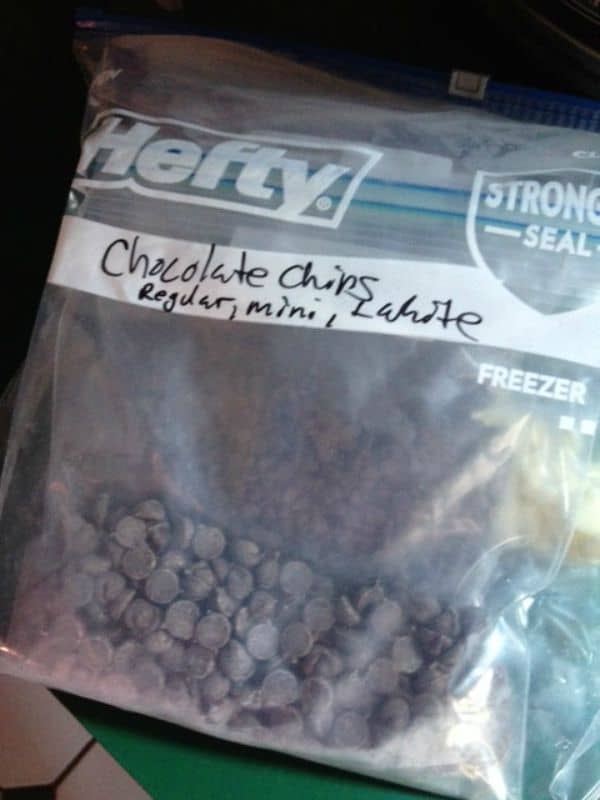 You will be amazed by the freezer space available when it's cleaned out and organized. I know I always am.
Before I clean and organize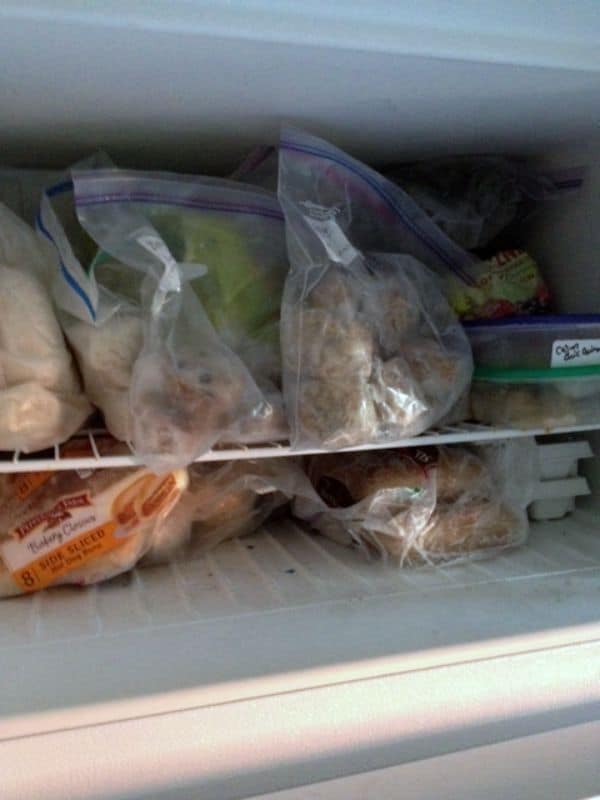 After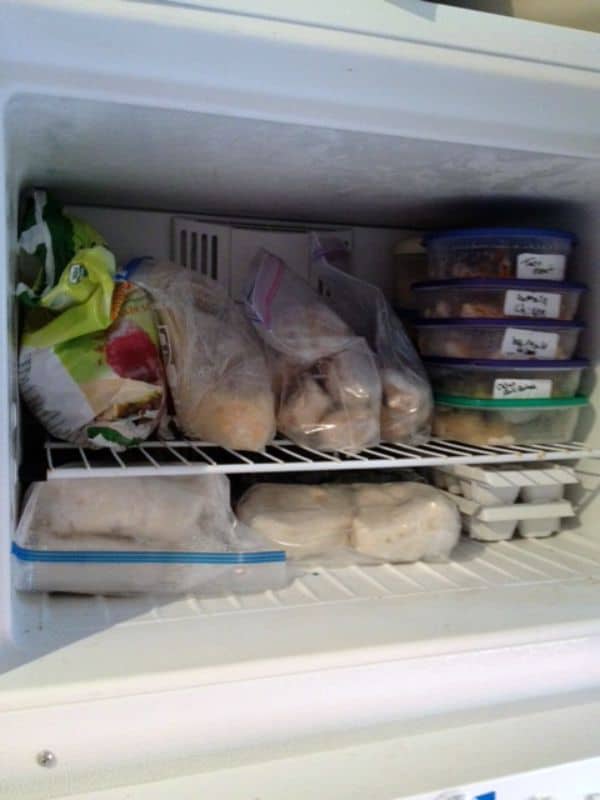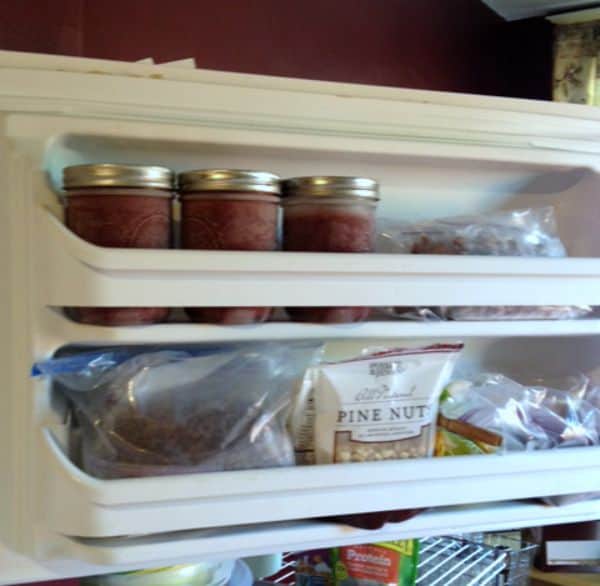 #2 Only make the amount of meals you have room for
I purchased a large freezer only a few years ago. Up until then I stored all my meals in the freezer above the refrigerator. Even now, I tend to use my top freezer more than the larger one.
Once you clean out and organize your freezer you will have a better idea of the amount of meals that can fit. However, if you only end up having room for a couple bags of breakfast burritos and a few smoothies then that's the amount you make.
Although, I think you will be surprised on the number of meals that can fit into a small freezer above your refrigerator. I currently have 2 bags of breakfast burritos, 2 bags of oatmeal cups, 2 bags of frozen fruit for smoothies, 5 homemade diet freezer meals, 2 containers of buffalo chicken, 1 container of taco meat, 1 chicken quesadilla kit, 3 freezer smoothies, the bag of chocolate chips, a couple bags of frozen corn, a large bag of portioned out almonds, and few other things. That's a lot of food in a small freezer so don't doubt the number of meals you can fit in yours. Don't give up on stocking your freezer with healthy food just because you don't have the space for 50 meals. Work with what you have.
#3 Be intentional with the type of storage containers and bags used
When you don't have a lot of freezer space the type of container or bag used will make a difference. Plastic containers will take up more space so use them only when you need to. For example, I like to use them for my portioned out diet freezer meals. If you prefer the containers over bags then use the smaller ones. You don't need a container that holds 4 cups to store 2 cups of spaghetti sauce. Freezer bags can be used to store just about anything and work great in a smaller freezer because they can lay flat. You can even use bags over containers to store things like soups, chili, and sauce. After you fill the bags, lay them flat and they will freeze that way. This becomes quite the space savor.
Again, as you start to freeze foods you will learn what works and doesn't work for your freezer space.
#4 Freezer cook in small batches and clean up in between
Preparing lots of food in a small kitchen can quickly get overwhelming. Before you know it your countertops are filled with ingredients, dishes, supplies, and a huge mess. The solution that works for me is to cook in batches. Typically, I prepare 2-3 recipes at a time, clean up, and then start another round. This keeps the process running smoothly and gives me a couple breaks as well.
I highly recommend starting with an empty dishwasher. This way as you dirty dishes they can be put right into the dishwasher to be cleaned after you are finished cooking. With that said make sure you are stocked with dishwasher soap and rinse aid. Personally, I love using Finish® Jet-Dry®– have been using it for YEARS. It gives my dishes the extra clean they need after a day of freezer cooking.  There's nothing worse than dishes that are still wet and spotty after they've gone through the dishwasher. Finish® Jet-Dry® Rinse Aid new formula with glass protection has 5x power actions and helps to remove spots and dry dishes better than ever before. Designed to work with any dishwasher detergent, Finish® Jet-Dry® speeds up drying, fights spots and film, and protects glassware to leave nothing but the shine. Simply fill your rinse aid dispenser with Finish® Jet-Dry® Rinse Aid and it will be automatically released in the rinse cycle every time your dishwasher runs.
I purchased Finish® Jet-Dry® during one of my Walmart outings. It was easy to find and at a great price. Also, one thing I appreciate about Walmart is they always seem to be in stock with the items I need. I am a busy lady and like to shop at one store only so it's great when Walmart has everything on my list.
If you like coupons (who doesn't) you can get a $1 off coupon here. If you use Finish® Max-In-One you can also get a coupon for that here.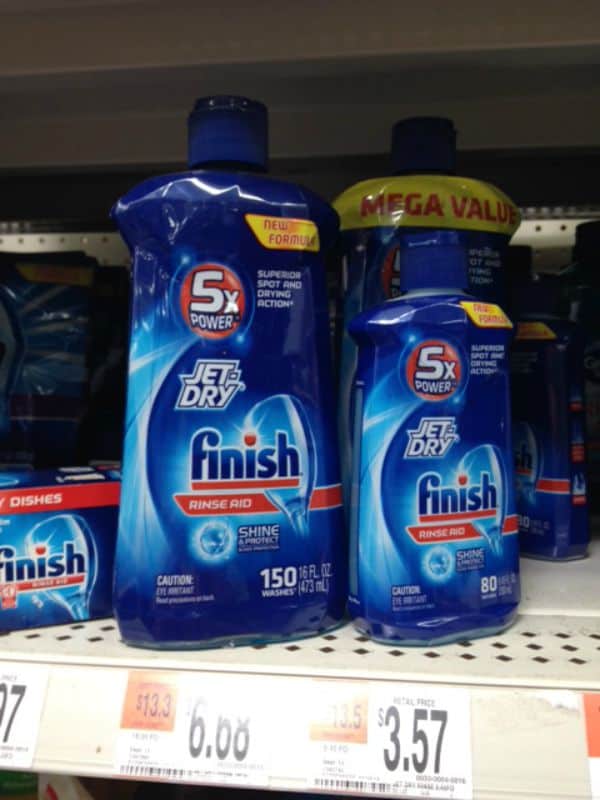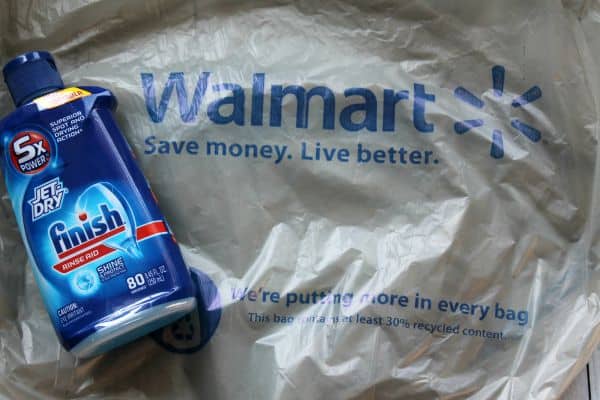 You can also find Finish® Powerball at Walmart too. Both products work great. You can get a coupon here.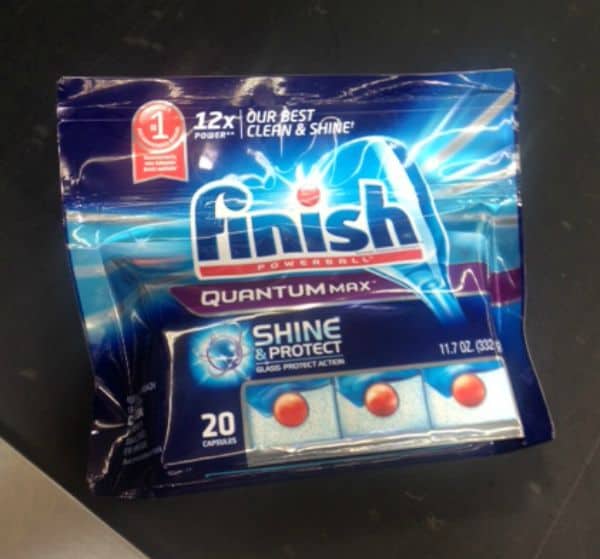 After a couple hours of nonstop cooking and a crazy mess it is really nice to see all my dishes come out clean and sparkly. It's almost as if no cooking happened at all and a freezer-cooking fairy filled my freezer with lots of delicious nutritious meals.
Again, click here for a $1 off Finish® Jet-Dry® coupon. This product was $3.57 at Walmart. With the $1 off coupon it comes to $2.57. Finish ® Powerball is $4.93 at Walmart and with $1 coupon it is $3.93.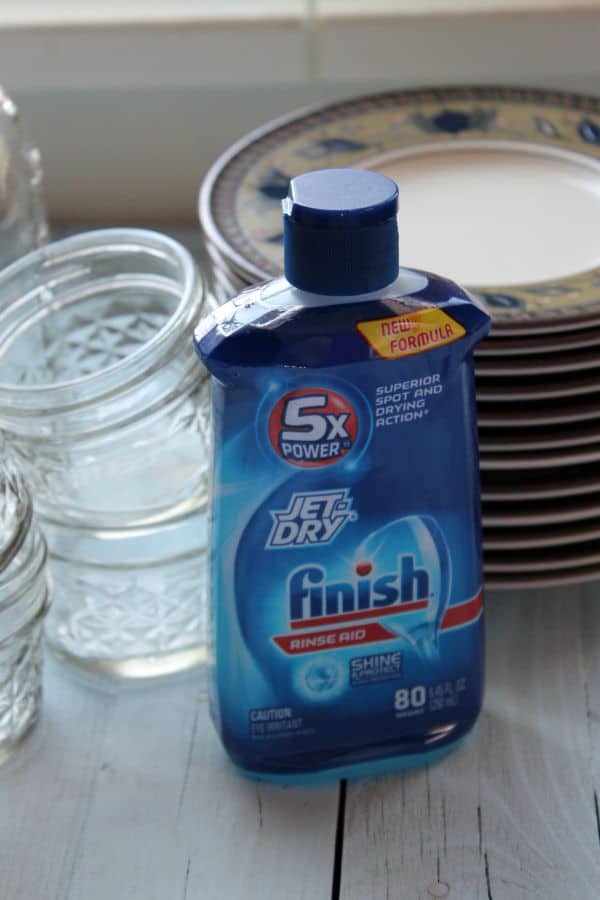 #5 Choose recipes that don't take up a lot of space
Large casseroles need a lot of space. Instead, choose recipes that can be frozen into components or using smaller containers. For example, you could prepare and freeze chicken parmesan in the casserole dish you plan to bake it in. However, this will take up a huge amount of freezer space. Instead try storing the chicken, sauce, and cheese in separate freezer bags and freezer together as a kit. When you are ready to eat this meal all you need to do is thaw the ingredients and assemble the recipe. This method still allows you to freeze the recipe ahead of time but saves on a lot of space.
These 4 tips can make any small kitchen and freezer space freezer-cooking friendly. I will say this again. Don't give up on make-ahead meals or freezer cooking because you don't have the space or there are other constraints. The key to creating healthy sustainable cooking and eating habits is to find a way to adapt them for your lifestyle.
This is a sponsored conversation written by me on behalf of Reckitt Benckiser. The opinions and text are all mine.
Get Instant Access to My Best Weight Loss Tips & Strategies!
Sign up now for a free step-by-step 7-day email course that I created exclusively for my email subscribers! That's you. I will teach the best habits, strategies, and insider tips so you can enjoy a lifestyle that encourages and supports weight loss! Stop relying on willpower and take control back over your life! You can do this. Let me help!