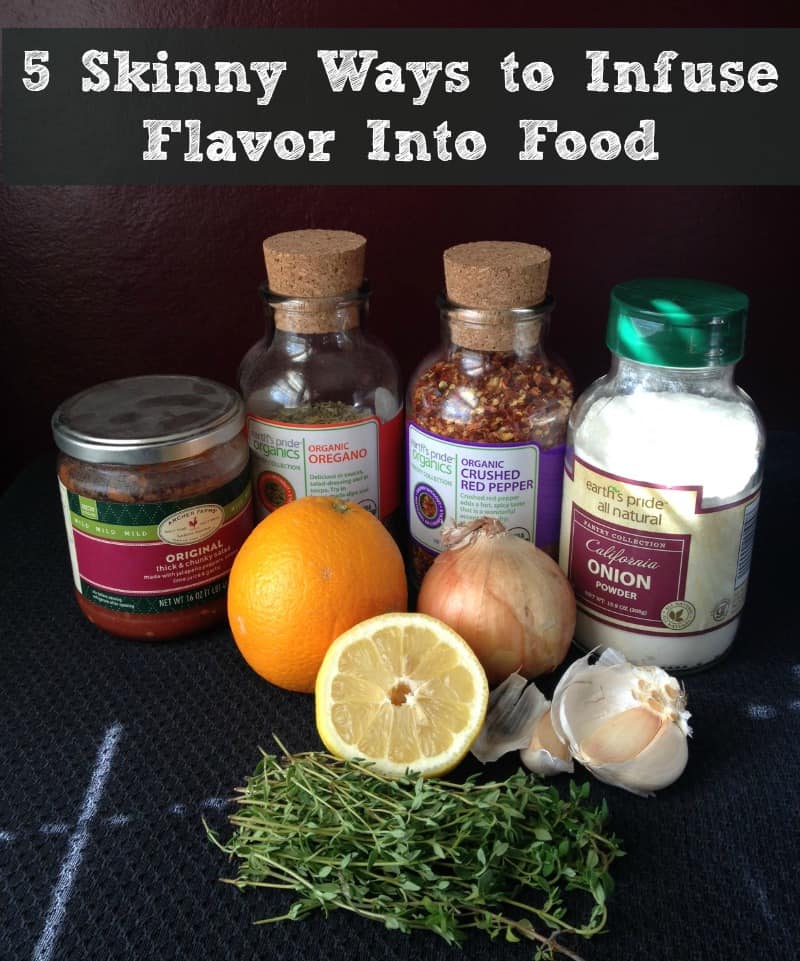 This post is by OYS writer Melissa. See more of her posts here.
Sometimes, one of the most challenging aspects of eating healthy is making the food taste good. Like me, some people prefer a more bland diet and can handle chomping on plain rice cakes without a problem. But many people, also like me, like their food to have flavor. In the past, many healthy foods were seen as just bland or flavorless, but there are so many low-calorie ways to give your food flavor without adding fat and mega calories.
Let's talk first about the high-fat toppings that are typically added to food that you want to avoid as much as possible. Don't get me wrong from the start, I use all of these food items in my house regularly, but I have learned to use less of them and supplement them with the options listed below. Butter comes up first. My grandmother cooked everything in butter, and a lot of it. She lived to be 89, but that doesn't mean all of that butter is a good idea. Many people use butter on their vegetables to make them more palatable. Another high-calorie topper is mayonnaise. People love putting mayo on their sandwiches and using it in salads. The problem here again is that we use way too much because we like the tang it adds. Another dangerous bottle found in many refrigerators is oily salad dressing. We like to dress up our greens to help them go down easier, but you could make your own dressing with a little bit of olive oil and some of the ingredients I talk about below for a much healthier and natural salad dressing. Last, is sour cream. We make a lot of Mexican recipes in my house and low-fat sour cream used to go on everything. I still occasionally use it, or swap it with plain Greek yogurt.
Here are my five suggested ways to add flavor to your foods without adding a ton of calories. Try one, or try them all.Aromatics
#1 Aromatics
Aromatics include things like onions and garlic. I have a container on my counter that is always stocked with fresh garlic and a variety of onions like yellow onions, red onions, and shallots. If you have not graduated from using garlic powder and onion powder, now is the time. Powders can't match what these fresh bulbs do for your food. I use garlic and onions in just about everything I cook. A full onion has about 44 calories, and one garlic bulb has 4 calories, so you are talking about very little calorie addition here. Recently, garlic and onions have been touted for their cancer-fighting antioxidants, which is an even greater bonus. They are also cheap, last for weeks, and are easy to use. All you need is a good sharp knife for chopping. It's not necessary, but I highly recommend investing in a garlic press if you use garlic regularly. You don't have to sit there mincing the garlic into tiny pieces and you save your hands from smelling. Garlic and onions are usually the starting point for a recipe. Get them in the pan and saute them, then continue with the main components of the recipe. They add deep flavor to just about anything, from stir frys to pasta. Need an idea? Try these awesome Turkey and Sausage Stuffed Peppers.
#2 Fresh Herbs
Dried herbs in a canister are okay, but you cannot beat the bright flavors of fresh herbs. Buying these at the grocery store regularly can be expensive, but it is so worth it. You could also opt to grow your own in an outdoor garden or in your kitchen if you get ample sunlight. Check out this post OYS writer Danielle did about maintaining a basil plant in your kitchen . Fresh herbs are usually used at the end of cooking a dish, to add color and a pop of flavor. My personal favorites that I use all the time are parsley, basil, and cilantro, which we grow in our garden, but I also love fresh dill and oregano from time to time. Basil is a great final addition to any pasta dish, and you can make easy pesto with it too. Parsley can be added to just about anything, but it's a great finish for soups. Cilantro is the go-to herb for Mexican recipes. One tablespoon of fresh herbs has 1 calorie!!
#3 Ground spices
Ground spices are another easy way to spice up your food. These canisters last 6 months to a year in your cabinet, and again contain very few calories. My two favorites are cinnamon and cayenne pepper, both at 6 calories per teaspoon. Ground spices are more potent than their fresh counterparts, so you don't need to pour in a lot. I always have home-baked muffins in my house for my daughter, and cinnamon is a common ingredient. Try these yummy Jumbo Pumpkin Muffins for a nice fall treat. Cayenne pepper can go in just about anything, but all you need is a pinch. It packs some heat!
#4 Citrus
Along with the onions and garlic in that container in my kitchen, is a pile of lemons and limes. I didn't start using fresh lemons and limes until a few years ago, and I always have them around now. I started by squeezing fresh lemon juice into my morning cup of green tea, but now I use it in cold salads, baked goods, and hot meals too. And not just the juice; grating the rind adds an even more intense lemon or lime flavor into whatever you are making. The juice from one lemon or lime is about 11 calories. Try out this amazing Chicken Salad Recipe that uses lime juice. Plus it calls for avocado and Greek yogurt, so you can skip the mayonnaise too!
#5 Condiments
My two favorite condiments are salsa and hot sauce. One tablespoon of salsa has 4 calories and 1 teaspoon of hot sauce has 0 calories. Salsa is great because it is full of vegetables and has enough zing to really punch up the flavor of your food. I love using it on any sort of Mexican dish of course, but you can also use it on vegetables and as a dressing. My husband makes his own hot sauce with the peppers we grow in our garden and it is outstanding. All year long, I am putting it on my morning eggs and homemade pizza. Try this Slow Cooker Salsa Chicken recipe, which can be used for quesadilla fillings or in mason jar salads.
You can combine these ideas to eliminate the need for high-calorie toppings like butter, sour cream, mayo and dressings. For example, instead of dousing your veggies in butter, squeeze a little fresh lemon juice on them and sprinkle them with chopped fresh parsley. And if you still need the sour cream on your taco, use a little less and add a little more salsa. You won't even notice!