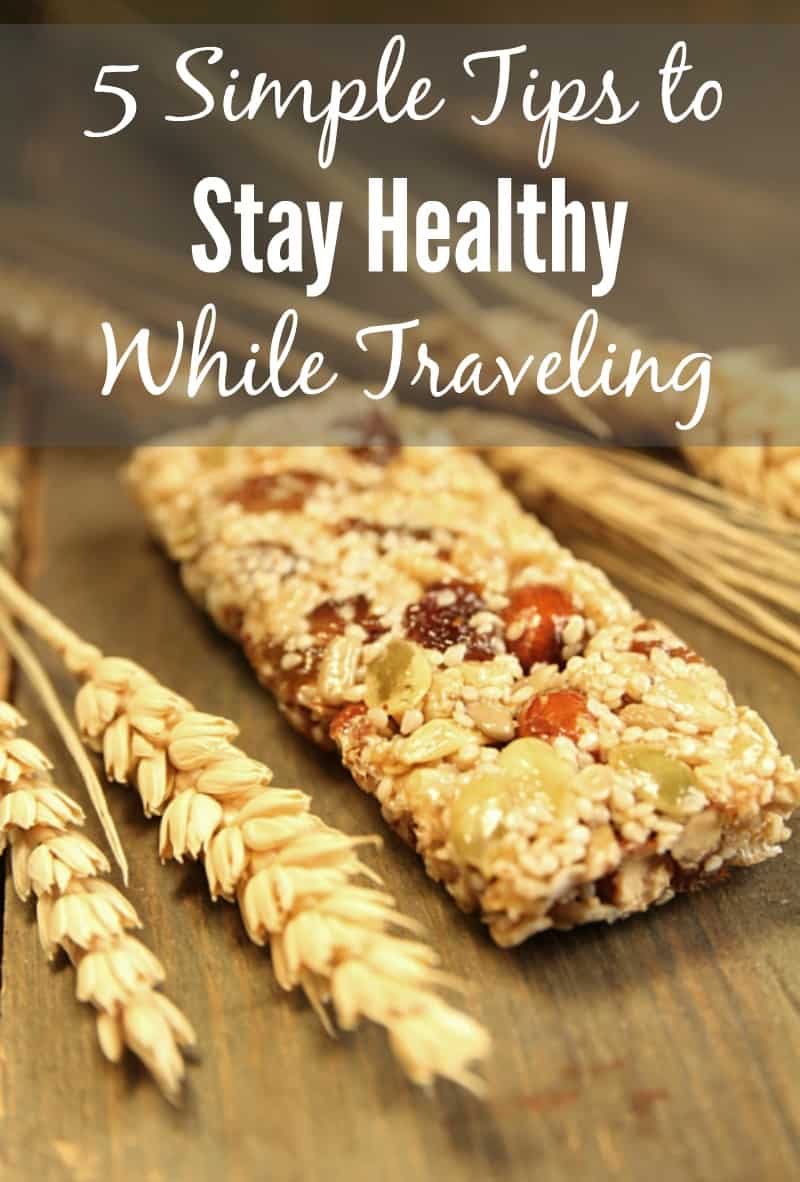 This post is by OYS writer Alexis from Trading Cardio for Cosmos. You can also find her on Facebook and Instagram sharing her awesome weight loss tips and motivation!! She's lost over 100lbs so she has lots to share!
---
Traveling is one of the hardest times to stick to my weight loss program. I'm in an unfamiliar room, an unfamiliar neighborhood or town, and I don't have my regular grocery store or pantry available to me. But, because I travel quite a bit for work, it was something I needed to learn how to manage. Here are my top 5 simple tips for to stay healthy while traveling! 
#1 Plan ahead!
I know when I'm at the beach, I'll want to go out for fresh seafood so I make sure to balance my day to reflect that. I will eat a light breakfast and lunch and keep my snacks to just fresh fruits and veggies. Then I know I can enjoy, within reason, pretty much whatever I want for that seafood dinner. If I know it's a big boozy brunch I'm going to enjoy, then I'll eat a piece of fruit for breakfast and plan a garden salad with some grilled chicken for dinner, so I can enjoy my mimosa guilt-free!
#2 Ask for a fridge!
This is the BEST tip for when you're spending several days in a hotel room. Having a mini fridge enables to you buy cheese sticks, yogurt, fresh fruit and even packaged hard-boiled eggs that are simple, grab-and-go snacks! If your hotel room does not come with a fridge, you can always request one when you make your reservation or call ahead. Some hotels have a $5 per day rental fee, but most will provide one free of charge if you let them know you have medication or something that you must keep fridge-safe!
#3 Traveling in the car? Bring a cooler that plugs into the car!
Yes friends, they make a cooler that plugs into the car so your items can stay cold while you trek across America! I like this Koolatron Thermoelectric Cooler because it plugs into any 12-V power supply, uses less electricity than your car's headlights AND it's power course is unaffected by motion/getting tipped sideways!
#4 Bring shelf-stable snacks.
KIND bars, BARE crunchy apple chips, 100 calorie packs of pretzels, bags of Stacy's Pita Chips – all of these snacks can fit in your carry-on bag and ensure you've got good healthy options available wherever you are! A second tip: make these snacks the individual size bags, so you have a hard "stop" and won't eat more than you intended to!
I clip my Ohio State Nalgene bottle (Go Buckeyes!) to my carry-on or slip it into my briefcase when I travel, and fill it up at a water fountain once I get through security. Brita, the water purifying company, actually makes water bottles with filters, so if you're worried about the quality of the water you're drinking you can filter it before you drink it! 
Still not comfy bringing your own bottle? Consider picking up your water (usually $3 for 24 bottles) when you swing by the grocery store to stock your mini-fridge!
Bonus tip!!
Use your travel as an excuse to try a new exercise class! Water aerobics isn't widely offered where I live, but I had a blast trying it on a trip to Vermont last year. I also tried a spin class in Las Vegas, and Bikram Yoga in Florida. The Zumba class I tried in Florida was less successful, but that had more to do with my two left feet than the class. But I was able to push out of my comfort zone and I had no fear that I was going to run into someone I knew. I also knew I would never see my classmates again, which gave me the confidence to shake my booty!
You can also get in your fitness by taking in the sites on foot! I picked up an extra 4,000 steps when I was in St. Louis by taking the walking tour of the St. Louis Arch area, and many landmarks have walking tours OR stairs if you're feeling like stretching your legs! 
If you're really unable to get in your exercise during the day, consider Youtube videos, like those from the Healthista list of the Top Ten Exercise Youtube Channels. I started the Fitness Blender workouts after reading about them there!
What about you? What are some travel tips you've learned to help stay on track and eat healthy?