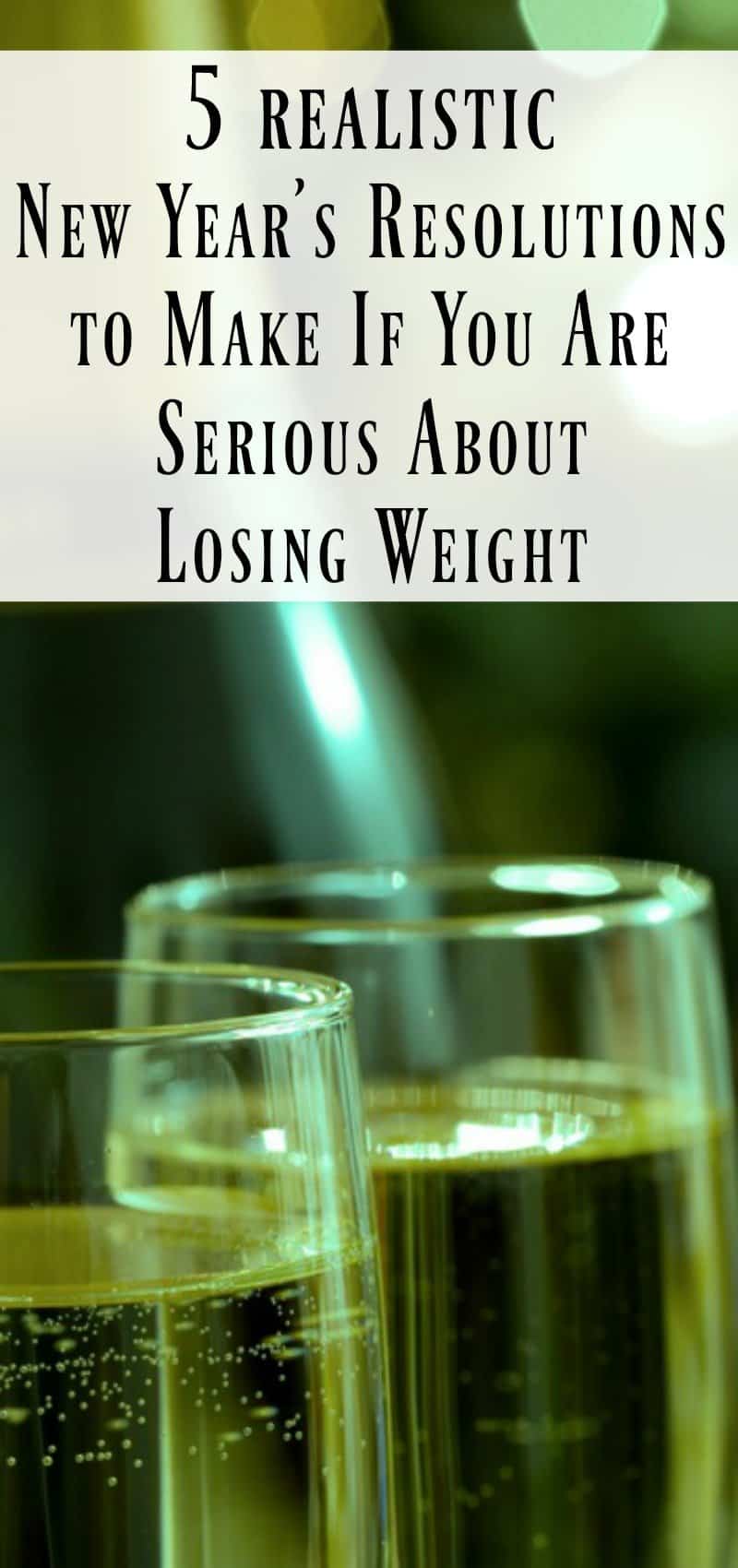 January 1st is the day many of us make a vow to improve some part of our lives. Maybe it's to quit smoking, spend less money, or lose weight. Oftentimes, these New Year's resolutions don't last because going cold turkey is not realistic for everyone. If you like the idea of starting over with the new year, that's great, but you may want to think about making your resolution a little more realistic, manageable, and doable for your lifestyle. If you set a lofty goal, failing to reach it will just make you feel worse. If you set a realistic goal and reach it, then you will feel empowered to move on to another more complex goal. Read on for five realistic resolutions that can work for just about everyone.
Goal #1 – Lose 5 pounds this month
Losing weight is one of the most popular New Year's resolutions. But many people set themselves up for failure by cutting out all indulgence foods and working towards losing a crazy amount of weight in a short amount of time. Some people think about how much weight they want to lose in the next year, which can also be detrimental because it's such a long time period. There is definitely something to be said for long-term goals and challenging goals, but do yourself a favor and also set a smaller, more realistic goal. Losing five pounds in one month is very doable. You can go about this in several ways. Track your calories, cut out alcohol, add in 4 days of exercise per week, begin a walking routine. How you go about losing the five pounds is going to depend on your lifestyle, so you have to decide what works for you. If you employ two or more weight loss strategies faithfully, you will most likely reach the goal to lose five pounds in one month. This success will hopefully give you the motivation and confidence you need to keep going with your weight loss journey, setting new goals each month.
Goal #2 – Eat more veggies
A lot of people make resolutions to eat healthier in the upcoming year. This is a good thing, but it's unrealistic to completely overhaul your diet in one fell swoop. That is something you can maintain short-term, but if you are looking to make this a lifestyle change, you are better off going with one small change at a time. One of the best places to start is with eating more vegetables. If you focus on this one thing, you will not feel overwhelmed or deprived. Eating more vegetables has many benefits, including better all-around health, increased fiber intake, and it will make you feel fuller so you have less room for higher calorie foods. This can lead to weight loss as well. You will also feel better and have more energy.
Goal #3 – Workout 3 days per week
Starting an exercise routine can be fun and new in the beginning. But if you are new to exercising or have not been regularly exercising for some time, it is unrealistic to jump into a boot camp class and think you are going to be able to do everything, or sign up to run a half-marathon when you haven't been regularly running. A great resolution to make is to exercise three times per week. This should be doable even if you have a busy schedule. Now with this goal, you should definitely make the provision that if you can, you will exercise more days than three, but three is the minimum. Plan out which days work for you, how you will get yourself organized for your workout, what type of exercise you will do and for how long. Mark these days on your calendar and enlist the help of your family to make sure it happens. Again, once you start seeing the benefits of regular exercise, it will be motivating to continue and push yourself harder in the months to come.
Goal #4 – Walk 5 evenings per week
Walking is so good for you, for your heart, and for your body. It's free and you can do it anywhere and anytime. Make it a plan to go for a walk after dinner five evenings per week. It might just be around your neighborhood for 15 minutes. It might be on a trail at your favorite park for a half hour. Maybe you'll go alone, with a friend, or with your kids. It doesn't matter. This is about time moving your body, breathing fresh air, and unwinding from the day. This resolution will have benefits for your body and your mind. Once you see how good walking makes you feel, it will inspire you to improve your life in other ways too.
Goal #5 – Drink more water every day.
Hydration is so important for helping your body run smoothly and feeling your best. If you struggle to drink enough water, make a resolution with some strategies that will help you increase your water intake. Fill a large bottle to take with you to work. Make a goal to drink all of it before lunch. Then refill it and drink that bottle before you leave work. When you get home, fill a glass with water. Try to drink two glasses before bed. You may need to set an alarm on your phone at first to remind you to take drinks. Of course, when you are working out, make sure you drink throughout your routine, and after. If you need some flavor, throw some lemon or orange slices in your water. Hopefully, the way you feel will encourage you to continue your new healthy hydration habit.
Here are some other posts that will help you focus on realistic resolutions.