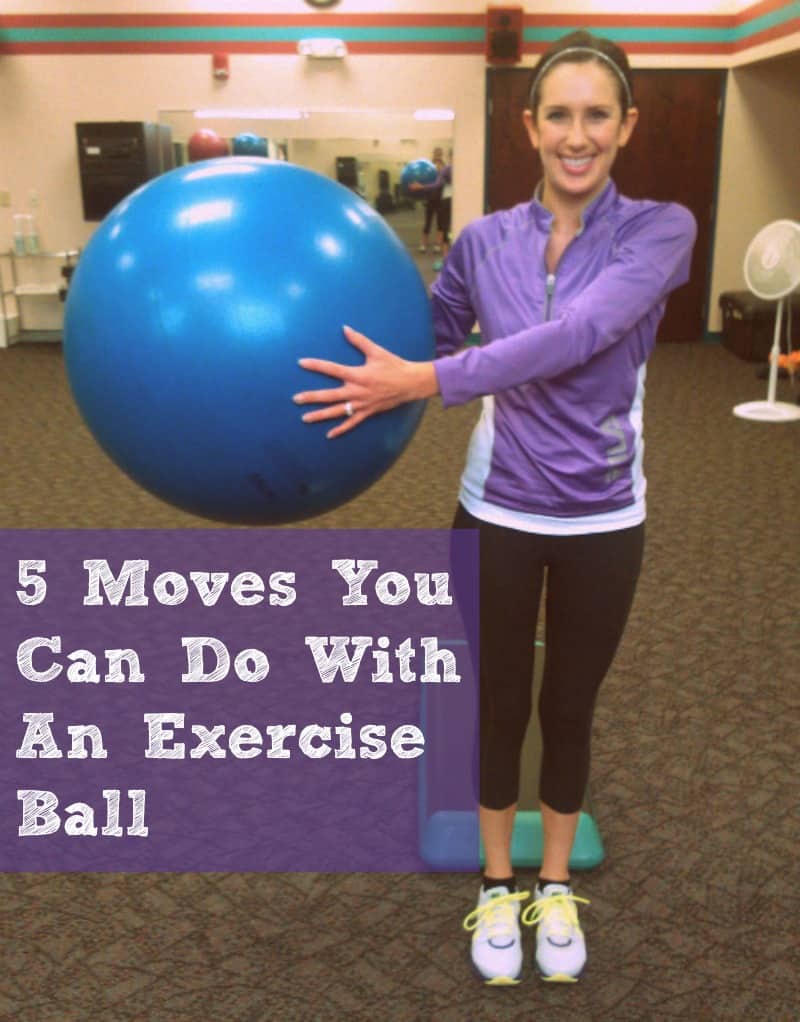 This post is by OYS writer ( and certified fitness instructor) Melissa. See more of her posts here.
For people who struggle to fit exercise into their busy lifestyles, working out at home is sometimes the easiest and most efficient way to make it work. One versatile and cheap piece of equipment you can keep at home to use in your workouts and mix it up from time to time, is an exercise stability ball. Stability balls can be purchased for around $15, and usually come with an air pump to inflate the ball. They last forever and can be moved around your house easily. Some people use stability balls as their chair at work or while watching TV at home. Sitting on a ball forces your core muscles to stabilize themselves more, so it's kind of an unintentional abs workout. This is only one of many ways you can use a stability ball to better your health.
If you have purchased one of these balls at some point, and it has been collecting dust in your basement, it's time to get it out and shake it off. I have five fantastic moves for you that you can do right now with your ball. Look for part two of this series next month for five more moves.
I have to thank my super-fit friend and gym class-attendee, Melanie, for agreeing to model these moves for us. She looks great!
You should always start any workout with a brief warm-up so you're not jumping in at full throttle. A brief walk, even walking in place always does the trick. Just move your body for about five minutes before starting these moves.
Try to do 10-12 reps of each move. If you can, do 3 complete sets, which means you go back and repeat 10-12 reps of each move 2 more times. If this is too much for you, just do as much as you can. Remember, any exercise is better than no exercise!
Move #1 – Stand and Twist
For this move, start by sitting on a slightly raised surface, like a step or stair in your house. Hold the ball in between your hands. Slowly push up to standing as you twist the ball to the right. Then bring the ball back center as you slowly sit back down. Next, slowly push up to standing as you twist the ball to the left. Then bring the ball back center as you slowly sit back down. That is one rep.
This is a challenging move that will really make your quadriceps burn. If you can't get all the way down at first, just squat down as low as you can go and work up to the full sitting position. Also be sure to stay in control of the ball. Your arms should be making purposeful movements here.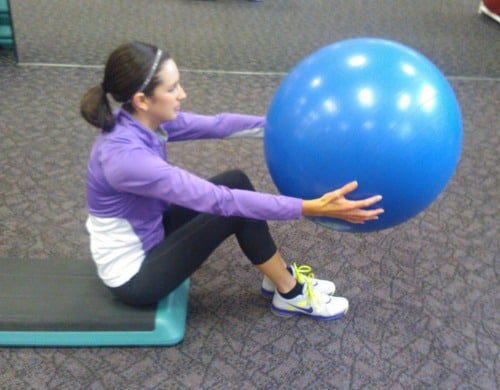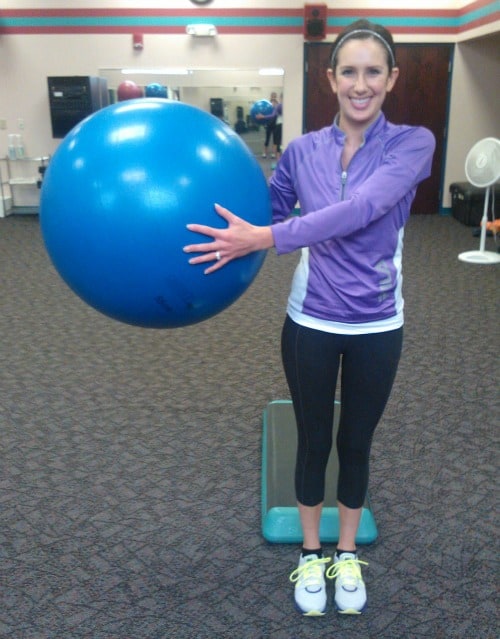 Move #2 – Side Lift and Crunch
Start with your feet together and hold the ball up over your head. Slowly lift your right leg out to the side and lower the ball down to your right side, like trying to touch the ball to your leg. Do 10-12 reps on the right, and then 10-12 reps on the left.
This move should be slow and controlled, especially on the way down. It's not supposed to be a quick cardio move. Think about using your muscles to lift and lower your leg.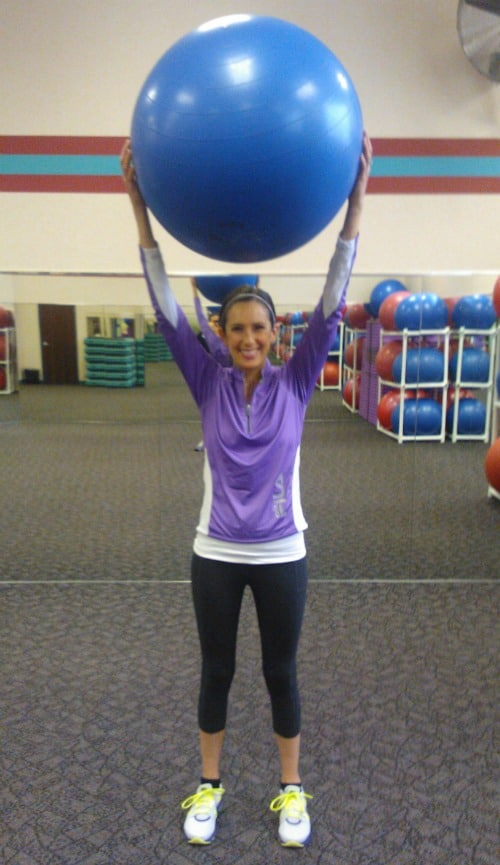 Move #3 – Single-Leg Side Squat
Start with the ball off to your left side, with your left foot on top of the ball. Slowly lower down into a squat and then push back up. Do 10-12 reps on the right, and then 10-12 reps on the left.
Really think about pushing your butt to the back and try not to lean to the other side. You should really feel the pull in your inner thighs.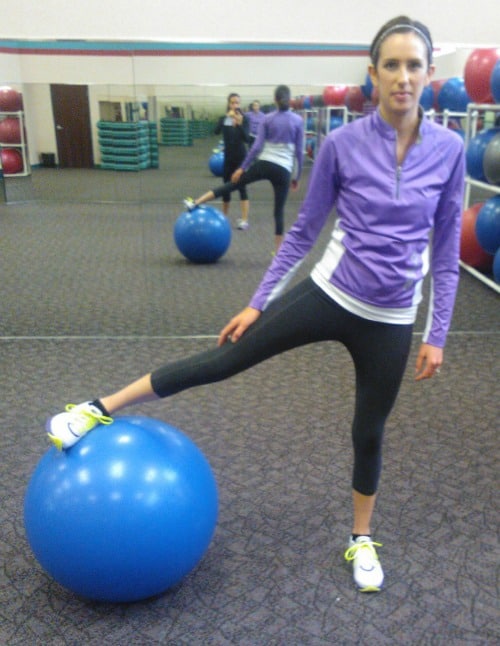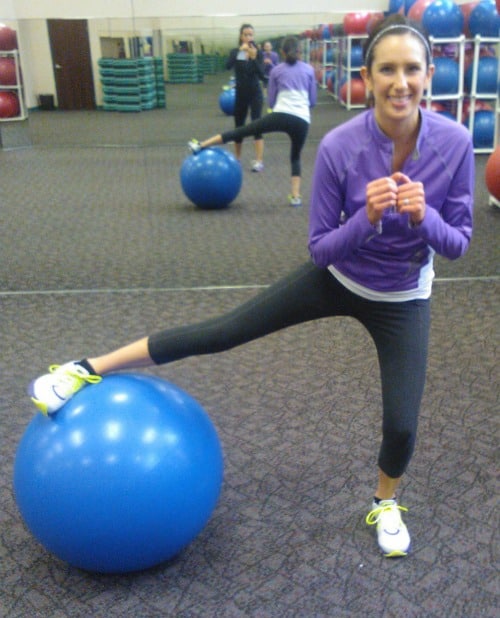 Move #4 – Hip Dip
Start by lying with just your upper back and shoulders on the ball. Your knees should be bent and your feet should be flat on the floor. Slowly lower your hips down towards the floor, then bring them back up as you squeeze your butt and push your feet into the floor.
Melanie has weights resting on her hips for this move. You can do it without the weights to make it easier. Just make sure you really squeeze your butt.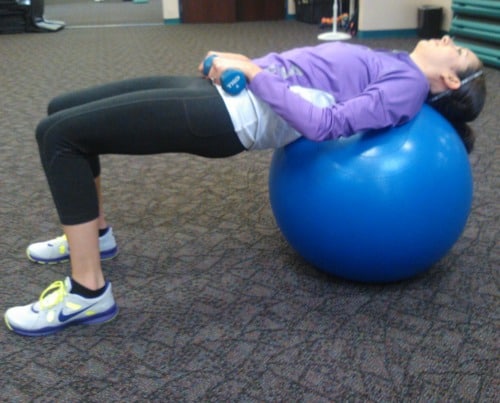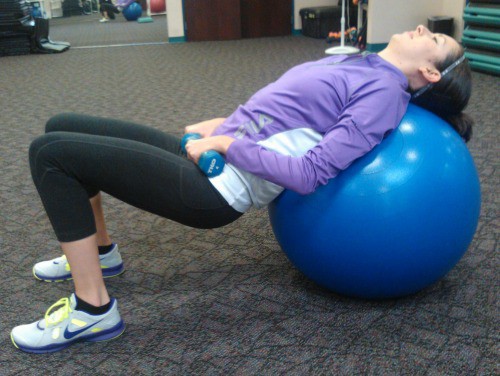 Move #5 – Ab Roll-In
Start facing the floor with your hands on the floor and your feet on the ball behind you. Slowly roll the ball in towards your chest by bending your knees. Then roll it all the way back out until your legs are straight again.
This move is really challenging, so if you can't do many to start, don't despair. The more often you do them, the more you will be able to do. This move will work your abdominal muscles way better than a plain old crunch. Keep working at it!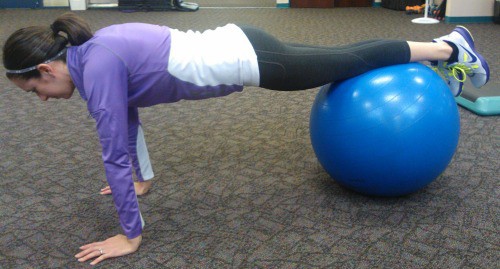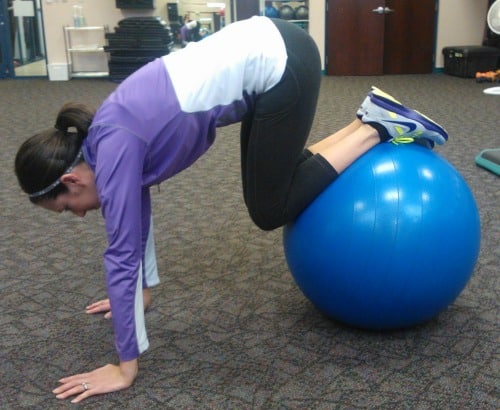 Here are some other home exercise:
Exercises to strengthen your core