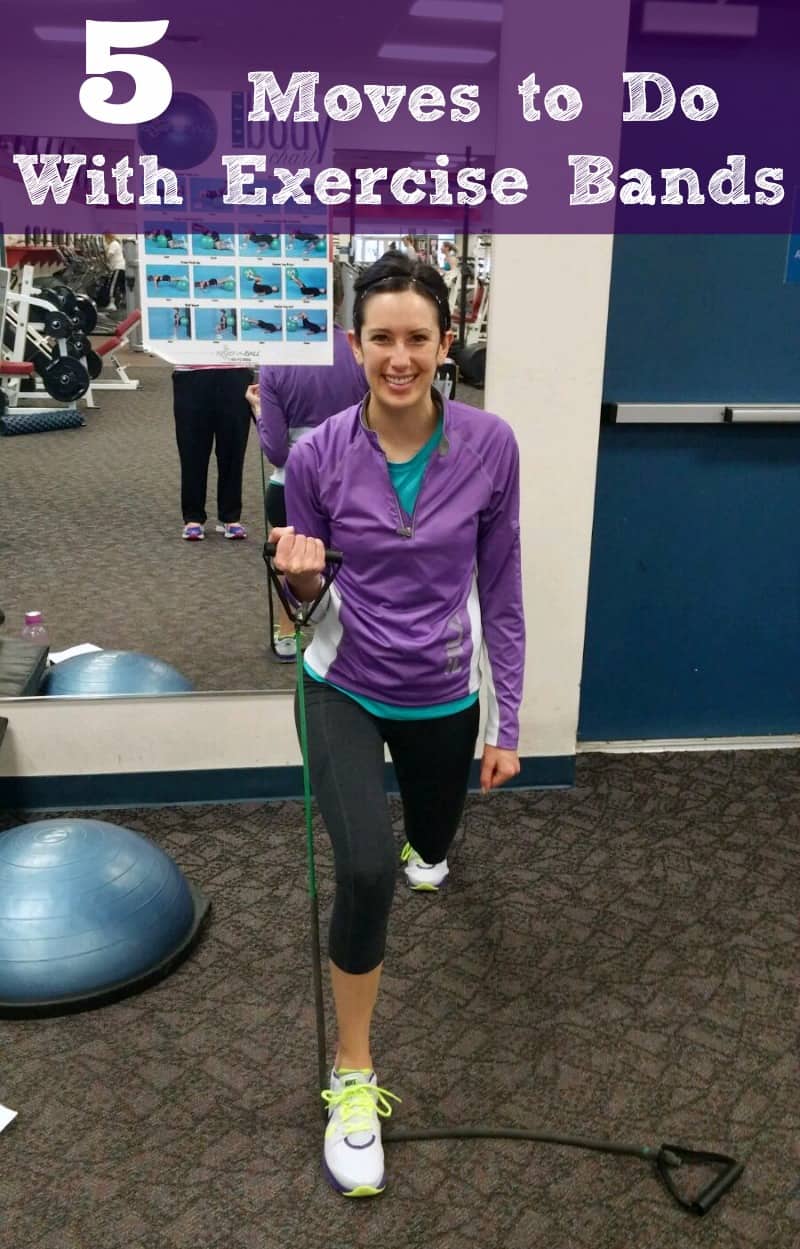 This post is by OYS writer Melissa. You can see all her posts here.
Like stability balls, exercise bands are another underused piece of exercise equipment. They are relatively inexpensive, running between $15 and $20 for a basic set. You can purchase them from Amazon. They are also lightweight and super easy to store, taking up very little space. This makes them a great option to pack in your suitcase when you are traveling so that you can still get in a good strength-training workout no matter where you are. And for those of you who have limited space in your house, they can easily go under a bed or in a closet when you're not using them.
Exercise bands can help you with your strength-training routine. You might be wondering why you need bands if you already have dumbbells. The simple answer is that they work your muscles in completely different ways than dumbbells. You have to have a lot more control when you release from a move with a band than you do with dumbbells, otherwise you will end up getting whacked with the band. It takes practice and coordination, but will really improve your control as your core muscles really kick in to help. As always, any small change to your exercise routine is good, to prevent boredom and to keep getting the results you want.
The set of bands I own has two different bands in it, one band that has less resistance, and one that has more. I have found that it completely depends on the move I am doing which band is more appropriate to use. You just have to do some trial and error. If you start doing a move, and you can easily stretch the band very quickly and feel very little resistance, then use the other band. You want to be able to stay in control of your movements. On the other hand, if you start doing a move, and the band just will not budge, then use the lighter one.
The key to a successful exercise band workout is control. You must perform these moves very slowly. First of all, you do not want the band snapping back at you or flying across the room, although this can be very comical at first. Secondly, you don't want to injure yourself by pulling a muscle because of bad form here. Take your time and let your muscles really work. I will tell you that using bands takes some practice and getting used to. It's never supposed to feel easy, but you will become more comfortable with them the more you use them.
So here are five moves you can do with exercise bands. Always warm up with some light cardio, and cool down and stretch after.
Move #1 – Lunge and curl
Lay one end of the band on the floor and hold the other in your right hand. Bring your right foot forward and step on the band. Then slowly perform a lunge and biceps curl at the same time. It may take a few tries for you to find the right place to step on the band until you find the right resistance. It shouldn't be too hard or too easy. Do 10-12 reps, then switch to the left side.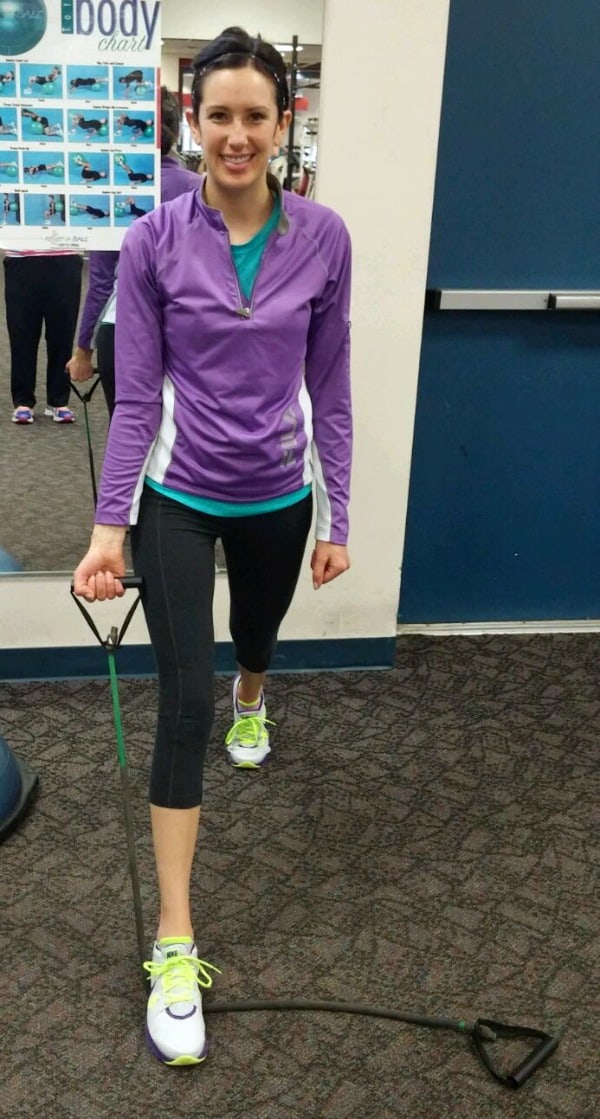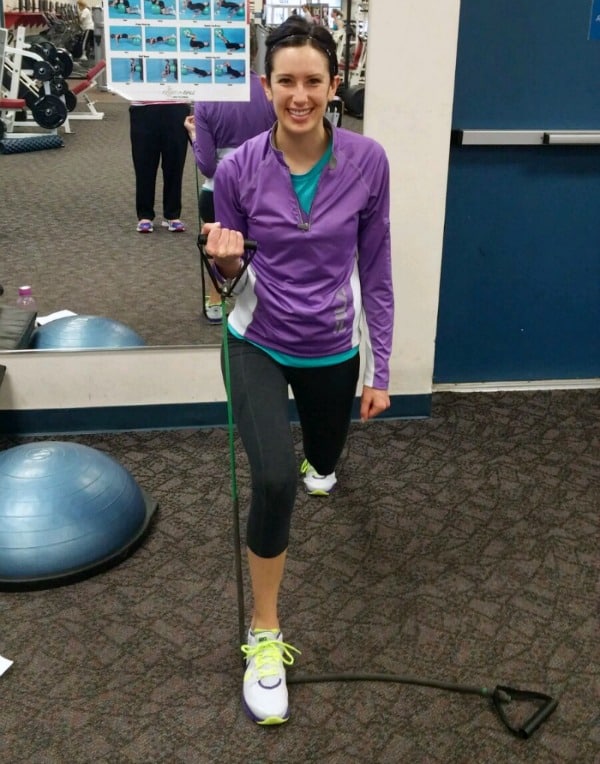 Move #2 – Side walk out
Hold one end of the band in each hand and step both feet on the band on the floor. Pull the bands up towards your shoulders as you walk sideways, stepping your right foot out, then bringing your left foot to meet it. Move four times to the right, then come back four times to the left. Again, move your legs slowly, and keep your arms up high. Keep going back and forth until you have done this 8 times on each side.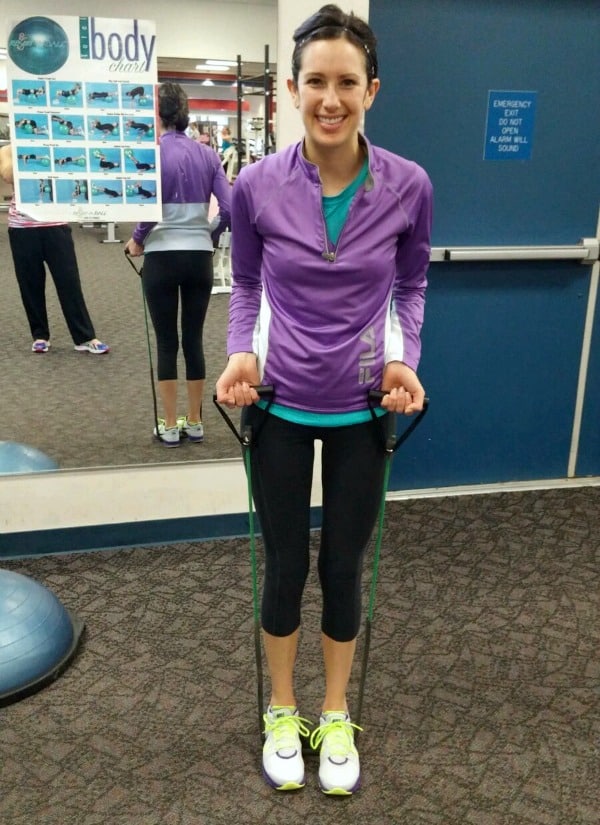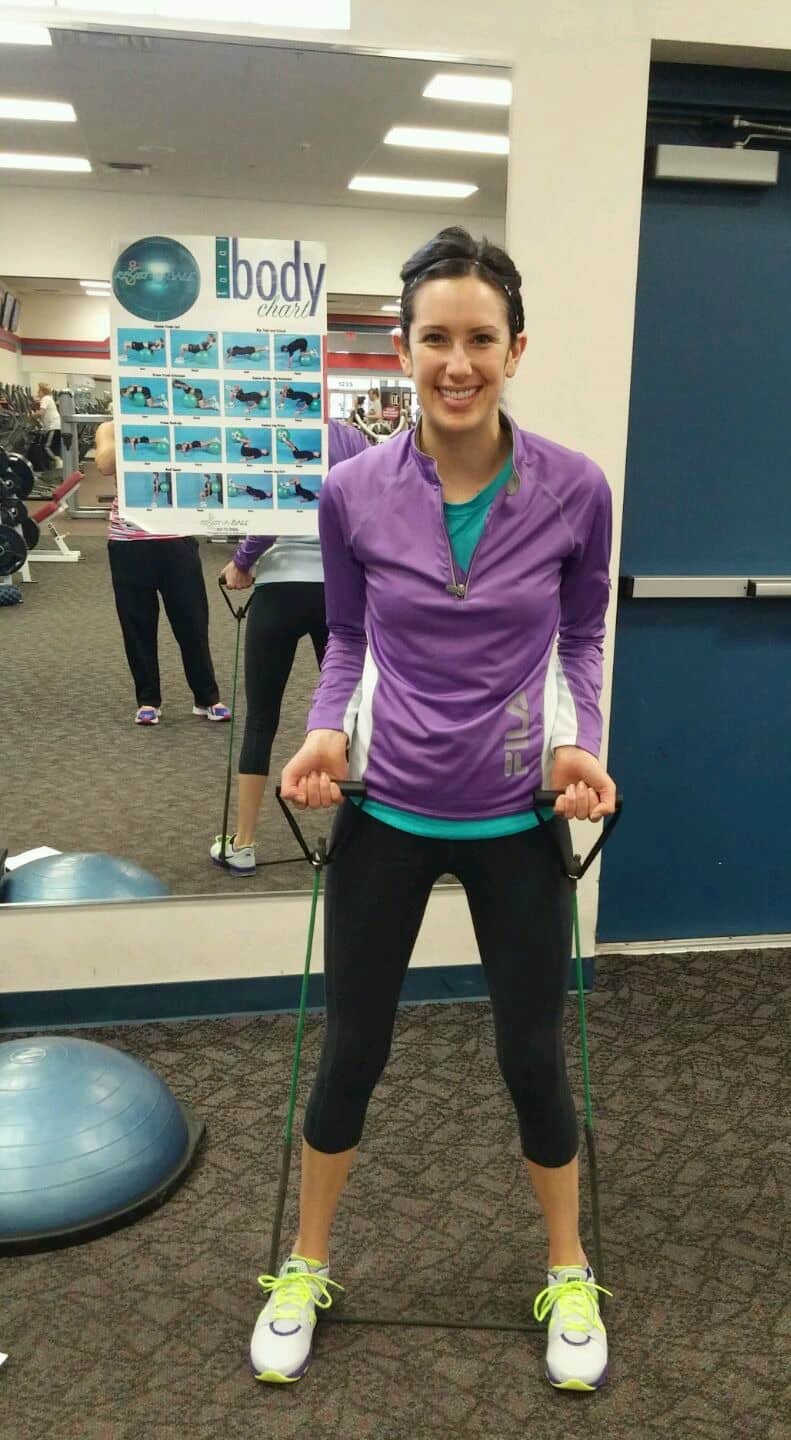 Move #3 – Lateral raises
Hold one end of the band in each hand and step both feet on the band on the floor. Start with your arms down by your sides. Slowly lift your right arm up and out to the side, and very slowly lower it back down. Do 10-12 reps, then switch to the left side.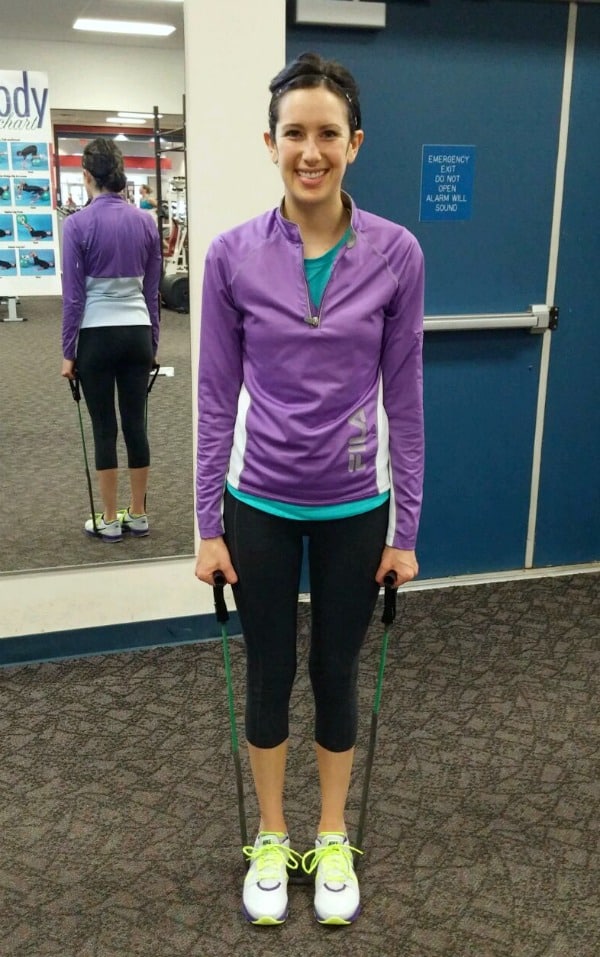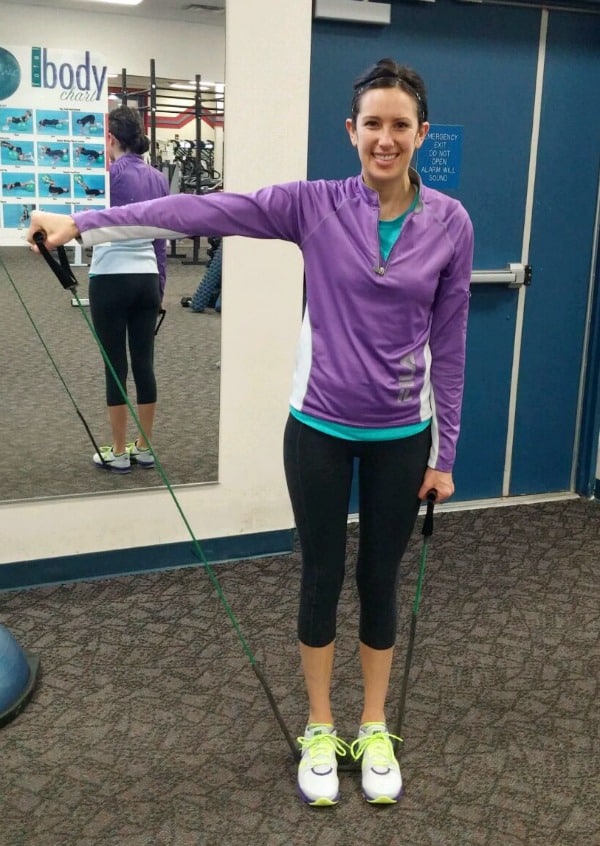 Move #4 – Triceps extension with squat
Stand with your toes slightly turned out, and bring the band behind your back. Hold one end down by your lower back with your left hand, and grab the other end up over your shoulder with your right hands. Slowly lower into a squat as you raise your right arm up over your head, then slowly lower and come out of the squat. Do 10-12 reps, then switch your hands.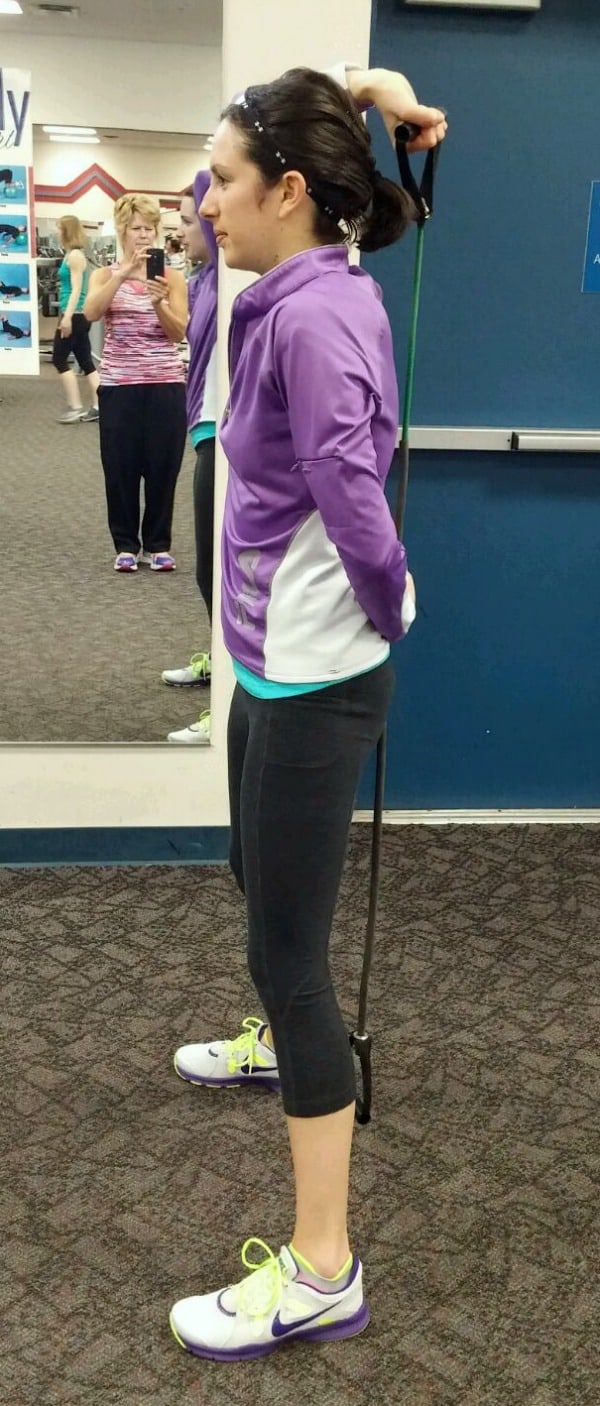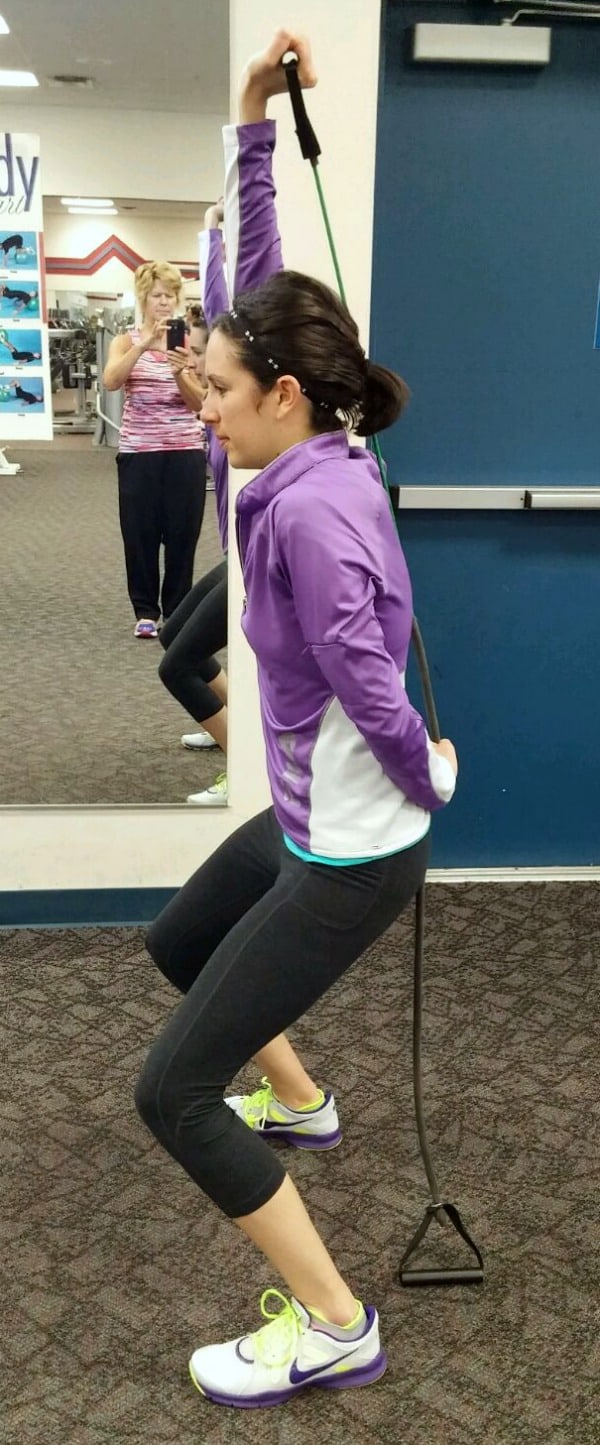 Move #5 – Leg extension
Get down on a mat on your hands and knees. Wrap the middle of the band around your right foot and hold both ends on the floor up near your chest. Lift your right leg up with your knee bent. Slowly, extend your leg straight back all the way, and then slowly bend it back in. Do 10-12 reps, then switch to the left side.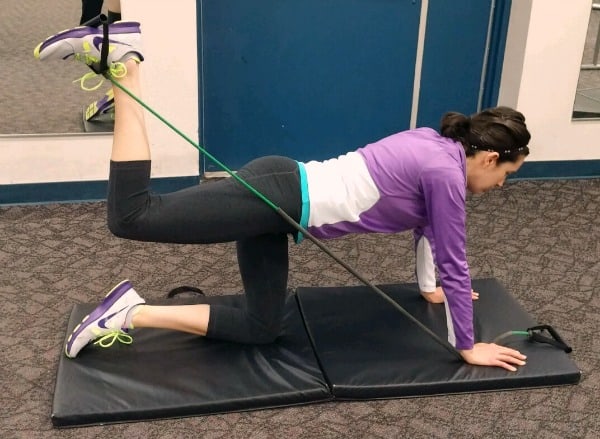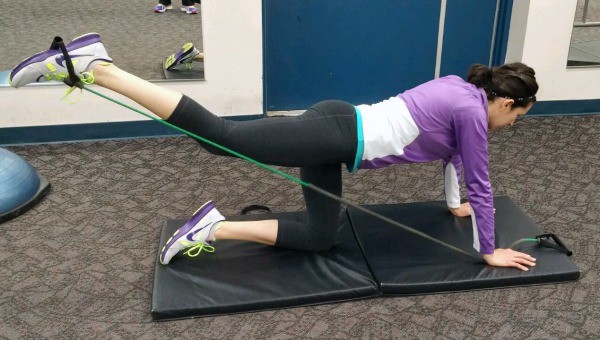 Again, you can find many different exercise bands for a great price on Amazon.