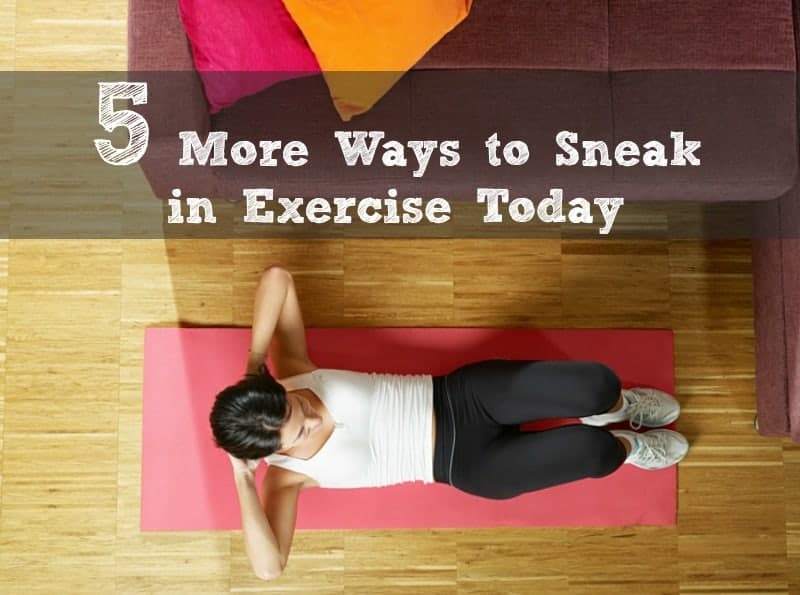 A good solid, long workout is my favorite way to exercise because it usually leaves me feeling sweaty and like I worked hard. But being fit and healthy is not always about a long workout. It's just about moving your body as much as you can. Running on the treadmill for an hour is good, but if you then sit in an office all day and on a couch all night, you are still not treating your body the best it can be. Any long period of sitting around can have negative effects on your health. You need to constantly move throughout your day, not just when you're working out.
My favorite way to do this is to throw in quick toning exercises or bursts of cardio throughout my day whenever it fits. Below I am giving you just five of the quick exercises I have found myself doing from time to time. You are not going to break a sweat doing these or feel like you're working very hard, but you are doing your body good. These little exercise sessions can add up to a healthier heart, more toned muscles, and even weight loss. Give one, two, or all five a try.
#1 Lunges while making dinner
I love to cook, but we all know that it takes time in the kitchen. While it is worth it for me to provide my family with healthy, home-cooked meals, I sometimes get frustrated that I could be using my time for other things. So in between the chopping, stirring, and sautéing, I can do some lunges to get my heart rate up a little and tone my lower body. You can do stationary lunges, or walking lunges across your kitchen, whatever you want.
#2 Butt squeezes while sitting at a desk or in the car
Sitting is one of my least favorite things to do. When I sit for too long, I get really antsy and feel the need to move my body. I don't do well on airplanes at all. I hate when I have a work conference all day where I know I'm just going to be stuck in a chair. Long car rides? Ugh! One of the only benefits of sitting is that I can work on tightening my butt without anyone noticing. All you have to do is squeeze and hold for five seconds, and repeat as many times as you want.
#3 Pushups before a shower
Pushups are hard…I'm talking about real, "manly" pushups. I will admit that I can only do a few before my arms scream for mercy. But the only way to get better at something is to keep practicing it and getting stronger. Whenever I think of it, I will drop on my bathroom floor before I get in the shower and do as many "real" pushups as I can. Sometimes it's only three, sometimes it's more. The hot water feels so good after working hard. There's nothing like pushups to make you feel strong.
#4 Planks before bed
Planks are your secret weapon for a tighter core. Try doing a plank every single night before bed for one month. Each night, you should hold the plank a little bit longer. This is no easy feat, planks are just as hard as pushups. If you can do a two-minute plank, that's pretty awesome. After a month of nightly planking, you should see a difference in your mid-section.
#5 Jumping jacks while waiting for kids
I feel like I am always waiting for my daughter for something…to get dressed, to brush her teeth, to get her shoes on, etc. Everything seems to take her much longer than it should, but she is only four. So instead of standing there rolling my eyes and telling her to hurry up, I do jumping jacks until she's done and/or ready. Some extra bonus cardio for my day, hooray!
How do you sneak in exercise?