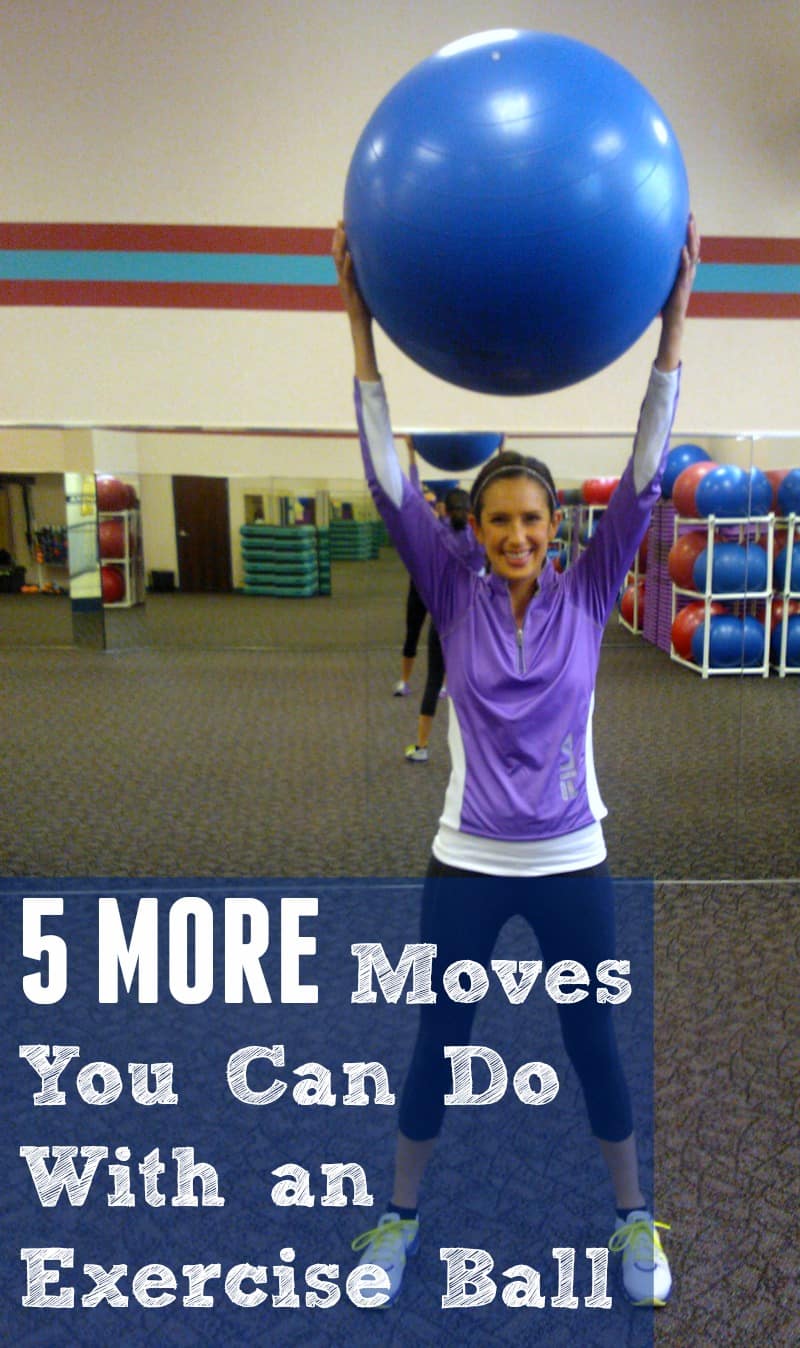 This post is by OYS writer Melissa. See more of her posts here.
If you missed Part 1 of my stability ball exercises, check it out here.
To do these moves, you need an exercise stability ball, which can be purchased for around $15, and usually come with an air pump to inflate the ball. You can purchase one here from Amazon. They last forever and can be moved around your house easily. The great thing about working out with a stability ball is that you can do it anywhere. Many OYS readers have expressed how important it is for them to be able to work out at home. This routine definitely fits the bill.
I have to thank my super-fit friend and gym class-attendee, Melanie, for agreeing to model these moves for us again.
You should always start any workout with a brief warm-up so you're not jumping in at full throttle. A brief walk, even walking in place always does the trick. Just move your body for about five minutes before starting these moves.
Try to do 10-12 reps of each move. If you can, do 3 complete sets, which means you go back and repeat 10-12 reps of each move 2 more times. If this is too much for you, just do as much as you can. Remember, any exercise is better than no exercise!
Move #1 – Lunge and Twist
For this move, start with your feet together and hold the ball up in front of your chest with your arms extended out. Lunge forward with your right foot. Hold the lunge and twist to the right, bringing the ball with you. Twist back to the center, and then step your feet back together. Repeat with the left leg, twisting to the left. That is one rep.
When you lunge, really try to get as low as you can for maximum leg sculpting. To make it more challenging, lunge on a step or stair. Also, try to keep your arms extended as far out as you can in front of you to keep your upper body engaged.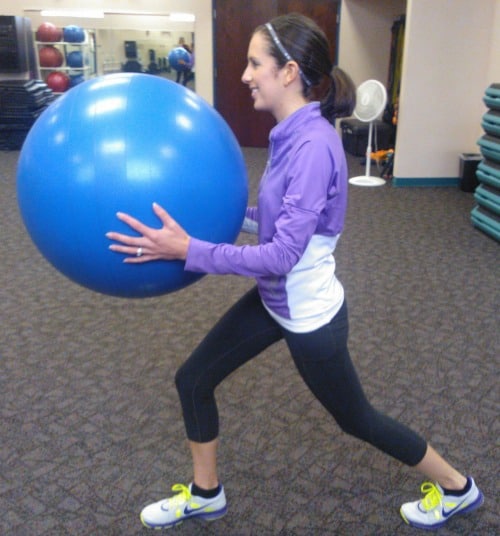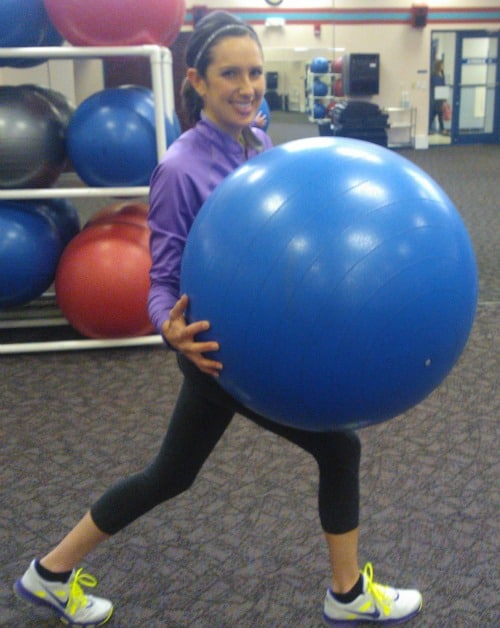 Move #2 – Sumo Squat
Start with your feet shoulder-width apart and hold the ball up over your head. Slowly lower into a deep squat as your bring the ball down between your legs. Then slowly push up out of the squat as you raise the ball back over your head. That is one rep.
This move should be slow and controlled. Take at least two counts to squat down and two counts to come up. Again, keep your arms extended as far out as you can.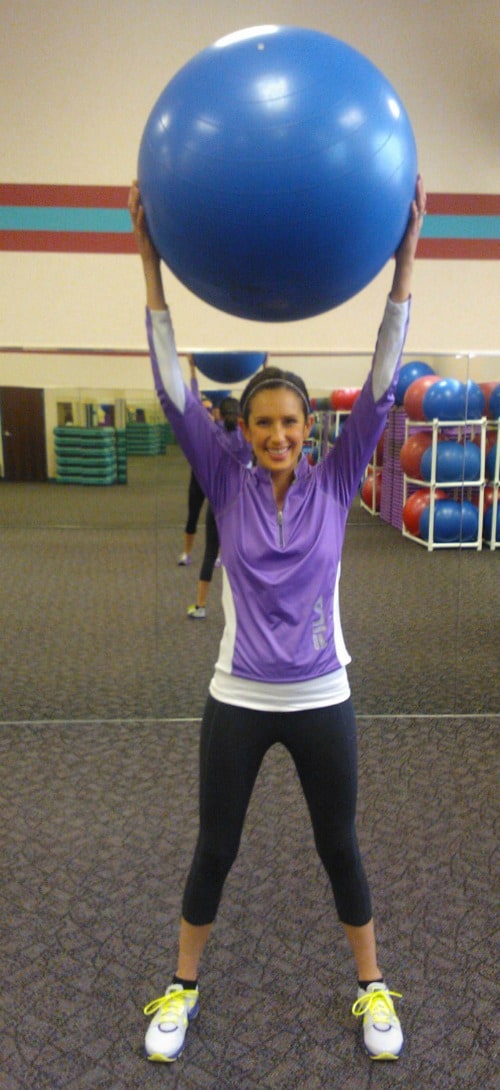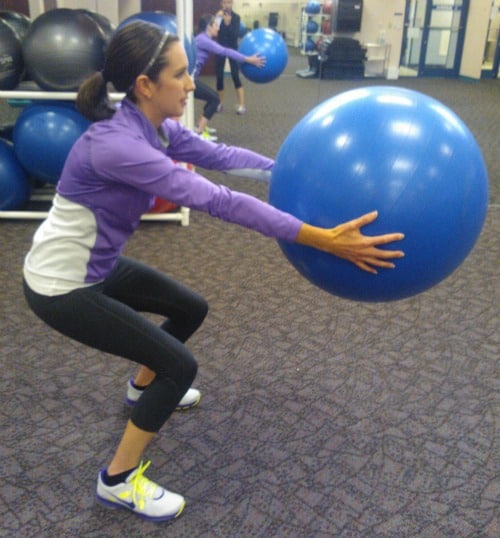 Move #3 – Inner Thigh Squeeze and Curl
Start by straddling the ball between your legs. Bend your knees slightly so that your inner thighs are lined up with the ball. Hold one dumbbell in each hand straight down in front, with your palms facing out. Bring your inner thighs together and squeeze the ball. At the same time, raise both arms up into a bicep curl. Then release your legs and lower your arms down. That is one rep.
Don't cheat yourself on this one. You really have to squeeze! Inner thighs are one of those trouble spots that aren't easy to tone. This exercise is great for that. Also, keep your hands light on the dumbbells as your curl. Think about squeezing your biceps, and lower back down slowly.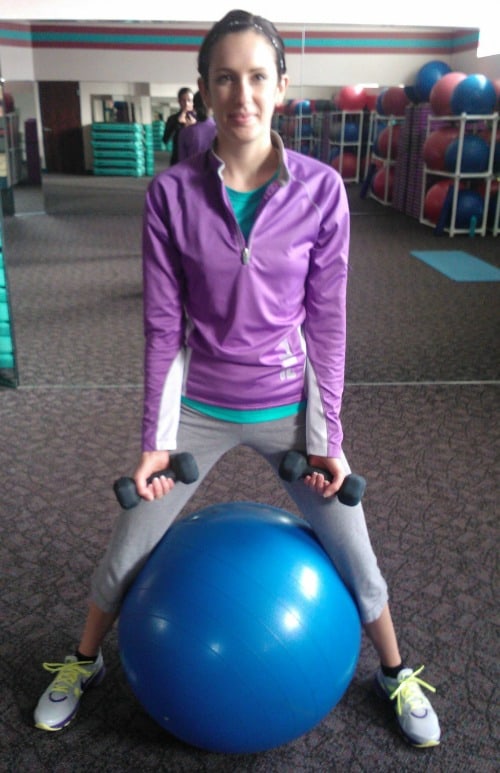 Move #4 – Lying Chest Flye
Start by lying with just your upper back and shoulders on the ball. Your knees should be bent and your feet should be flat on the floor. Holding one dumbbell in each hand, bring your arms out to the sides, with your palms facing each other. Slowly bring your arms up and together, and then lower them back out to the sides.
Keep your hands loose on the dumbbells, and think about squeezing your chest muscles together. Also be sure to keep your hips up, and squeeze your glutes the whole time for extra booty benefit.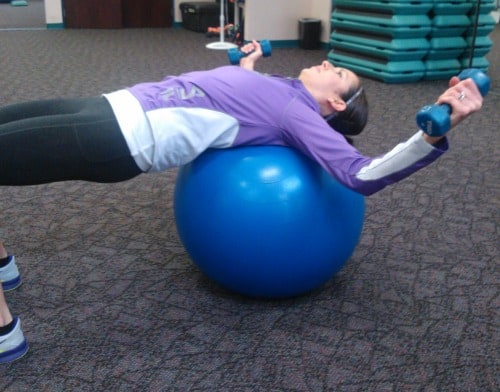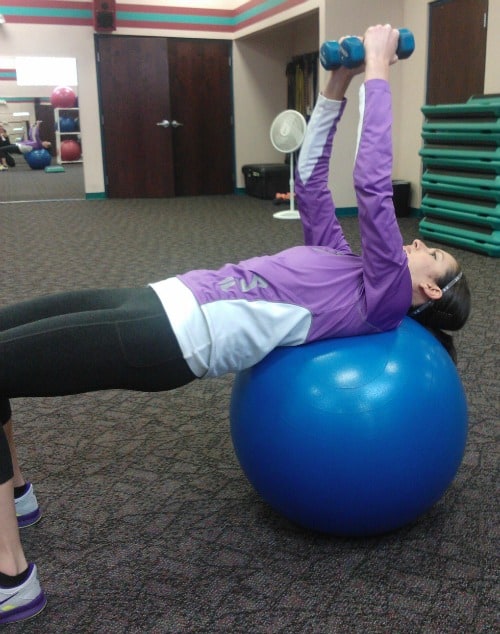 Move #5 – Glute Roll-In
Start by lying on the floor with one foot up on the ball. Lift your hips off the floor and keep them up. Use your heel to slowly roll the ball in towards you as you bend your knee. Then slowly roll it back out so your leg extends all the way out. That is one rep. Do a whole set with your right leg, and then a whole set with your left leg.
This move can have several variations. The easiest way is with one foot up on the ball and one on the floor as your roll the ball in. To make it a little harder, put both feet up on the ball as you roll it in. To make it the hardest, put one foot on the ball and one foot up in the air as your roll the ball in.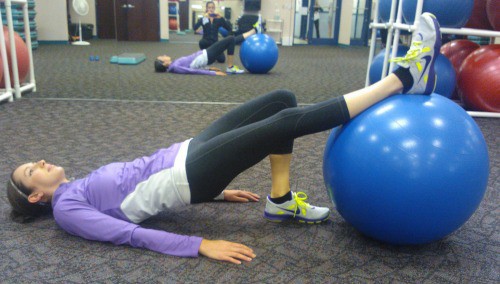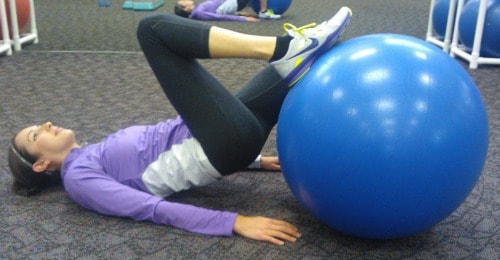 Other home exercise posts: