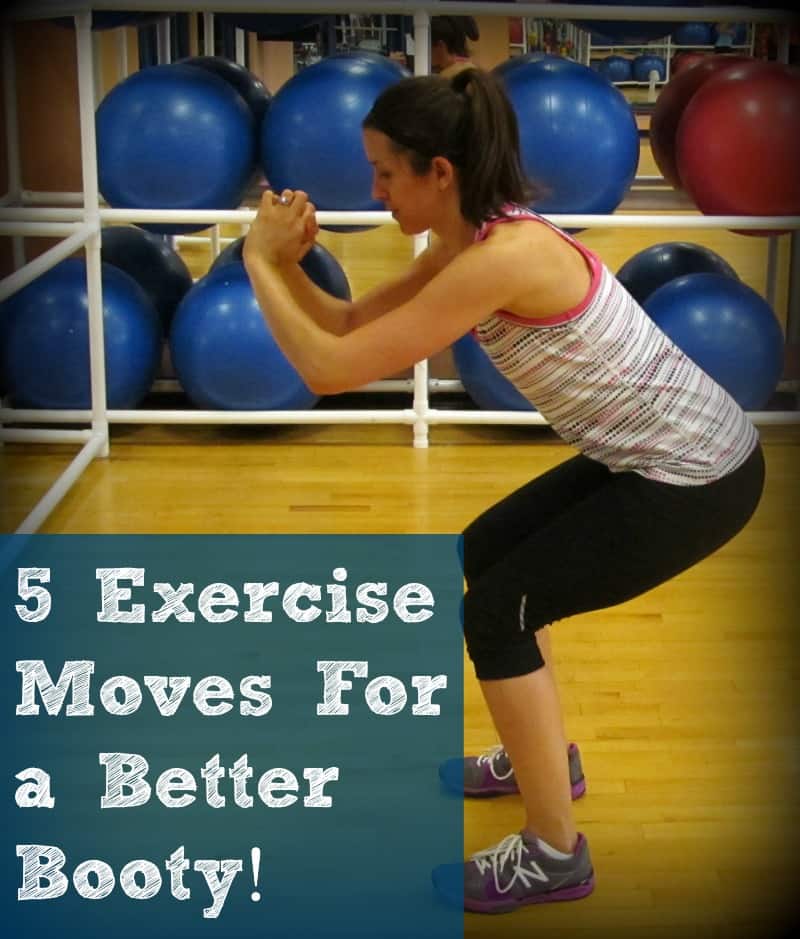 Your backside is one of those body parts that kind of has a mind of its own.  It reacts quickly to extra calories, decreased exercise, and age.  Some people complain that their butt is saggy, some say it's too full, some hate their flat butts.  Whatever your butt woe is, exercise can help you shape your butt more to your liking.  I'm going to give you five super targeted strength training moves to do three times a week that will tone up your derrière in just a few weeks.  You must add cardio to this routine to shed any extra pounds, or the toned butt muscles will just be hiding behind extra fat.  I recommend five days a week for a half hour.
The Moves
You can do these moves at the gym or right at home in a room with some space.  You can use a set of dumbbells if you like, or just use your body weight.  If you're a beginner, start without the weights and then work up to adding them.  Any time a move starts to feel too easy, increase the weight so you keep seeing results.
I recommend 3 sets of 8-12 reps three times a week.  Try not to do back-to- back days so you can give your muscles time to recover.
Walking Lunges
Lunges are one of the go-to lower body moves for hitting all of the major muscle groups – quadriceps, hamstrings, and glutes.  By turning them into walking lunges, you are forcing your muscles to work a little bit harder to propel yourself forward.  If you are using weights, hold one in each hand with your arms down by your sides.  You're going to need some room to move for this one.  Step forward with your right foot into a lunge, then bring your feet together as you stand up.  Next, step forward with your left foot into a lunge, then bring your feet together.  Keep going like this for as far as you have space.  Then turn around and come back the other way.
Good form tip:
Be sure to keep you head and chest up nice and tall.  When you bend your knees, think about pushing straight down to the floor, not forward.  Don't let your front knee go past your front toe.
Challenge:
Once you master this move, try adding some arm movements as you lunge, like biceps curls, or shoulder presses over your head.
Sumo Squats
Squats are the other major go-to move for lower body workouts.  These really target your butt even more than lunges.  Stand with your feet apart.  If you are using weights, hold one dumbbell in between your hands in front of your chest.  Sit down into a squat for two counts and then slowly rise up for two counts.  It's called a sumo squat because you're supposed to really get low on this one.
Good form tip:
Imagine that there's a chair behind you.  Think about sticking your butt right in that chair.
Challenge:
Once you master the squat, use that dumbbell to work your upper body too.  Start by holding the dumbbell up over your head.  As you squat, slowly bring it down in front of you and in between your legs.  Then as you come out of your squat, raise it back up over your head.  Be sure not to let it swing.
Glute Lifts
For this move, you really have to think and focus on squeezing your butt every time you do it.  Lay on the floor or a mat with your knees bent and your feet flat on the floor.  Slowly lift your hips off the floor, then lower them down.  Squeeze your glutes as you lift and think about pressing your feet into the floor.
Challenge:
Try one-legged lifts.  Hold one leg straight up in the air as you lift and lower your hips.  You can also make it even harder by putting your feet on a raised surface, such as a step at the gym or a chair at home.
Donkey Kicks
This time get on the floor on your hands and knees.  Starting with your right leg, keep your knee bent and drive your leg back and up.  Keep your foot flexed and think about touching the bottom of your foot to the ceiling.  Oh, and squeeze your butt.  Slowly lower and repeat.  Then do a set on the left side.
Challenge: Add resistance by tucking a dumbbell behind your knee.  Killer!
Lift and Point
This move really hits your glutes from all different angles.  You are on your hands and knees again.  Extend your right leg straight behind you and point your toe to the floor.  Lift your leg straight up, then touch it down to the floor on the left, lift it back up straight again, then touch it down to the floor on the right.  That's one rep.  Repeat until you have completed a set, then do it on the left side.
Good form tip: Your hips will want to turn as you touch over.  Keep them squared down to the floor.
What are your favorite booty shaping exercises?
Need some more exercise ideas? Check out this post to keep your core strong and this one to get your arms tank top ready.
Get Instant Access to My Best Weight Loss Tips & Strategies!
Sign up now for a free step-by-step 7-day email course that I created exclusively for my email subscribers! That's you. I will teach the best habits, strategies, and insider tips so you can enjoy a lifestyle that encourages and supports weight loss! Stop relying on willpower and take control back over your life! You can do this. Let me help!